Incredibly delicious and easy to make Jan Hagel Dutch Cookies are one of our Christmas cookies staples. Perfect as baked good gifts this Christmas.
TRADITIONAL DUTCH JAN HAGEL CHRISTMAS COOKIES
Jan Hagel or Janhagel (pronounced as Yahn Hahgel) are made with mainly butter, sugar, egg, flour, cinnamon, and then decorated with sliced or chopped nuts like almonds, walnuts, and sanding sugar. The crumbly cookie dough is pressed on to a baking sheet and then baked and cut into shapes while it's warm and the cookies will crisp up once they cooled down completely. There are many different tales about Jan Hagel cookies. If you google it, you will know what I mean.
Many people may not know that Indonesia used to be colonized by the Dutch, known as Dutch East Indies, for over 100 of years. Needless to say, Indonesian cuisine also has heavy Dutch influence as well. My late grandma was fluent in Dutch. I remembered she had this super old recipe book with many recipes in there written in Dutch. Jan Hagel was one of the cookies that I remember grandma used to make and I absolutely loved them and still is. She didn't put almond slices on top though (because it was expensive back in the days). My kids and husband have a hard time staying away from Jan Hagel koekjes!! I have to hide them (from myself too!)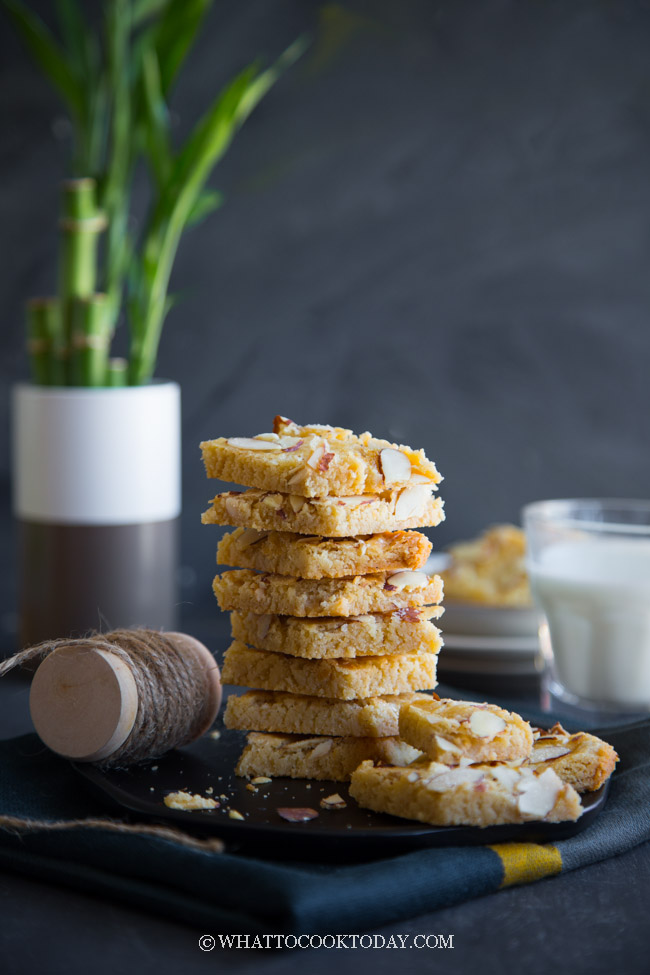 INGREDIENTS FOR JAN HAGEL
I like how easy these shortbread cookies come together. With ingredients that most people already have in their pantry, you will have these super delish cookies in no time.
Wet ingredients: egg yolk, softened butter (I've used ghee before too), sugar
Dry ingredients: all-purpose flour, salt, cinnamon powder
Brushing the cookie dough: egg white
Decoration: sliced almonds, sanding sugar or pearl sugar (I used just regular granulated sugar and it worked perfectly too)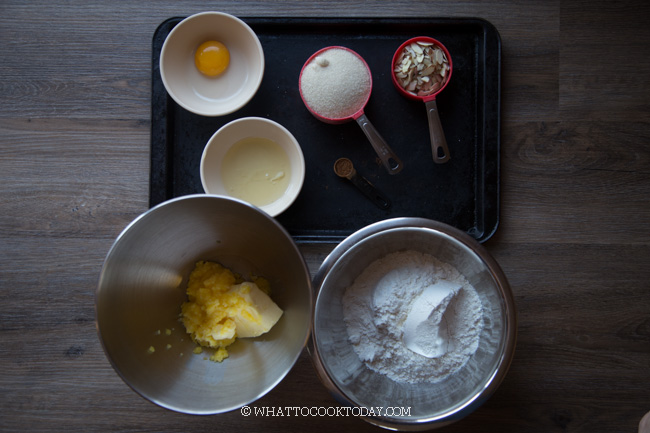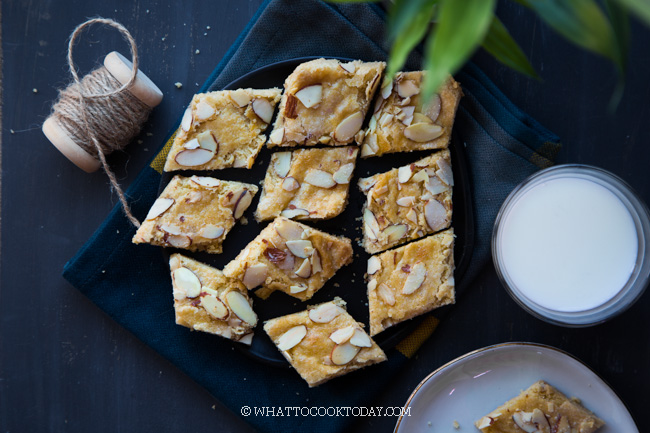 HOW TO MAKE JAN HAGEL COOKIES FROM SCRATCH
1. PREPARE WET AND DRY INGREDIENTS IN SEPARATE MIXING BOWL


2. WET INGREDIENTS AND DRY INGREDIENTS
Cream the wet ingredients and then gradually add in the dry ingredients until combined. The dough is crumbly as you can see in the photo


3. TRANSFER TO BAKING SHEET
Transfer the crumbly dough to a baking sheet. You can either lightly grease the sheet pan or line a parchment paper about the size of your pan. Cover with a parchment paper and use a small rolling pin to roll and press the dough out onto the baking sheet as evenly and neat as possible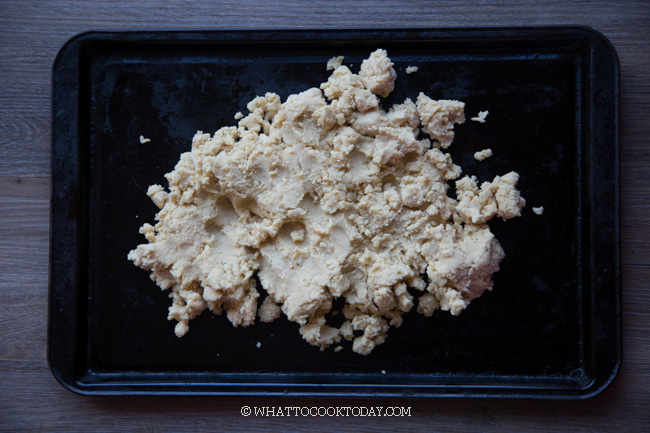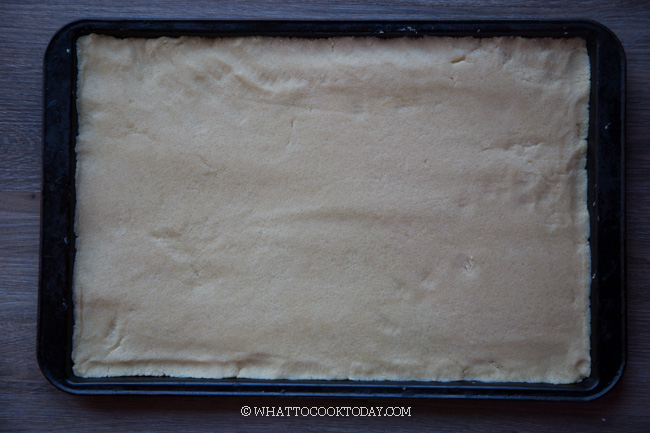 4. BRUSH WITH EGG WHITE MIXTURE
Beat the egg white with water until foamy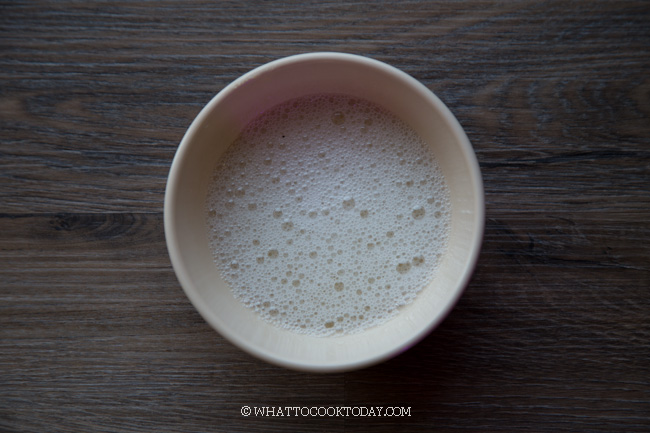 Brush this mixture lightly onto the pressed dough. You may not need all of it


5. DECORATE
Sprinkle with sliced almonds and sanding sugar or pearl sugar or granulated sugar evenly throughout the dough


6. BAKE
Bake at 350 F for 20-25 minutes and then let them cool down on the pan for 5 minutes


7. CUT THE COOKIE WHILE IT'S WARM
Use a sharp knife to cut the cookie into shapes (diamond shapes or rectangles or squares)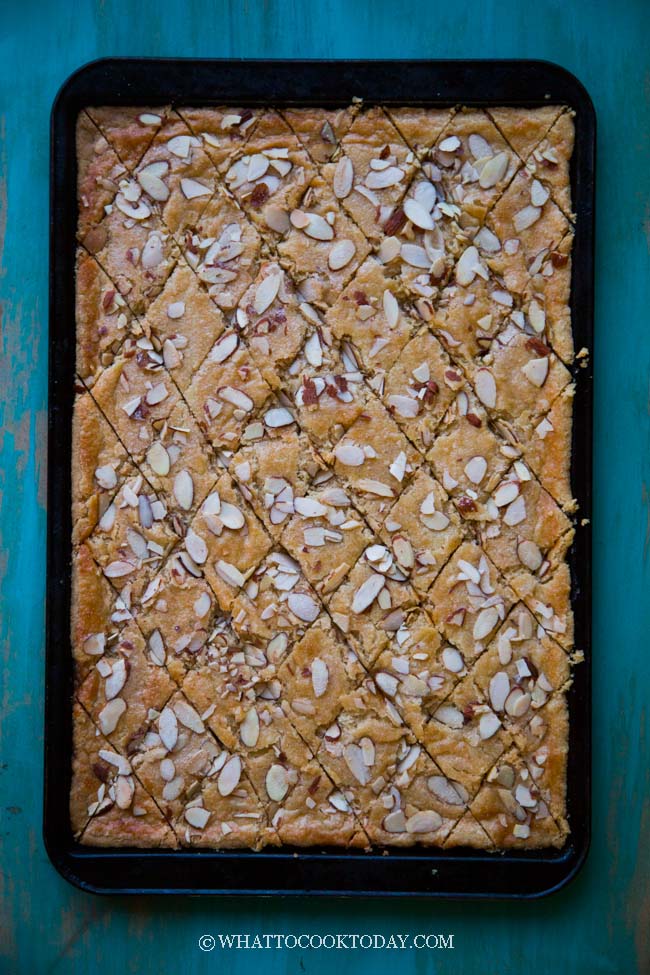 And then let them crisp up a bit before transferring to a cooling rack to let them cool down completely

HOW TO STORE JAN HAGEL KOEKJES
Store them in an air-tight container at room temperature for up to one week or longer. They didn't last past one week at our house though!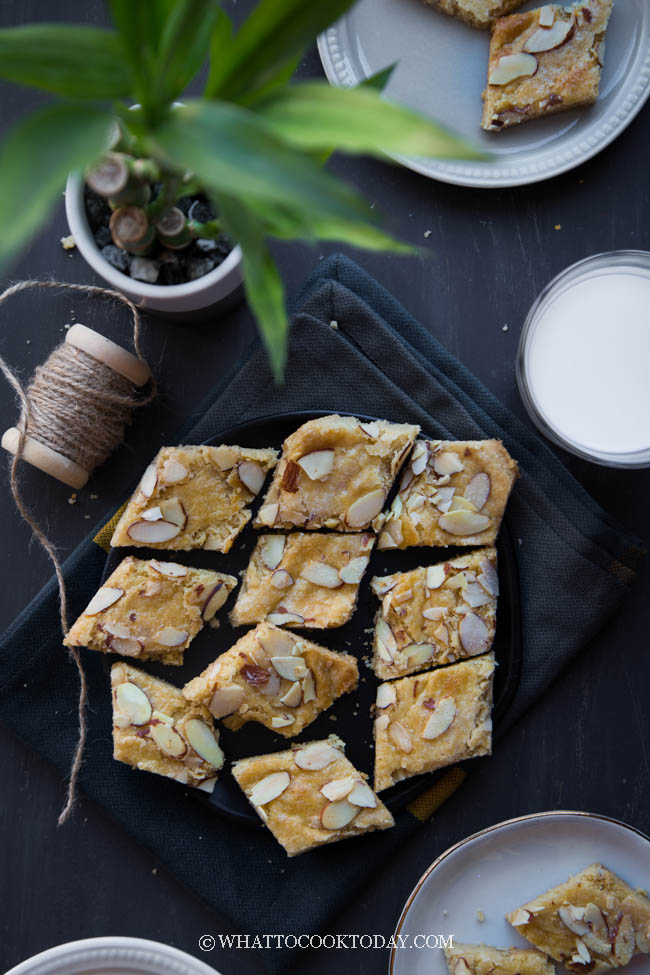 Recipe is adapted from here. I like this recipe the best.
Jan Hagel Cookies/ Koekjes (Cinnamon Almond Dutch Cookies)
Ingredients
For brushing cookies:
1

egg white

1

tablespoon

water
Kitchen tools you need:
1

half sheet pan (15.5 x 10.5 x 1 inch)

2

parchment paper (the size of your sheet pan)

Small rolling pin
Instructions
Prepare the dough:
Set your butter out at least 30 minutes before you start to bake to let it soften. Preheat oven to 350 F. Place the wet ingredients in a mixer and mix until they are creamy. If you use stand mixer, use paddle attachment

Place the dry ingredients into another mixing bowl and stir to mix. Gradually add this mixture to the butter and mix until combined. The mixture will be crumbly
Shape the dough:
Line your sheet pan with one parchment paper, or you can lightly grease the pan if you don't use parchment paper. Spread the crumbly dough on top and cover with another sheet of parchment paper. Use a small rolling pin to press the dough and spread it evenly into the pan

Beat the egg whites with one tablespoon of water until frothy. Brush this on top of the pressed dough. You may not need all of egg white
Decorate and bake:
Sprinkle with the sliced almond and coarse sugar all over. Place the baking sheet into the oven, 3rd rack from the top and bake for about 20 minutes (25 minutes on my oven) until lightly golden brown
Cutting and cooling:
Remove from the oven once the cookie is done. Let it rest in the baking sheet for 5 minutes. Use a sharp knife to cut the cookies into shape immediately after that, do not move to cooling rack yet. I cut into diamond shapes, but you can cut into rectangle strips, squares, etc. Do this while the cookies are still warm or they will break when you try to cut them when they have cooled down

You can continue to let them cool down on the pan for another 10 minutes and they will start to crisp up and you can transfer to cooling rack to let them cool down completely
Storing:
They can be stored at room temperature in an air-tight container or jars for up to one week (it's hard to keep them for that long at our house LOL!)
Nutrition
Nutrition Facts
Jan Hagel Cookies/ Koekjes (Cinnamon Almond Dutch Cookies)
Serving Size
1 half-sheet pan
Amount per Serving
% Daily Value*
* Percent Daily Values are based on a 2000 calorie diet.