Easy and delicious fried rice with flavorful homemade bak kwa (Chinese meat jerky) is so delicious and comes together in no time.

Having some bak kwa for Chinese new year celebration seems to be the culture in Singapore. I love bak kwa. Few years ago I learned how to make my own bak kwa and so glad I did. It wasn't as hard as I thought and I know exactly what ingredients I put in. My family loves snacking on bak kwa on its own. They disappear faster than I could make them to be honest! I actually have to hide some so I can use them to make this bak kwa fried rice 🙂
The recipe rundown
Taste: Savory with nice aroma from the bak kwa
Texture: Fluffy but not sticky rice with slightly crunchy succulent shrimp pieces, and the sweet corn texture combination is just so perfect
Level: Easy
Pros: You can pretty much use whatever you have left in your pantry and/or fridge
Cons: It's easy to overeat when it comes to fried rice 🙂

Ingredients
1. Cooked rice
It's no secret that making good fried rice using cold refrigerated rice is best. The rice is dry and won't clump together when you stir fry them. NEVER use freshly cooked warm rice. If you cook the rice on the same day, you need to cool them down and spread it out on a pan to let it really cools down before using it to make a fried rice
2. Bak kwa
You can use store-bought bak kwa. You can also easily make your own homemade bak kwa
3. Onion
I like to use onion or shallots to make fried rice, but you can use other aromatics like garlic as well
Keep the seasonings simple:
Since bak kwa has its own wonderful flavor and taste, I don't want to add too many dominant seasonings other than these basics:
4. Soysauce
5. Sugar
6. Salt
Optional add ons or things you can substitute:
7. Eggs
8. Shrimp
9. Green onion

How to make easy bak kwa fried rice
1. Preheat a wok or saute pan. Add about 1 tsp of cooking oil and add the shrimp. Cook until they just turn pink, about 1 minute or less. Remove from the wok and set aside


2. Add another 1 tsp of oil and crack in eggs. Let them cook for about 10 seconds undisturbed


Then start scrambling the yolk and let it cook for another 10 seconds undisturbed


3. Then scramble the whole eggs into large chunks. Remove from the wok and set aside with the shrimp


4. Add the rest of the cooking oil. Add onion and saute until they are fragrant and soft, about 3-4 minutes. Add the corn and saute another 10 seconds. You can also add bak kwa pieces here to stir fry them a bit if you like. I mixed the bak kwa in at a later stage. It's up to you


5. Add the rice followed by seasonings. Stir to mix


6. Add the bak kwa pieces, shrimp and eggs back in and stir to mix everything. Have a taste and add more salt to your taste as needed. Turn off the heat. Sprinkle in the green onion. Serve immediately


7. Sprinkle in the green onion. Serve immediately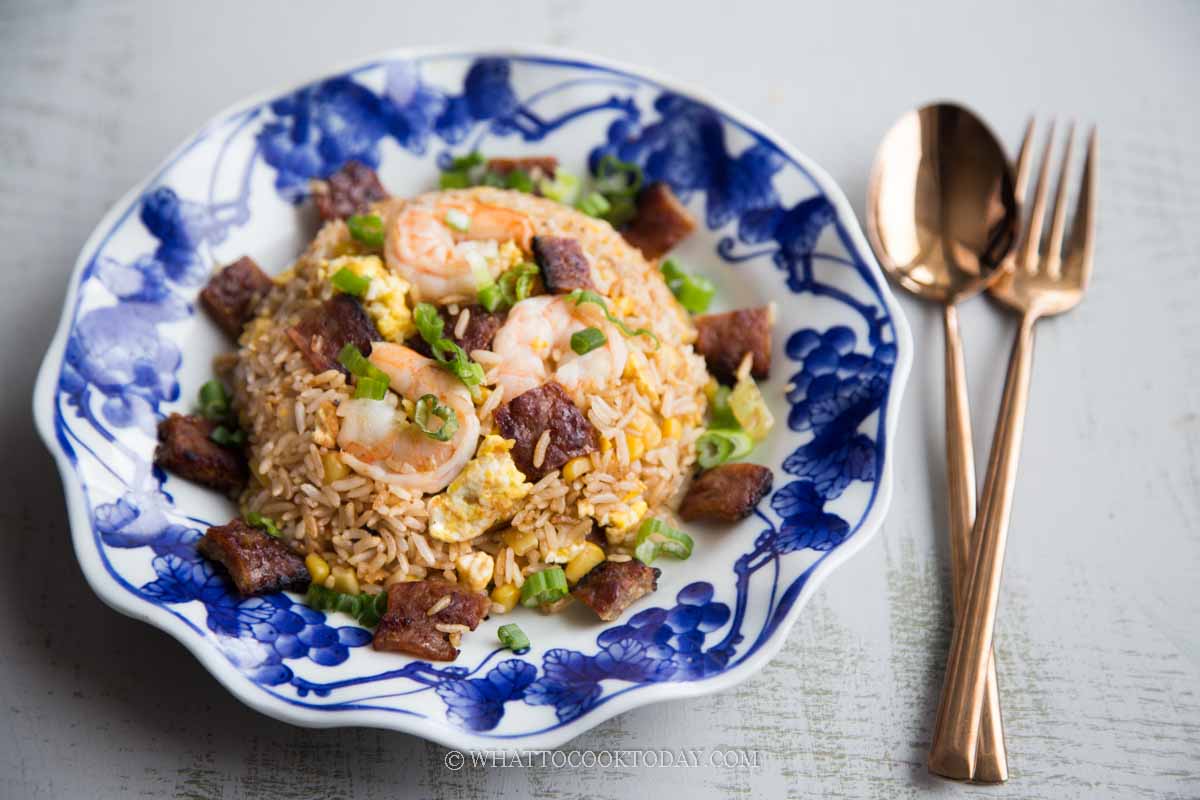 Did you make this recipe?
I love it when you guys snap a photo and tag to show me what you've made 🙂 Simply tag me @WhatToCookToday #WhatToCookToday on Instagram and I'll be sure to stop by and take a peek for real!

Easy Bak Kwa Fried Rice (Chinese Meat Jerky Fried Rice)
Ingredients
235

gr

cooked rice

about 2 cups, leftover refrigerated rice is best

2

Tbsp

cooking oil

divided

50

gr

bak kwa

or more if you prefer

½

small

onion

diced
Other suggested ingredients: (feel free to use other protein or veggies you like)
80

gr

corn kernels

2

large

eggs

5

large shrimp

shelled and deveined
Garnish:
1

stalk

green onion

finely chopped
Instructions
It is best to use leftover rice and not freshly cooked rice (the rice will clump together and too sticky when they are warm). Keep the leftover rice in the fridge if you plan ahead

Use kitchen shears to cut the bak kwa into small pieces. Pat the shrimp dry with a paper towel

Preheat a wok or saute pan. Add about 1 tsp of cooking oil and add the shrimp. Cook until they just turn pink, about 1 minute or less. Remove from the wok and set aside. Add another 1 tsp of oil and crack in eggs. Let them cook for about 10 seconds undisturbed and then start scrambling the yolk and let it cook for another 10 seconds undisturbed and then scramble the whole eggs into large chunks. Remove from the wok and set aside with the shrimp

Add the rest of the cooking oil. Add onion and saute until they are fragrant and soft, about 3-4 minutes. Add the corn and saute another 10 seconds. You can also add bak kwa pieces here to stir fry them a bit if you like. I mixed the bak kwa in at a later stage. It's up to you

Add the rice followed by seasonings. Stir to mix. Add the bak kwa pieces, shrimp and eggs back in and stir to mix everything. Have a taste and add more salt to your taste as needed. Turn off the heat. Sprinkle in the green onion. Serve immediately
Recommended products: