Learn how to make this flaky and delicious Penang style pastry also known as tambun biscuits filled with sweet-savory mung bean filling. Accompanied by step-by-step photos and a video.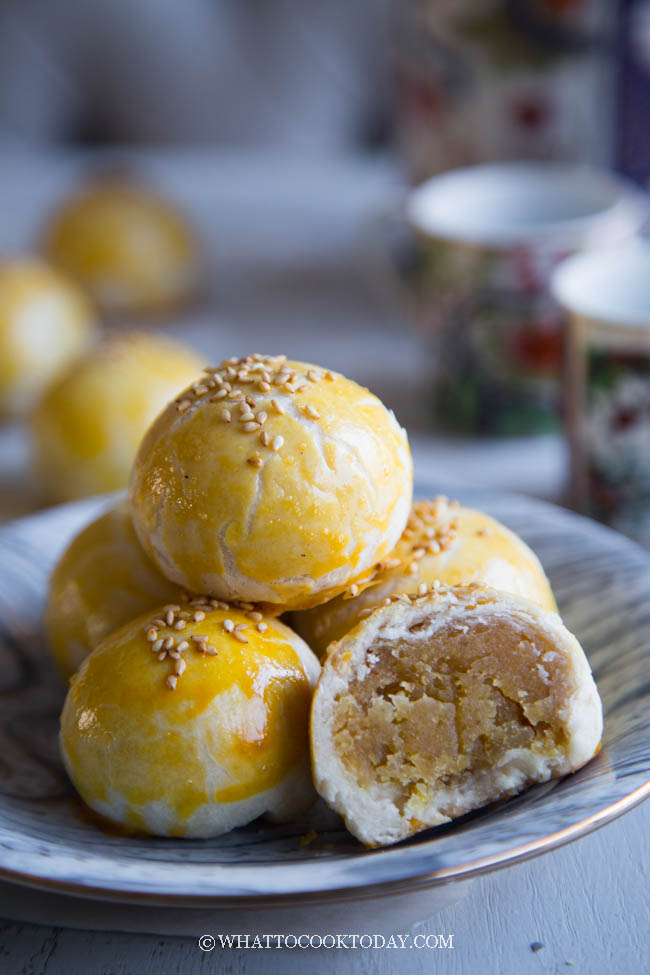 SAVORY SWEET TAU SAR PIAH
Some people call them biscuits, some call them pastry. Just know that the biscuits are totally different with the American buttermilk biscuits. Tau sar or dou sha literally means sweet bean paste. Piah or pia means biscuits or cookies, depending on what you are describing. The beans can be dou sha or in this case made with mung beans. I filled them with savory-sweet mung bean paste, which is so good. I always love savory-sweet combo in pastry and dessert.
THE BEST FAT TO USE FOR PASTRY
I've made these tau sar piah several times and I have tried lard, shortening, or butter only. The butter only has an incredible flavor but it's the most difficult to work with. So recently, I tried the lard and butter combination and I have to say it's my favorite. The dough is not hard to work with and flavor is good thanks to the butter.
1. Lard or shortening: It gives a really nice flaky crust, though a bit blander in flavor compared to butter
2. Butter: It gives a very nice flavor but a bit harder to work with as it has a lower melting point compared to lard and shortening
3. 50/50 Lard and butter combination: This combination combines the best of both worlds. Amazing flavor from butter and flakiness from the lard

THE BEST FLOUR TO USE FOR PASTRY LIKE TAU SAR PIAH
1. PASTRY FLOUR: If you can get pastry flour, it is the best to use to make pastry like tau sar piah. It has lower gluten content compared to all-purpose flour but slightly more compared to cake flour. It gives more structure
2. COMBINATION OF ALL-PURPOSE FLOUR AND CAKE FLOUR: Which is what this recipe uses. It makes it almost similar to pastry flour. It is also easier to handle with this combination as it is not as soft compared to pastry flour, yet it still gives good result
3. CAKE FLOUR: I do not recommend using cake flour alone as it makes the pastry way too soft and lacks structure

HOW TO MAKE TAU SAR PIAH FROM SCRATCH
1. PREPARE MUNG BEAN PASTE FILLING
You can use store-bought or make it from scratch with this recipe. Divide into 12 portions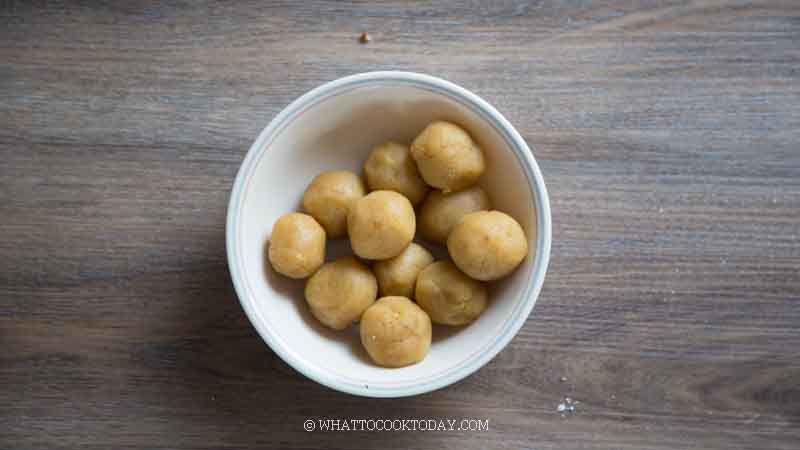 2. PREPARE WATER AND OIL DOUGH
For oil dough: Rub the flour with lard and chilled and cubed butter and continue to knead into a dough


Continue to knead into a dough. If it's too dry, add more until you can form a dough. Divide into 12 portions of smaller doughs


For water dough: Mix all ingredients for the water dough


Knead into a dough


Divide into 12 portions of smaller doughs


3. SHAPE AND FILL
Get one water dough and flatten with your palm into a circle, about 4 inches in diameter. . Place the round oil dough in the middle


Wrap the water dough around it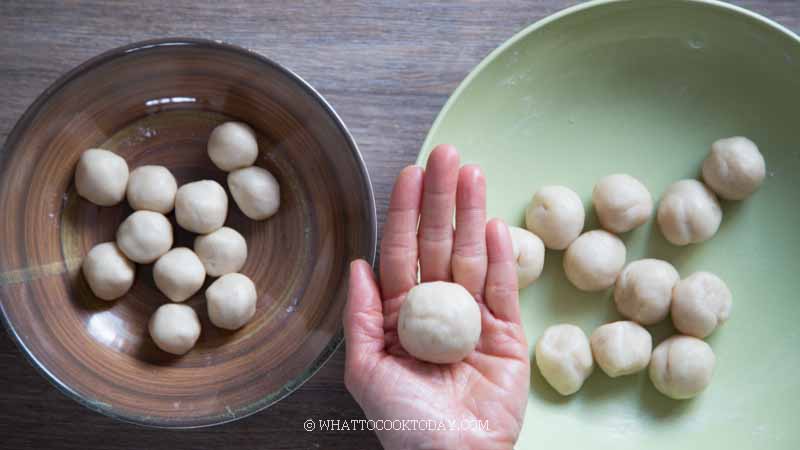 Repeat with the rest of the doughs


Working with one dough at a time, roll the dough into an oblong shape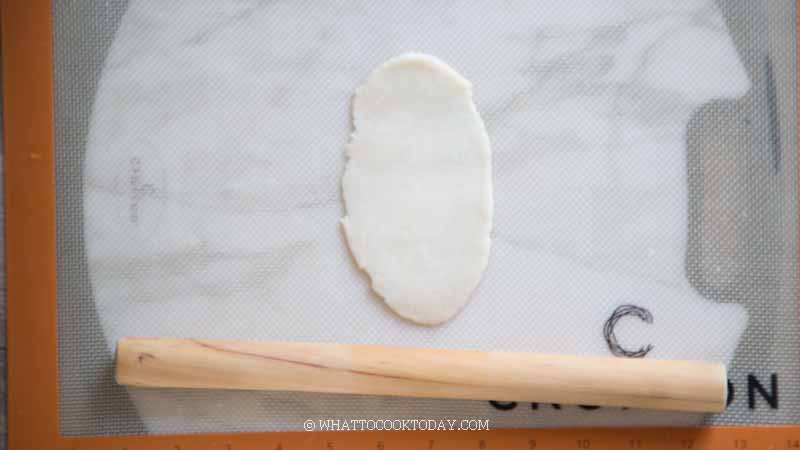 Then roll it up with your fingers, starting from the short side near you to the other side (like a Swiss roll)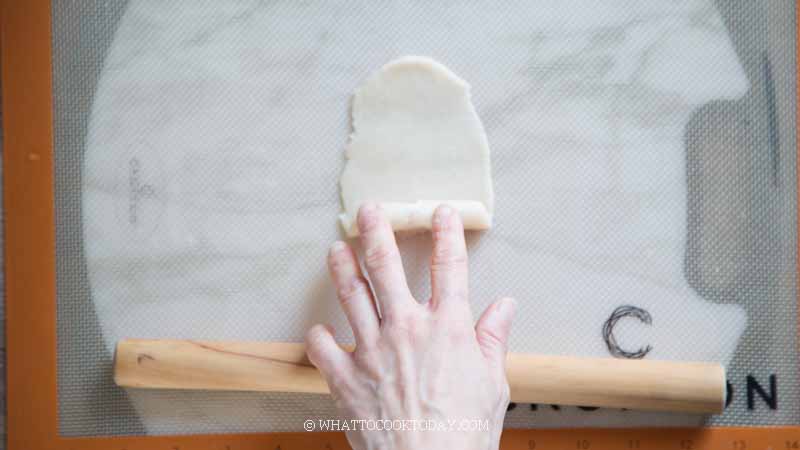 Then rotate the dough 90 degrees to the left or right (doesn't matter)


Use a rolling pin to roll it out again.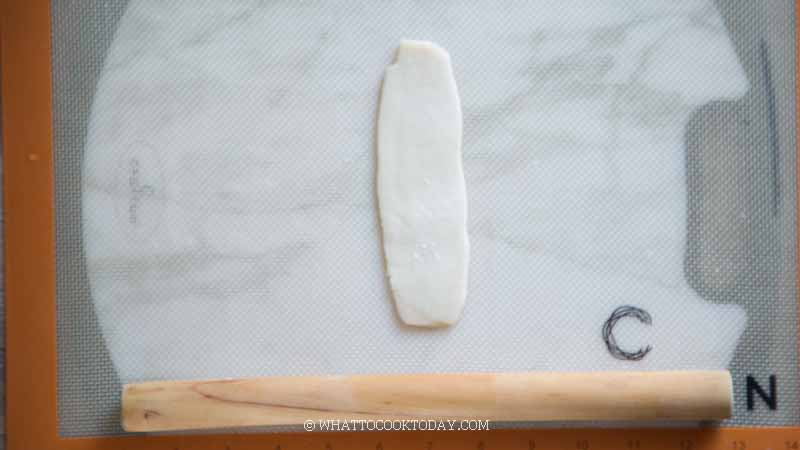 Use your fingers to roll it up again starting from the side near you to the other side like a Swiss roll again


Use a rolling pin to flatten the dough and roll it into a flat round disc, about 4-inch in diameter.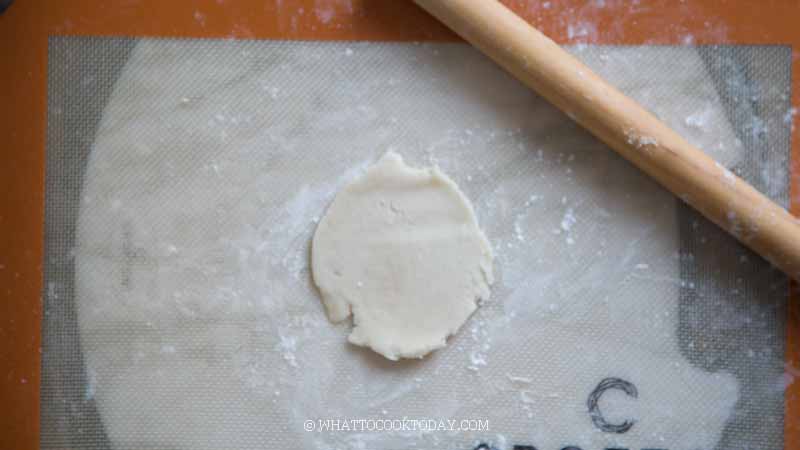 Place one mung bean filling in the middle and wrap around it to form a ball.


You can either flatten it slightly to form a flat tau sar piah or leave it round. It's up to you


4. BAKING
Preheat oven to 350 F. Line a baking sheet with parchment paper. Place the tau sar piah, seam side down on the paper


Mix the egg yolk with milk. Brush the tau sar piah with the egg wash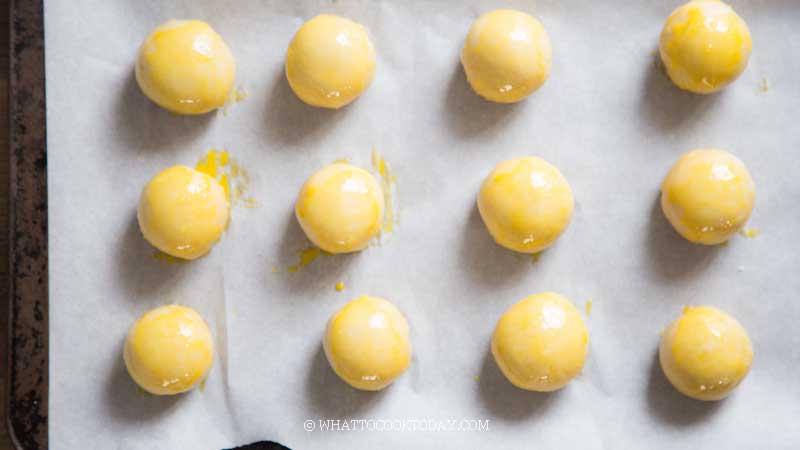 Sprinkle with some white sesame seeds if you like


Place the baking sheet in the oven and bake for 20 minutes or until golden brown. Remove from the oven and let them cool down on the tray for 1 minute and then transfer to a cooling rack to let them cool down completely before storing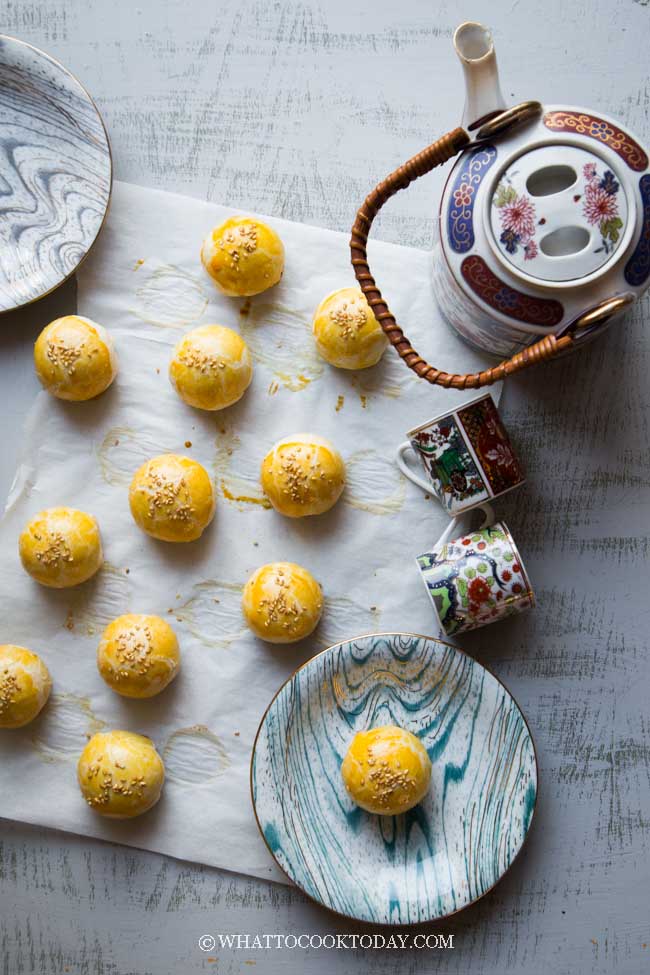 DID YOU MAKE THIS TAU SAR PIAH / TAMBUN BISCUIT RECIPE?
I love it when you guys snap a photo and tag to show me what you've made 🙂 Simply tag me @WhatToCookToday #WhatToCookToday on Instagram and I'll be sure to stop by and take a peek for real!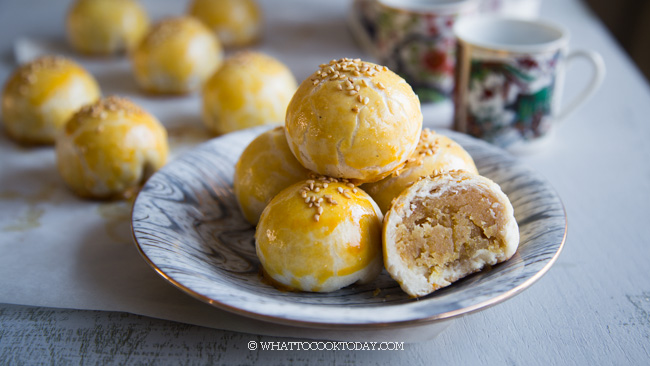 Recipe is adapted from MyKitchen101 with some modification on the type of fat used. After a few rounds of testing I decided to use a combination of lard and butter (not shown in step-by-step photos or video)
Penang Tau Sar Piah / Tambun Biscuits / Tau Sar Pneah
Instructions
Prepare water and oil dough:
For oil dough: Rub the flour with lard and chilled and cubed butter and continue to knead into a dough

For water dough: Mix all ingredients and knead into a smooth dough

Divide each water and oil dough into 12 portions each
Shaping:
Get one water dough and flatten with your palm into a circle, about 4 inches in diameter. Place the round oil dough in the middle and wrap the water dough around it. Repeat with the rest of the doughs

Working with one dough at a time, roll the dough into an oblong shape. Then roll it up with your fingers, starting from the short side near you to the other side (like a Swiss roll). Then rotate the dough 90 degrees to the left or right (doesn't matter). Use a rolling pin to roll it out again. Use your fingers to roll it up again starting from the side near you to the other side like a Swiss roll again

Use a rolling pin to flatten the dough and roll it into a flat round disc, about 4-inch in diameter. Place one mung bean filling in the middle and wrap around it to form a ball. You can either flatten it slightly to form a flat tau sar piah or leave it round. It's up to you

Preheat oven to 350 F. Line a baking sheet with parchment paper. Place the tau sar piah, seam side down on the paper
Prepare egg wash:
Mix the egg yolk with milk

Brush the tau sar piah with the egg wash. Sprinkle with some white sesame seeds if you like
Baking:
Place the baking sheet in the oven and bake for 20 minutes or until golden brown. Remove from the oven and let them cool down on the tray for 1 minute and then transfer to a cooling rack to let them cool down completely before storing
Storing:
Once they have cooled down completely, they can be stored in room temperature in an air-tight container for up to one week. After that, they need to be refrigerated