Easy, soft, and moist black sesame flavor eggless sponge cake can be easily cooked in a rice cooker or baked in the oven.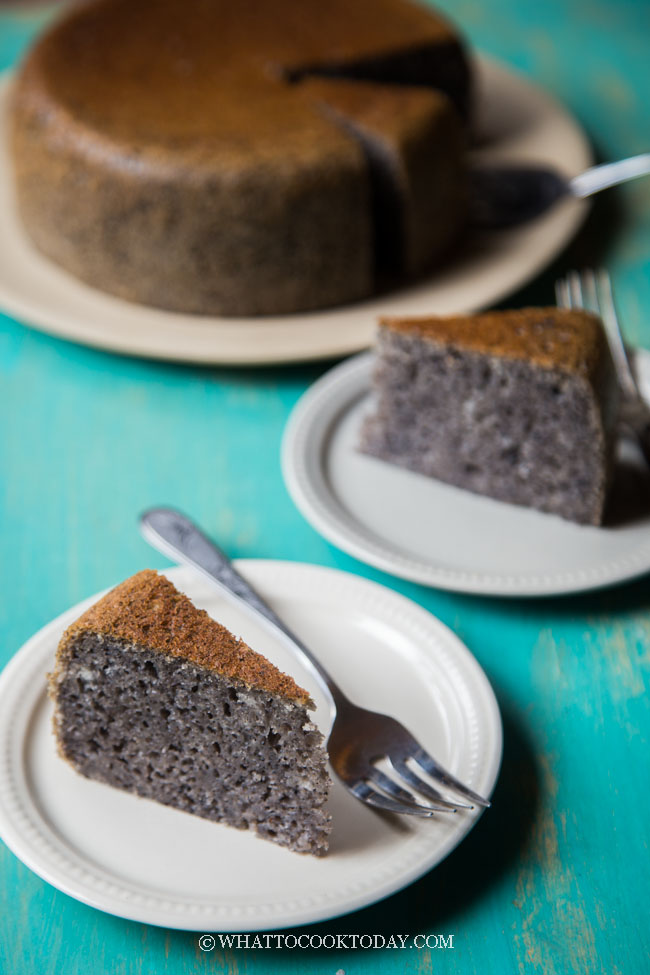 Making a cake in a rice cooker always intrigues me. A few years ago I made my very first Rice Cooker Japanese Cheesecake and it turned out so well I have made it several times since then. This time around I saw Gracious Treatz' eggless cotton sponge cake and I decided to give it a try. with a bit of modification. I added black sesame flavor because I've made quite a big batch of black sesame paste and I want to use it in baking. The family loves the eggless black sesame sponge cake cooked in the rice cooker. No one believes that it's eggless cake!
TIPS
1. USE CAKE FLOUR
I have tried this cake with cake flour and all-purpose flour and the latter turns out not as fluffy
2. CHECK BAKING POWDER AND BAKING SODA
The cake depends on these two to leaven it. So, make sure both baking powder and baking soda aren't expired. To test baking powder, put 1/2 teaspoon of baking powder in a bowl and pour 1/4 (60 ml) of boiling water and it should bubble up immediately. If it doesn't, the baking powder is no longer good and do not proceed with the recipe until you get a fresh baking powder. DO NOT substitute with the same amount of baking soda, it will taste bitter. To test baking soda, put 3 Tablespoons of vinegar into a small bowl. Add 1/2 teaspoon of baking soda. Give it a stir. The mixture should bubbles up almost immediately. If there is no reaction, your baking soda is no longer active/fresh
3. ROOM TEMPERATURE INGREDIENT
Get the yogurt and milk out from the fridge about 30 minutes before you plan to start working on this recipe. Cold ingredients will make the cake flatter and not able to rise as much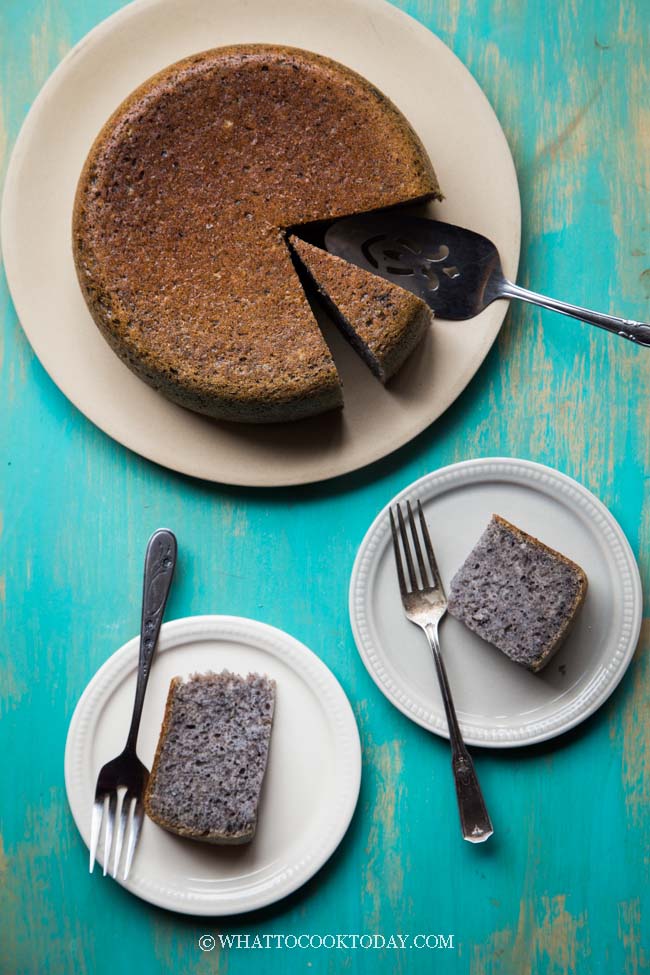 HOW TO MAKE EGGLESS BLACK SESAME SPONGE CAKE WITH A RICE COOKER
1. Mix all the wet ingredients together and whisk until they are well-combined.


2. Sift in the dry ingredients into the wet and then use a rubber spatula to gently combine until you no longer see loose flour. Take care not to overmix it. Some lumps are okay as long as you no longer see any flour


3. Transfer the cake batter into the inner pot of the rice cooker. Smooth it with a rubber spatula and tap the inner pot firmly but gently on the countertop for a few times to pop up any large bubbles


4. Every rice cooker may be different. I don't have a cake function on my rice cooker. So I used the brown rice function, which cooks roughly about 80 minutes or so. The top should be dry to touch and it shouldn't be jiggly.


5. Use a skewer and insert into the middle of the cake and if it comes out clean, the cake is done


6. When the cake is done, keep it warm in the rice cooker for 10 minutes and then remove from the rice cooker


7. Use a plastic knife to loosen the side of the cake if necessary. I don't need to as the inner pot is non-stick and gently invert the cake onto a plate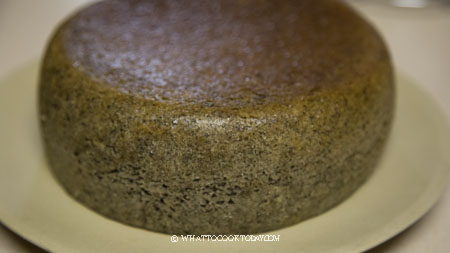 It's not too bad isn't it? It does take a bit longer time compared to baking in the oven, but this is passive waiting time that I don't really mind. The cake smells deliciously nutty thanks to the black sesame paste.

My rice cooker's inner pot measures at 8.5 inch in diameter, so the cake doesn't rise as tall. If you use 7-inch round pan, it would be taller. I believe it will fit in 6-inch round pan too.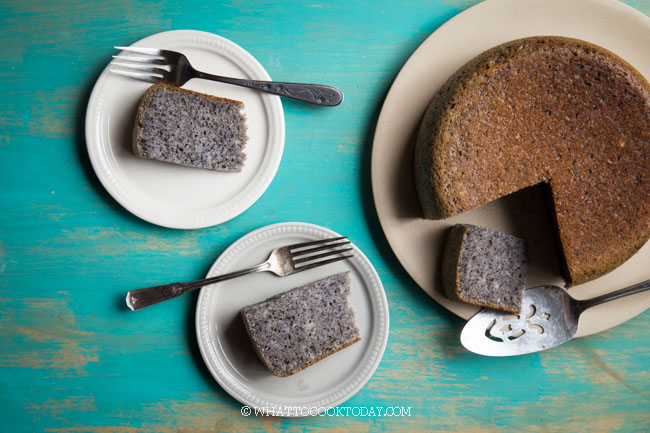 HOW TO STORE EGGLESS SPONGE CAKE
Room temperature: the cake can be store at room temperature for about 3 days unless your kitchen gets really warm, then you may need to store them in the refrigerator. Wrap the cake (sliced or not sliced) in a cling wrap and then keep in an air-tight container to keep them from drying out
Refrigerator: Wrap the whole cake or cake slices in a cling wrap and keep in an air-tight container for up to one week. The longer you keep, the drier the cake is going to be. Let it comes to room temperature before serving so they will be softer or you can warm it up briefly in a microwave until they are just warm if you prefer. This cake is made with oil and no butter, so the cake should be softer compared to one made with butter as oil doesn't solidify in cold temperature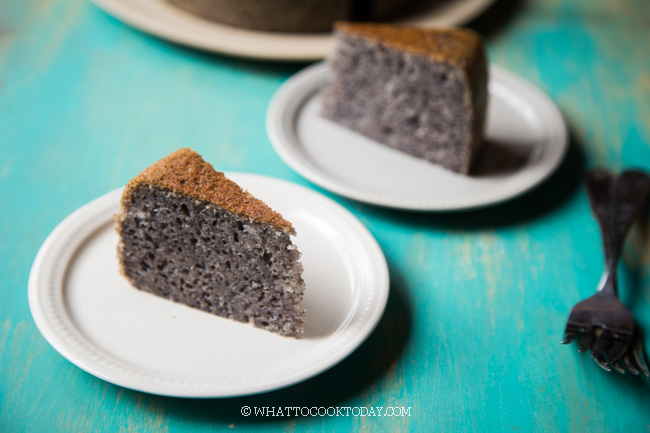 DID YOU MAKE THIS RICE COOKER EGGLESS BLACK SESAME SPONGE CAKE RECIPE?
I love it when you guys snap a photo and tag to show me what you've made 🙂 Simply tag me @WhatToCookToday #WhatToCookToday on Instagram and I'll be sure to stop by and take a peek for real!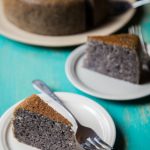 Eggless Black Sesame Sponge Cake (Rice Cooker or Oven)
Ingredients
Wet ingredients:
390

gr

plain yogurt

1 1/2 cups + 1 Tbsp

150

gr

sugar

3/4 cup

70

gr

cooking oil

1/4 cup + 1 Tbsp

50

gr

black sesame paste

about 6 Tbsp, or use black sesame powder

2

Tbsp

milk
Instructions
Preheat oven to 350 F (170 C) if you plan to use an oven to bake. Otherwise, grease the bottom part of the inner pot of your rice cooker with some butter. Alternatively, you can also cut out a parchment paper and line the bottom with it. Mix all the wet ingredients together and whisk until they are well-combined. Sift in the dry ingredients into the wet and then use a rubber spatula to gently combine until you no longer see loose flour. Take care not to overmix it. Some lumps are okay as long as you no longer see any flour
If you use a rice cooker:
Transfer the cake batter into the inner pot of the rice cooker. Smooth it with a rubber spatula and tap the inner pot firmly but gently on the countertop for a few times to pop up any large bubbles

Every rice cooker may be different. I don't have a cake function on my rice cooker. So I used the brown rice function, which cooks roughly about 80 minutes or so. If you have a very basic rice cooker without any functions, you will need a few cycles once the cook button switches off. You may need to wait before you can switch it back on again to continue cooking

How can you tell the cake is cooked ? The top should be dry to touch and it shouldn't be jiggly. It should spring back when you touch. Use a skewer and insert into the middle of the cake and if it comes out clean, the cake is done. When the cake is done, keep it warm in the rice cooker for 10 minutes and then remove from the rice cooker

Use a plastic knife to loosen the side of the cake if necessary. I don't need to as the inner pot is non-stick and gently invert the cake onto a plate
If you use an oven to bake:
Line the bottom of the pan with a parchment paper. Transfer the cake batter into the inner pot of the rice cooker. Smooth it with a rubber spatula and tap the inner pot firmly but gently on the countertop for a few times to pop up any large bubbles

Place on the middle rack, 3rd from the top in my oven, and bake in the preheated oven for 30-35 minutes or until a skewer inserted into the cake comes out clean. The top of the cake should be dry to touch and spring back when you touch. Bake a bit longer if they are not cooked yet

Use a plastic knife to loosen the side of the cake if necessary. I don't need to as the inner pot is non-stick and gently invert the cake onto a plate
YOU MAY WANT TO TRY THIS RICE COOKER JAPANESE CHEESECAKE TOO