Lombok is known for its famous ayam bakar taliwang. Chicken pieces are coated in super aromatic spices and herbs and then grilled to perfection. The recipe can be made with Instant Pot or on the stove.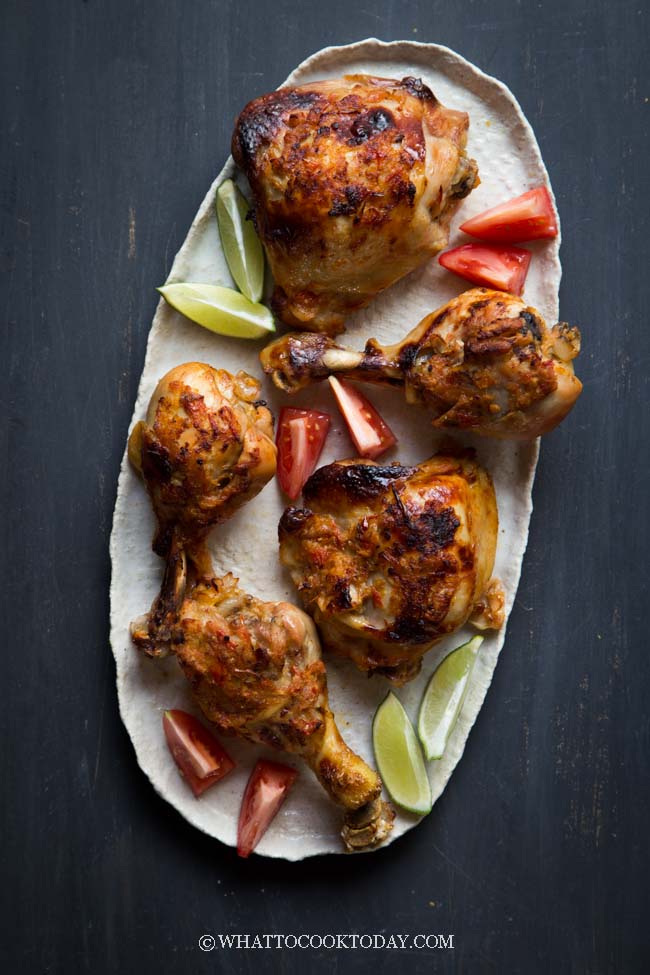 Besides the beauty of the Island itself, Lombok is also famous for its ayam bakar taliwang. The chicken is cooked in aromatic spices and other ingredients and then usually grilled in an open fire (bakar). A modern twist to the recipe is to grill or broil the chicken in the oven to get that nice golden brown and some light chars.
Traditional ayam bakar taliwang is made extremely spicy. I did not make mine too spicy because my kids cannot handle that much heat yet. They can eat spicy food, but not at the extreme level…yet!
SPECIAL INGREDIENTS
1. KENCUR (LESSER GALANGAL/SAND GINGER)
Kencur gives a very distinctive aroma to this dish. It's hard to describe the aroma, but it's not similar to ginger or galangal (lengkuas), despite many people say you can substitute with galangal and ginger. If you can find kencur powder, then you can use it. If you have never had kencur before, chances are you won't know anyway, and you can use galangal instead. I won't use ginger because it's not even close to what kencur aroma supposed to be
2. SHRIMP PASTE
I use a shrimp paste (wet kind), but in Indonesia, most people will use the dry terasi that comes in a block. If you use the dry terasi, break them up in smaller pieces and toast them briefly on a dry pan until aromatic
3. CANDLENUTS (KEMIRI)
Many of Indonesian recipes use candlenuts. It adds some creaminess and thicker texture to the dish. You can always substitute with unsalted macadamia nuts, almonds, or cashew nuts

PARTS OF CHICKEN TO USE
Ayam bakar dishes like this are usually made with bone-in skin-on chicken pieces. I use a combination of chicken thighs and drumsticks (pretty big drumsticks), since they cook at pretty much the same time. You can use leg quarters or chicken wings too. I recommend using all the same cut or combinations of cut that have pretty close cooking time so the chicken is cooked at the same time

HOW TO MAKE AYAM BAKAR TALIWANG (WITH INSTANT POT)
1. Preheat a large pot. Add 3 Tbsp coconut oil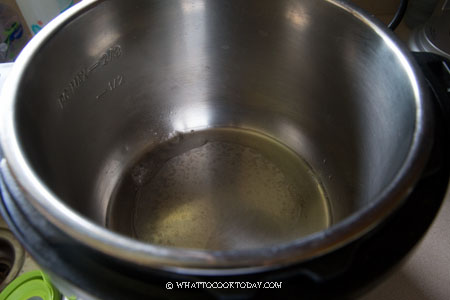 2. Add the grind ingredients you prepared earlier and saute until fragrant, about 3-5 minutes or so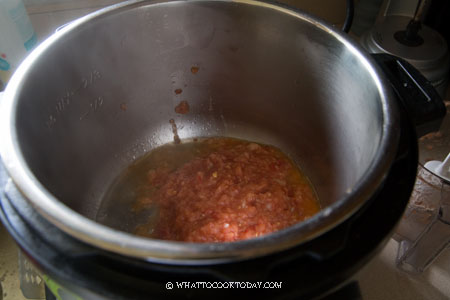 3. Add 1/2 cup of water and scrape the bottom of the pot to make sure nothing gets stuck on the pot


4. Add the chicken pieces followed by seasonings. Stir to roughly combine everything. You don't need much liquid when cooking with Instant Pot as not much liquid "escapes" throughout the cooking process. I used a mixture of drumsticks and thighs and set the timer to 15 minutes. Release pressure immediately after that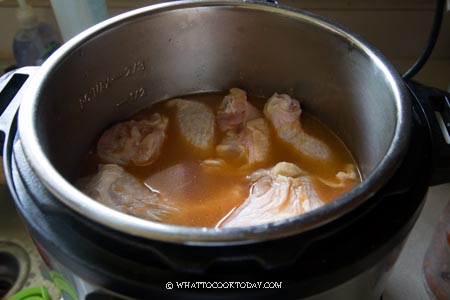 5. When the chicken pieces are cooked through, you will still see some liquid inside.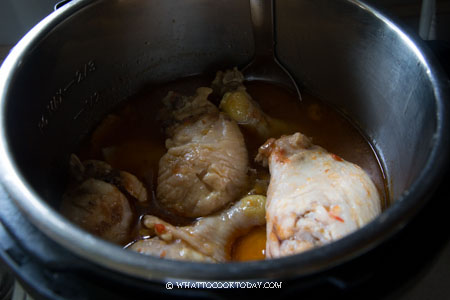 6. Remove the chicken pieces and set aside.


7. You can continue to simmer and reduce the liquid until they are almost dry or what I did was, I strain the liquid and save it to use as a stock to cook rice or other dishes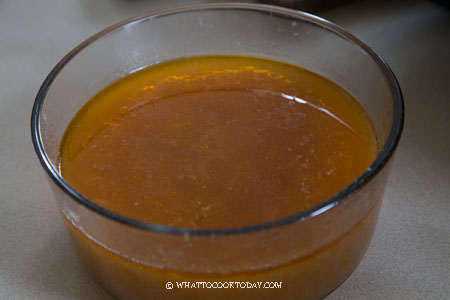 8. You will see the solids left behind. Mix this solid with 1 Tbsp of coconut oil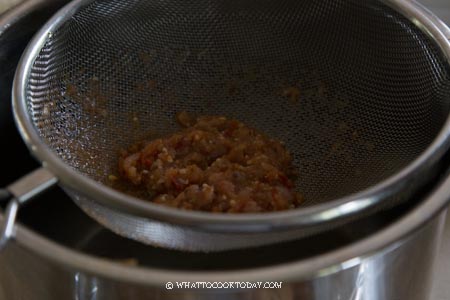 9. Brush this over the chicken pieces


10. I use the broiler on low heat to broil the chicken until brown and slightly charred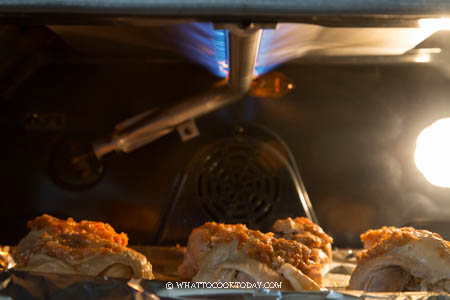 11. Let the chicken pieces rest for 5 minutes before serving

Ayam bakar taliwang is usually served with plecing kangkung

DID YOU MAKE THIS AYAM BAKAR TALIWANG RECIPE?
I love it when you guys snap a photo and tag to show me what you've made 🙂 Simply tag me @WhatToCookToday #WhatToCookToday on Instagram and I'll be sure to stop by and take a peek for real!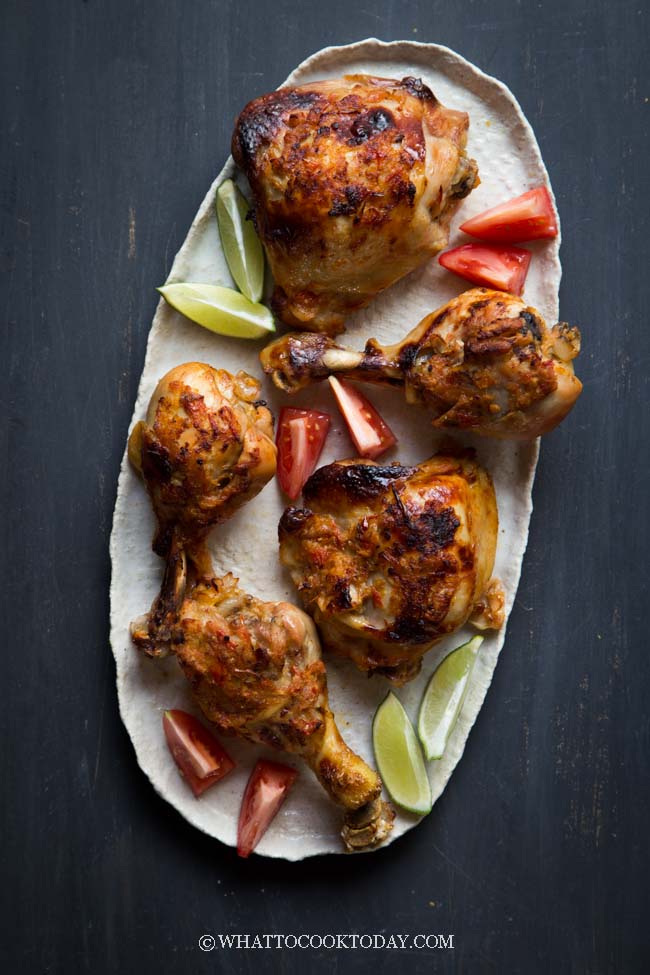 Ayam Bakar Taliwang (Lombok Grilled Chicken)
Ingredients
800

gr

bone-in skin-on chicken

drumsticks, chicken legs, thighs, or wings

Juice of 1 lime

4

Tbsp

coconut oil

divided, or you can use your favorite cooking oil

Water as needed
Ingredients to grind into a paste:
1

large

purple onion

or use 10 shallots

4

cloves

garlic

2

inch

kencur

or use 1 tsp kencur powder, omit if you don't have any

2

large

tomatoes

quartered

8

candlenuts

or use macadamia nuts, cashew, or almond

10

red chilies

or use 2-3 Tbsp of store-bought sambal oelek

5

bird's eye chilies

optional, for extra spicyness

1

tsp

shrimp paste
Instructions
Ingredients to grind:
Place all ingredients to grind in a food processor and process into a paste. Set aside
Prepare the chicken:
If you decide to use a whole chicken, cut into pieces. Rub the juice of limes all over the chicken and let it stand for about 10 minutes
If cooking with Instant Pot:
Press saute on Instant Pot. When it's hot, add 3 Tbsp coconut oil. Add the grind ingredients you prepared earlier and saute until fragrant, about 3-5 minutes or so. Add 1/2 cup of water and scrape the bottom of the pot to make sure nothing gets stuck on the pot. Add the chicken pieces followed by seasonings. Stir to roughly combine everything. You don't need much liquid when cooking with Instant Pot as not much liquid "escapes" throughout the cooking process. I used a mixture of drumsticks and thighs and set the timer to 15 minutes. Release pressure immediately after that
If cooking on the stove:
Preheat a large pot. Add 3 Tbsp coconut oil. Add the grind ingredients you prepared earlier and saute until fragrant, about 3-5 minutes or so. Add the chicken pieces followed by seasonings. Stir to combine everything. Add water until it just covered the chicken pieces and roughly stir to combine. Bring to a boil and then lower the heat to let it simmer until the chicken pieces are cooked through, this may take 20-30 minutes depending the cut of chicken you use
Grill or Broil the chicken:
When the chicken pieces are cooked through, you will still see some liquid inside. Remove the chicken pieces and set aside. You can continue to simmer and reduce the liquid until they are almost dry or what I did was, I strain the liquid and save it to use as a stock to cook rice or other dishes. You will see the solids left behind. Mix this solid with 1 Tbsp of coconut oil. Brush this over the chicken pieces

If you decide to use the oven, turn on the oven to 400 F (200 C). Arrange the chicken pieces on a baking tray lined with aluminum foil. Grill the chicken for 5 minutes each side or until they are nicely brown with some lightly charred spot or until you like how they look

If you use the broiler, broil the chicken until they are nicely brown with some lightly charred spots. Do not walk away as the chicken pieces may get burnt
YOU MAY LIKE THESE AYAM BAKAR RECIPES TOO