Soft and chewy snow skin mooncakes are filled with homemade creamy and sweet durian paste. The snow skin dough is easy to make and stays soft after being chilled in the refrigerator. Step-by-step photos and a video for your reference.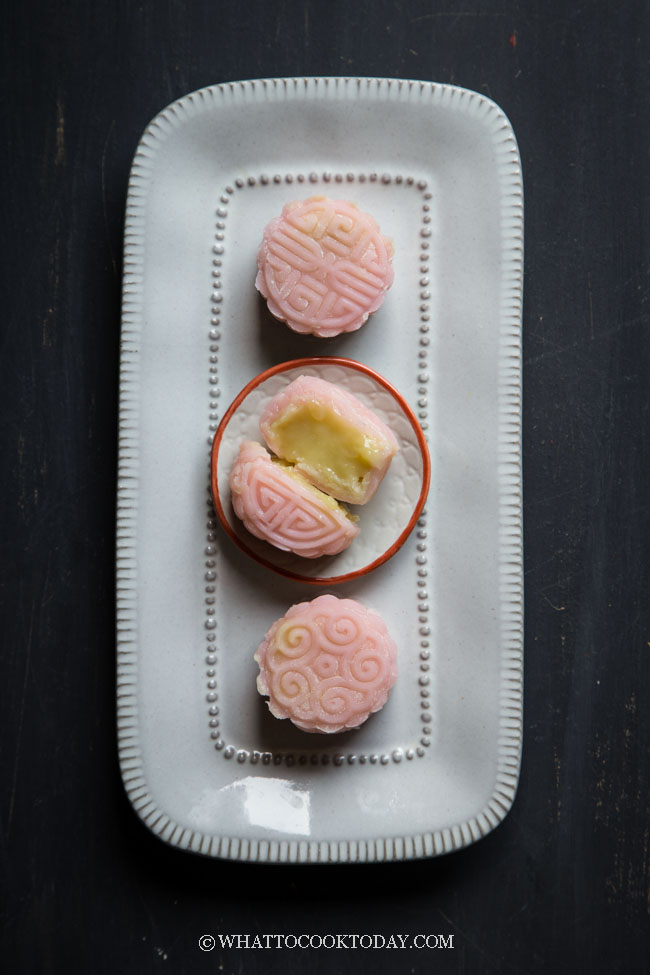 THE KING OF FRUIT
In case you don't know, durian is named as the king of fruit in Asia. What a title, isn't it? Durian fruit is large and has spikes all over it on the outside. You can smell the extremely strong aroma even before you open up the fruit. My parents often say "One cannot lie when he just ate some durian". Your breath and your other waste products will smell like one LOL! Durian is very well-love in Southeast Asia especially Indonesia, Malaysia, Singapore, Thailand, and perhaps other Southeast Asian countries too. There are so many different varieties of durian out there. Some people like it sweet and buttery, some like durian with sweet and slightly bitter tone to it. I, just don't want to have anything to do with durian LOL!
I am the only one in the family that doesn't like durian since I was a kid. During peak durian season, my siblings and parents would be feasting on durian while I stayed away somewhere I couldn't smell the durian strong aroma. Now with two kids of my own, I still don't like durian, well, I should say I don't like to eat durian flesh/pulp on its own. My husband loves durian and he hasn't had durian for the longest time ever. He couldn't even remember how long it has been. So I decided I should make something with durian 🙂
WHAT TYPE OF DURIAN TO USE
I'm no durian expert as you can see. Here in Minnesota, we don't have much (or any) choice when it comes to durian. I could only get frozen seedless durian flesh from Thailand. Durian aficionado will say "That's not the best tasting durian". Malaysia has the best durian known as Butter durian, Musang King, or Mao Shan Wang (literally means Cat Mountain King). This is truly the cream of the crop for durian lovers out there. It is buttery, sweet, and smooth in texture. If you have this, then by all means use that 🙂 My husband can only dream of mao shan wang LOL! You can use any of your favorite durian flesh for this recipe really!
WHY YOU WILL LIKE THIS RECIPE
1. You don't need to buy gao fen (cooked glutinous rice flour) to make the snow skin. I only stir fry a bit of glutinous rice flour to make gao fen for dusting the dough when shaping the mooncake
2. The dough has an amazingly soft yet chewy texture that reminds you of a good mochi
3. Easy recipe for the durian paste filling
HOW TO MAKE DURIAN PASTE FOR MOONCAKE FILLING
This durian paste is more suitable as filling for mooncakes, pastry, steamed buns. I won't use it as a filling for traditional baked mooncakes as I don't use as much sugar and oil, which are needed for traditional baked mooncakes.
1. Remove durian flesh from the seeds. Mine is frozen and is already seedless so I just need to thaw them overnight in the fridge. Puree in the blender until smooth


2. Place pureed durian on a large skillet. Add sugar and cook over medium heat until sugar melts


3. It will turn runny when the sugar melts


4. Sprinkle in glutinous rice flour and keep stirring until you no longer see loose flour


5. Add the cooking oil and stir until the oil is absorbed


6. Keep stirring until the paste is shiny and leaves the side of the skillet


7. Let it cools down completely at room temperature and then wrap it up and store in the fridge to let it chill


8. When ready to use, portion the durian paste and use a cling wrap to roughly wrap it into a round ball. The portion will depend on the size of your mould

HOW TO MAKE DURIAN SNOW SKIN MOONCAKE
1. STIR FRY SMALL AMOUNT OF GLUTINOUS RICE FLOUR FOR DUSTING
Place 30 gr of glutinous rice flour on a dry non-stick pan over medium heat. Stir fry for about 15 minutes or until the flour started to smell slightly nutty/toasted. Let it cool down completely
2. PREPARE SNOW SKIN DOUGH
Combine all the ingredients in a heat-proof mixing bowl and stir to combine


Place this batter in the steamer and steam over high heat for 15 minutes.


The batter is cooked and solidified


Use a spoon to stir the dough while it's still hot to form a large mass of dough. When it's cool enough to handle, lightly oil your palms and knead the dough a few times to form a smooth non-sticky dough


3. SHAPING AND MOULDING
Divide the dough into 25-gram pieces (for 50-gram mould)


Flatten the dough and roll out into about 4 inches round


Remove the durian paste filling you place in the freezer. Remove the cling wrap. Place the filling in the middle and wrap around it


Dust the dough with cooked glutinous flour you prepared earlier. Dust off excess flour


Place this into the mould and press to imprint the pattern on the dough. Repeat with the rest of the dough and filling


4. CHILL
Transfer to an air-tight container and keep them chilled in the refrigerator for 3-4 days. The longer you keep, the drier the skin will get. They freezes well however
HOW TO STORE DURIAN SNOW SKIN MOONCAKES
REFRIGERATOR: Keep them chilled in the fridge in an air-tight container for up to  3-4 days as the skin will get drier the longer you keep them in the fridge
FREEZER: Place them on a baking sheet lined with  a parchment paper or wax paper. Let them freeze for about 1 hour and then transfer them to a freezer-friendly bag or container and they won't stick to each other. They can be kept frozen for 2 months
DID YOU MAKE THIS DURIAN SNOW SKIN MOONCAKE RECIPE?
I love it when you guys snap a photo and tag to show me what you've made 🙂 Simply tag me @WhatToCookToday #WhatToCookToday on Instagram and I'll be sure to stop by and take a peek for real!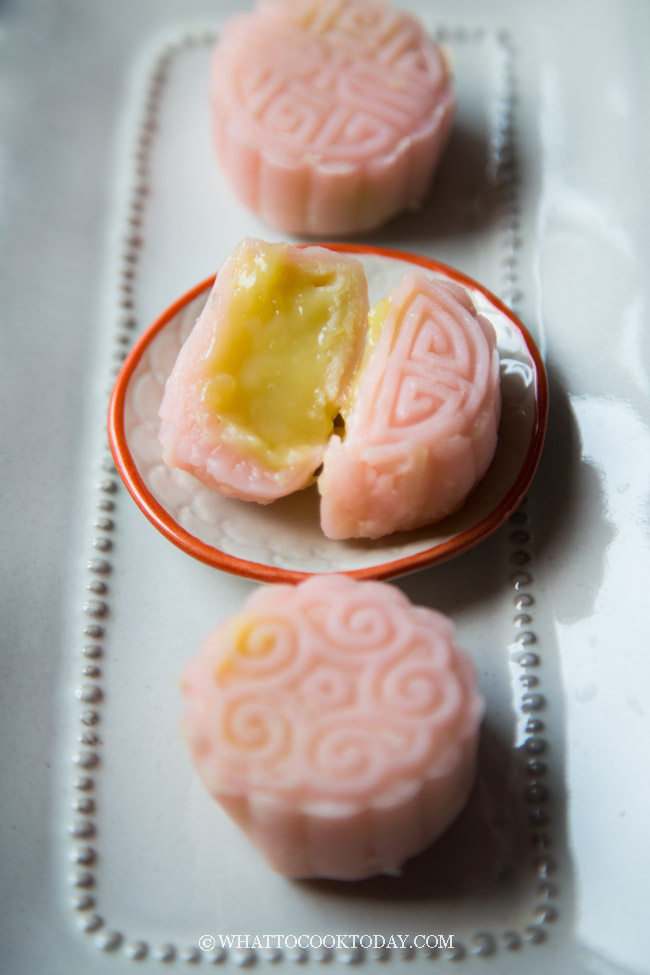 Durian Snow Skin Mooncake (榴蓮冰皮月餅)
Instructions
Stir-fry the glutinous rice flour you will use for dusting (can be done several days/weeks before):
Place 30 gr of glutinous rice flour on a dry non-stick pan over medium heat. Stir fry for about 15 minutes or until the flour started to smell slightly nutty/toasted. Let it cool down completely. Store in an air-tight container at room temperature and they can be kept for weeks or even months
Prepare durian paste (do this the day before):
Remove durian flesh from the seeds. Mine is frozen and is already seedless so I just need to thaw them overnight in the fridge. Puree in the blender until smooth

Place pureed durian on a large skillet. Add sugar and cook over medium heat until sugar melts

It will turn runny when the sugar melts. Sprinkle in glutinous rice flour and keep stirring until you no longer see loose flour

Add the cooking oil and stir until the oil is absorbed. Keep stirring until the paste is shiny and leaves the side of the skillet

Let it cools down completely at room temperature and then wrap it up and store in the fridge to let it chill for at least 2 hours

When ready to use, portion into 25-gram pieces (for 10 mooncakes) and place on top of a cling wrap and twist to roughly wrapping it into a round ball and place in a freezer for about 30 minutes to 1 hour
Prepare snow skin dough:
Combine all the ingredients in a heat-proof mixing bowl and stir to combine. Place this batter in the steamer and steam over high heat for 15 minutes. Wrap the lid of the steamer with a cloth to prevent water dripping into the dough. The batter solidifies. Remove from the steamer

Use a spoon to stir the dough while it's still hot to form a large mass of dough. Cover with a cloth for about 10-15 minutes so it's not too hot for your hands to knead. Don't use a plastic wrap as condensation will form and drip into the dough, making it wet

When it's cool enough to handle, oil your palm lightly and knead the dough a few times to form a smooth non-sticky dough. The dough is very elastic and stretchy

You can also use your standmixer with a dough hook attachment to knead the dough until it's smooth and elastic
Shaping and moulding:
I use a 50-gram mould and I divide the dough into 25-gram pieces, I get 10 pieces.

Flatten the dough and roll out into about 4 inches round. Remove the durian paste filling you place in the freezer. Remove the cling wrap. Place the filling in the middle and wrap around it

Dust the dough with cooked glutinous flour you prepared earlier. Dust off excess flour. Place this into the mould and press to imprint the pattern on the dough. Repeat with the rest of the dough and filling

Transfer to an air-tight container and keep them chilled in the refrigerator for 3-4 days. They are best consumed within 3-4 days. The longer you keep, the drier the skin will get

For longer storage, freeze them. Snow skin mooncake freezes well. I put them on a baking tray lined with wax of parchment paper, not touching each other and then put it in the freezer for about one hour. They won't harden completely, but won't stick to each other. Transfer to a freezer bag or container. They can be kept this way for up to 2 months. When ready to serve, thaw at room temperature and they are ready to be served
Nutrition
Serving:
1
50 grams piece
|
Calories:
134
kcal
|
Carbohydrates:
21
g
|
Protein:
1
g
|
Fat:
5
g
|
Saturated Fat:
1
g
|
Polyunsaturated Fat:
1
g
|
Monounsaturated Fat:
3
g
|
Trans Fat:
1
g
|
Sodium:
2
mg
|
Potassium:
116
mg
|
Fiber:
1
g
|
Sugar:
5
g
|
Vitamin A:
9
IU
|
Vitamin C:
4
mg
|
Calcium:
4
mg
|
Iron:
1
mg