This absolutely delicious dessert is made of a medley of sweet potatoes in purple, orange, and yellow color and also taro/yam serve in sweet and aromatic coconut milk broth studded with soft and chewy tapioca pearls.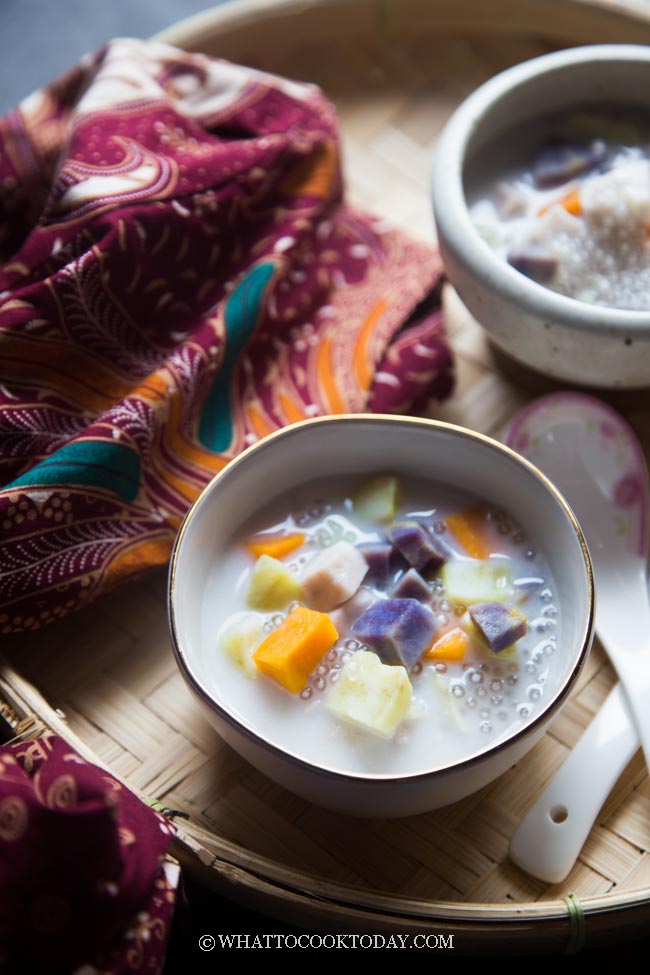 It's really hard for me not to love many of the coconut-based desserts, cake, or kue/kueh. It's in my blood I suppose. Coconut is truly a quintessential ingredient in Southeast Asia. Bubur means porridge in Bahasa or Malay language. However, bubur cha cha or u ce ce is not the kind of porridge you would imagine, thick and creamy. The coconut milk is actually more watery compared to a dessert such as bubur sumsum or bubur candil. Bubur cha cha is very similar to kolak ubi pisang.
TYPES OF SWEET POTATOES AND TARO/YAM
I used three types of sweet potatoes here: purple, yellow, and orange
After you peel the sweet potatoes, you can see that the purple doesn't have the obvious purple color until you cut it into smaller pieces, exposing the purple color inside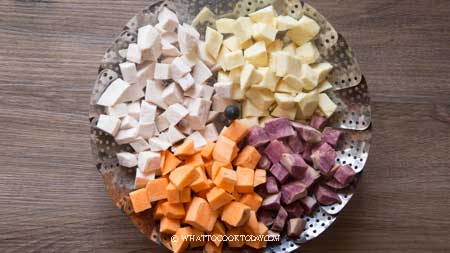 We like to call this yam in Asia, which is actually a taro. Yam in the U.S., usually refers to sweet potatoes and not taro. I usually like to get pre-peeled taro from the Asian market. I hate peeling the thick skin of taro. It makes my skin itches too.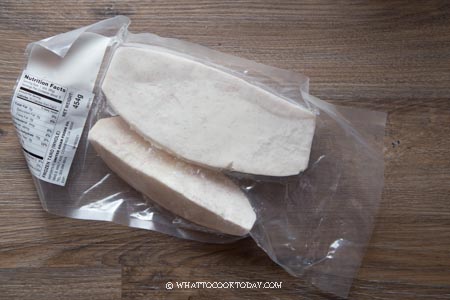 HOW TO MAKE BUBUR CHA CHA / BUBUR U CE CE
1. Steam sweet potatoes and taro
Peel and cut the sweet potatoes and taro into bite-size cube. Steam over high heat for 10 minutes or until they are fork-tender but not mushy. Set aside after that


2. Boil tapioca pearls
The tapioca pearls I got do not need to be soaked. Bring a large pot of water to a boil. Add tapioca pearls and cook until they turn translucent and cooked through, about 10 minutes or so. Give them a stir every now and then to prevent sticking to the bottom of the pot. Turn off the heat and cover and let them sit for 10 minutes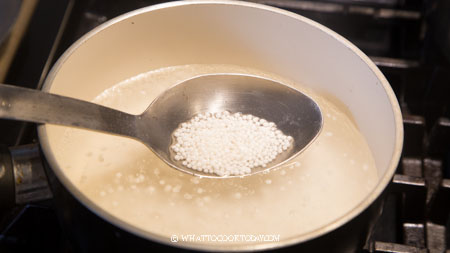 Drain off the cooking liquid and rinse the pearls in cold running water. This will get rid of excess starch and prevent the pearls from clumping into each other. Let them soak in cold water while you prepare other things. Set aside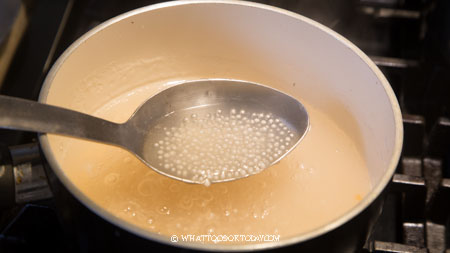 3. Prepare the sweet coconut broth
Place all ingredients for the sweet coconut broth in a large pot, except for the coconut milk. Bring to a gentle simmer to melt the sugar. Once the sugar melts, add the coconut milk. Take care not to boil the coconut milk or they will curdle. Have a taste and adjust to your preference. Turn off heat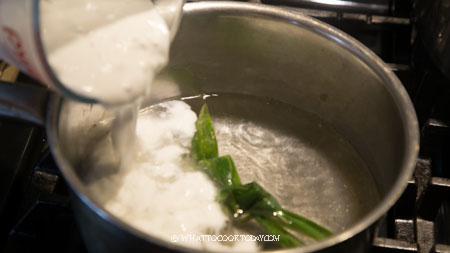 4. Serve
Stir in the cooked sweet potatoes, taro, and tapioca pearls. Serve warm or at room temperature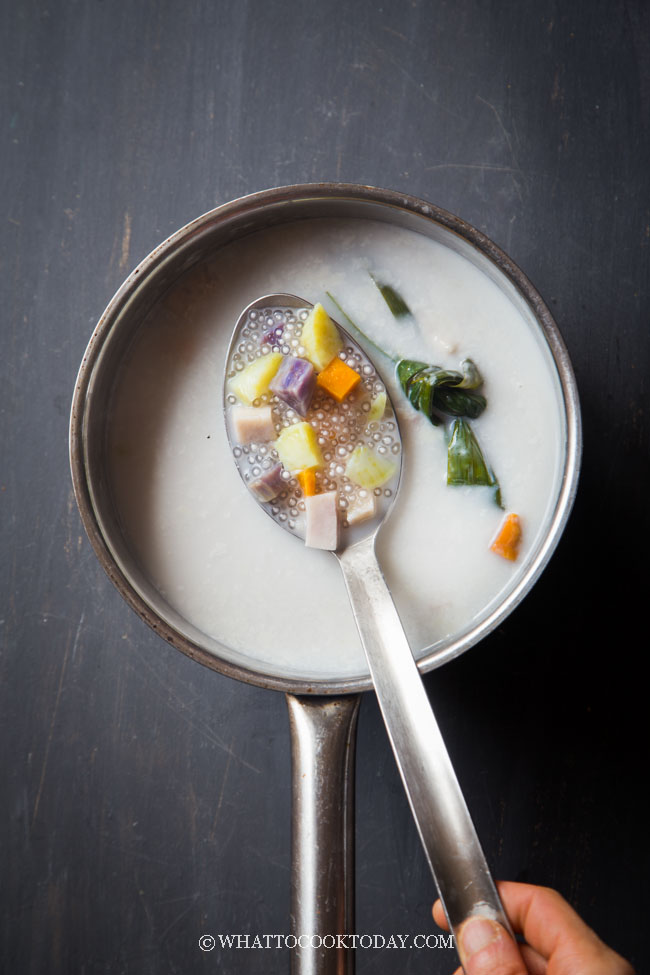 Something so simple and humble is truly so awesome and satisfy that craving for sweet without overdoing it.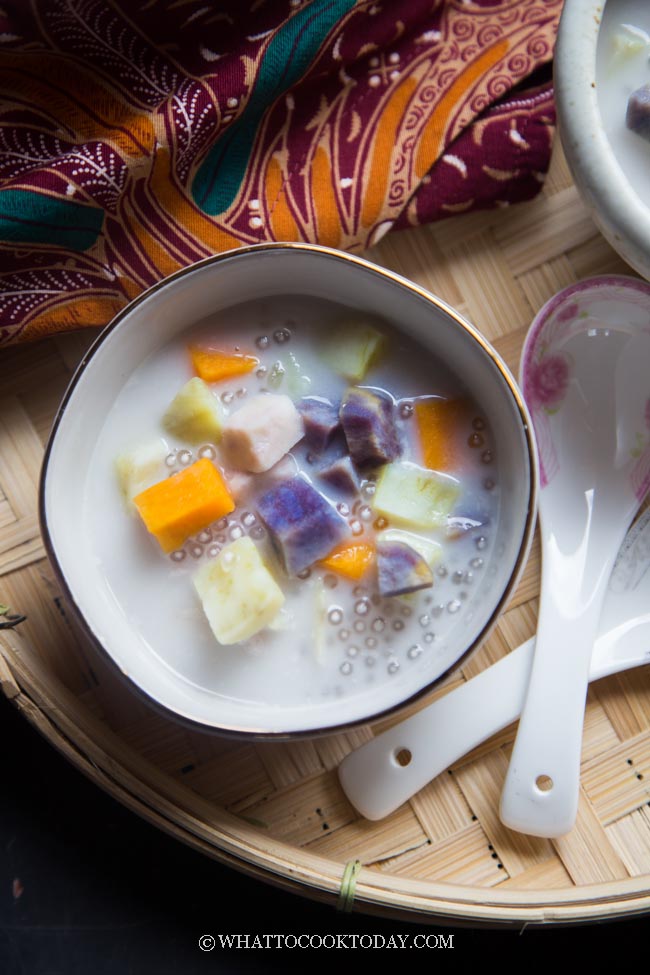 TIPS
1. Don't overcook the sweet potatoes and taro or they will turn into mush when you stir them into the sweet coconut broth
2. Don't overboil the coconut milk. Just cook until the sugar melts over medium-low heat. The broth will turn frothy if the coconut milk is boiled and "break"
3. Tapioca pearls are best kept at room temperature as they will harden if you refrigerate them. They can be kept at room temperature for 2-3 days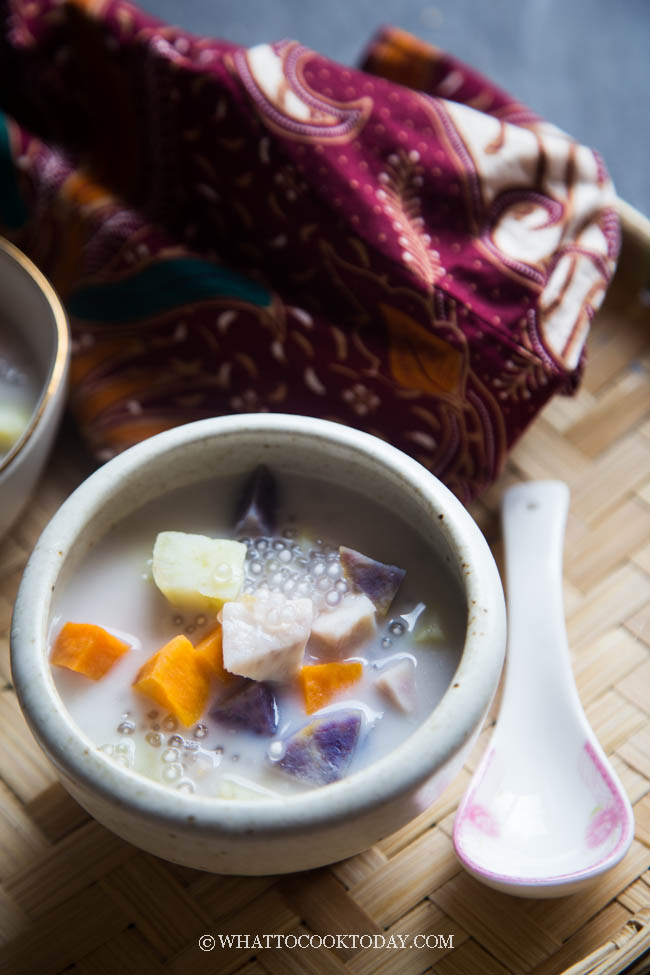 DID YOU MAKE THIS GOLDEN CRISPY SALTED EGG YOLK RECIPE?
I love it when you guys snap a photo and tag to show me what you've made 🙂 Simply tag me @WhatToCookToday #WhatToCookToday on Instagram and I'll be sure to stop by and take a peek for real!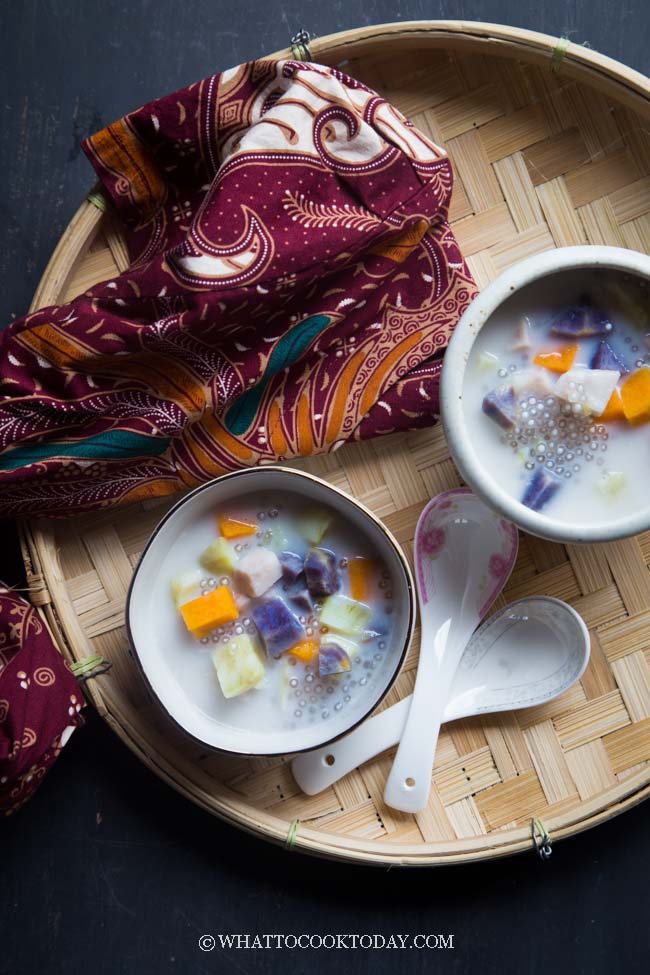 Bubur Cha Cha / Pengat (Nyonya Coconut Milk Dessert)
Ingredients
100

gr

orange sweet potatoes

about 2/3 cup

100

gr

purple sweet potatoes

about 2/3 cup

100

gr

yellow sweet potatoes

about 2/3 cup

200

gr

taro

about 1 1/3 cup

80

gr

tapioca pearls

small pearls, about 1/2 cup
Sweet coconut milk broth:
250

ml

coconut milk

about 1 cup

500

ml

water

about 2 cups

120

gr

sugar

about 1/2 cup+ 5 tsp, or more or less to your taste

¼

tsp

salt

2

pandan leaves

knotted
Instructions
Steam the sweet potatoes and taro:
Peel and cut the sweet potatoes and taro into bite-size cube. Steam over high heat for 10 minutes or until they are fork-tender but not mushy. Set aside after that
Boil the tapioca pearls:
The tapioca pearls I got do not need to be soaked. Bring a large pot of water to a boil. Add tapioca pearls and cook until they turn translucent and cooked through, about 10 minutes or so. Give them a stir every now and then to prevent sticking to the bottom of the pot. Turn off the heat and cover and let them sit for 10 minutes

Drain off the cooking liquid and rinse the pearls in cold running water. This will get rid of excess starch and prevent the pearls from clumping into each other. Let them soak in cold water while you prepare other things. Set aside

The pearls may appear to still have some cloudiness in the center, don't worry, as long as they are soft and chewy and not hard, they are cooked through
Prepare the sweet coconut broth:
Place all ingredients for the sweet coconut broth, except for the coconut milk, in a large pot. Bring to a gentle simmer to melt the sugar. After the sugar melts, add coconut milk. Take care not to boil the coconut milk or they will curdle. Have a taste and adjust to your preference.Turn off heat

Stir in the cooked sweet potatoes, taro, and tapioca pearls. Serve warm or at room temperature
Nutrition
Serving:
1
serving
|
Calories:
430
kcal
|
Carbohydrates:
79
g
|
Protein:
3
g
|
Fat:
13
g
|
Saturated Fat:
11
g
|
Polyunsaturated Fat:
1
g
|
Monounsaturated Fat:
1
g
|
Sodium:
204
mg
|
Potassium:
739
mg
|
Fiber:
5
g
|
Sugar:
35
g
|
Vitamin A:
11936
IU
|
Vitamin C:
9
mg
|
Calcium:
66
mg
|
Iron:
3
mg
YOU MAY ALSO LIKE THESE DESSERTS