Platter of cooked and raw vegetables are served with grilled chicken and the addicting sambal lalap terasi that is a must with any type of lalap.
WHAT IS LALAP
Lalap or lalapan is one of my favorite Indonesian salad after gado gado. Originated from West Java, lalap is popular across Indonesia. Basically it's a platter of vegetables served with entree like fried or grilled chicken, fish, tofu, tempe and sambal lalap terasi. There's no set rule of what types of vegetables to use for lalap. Some like to use only raw vegetables like cucumber, cabbage, tomatoes and some like to cook their vegetables such as spinach, green beans, papaya leaves, cassava leaves, eggplants, etc. I include both raw and steamed veggies I have in my fridge.

SAMBAL LALAP TERASI (SPICY CHILI WITH SHRIMP PASTE)
Like I mentioned earlier, sambal is one of the requirements for lalap. This addicting sambal lalap terasi is pretty much the reason I was craving for lalap 🙂

The sambal lalap terasi is seriously good with just about anything. You can even make nasi lalap

THE AYAM BAKAR IS SERIOUSLY GOOD TOO
The chicken is cooked twice. The first time is usually boiled with spices and seasonings until cooked through and then grilled, broiled or fried. I prefer to pressure cook the chicken and then grill. It's more convenient and the chicken is not overcooked too.

Have you ever tried lalap before? What do you like to have in your lalap?

This blog post contains affiliate links. I earn a small commission when you made purchase at no extra cost to you. Learn more.
Lalapan Ayam Bakar (Sundanese Salad with Grilled Chicken)
Ingredients
For sambal lalap terasi:
6

shallots

peeled and thinly sliced

½

Tbsp

shrimp paste

6

Fresno pepper

stems removed or use 4 Tbsp chili paste

2

Thai red chili

optional, stems removed

1

large

tomato

quartered

1

tsp

salt

2

Tbsp

palm sugar

or coconut sugar

Juice of 1 lime

3

Tbsp

cooking oil
Ingredients to grind for grilled chicken:
6

shallots

4

garlic

1

tsp

coriander powder

2

inches

ginger

1

inch

galangal

or use 2 Tbsp galangal powder
Vegetables:
1

large

cucumber

Handful of green beans

1

large

tomatoes

8

-10 cabbage leaves

cut into large chunks
Instructions
Prepare the vegetables:
Thinly slice the cucumber and cut the tomatoes into quarters. Steam the green beans and cabbage leaves until soft, but not mushy.
Prepare sambal lalap terasi:
Preheat cooking oil over medium heat. Add shallots, shrimp paste, cayenne pepper, and Thai chili (if using) and stir fry until really fragrant, about 5 minutes

Add tomatoes and cook until the tomatoes can be easily mashed. Remove from the heat and transfer to a food processor

Add salt, sugar, and lime juice. Pulse a few times to give you that rustic-looking sambal or process further if you want the sambal smoother. Can be stored in refrigerator for up to 1 week
Prepare ayam bakar:
Marinade the chicken with lime juice while you are preparing other things

Place all ingredients to grind in a food processor and grind until you have a smooth paste

Mix the ingredients you have grind with coconut sugar, kecap manis, and salt. Stir to mix everything

Preheat cooking oil over medium heat. Add the grind ingredients. Stir fry until fragrant, about 5 minutes.
If cooking with Instant Pot pressure cooker:
Place the chicken pieces inside the inner pot of instant pot. Pour 1/4 cup of water inside the pot. It may seem a little of water, but that's enough. Not much liquid is lost in pressure cooker. Add the grind ingredients you stir fry earlier followed by kaffir lime leaves, and lemongrass.


Cover the lid of the instant pot. Turn the steam release valve to seal. Press "pressure cooker" and make sure it's on "hi pressure". Set the timer to 10 minutes. When the timer is up, release the steam immediately. Uncover the lid. Carefully remove the chicken from the inner pot and set aside to let them cool down for 10 minutes. Proceed to grilling

Strain the cooking juice from the inner pot. You will get some solid. Keep the solid and mix with some kecap manis and cooking oil if you like, that's what I did.
If cooking chicken on the stove:
Place the chicken pieces in a large pot. Pour water until just enough to cover the chicken pieces. Add the grind ingredients you stir fry earlier followed by kaffir lime leaves, and lemongrass. Bring to a boil and then lower the heat to let it simmer until the chicken pieces are cooked through, about 20-30 minutes

Remove the chicken pieces from the liquid and keep some of the solids from cooking the chicken. Let the chicken cool down for 10 minutes. Proceed to grilling
Grill the chicken:
Brush the chicken with the sauce and then grill until you are happy with the color
Serving:
Serve the ayam bakar with vegetables and sambal lalap terasi
These are perfect to include in a lalap too:
Ayam Panggang Bumbu Kecap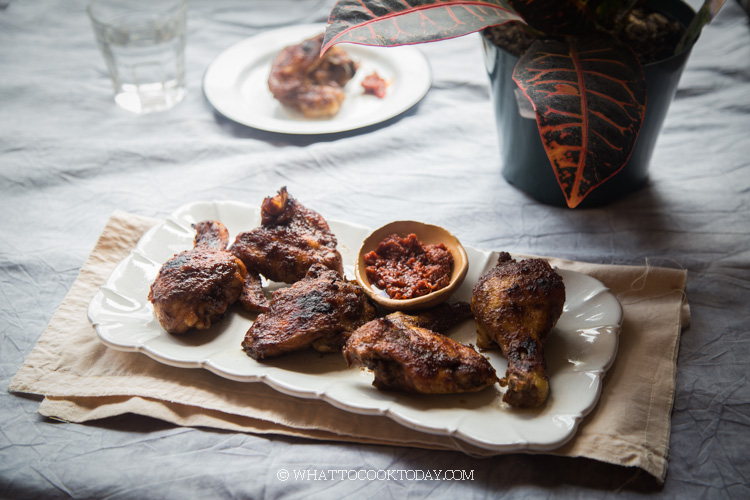 Ayam Goreng Kremes
Ayam Penyet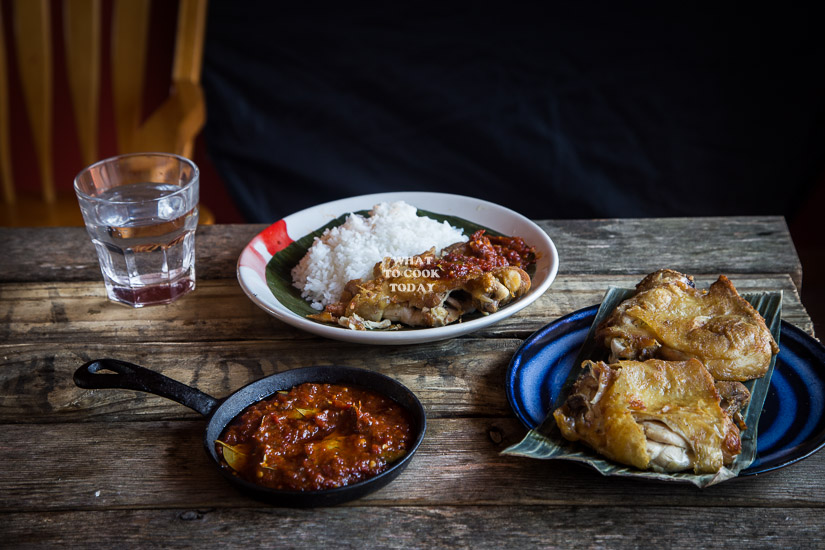 Ayam Goreng Kalasan