Ayam Panggang Bumbu Kecap (Indonesian Kecap Manis Broiled Chicken) – Pieces of chicken are pressure cooked with aromatic spices, herbs, and kecap manis and finished up cooking in the oven by broiling.
AYAM PANGGANG BUMBU KECAP
Ayam panggang bumbu kecap is traditionally made by boiling the chicken in spices, herbs, and kecap manis and then they are baked. It's not unusual to see many Indonesian recipes usually cook the meat twice, first to infuse the aroma from spices and herbs and then finished cooking by frying, grilling, or baking.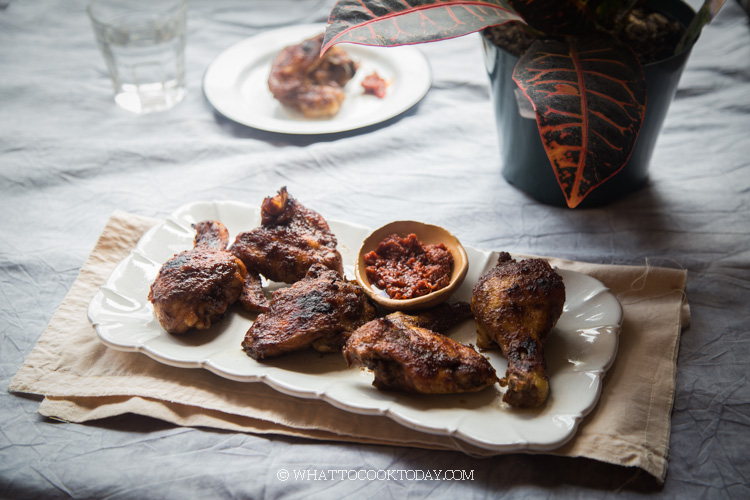 WHY I LIKE TO PRESSURE COOK THE CHICKEN AND THEN BROIL
I like to pressure cook the chicken first because the chicken is not overcooked. I'm not boiling the chicken to death so of speak. The chicken is still infused with great flavor and cooking time is short too. I use a mixture of thighs, wings, and drumsticks because I cut up the whole chicken. I don't use breast because no one in the family likes chicken breast 🙂 Setting the pressure cooker time to 10 minutes is sufficient to cook the chicken without overcooking them. Broiling the chicken will add that nice char to the overall look.

This blog post contains affiliate links. I earn a small commission when you made purchase at no extra cost to you. Learn more.
INDONESIAN KECAP MANIS
One of Indonesian staple ingredients is kecap manis if you ask me. Indonesian kecap manis is not only thick, and dark, but it is also sweet because of the palm sugar. We don't necessarily use it in every single recipe, not so much in Indonesian Chinese recipe, but traditional Indonesian recipes call for kecap manis more often than not. We use it in
nasi goreng
,
ketoprak
,
sate ayam kecap
,
tahu goreng kecap
,
sambal kecap pedas
,
tahu dan tempe bacem
. These are just to mention a few. Kecap manis is also used to marinade meat, and also as dipping sauce. My favorite kecap manis is this
kecap manis cap bango
. Many Indonesians will tell you that too. But if you can find this brand,
kecap manis ABC
is a great substitute too.
HOW TO MAKE AYAM PANGGANG BUMBU KECAP
1. Rub the chicken with the ground paste all over
2. Place chicken pieces in the inner pot of instant pot, pour 1/4 cup water and pressure cook on high for 10 minutes
3. Release pressure immediately
4. Strain the juice and keep the solid
5. Mix the solid with basting ingredients
6. Brush the chicken pieces with basting sauce
7. Broil in the oven until golden brown and slightly char. Do not walk away during the broiling process
MAKE-AHEAD AYAM PANGGANG BUMBU KECAP
This will come in handy when you are getting ready for party or just simply because you are prepping for the rest of the week. Here's how:
1. Presure cook the chicken in the presure cooker as written in the recipe
2. Strain the juice and keep the solid. The solid can be keep in the refrigerator for up to 1 week
3. Let the chicken cool down for 1 hour and then freeze the chicken pieces in smaller batch
4. When ready to serve, thaw in the refrigerator
5. Get rid of any extra liquid after thawing
6. Combine the solid with other basting ingredients and brush this on the chicken pieces
7. Broil as directed in the recipe

*Recipe is written for 6-quart Instant Pot. Cooking time should remain the same for 8-quart size but will take longer to pressurize. For mini duo (3-quart), I suggest to half the recipe and use the same amount of time to cook*
Pieces of chicken is pressure cooked with aromatic spices, herbs, and kecap manis and finished up cooking in the oven by broiling.
For baking/ kueh making: I highly encourage to weigh ingredients with a digital kitchen scale instead of using measuring cups as they are not very accurate especially when it comes to recipe that requires precision.
GRAMS TO CUPS CONVERSION (UNSIFTED)
INGREDIENTS
Ingredients to grind:
1

small

onion

-

peeled, quartered

4

cloves

garlic

-

peeled

1

tsp

fennel seeds

4-5

bird's eye chili

-

optional
You can serve with:
INSTRUCTIONS
Pressure cook the chicken (can be prepared one day before):
Mix the ingredients you have grind with coconut sugar, kecap manis, spices, and 1 tsp of salt. Stir to mix everything. Rub this paste all over the chicken

Place the chicken pieces inside the inner pot of instant pot. Pour 1/4 cup of water inside the pot. It may seem like a little water, but that's enough. Place the herbs in

Cover the lid of the instant pot. Turn the steam release valve to seal. Press "pressure cooker" and make sure it's on "hi pressure". Set the timer to 10 minutes. When the timer is up, release the steam immediately. Uncover the lid. Carefully remove the chicken from the inner pot and set aside to let them cool down completely before broiling the chicken

Strain the cooking juice from the inner pot. You can either save the juice for other use as stock or discard. You will get some solid. Keep the solid!
Broil the chicken:
Mix the solid you kept from cooking the chicken and mix with the basting ingredients. Set aside

If you prepare the day before, get the chicken out from the refrigerator 30 minutes before broiling

Generously brush the chicken with the basting sauce. Place the chicken pieces, skin side up, on a baking sheet lined with aluminum foil

Turn on the broiler in your oven to low. Set the oven rack about 5-8 inches from the broiler. Place the baking sheet inside the oven and let the chicken broil until it has nice golden brown and slightly char. Do not walk away during this process. Kecap manis may get burned easily. If the chicken get brown too quickly, you may need to move the rack lower

Once you are happy with the color of the chicken, remove from the oven. Ready to serve
Notes
You may use a whole chicken and cut them into pieces or mixture of pre-cut bone-in skin-on chicken thighs, drumsticks, or wings