Bun Thit Nuong (Vietnamese Grilled Pork Rice Vermicelli Noodles) – Rice vermicelli noodles served with Vietnamese thit nuong (grilled pork), fresh herbs, veggies, do chua, and nuoc mam cham sauce to make  super delicious and refreshing bun thit nuong.
Vietnam is definitely one of the countries in our to-visit bucket list. I can't believe I still haven't been to Vietnam, considering it is also in Southeast Asia. Not too far from Indonesia. I don't get much exposure to Vietnamese food, if at all, until I went to Oklahoma for school eons ago. There are several of my favorite Vietnamese restaurants there and that's when I started to get obsessed with Vietnamese food.
Pho, goi cuon, and banh mi seem like the few things that most people know when it comes to Vietnamese food, but like I've mentioned before that my favorite Vietnamese foods are actually bun bo hue, bun rieu, banh xeo, banh beo, and this bun thit nuong.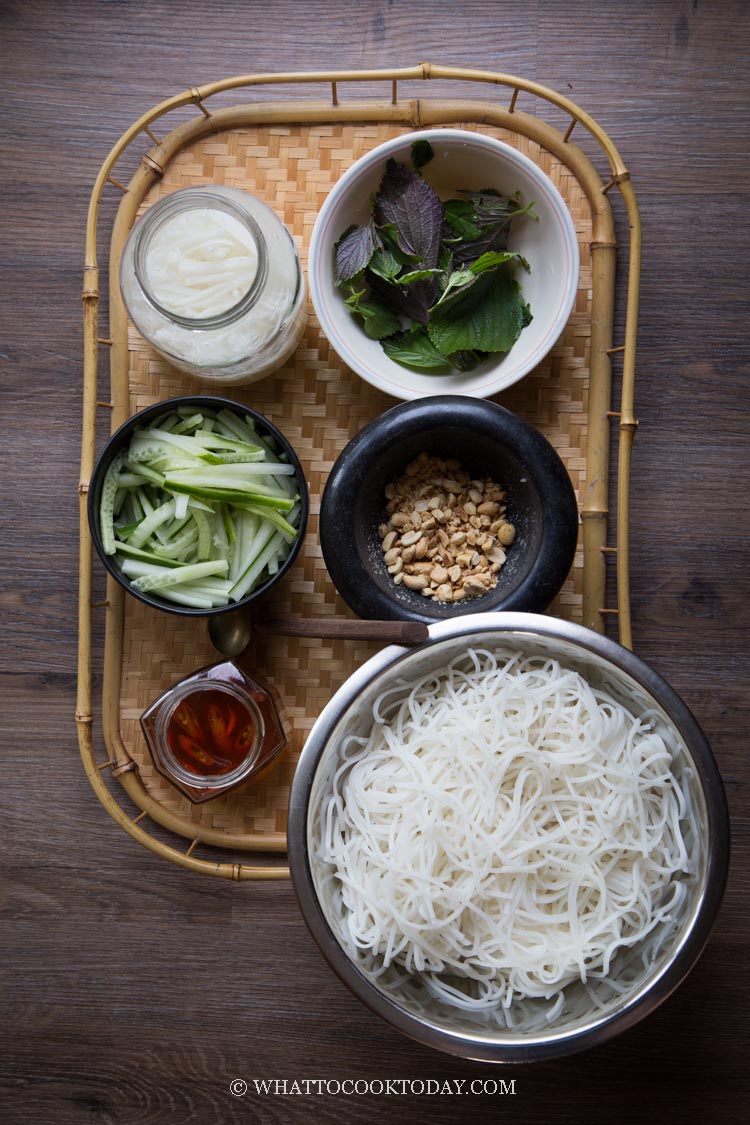 BUN THIT NUONG
Bun Thit Nuong or known as Vietnamese grilled pork with rice vermicelli noodles is usually served with thit nuong(grilled pork), fresh herbs, veggies, and accompanied by nuoc mam cham (fish sauce dipping sauce). Thit nuong is fairly thinly sliced and then marinated in seasonings like fish sauce, sugar and herb like lemongrass and then grilled.
The noodles can be served cold or room temperature with thit nuong.
Some people like to add cha gio (Vietnamese crispy spring rolls) to make bun thit nuong cha gio.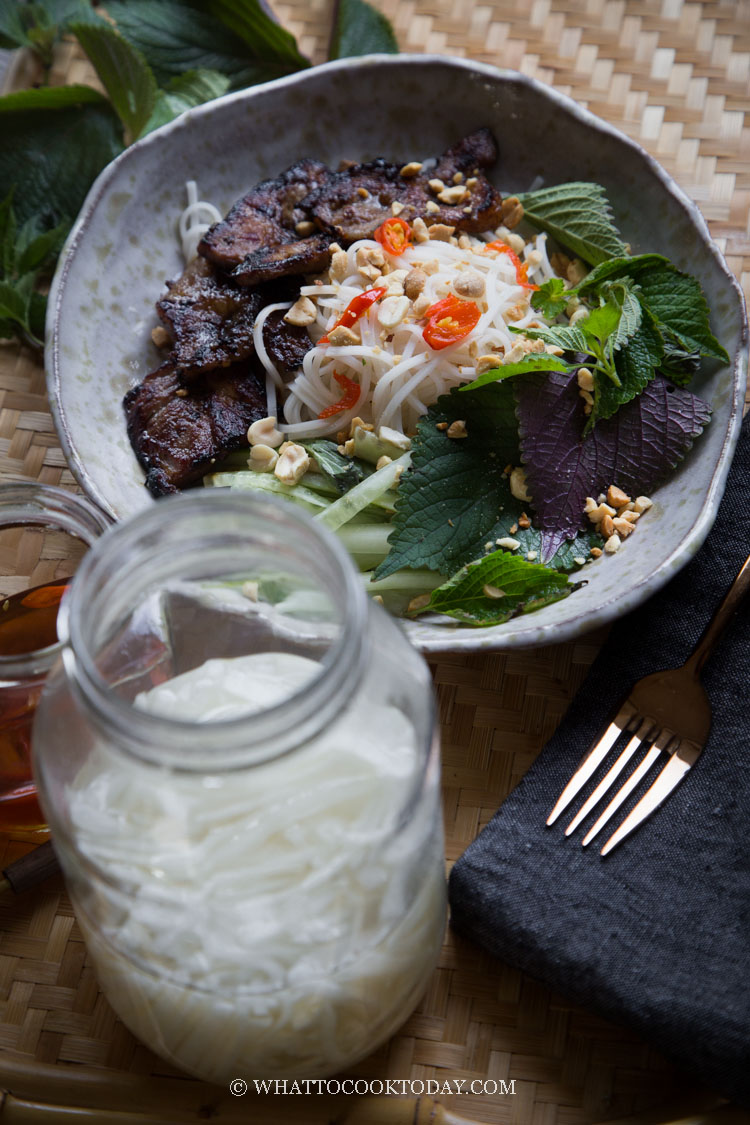 This blog post contains affiliate links. I earn a small commission when you made purchase at no extra cost to you. Learn more.
SPECIAL INGREDIENTS USED TO MAKE BUN THIT NUONG
Rice vermicelli noodles
Lemongrass
Fish sauce
White vinegar
Daikon
Vietnamese perilla (tia to)
HOW TO MAKE DELICIOUS TENDER THIT NUONG
1. Use pork shoulder/butt
I suggest not to use lean meat as they will turn dry and tough after cooking. Pork shoulder/butt will have some fat that will keep the meat tender and more flavorful.
2. Slice thin
The pork needs to be sliced about 1/4 inch thickness. Not too thin, not too thick.
3. Prepare lemongrass
Learn how to chop the lemongrass to be used in this recipe.
4. Marinade
The meat needs to be marinated for at least 1 hour and up to 8 hours
5. Let meat comes to room temperature
Let the meat out from the fridge 30 minutes before you plan to grill the pork
HOW TO PREPARE VIETNAMESE BUN (RICE VERMICELLI NOODLES)
Vietnamese bun is basically a rice vermicelli noodles or we sometimes just call it rice noodles. Not to be mistaken with the flat rice noodles ("fun" in Cantonese). Rice vermicelli noodles are usually round and skinny.
The bun for bun thit nuong usually is not cooked on stove top. The bun is soaked in hot boiling water until softened and then drained and rinsed with cold water. The noodles should still be slightly al dente and not mushy
Here's how to do it:
1. Bring a large pot of water to a boil. Once it comes to a rolling boil, turn off and place the dry rice vermicelli noodle in the pot and let it soak there for 10 minutes. Take one strand of noodle and check for doneness. The noodles should be slightly al dente and doesn't taste raw. If it's still to tough, soak a bit longer
2. Once you are happy with the texture, drain off the hot water and rinse the noodles with cold water to stop the cooking process. If you do not do so, the heat will continue to cook the noodles and make them mushy
3. Now the noodles are ready for you to use
HOW TO PREPARE BUN THIT NUONG
Putting bun thit nuong together isn't as hard as you think, but it does need some planning ahead. If you do plan ahead, you won't feel intimidated
THE DAY BEFORE YOU SERVE BUN THIT NUONG:
1. Marinade thit nuong the day before you plan to serve bun thit nuong
2. Prepare do chua (pickled daikon and carrot) the day before since it needs at least 24 hours
3. Prepare nuoc mam cham
4. Chop roasted peanuts
ON THE DAY OF SERVING BUN THIT NUONG:
1. Soak the noodles in hot boiling water
2. Grill the pork
3. Julienne a cucumber
4. Rinse the fresh herbs
PUTTING EVERYTHING TOGETHER:
1. Portion noodles into individual serving plate
2. Top with 3-4 slices of thit nuong
3. Dress with some cucumber, dau chua, fresh herbs, and chopped peanuts
4. Serve with nuoc mam cham on the side (or you can generously drizzle some on bun thit nuong before serving)
Recipe was originally published in 2013 and now updated with new photos.
Bun Thit Nuong (Vietnamese Grilled Pork Rice Vermicelli Noodles)
Ingredients
1

lb

dry rice vermicelli noodle
Thit nuong:
2

lbs

pork shoulder/butt

⅓

cup

chopped lemongrass

2

shallots

finely chopped

2

cloves

garlic

peeled and finely chopped

1

Tbsp

dark soy sauce

3

Tbsp

sugar

3

Tbsp

fish sauce

Pinch of freshly ground black pepper
Fish Sauce Dipping sauce / Nuoc Mam Cham:
3

Tbsp

sugar

¼

cup

hot water

3

Tbp fish sauce

Juice of 1 lime

1

red chili

seeded if you like and finely chopped
Serve with:
1

large cucumber

peeled, seeded, and julienned

lettuce leaves

shredded

½

cup

roasted peanuts

chopped

Fresh Vietnamese perilla (tia to)

Mint leaves
Instructions
To make nuoc mam cham:
Place the hot water and sugar in a jar and stir until sugar dissolve. Add the rest of the ingredients. Let it cool and then store in a jar container in the refrigerator. It will keep for about a week
Preparing thit nuong:
Place the pork in the freezer for about 30 minutes. This will help you to slice the pork thinly. Slice the pork to about 1/4-inch thickness, about 3-4 inch in width

Place the sliced pork along with the rest of the ingredients in large mixing bowl and let them marinate for at least 1 hour or overnight up to 8 hours
Preparing the noodles:
Bring a large pot of water to a boil. Turn the heat off after the water boils. Place the rice vermicelli noodles in and let it soak for 10 minutes. Check for doneness. It should be slightly al dente and no longer raw tasting. Soak a bit longer if it's still too hard to your liking

Rinse the noodles with cold water after you are happy with the texture. Set aside
Grilling thit nuong:
Preheat the outdoor grill or grill pan (if cooking inside) and then grill the pork, about 2-3 minute each side until the pork slices cooked through and has nice char to them. Set aside
Putting everything together:
Portion the noodles into an individual serving plate. Top with 3-4 slices of thit nuong. Dress with cucumber, lettuce, dau chua, fresh herbs, chopped peanuts, and nuoc mam cham on the side