Crispy savory Vietnamese sizzling crepes (Banh Xeo) is filled with shrimp and slices of pork belly and wrapped in fresh veggies is simply irresistible. You will be tempted to make this often. Trust me!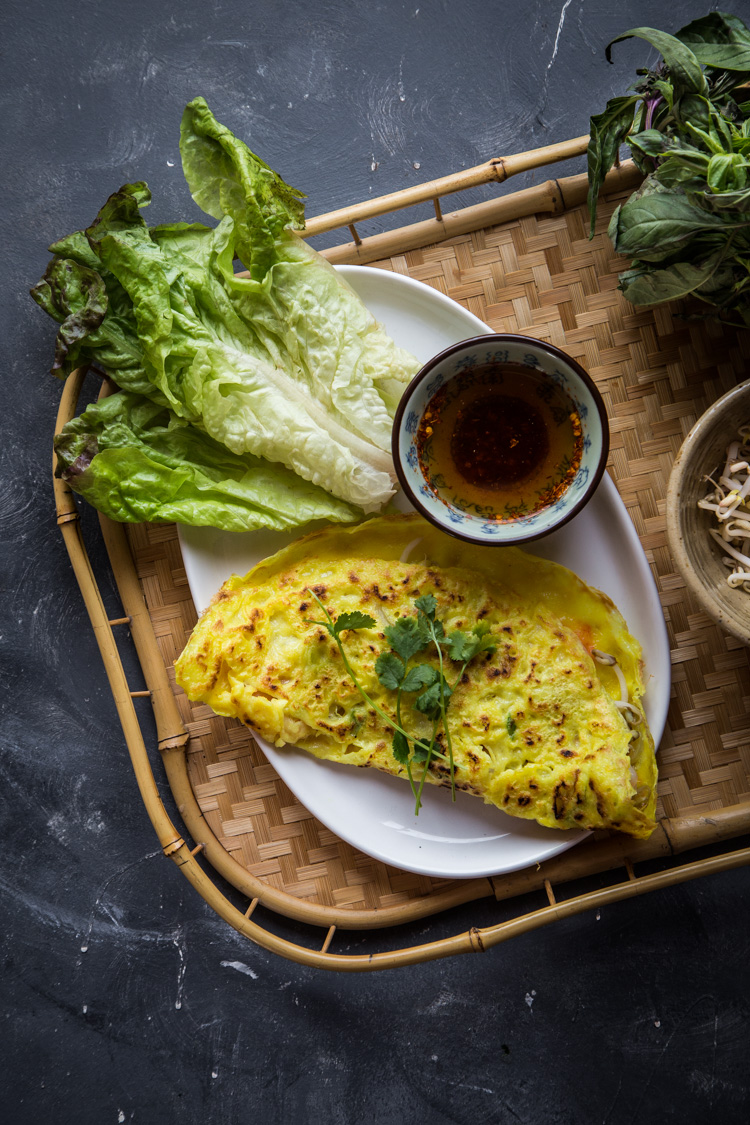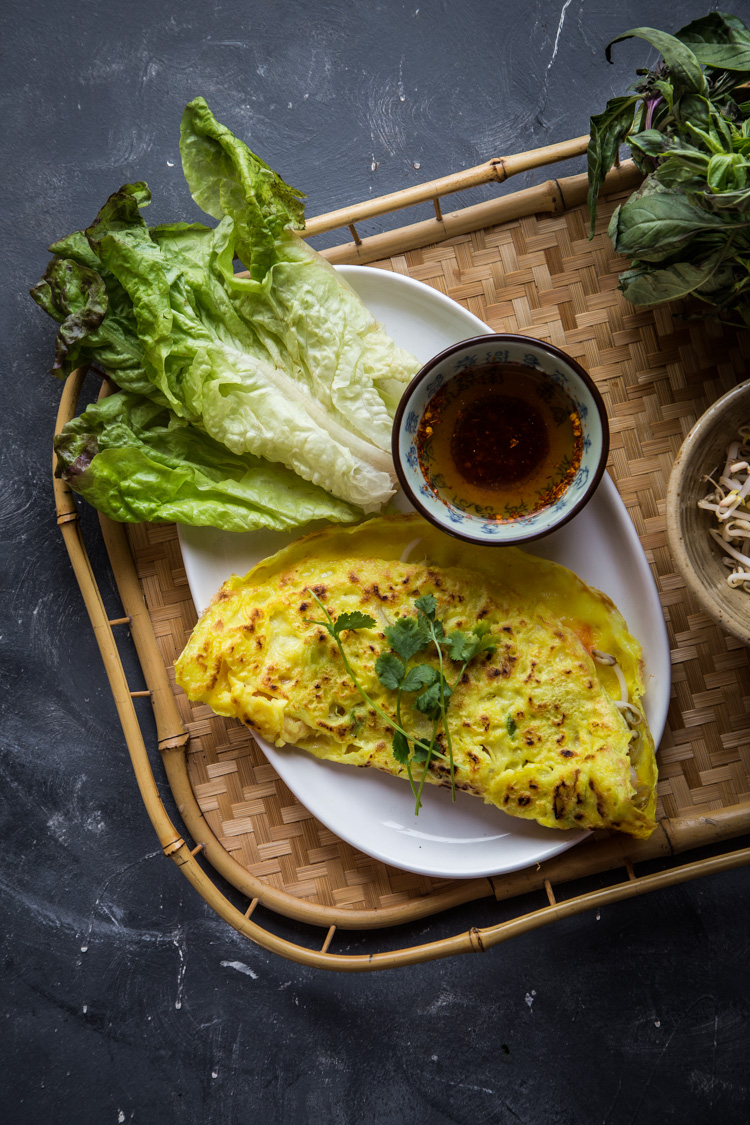 We brought our friend to a Vietnamese restaurant for dinner. They have never really eaten at the Vietnamese restaurant before. We had our minds set on beef pho and our friends ordered the same. Then the waiter passed by us bringing this huge yellow-looking pancake (I thought it was omelet, to be honest!) to the next table. We stopped the waiter and asked her what that was and she said it was banh xeo. That was my first exposure to banh xeo.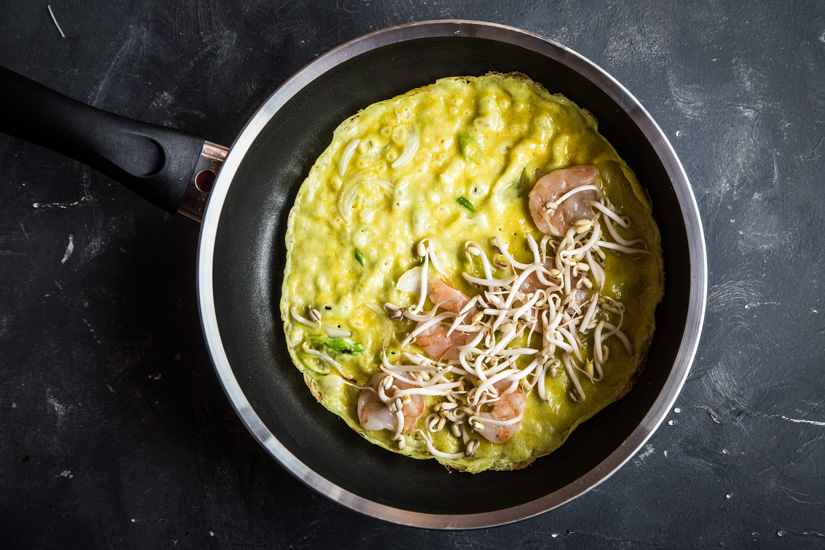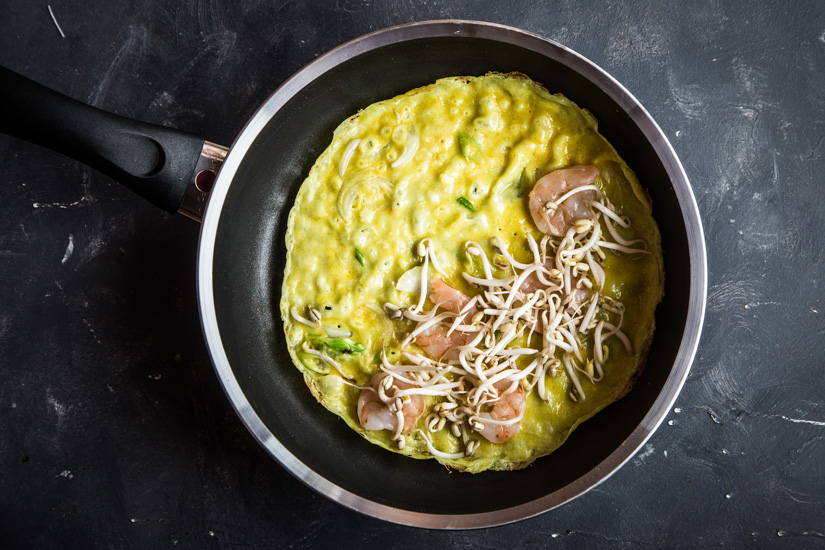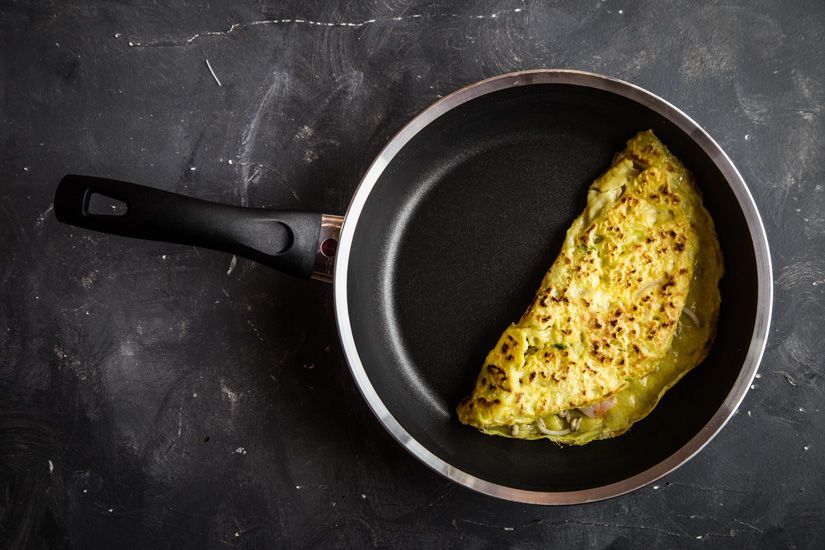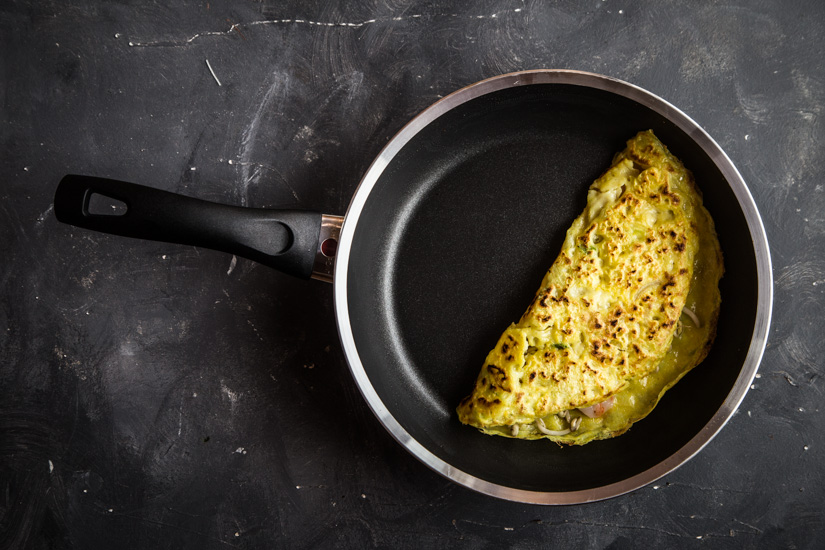 So on top of the pho, we ordered banh xeo as well. I am hooked ever since. This banh xeo gets its name because of the sizzling sound it makes when you cook the crepes. I absolutely love the crispy edge and the soft middle filled with shrimp, slices of pork belly and bean sprouts.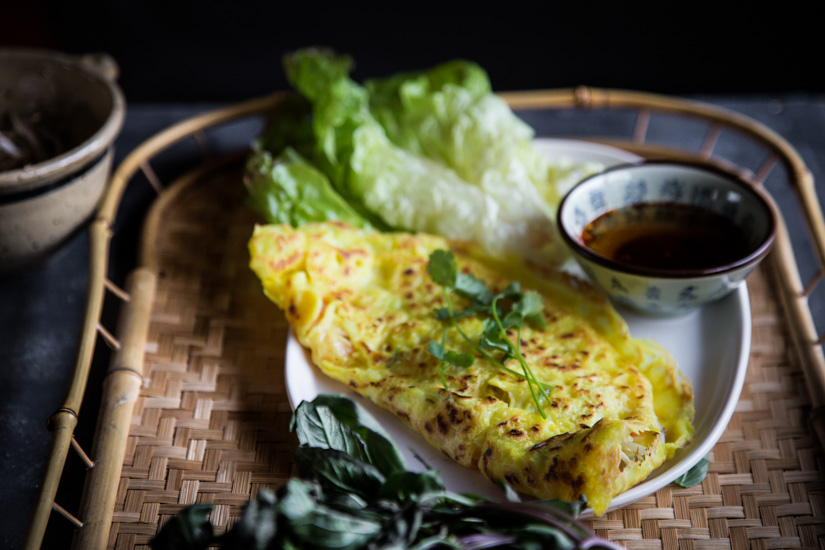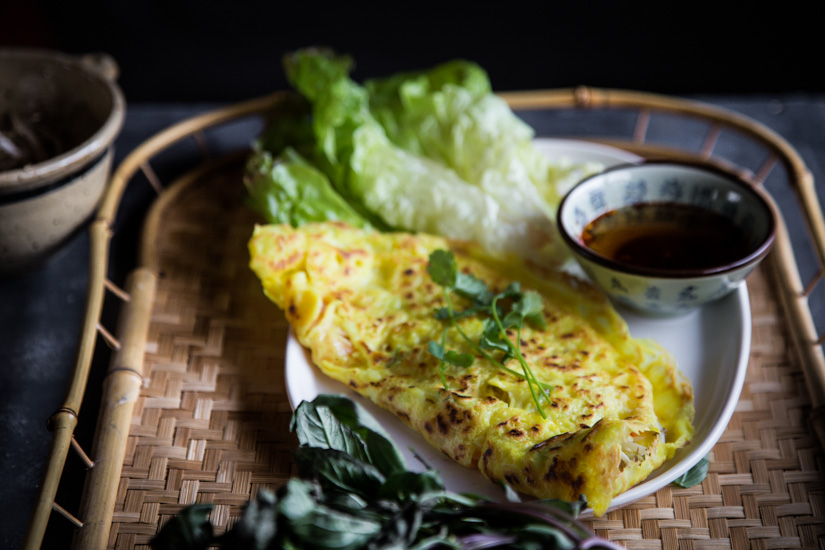 The waiter showed us how to eat it by wrapping it up in a fresh lettuce with some mints and dip it into the nuoc mam cham. That first bite was unforgettable to this date. When I made this banh xeo again, we actually ate them two days in the row!
Vietnamese Sizzling Crepes (Banh Xeo)
Ingredients
Crepes:
2

cups

of rice flour

1

cup

of coconut milk

3

cups

of water

1

tsp

good quality turmeric powder

Pinch of salt

3

stalks of green onions

finely chopped

1

small onion

peeled and thinly sliced
Filling:
1

lb

of large shrimps

8

0z

of pork belly or pork loin if you prefer

1

lb

Fresh bean sprouts
To serve with:
Fresh mint

Fresh cilantro leaves

Lettuce
Nuoc mam cham (Vietnamese fish sauce) :
¼

cup

water

2

tsp

sugar

2

red chilis

seeded if you like and finely chopped

2

Tbp fish sauce

1

tsp

rice vinegar

Juice of ½ lime
Instructions
Boil the pork belly or pork loin in a water (enough to cover) add pinch of salt and let it boil until cook. Once it cools enough to handle, thinly sliced the pork
Making nuoc mam cham
Place the sugar and water in a small pot and cook until the sugar melted and then add all the ingredients for nuoc mam cham
Making the crepes
Prepare the crepes by adding all the ingredients from rice flour all the way up to salt in a blender and blend until smooth. Stir in the green onion. Let the batter rest for 2 hours in the refrigerator

Bring the batter out to room temperature 30 minutes before cooking. In a non-stick frying pan (I use 9" diameter pan), add in just a little bit of oil Add in the 3-4 slices of onion and let it cook for about 20 seconds. Give the batter a good stir (the rice flour tends to sink to the bottom after a while). Scoop about 1/2 cup of the batter and quickly swirl the pan around and once the batter begin to cook, about 1 minute or so add about 4 shrimps and 4 slices of the pork and some bean sprouts and cover with a lid and let it cook for another 1 minute or so. The crepes should start to get crispy at the edge and the color of the crepes should be golden brown. Use a rubber spatula to fold the crepes in half. Slide it gently to serving platter. Repeat with the rest of the batter. Remember to stir the batter each time before you pour it in

Serve immediately with the fresh mint, cilantro leaves and some lettuce if you prefer and nuoc mam cham on the side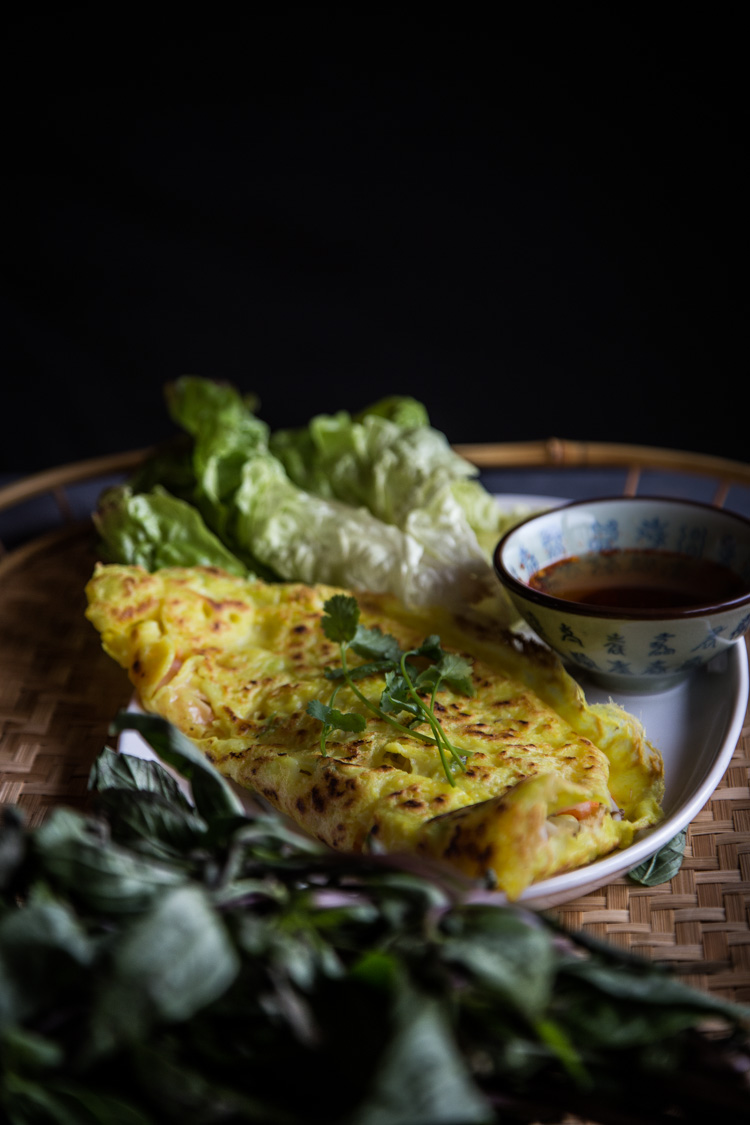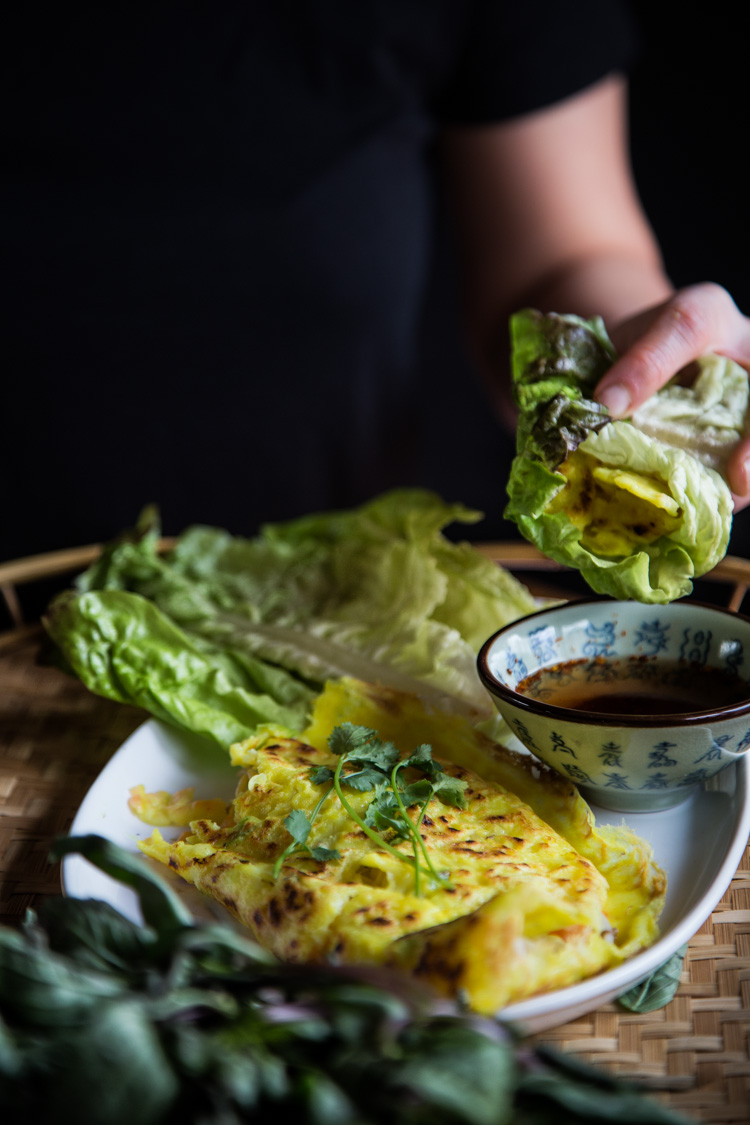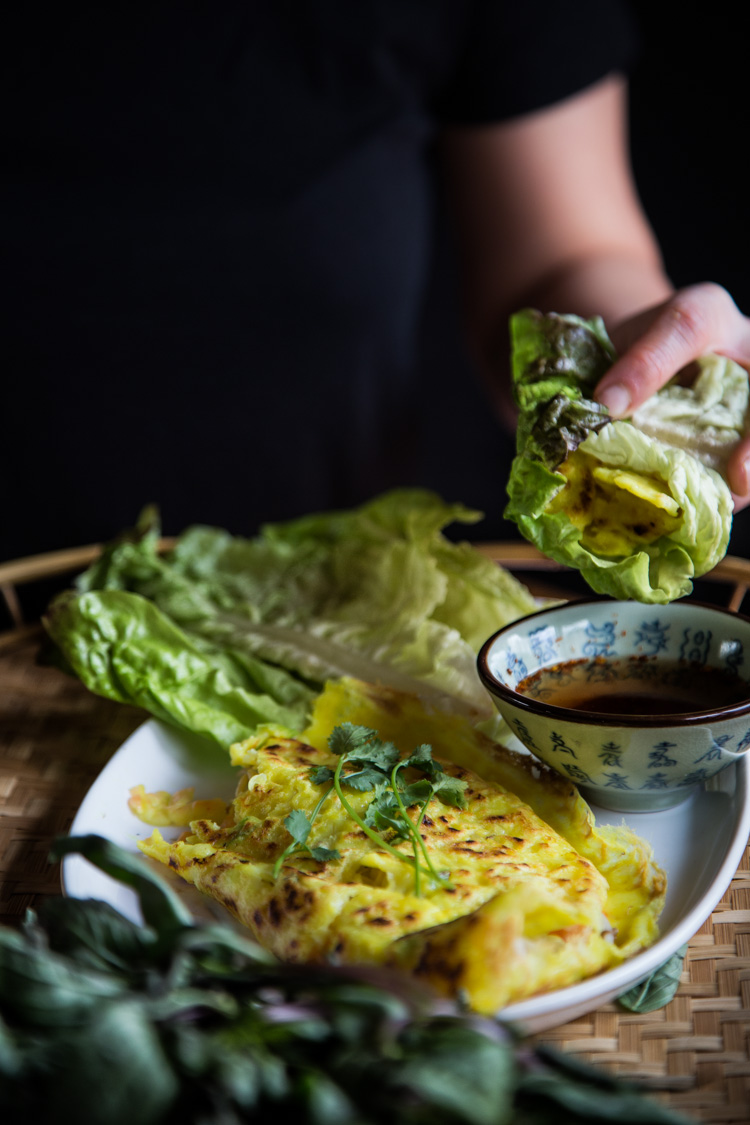 Are you ready for some sizzling ? These are savory crepes you will want to make over and over!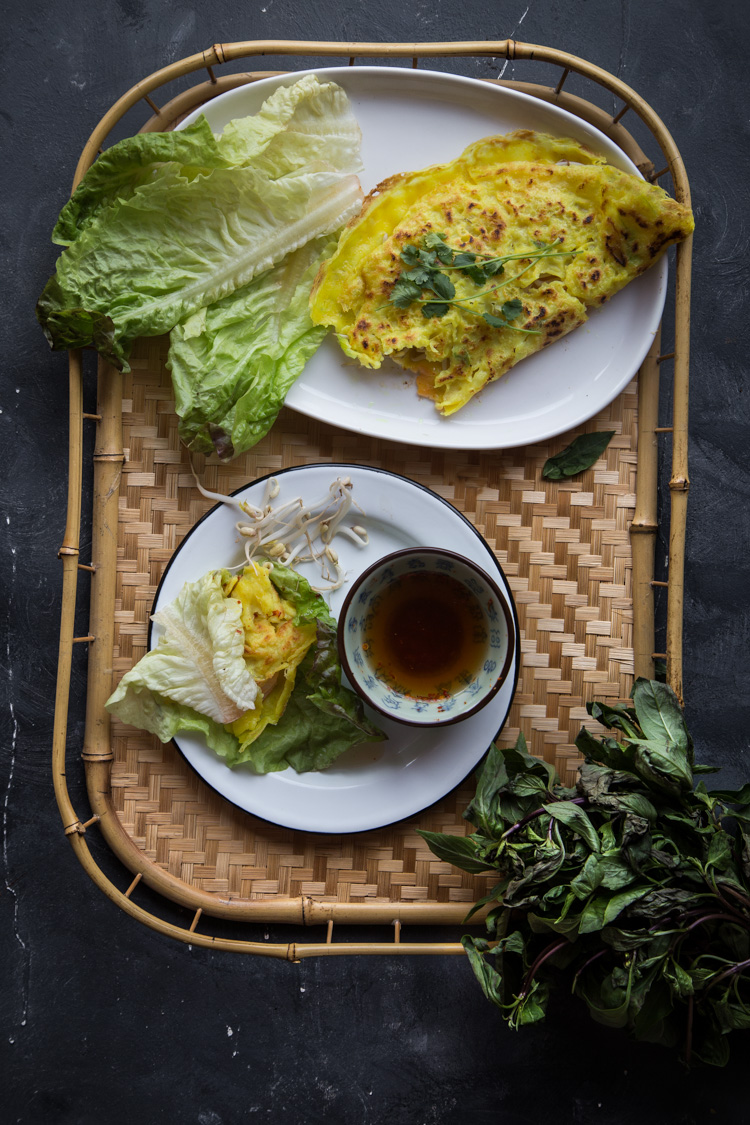 *This post contains affiliate links. You don't pay extra as a consumer if you choose to click on the link and purchase from there. What To Cook Today just receives a small commission from this. That's all. It helps to pay for the cost to have this blog up and running. Thank you so much for your support !