Cha gio (Vietnamese crispy spring rolls) – Bean thread noodles, mushrooms, and ground meat is wrapped in rice paper rolls deep-fried and served with the umami-packed dipping sauce. A great appetizer for sure!
It's Thanksgiving tomorrow. Fiorina has been telling us the list of things she is grateful for and guess what, this cha gio is one of them, besides pencils, eraser, teddy bear, little ponies, princesses and so on and so forth! We usually celebrate Thanksgiving pot luck with friends and my sister-in-law. I totally love the idea of pot luck because everyone chips in food and we get to taste everyone's cooking. One of my shares of the pot luck meal will be this cha gio. These cha gio or known as Vietnamese crispy spring rolls are the classic fried spring rolls or sometimes they call it imperial rolls. Cha gio is wrapped with rice paper wrapper, like the one used to make Vietnamese spring/summer rolls / goi cuon. When you fried the rice paper wrappers, it is incredibly crunchy and light. It puffed up a lot too compare to regular spring roll wrappers. They may not look as pretty as the regular spring roll wrapped in wheat paper, but I think it's so much lighter.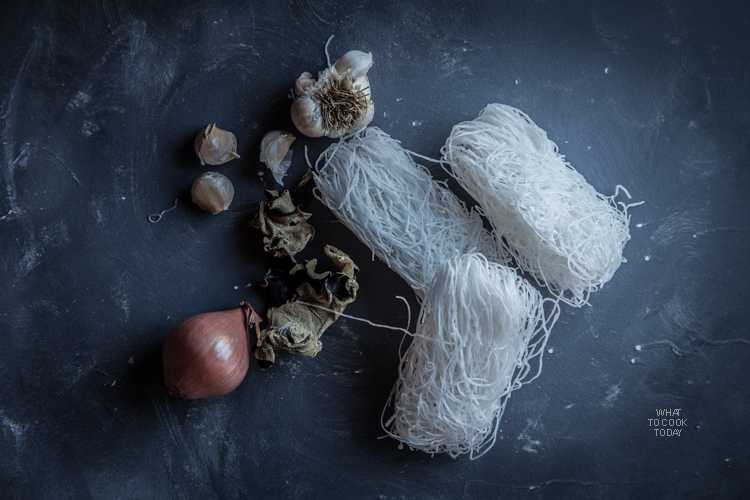 My previous "videos" were made of series of photos put together to look like a video (They call those stop motions). Here's the first cooking video I've ever published on this blog. I had been kinda dreading doing cooking video before that, but I have to say that it gets addicting (especially the editing part!). It's not perfect, but practice makes perfect they say! So, expect more aye?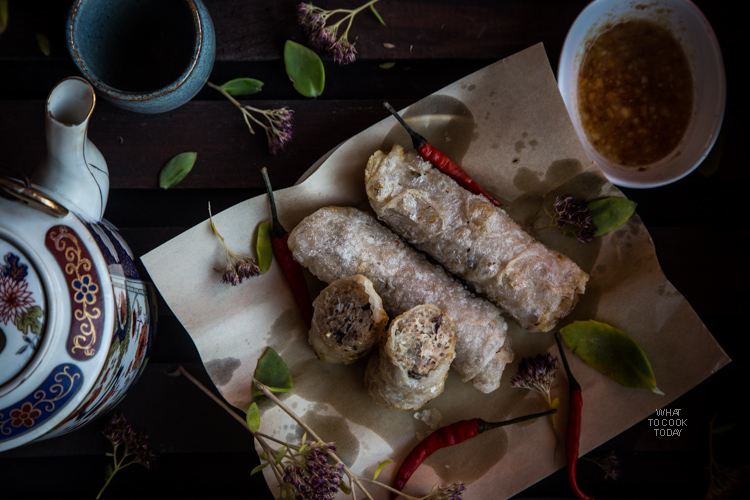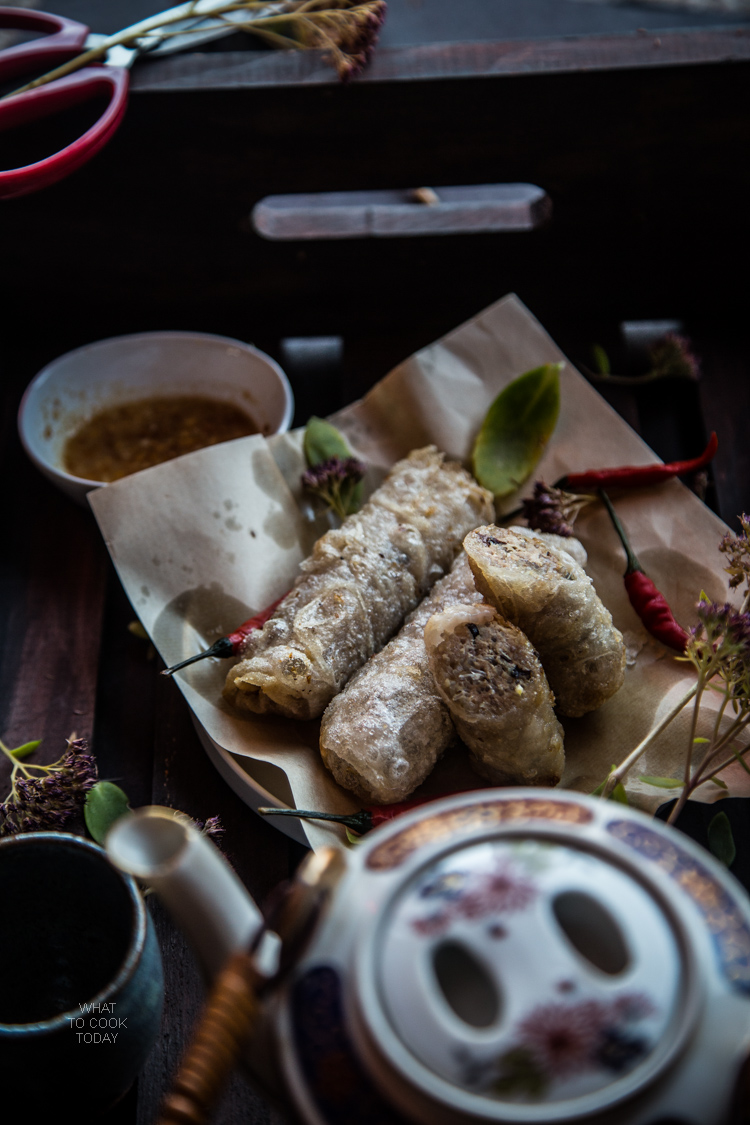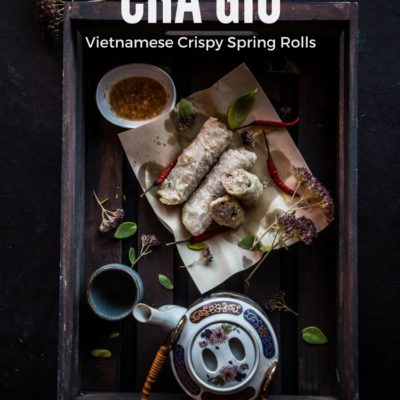 Cha gio / Vietnamese crispy spring rolls (about 25 rolls)
Bean thread noodles, mushrooms, and ground meat is wrapped in rice paper rolls deep-fried and served with the umami-packed dipping sauce. A great appetizer for sure
PIN RECIPE
PRINT RECIPE
Ingredients
About 20 dried rice paper wrapper / banh trang

available at Asian grocery stores
Filling:
1

lb

of ground pork / turkey/ chicken or ground meat of your choice

3

oz

of bean thread noodles

soaked in water until soft and cut into 2-inch pieces

3

dried wood ear mushrooms

soaked in water until soft and finely chopped

3

cloves

garlic

peeled and finely minced

5

shallots

peeled and finely minced

5

tbsp

of fish sauce

2

tbsp

of sugar
Fish Sauce Dipping sauce / Nuoc Mam Cham:
2

red chilis

seeded if you like and finely chopped

2

Tbp fish sauce

1/4

cup

water

2

tsp

sugar

3

cloves

garlic

peeled and finely minced

1

tsp

rice vinegar

2-3

Tbsp

Radish and carrot pickles

optional-recipe below
Radish and carrot pickles (Ca Rot):
1

cup

julienned daikon/radish

1

cup

julienned carrot

3

Tbsp

sugar

1/4

cup

vinegar

1

Tbsp

salt
Instructions
Things to prepare one day ahead (prepare the filling, make nuoc mam cham and ca rot):
Place all the ingredients for filling in a large mixing bowl and use you clean hands to mix everything until they stick together. Cover and let it refrigerate for at least one hour or you can leave it overnight too if you are preparing one day ahead
Preparing Nuoc Mam Cham:
Place the water, vinegar and sugar in a small sauce pan, bring to a boil and then simmer until the sugar dissolves. Add in the rest of the ingredients. Let it cool and then store in a jar container in the refrigerator. It will keep for about a week
Preparing Ca Rot:
Use 1 Tbsp of salt and sprinkle over the carrot and radish. Rub the salt in and let it stand for about 15 minutes. Use your clean hands and squeeze the extra liquid out from the radish and carrot (you'll be surprised by how much the salt extracted the water out). Rinse with cold water and drain off. Place the vegetables in a glass jar or container. Add in sugar and vinegar. Stir to mix everything and store in refrigerator and let it marinate overnight
Wrapping the spring rolls:
When ready to wrap, get a shallow dish and fill up with luke warm water. Prepare a damp cloth on your working surface. Dip the rice paper into the water until it is soft, about 20 to 30 seconds. Place on the damp towel. Scoop about 1 to 2 tbsp if the filling into the middle if the wrapper and kinda spread it horizontally into about 4 inches in length. Fold both sides of the wrapper then roll it up starting from the side near you all the way to the top and push out air as much as you can as you roll. Place this on a lightly oiled plate and cover with damp cloth while you work with the rest of the filling and cover. Only prepare as many as you will eat. Once they are wrapped, they don't refrigerate well as the wrapper tends to dry out and break apart.

Preheat oil in a deep fryer on high heat and lower the heat a bit and fry the spring rolls in batches until golden brown. Place on absorbent paper towel to drain extra oil. Serve immediately with the dipping sauce