Bubur Manado Tinutuan (Manadonese porridge) – Tinutuan is popular breakfast food in Indonesia. Loaded with tubers, vegetables and served with delicious Indonesian toppings. Gluten-free, vegan-friendly, dairy free. Instant pot recipe is included.
Porridge/congee is popular breakfast food across Asia. Heck, it's not only breakfast, supper too! Bubur Manado Tinutuan (Manadonese porridge) is absolutely one of my favorite porridges I would like to share with you guys today.
WHAT IS TINUTUAN?
Tinutuan is originated in Manado, a city located in North Sulawesi island of Idonesia. It is basically a rice porridge cooked with sweet potatoes, cassava, pumpkin and also veggies like spinach, water spinach (kangkung), corn kernels, and serve with toppings such as sambal, crispy fried shallots, lemon basil (kemangi), crispy fried smoked/salted fish, fried tofu. It is a meatless meal on its own but highly delicious.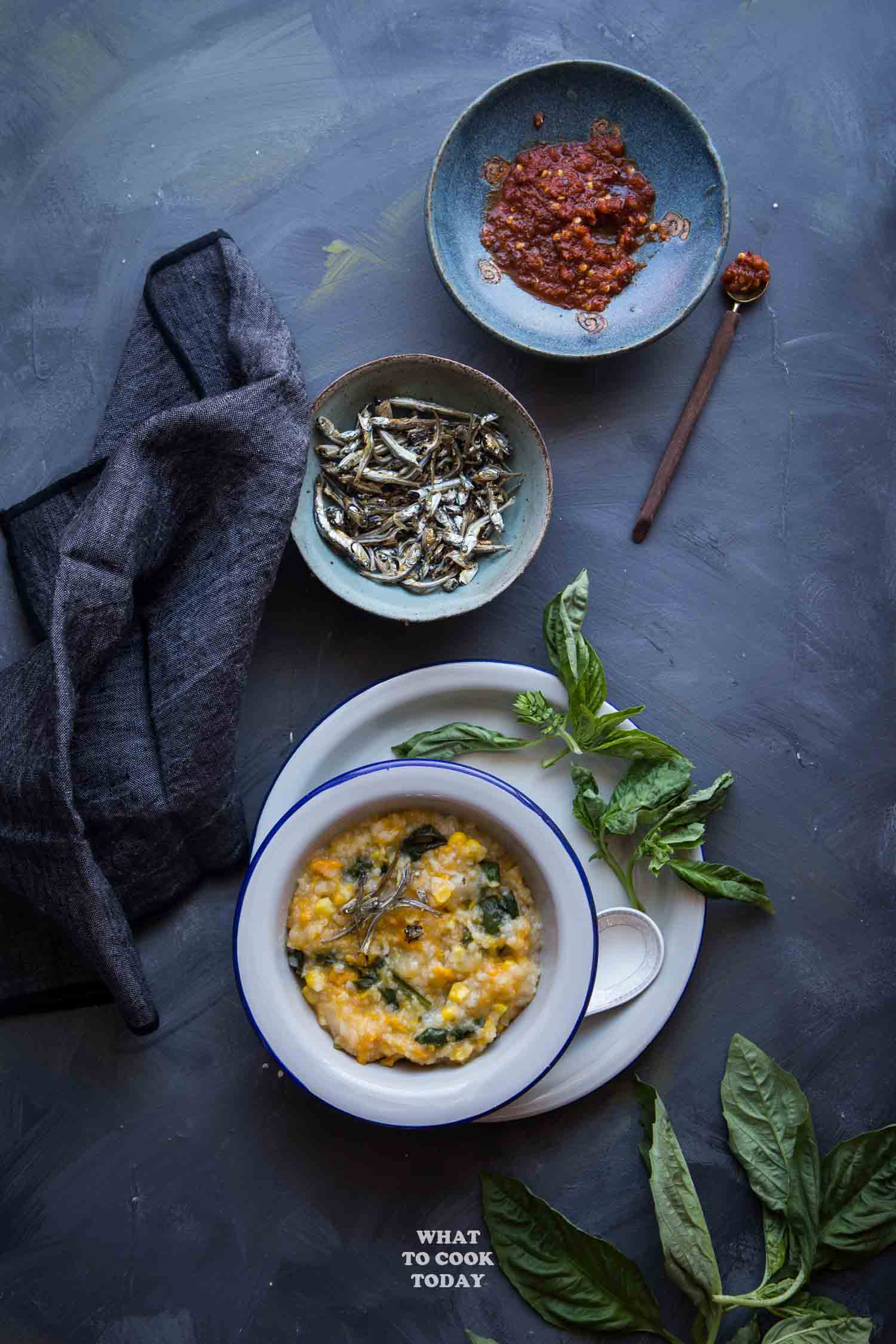 I'm a big sucker for cassava, pumpkin, and sweet potatoes and so this tinutuan is definitely just spot on for me.
I love the addition of lemon basil in this porridge. If Indonesian recipes call for basil, it is usually lemon basil (kemangi). It has that nice lemony undertone to it compare to regular basil.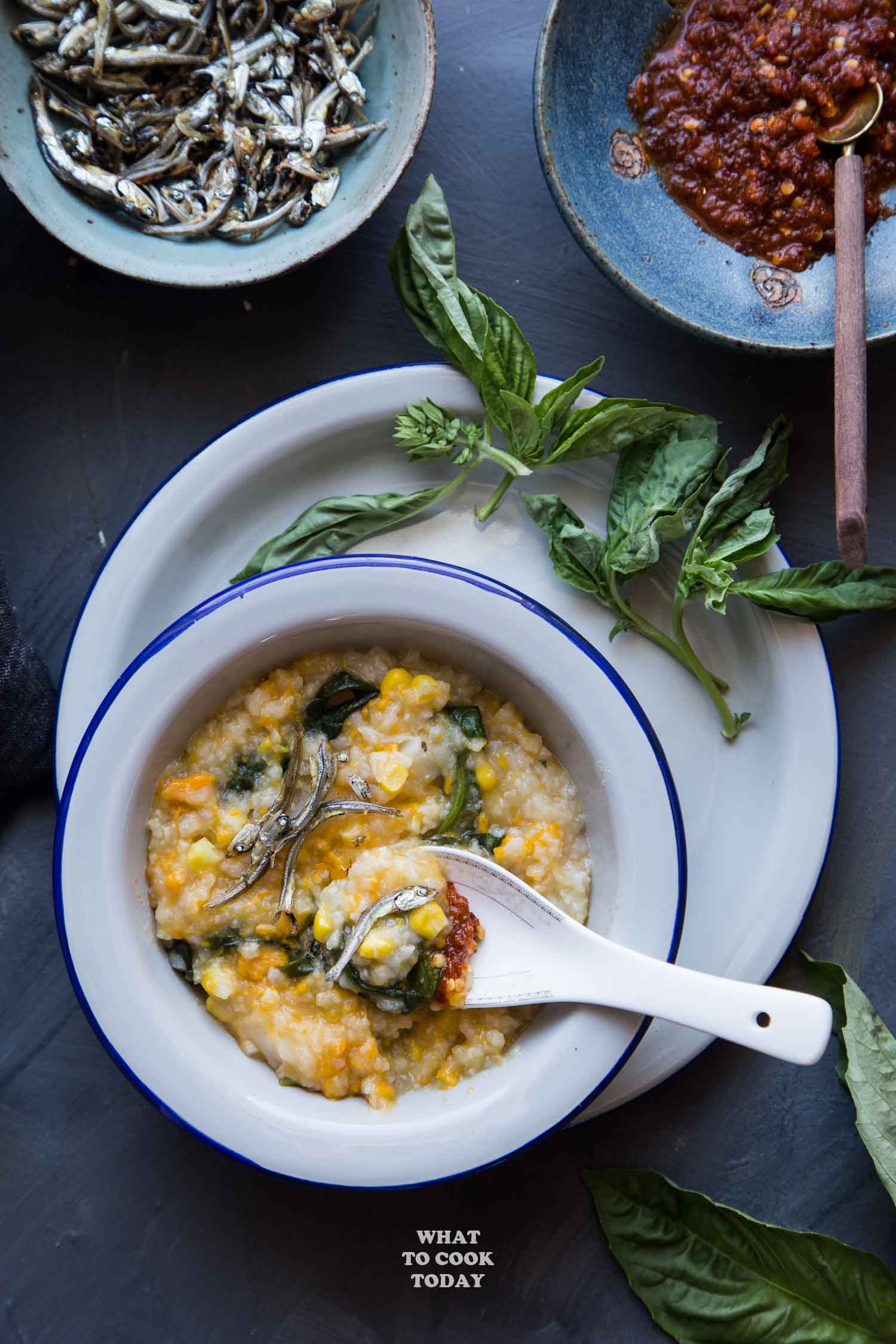 INGREDIENTS I SUBSTITUTED OUT IN THIS RECIPE
1. LEMON BASIL
I used regular basil instead of lemon basil (kemangi) because that's what I had on hand.
2. AMARANTH
Amaranth or also known as bayam in Indonesia is slightly different with the spinach here in the U.S. I used baby spinach because I can't find amaranth here.
2. FRIED SMOKED/SALTED FISH
Traditionally, tinutuan is served with fried smoked/salted fish, but it's totally acceptable to use pan-fried anchovies.
3. GNETUM GNEMON (DAUN MELINJO)
This ingredient is impossible for me to find here in Minnesota. So I just opted out and added more spinach and water spinach.
4. SAMBAL ROA
Sambal roa, which is originated from Manado, is made with smoked roa fish. I don't have any and just use regular sambal belacan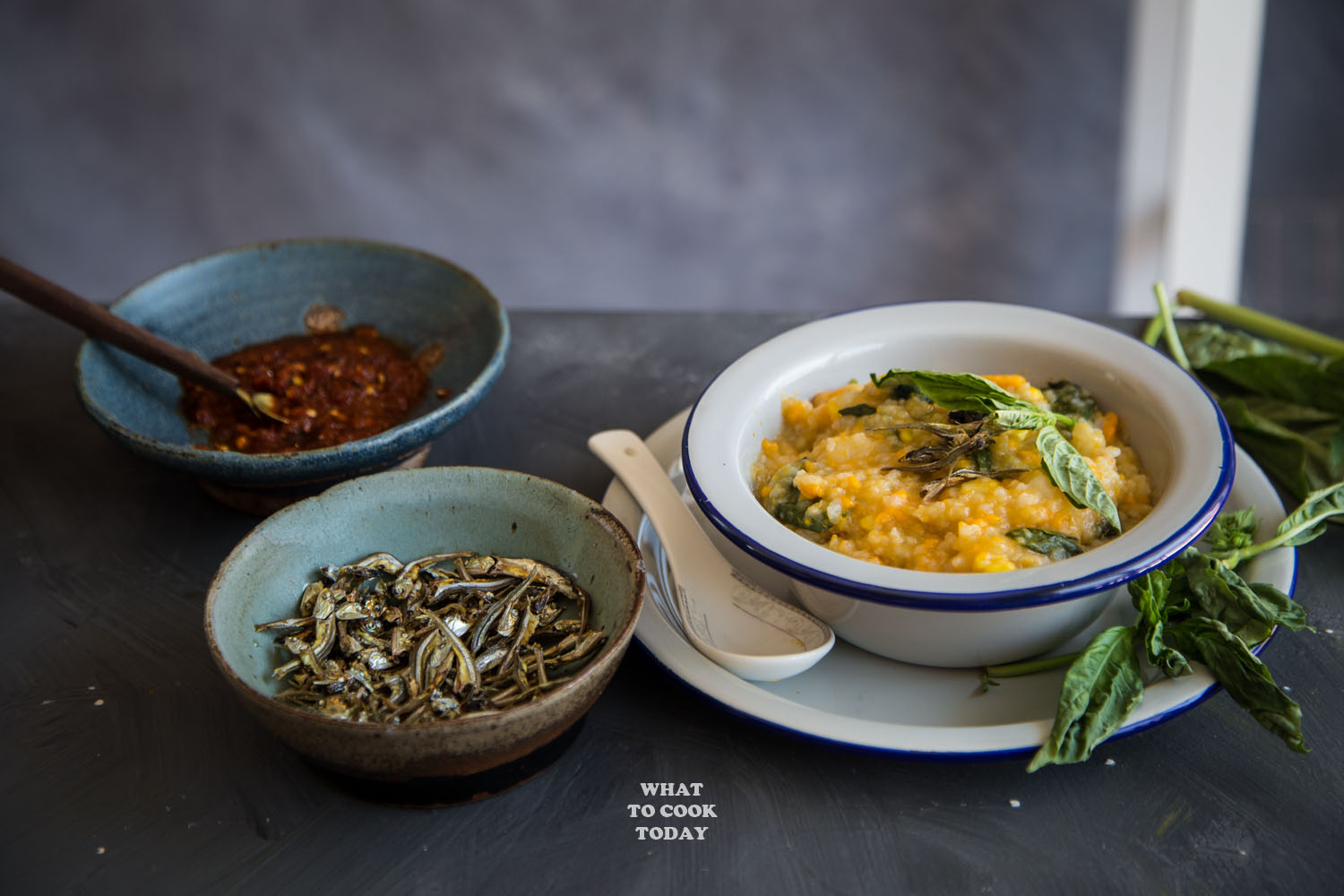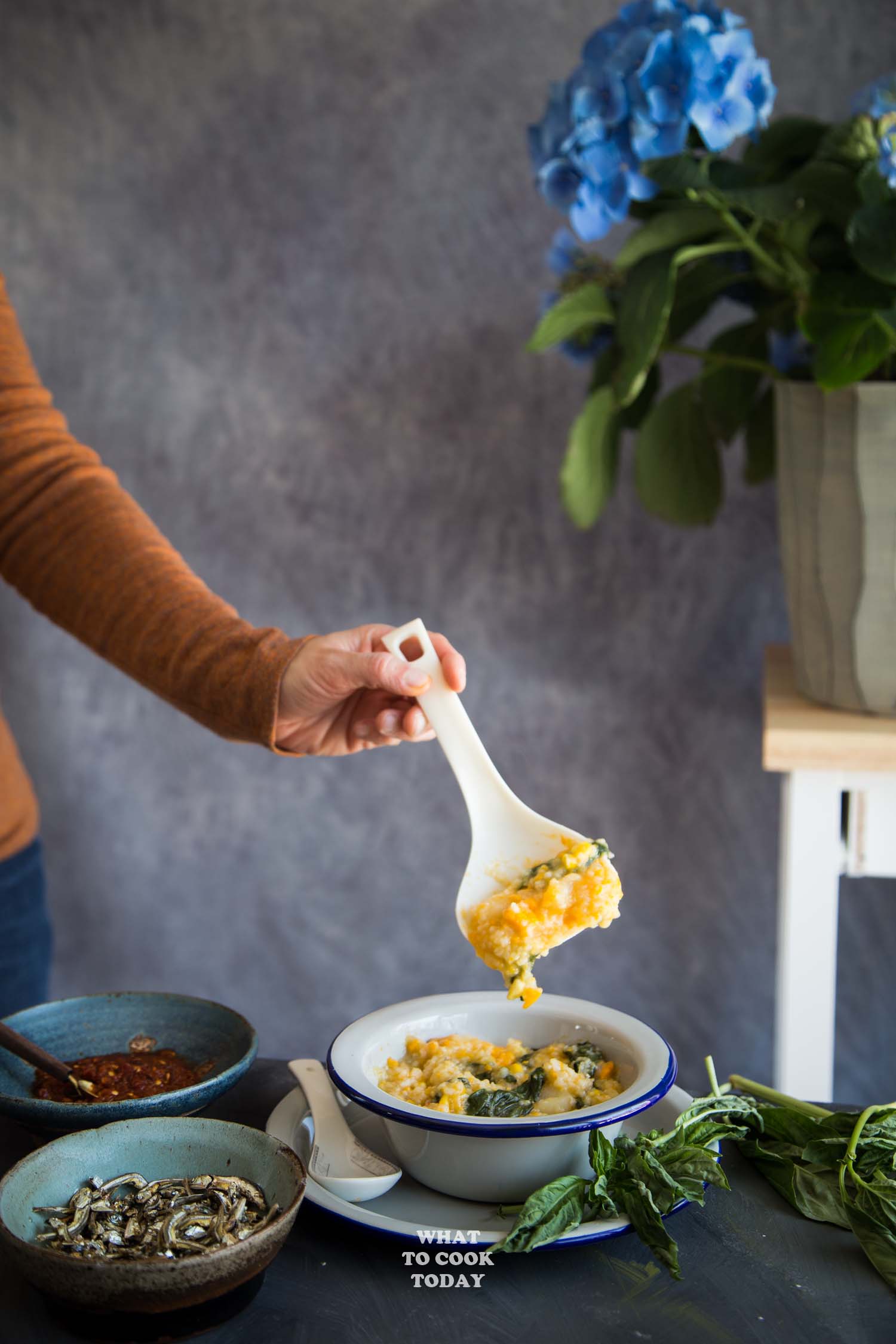 HOW TO STORE AND REHEAT LEFTOVER RICE PORRIDGE
Being able to cook a big batch and then store makes it very convenient for make-ahead breakfast or any meal.
Storing
I recommend keeping in the refrigerator for 3 days max. If you want to cook a big batch, portion into smaller size containers and then freeze. They can last up to 1 month.
Reheating
They can be reheated in a microwave or on stove-top. If frozen, no thawing is necessary.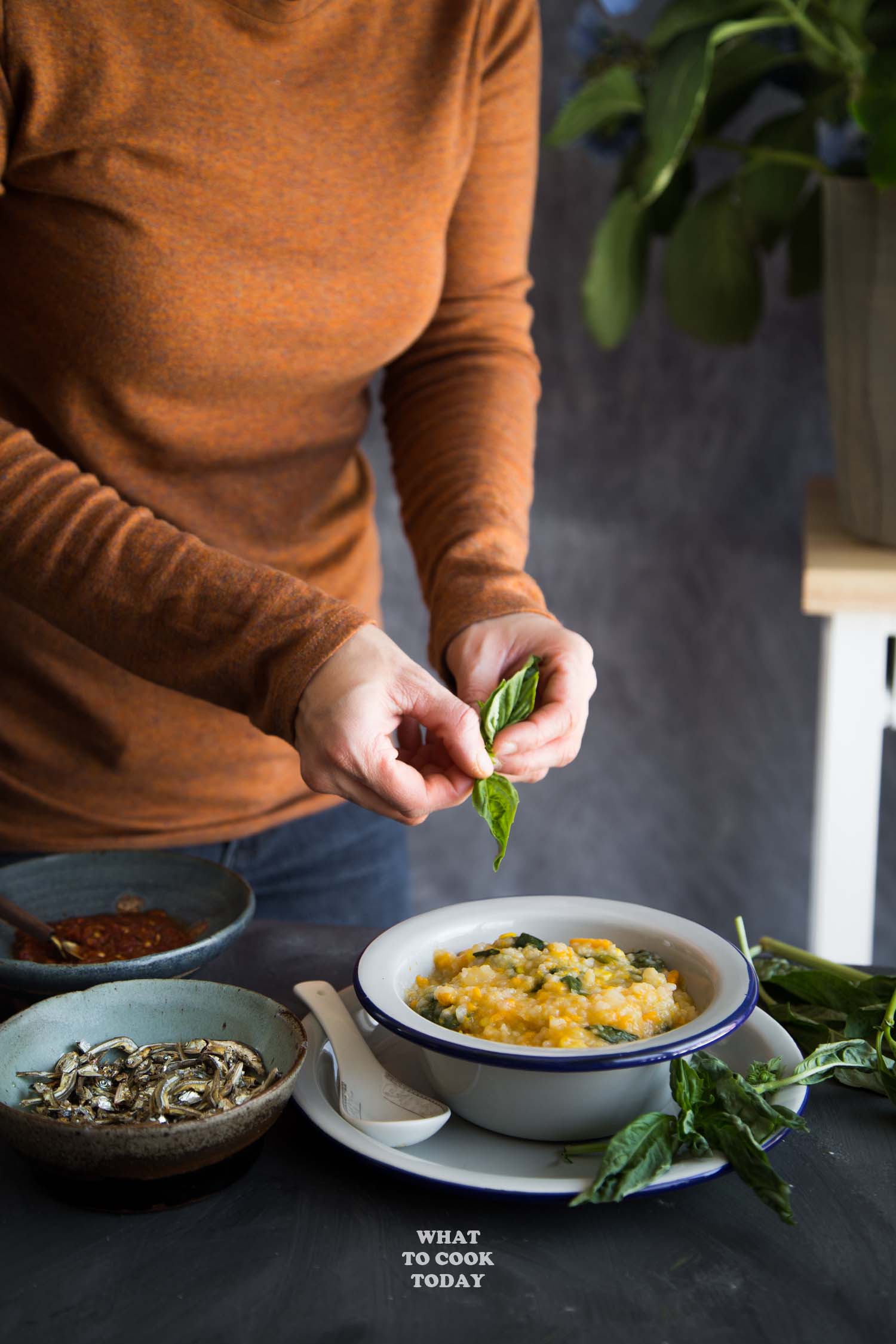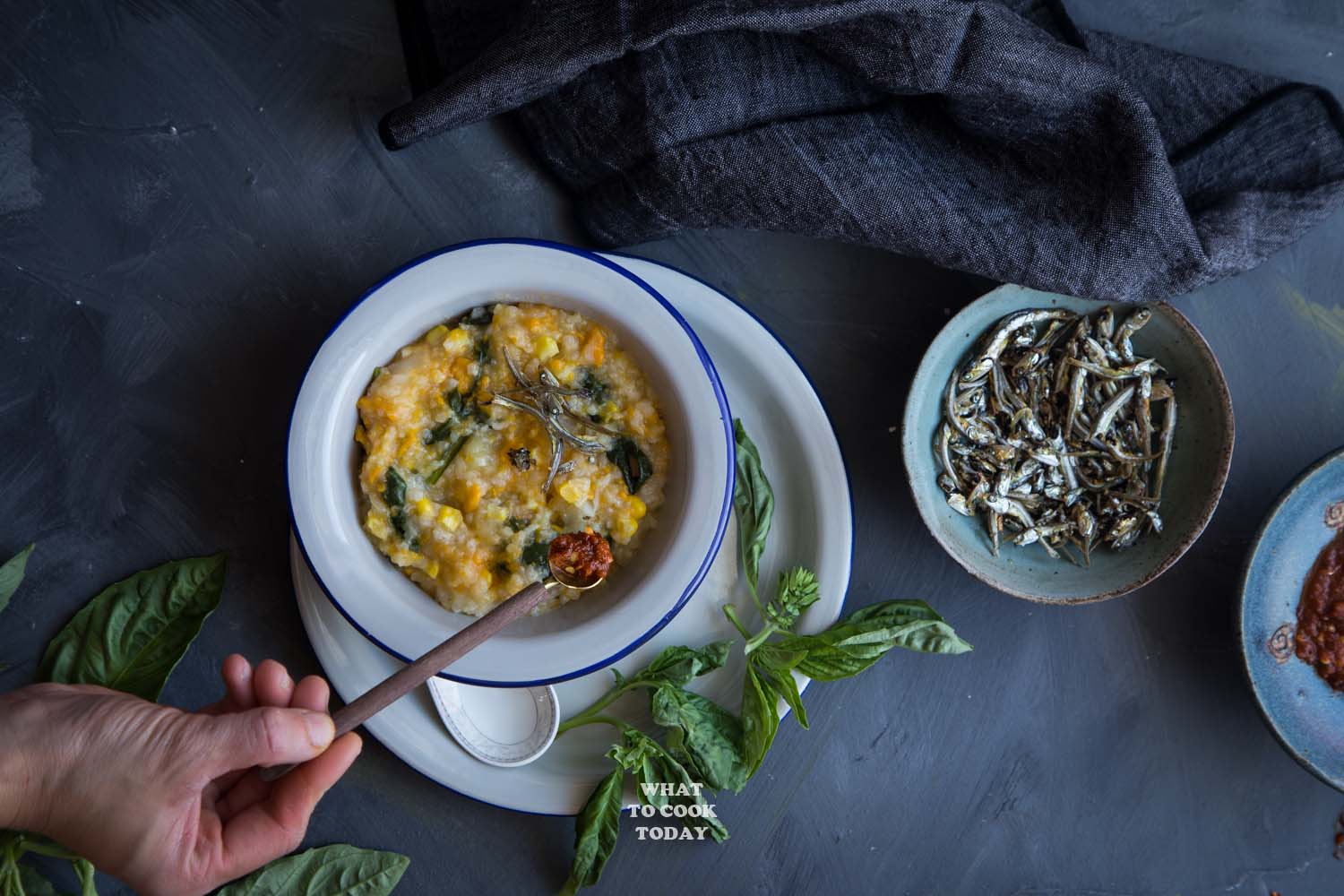 HOW TO MAKE REALLY GOOD TINUTUAN IN A NUTSHELL
1. Boil rice along with tubers/roots veggies into pulp
2. Stir in the green leafy veggies and corn
3. Season with salt to taste
4. Serve with toppings and garnishes
5. Store any leftover in the refrigerator for up to 3 days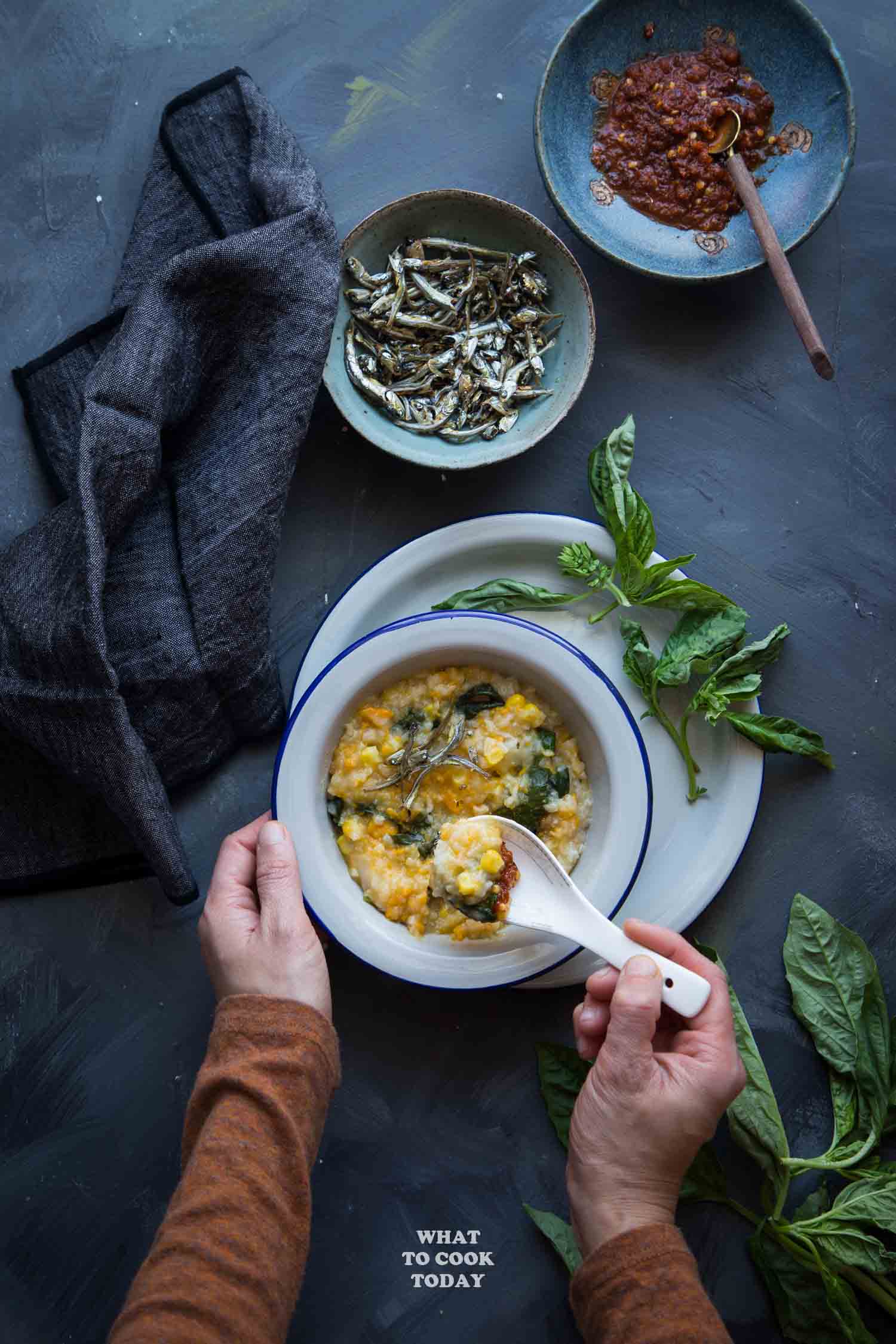 This blog post contains affiliate links. I earn a small commission when you made purchase at no extra cost to you. Learn more.
Bubur Manado Tinutuan (Manadonese porridge)
Ingredients
1

cup

long grain white rice

about 216 grams

10

cups

chicken broth

plus more as needed

1

stalk

lemongrass

½

cup

sweet corn kernel

see notes

2

cups

diced sweet potatoes

2

cups

diced pumpkin

1

cup

diced cassava

Pinch of salt to taste
Fresh vegetables:
2

cups

packed baby spinach leaves

2

cups

amaranth (bayam)

I sub with baby spinach

2

cups

Gnetum gnemon (daun melinjo)

optionaL
Optional toppings:
lemon basil (kemangi)

Crispy fried shallots

Sambal Roa

Crispy fried smoked/ salted fish

omit for vegan. I sub with dried anchovies instead
Instructions
Rinse the rice just briefly with clean water to get rid of any particles. Drain off water completely

Trim off the skinny top of the lemongrass stalks. Use a heavy object or the side of a cleaver to smash the lemongrass. This will help to release the aroma better during cooking
Instant Pot Method:
Place rice, lemongrass, chicken broth, corn, cassava, sweet potatoes, and pumpkin in the insert of instant pot. Close the lid and turn the steam release handle to seal. Press "Pressure Cooker" and set timer to 30 minutes

Once the timer is up, wait for 5 minutes and then release pressure. Carefully open the lid. Stir in the fresh vegetables. The heat from the cooked porridge will slowly wilt the veggies as you stir. I like to do it this way so I don't cook the veggies to "death" if you know what I mean! It will still have nice green color. Of course the longer the veggies are in there, the color will turn more of muted green. I suggest stirring in the veggies right before serving for that bright green color (It's up to you!). Season with salt to your taste
Stove-top method:
Bring 10 cups of chicken broth to a boil and then stir in the rice, lemongrass, corn, cassava, pumpkin and lower the heat to let it gently simmer until the rice grains are soft and the tapioca roots are mushy. This may take somewhere about 30-45 minutes. If you think the porridge is too thick to your liking, add a bit more broth to loosen up a bit

When the porridge is creamy and starchy looking, have a taste and season with some salt to your taste and then stir in the spinach and water spinach leaves. Turn off the heat and continue to stir until the veggies are wilted but still has that nice green color. Season with salt to your taste. Serve immediately or warm. It will thicken further as it sits longer, you can always add more broth or water to loosen up a bit
Serving suggestion:
Serve tinutuan with basil leaves, crispy fried shallots, sambal roa, and fried dried anchovies
Notes
If using frozen corn kernels, thawed and stir in together with the fresh vegetables