This amazingly soft and moist cake adorned with sweet lychees, matcha cream, and caramel syrup will be your new favorite cake.
The mention of lychee definitely transports me back to childhood. I remember mom often bought fresh lychees when they were in season. I love fresh lychee. Don't be fooled by its rough rind that surrounds it. Once you peel that off, you will see the white and plump fruit inside. Love the aroma too. They are often found in can too, packed in syrup. In Asia, lychee (fresh or canned) are often used in dessert and cooking. When I saw this Lychee cake recipe in The Cardamom Trail: Chetna Bakes with Flavours of the East
, I knew immediately I had to make this cake. And so I did!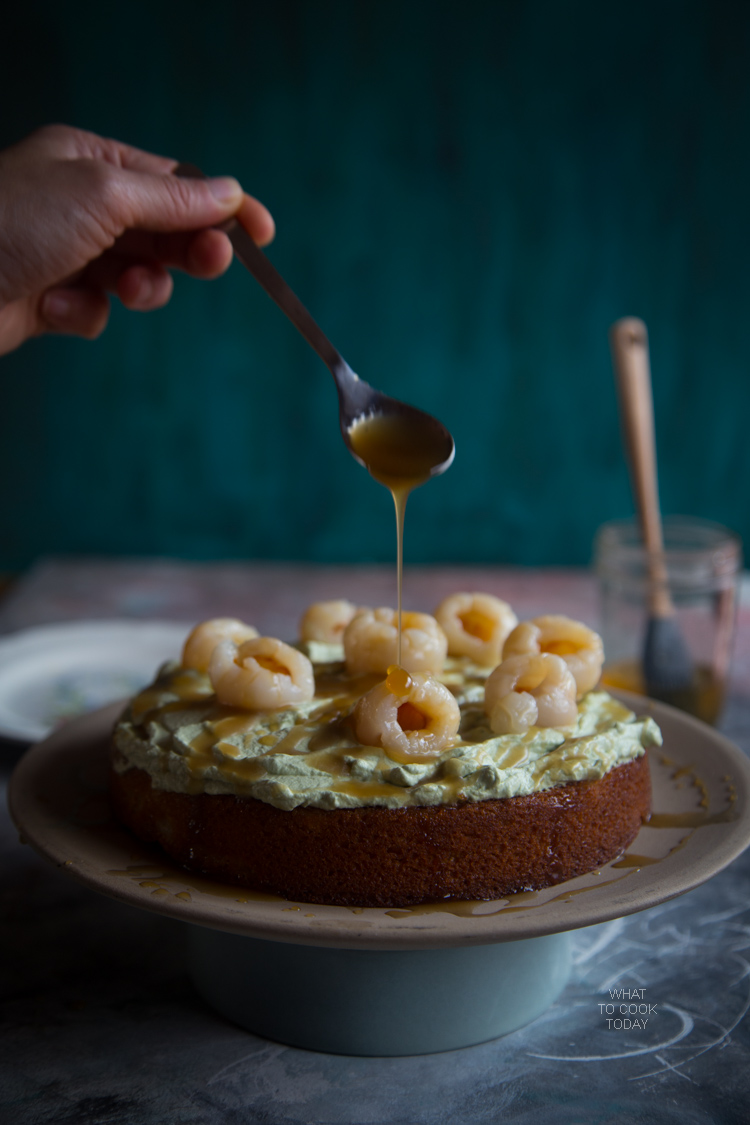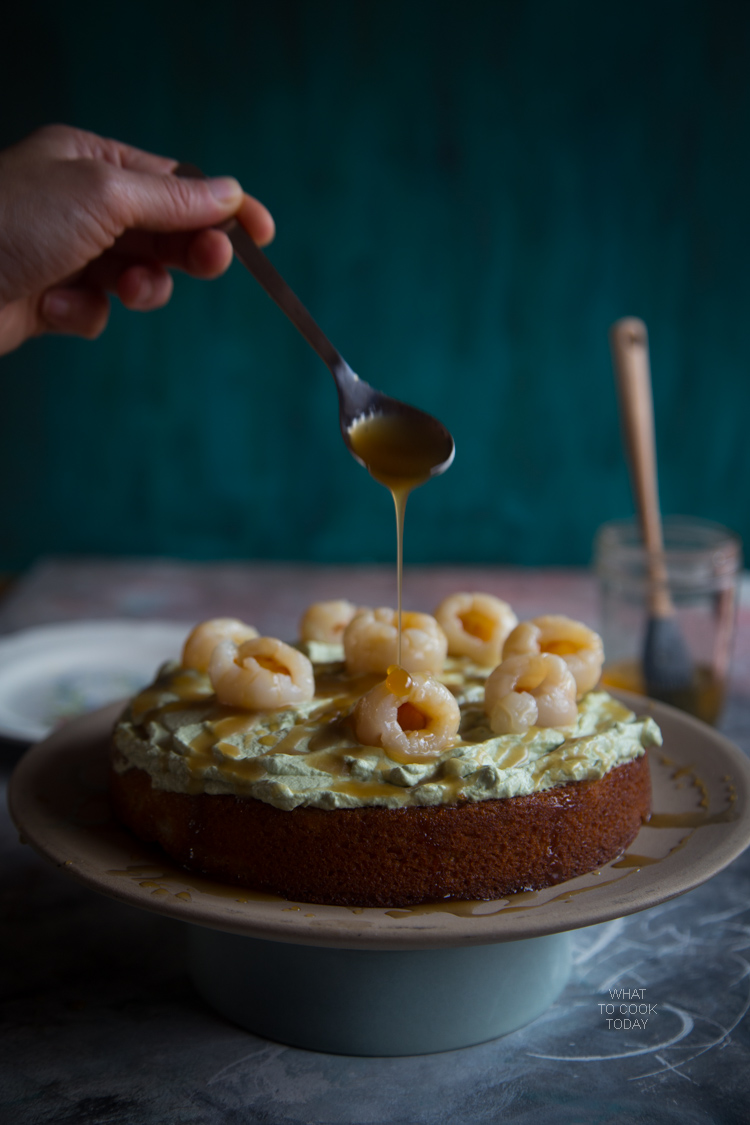 I did alter the recipe slightly by adding matcha powder to whip the cream. The taste of the matcha powder is not strong enough to make it bitter though, but it just gives a nice green color to it.
The verdict is that this cake is sure a big hit in our house! The husband was impressed and as I'm typing this recipe up, he is asking when I'm going to make it again !?!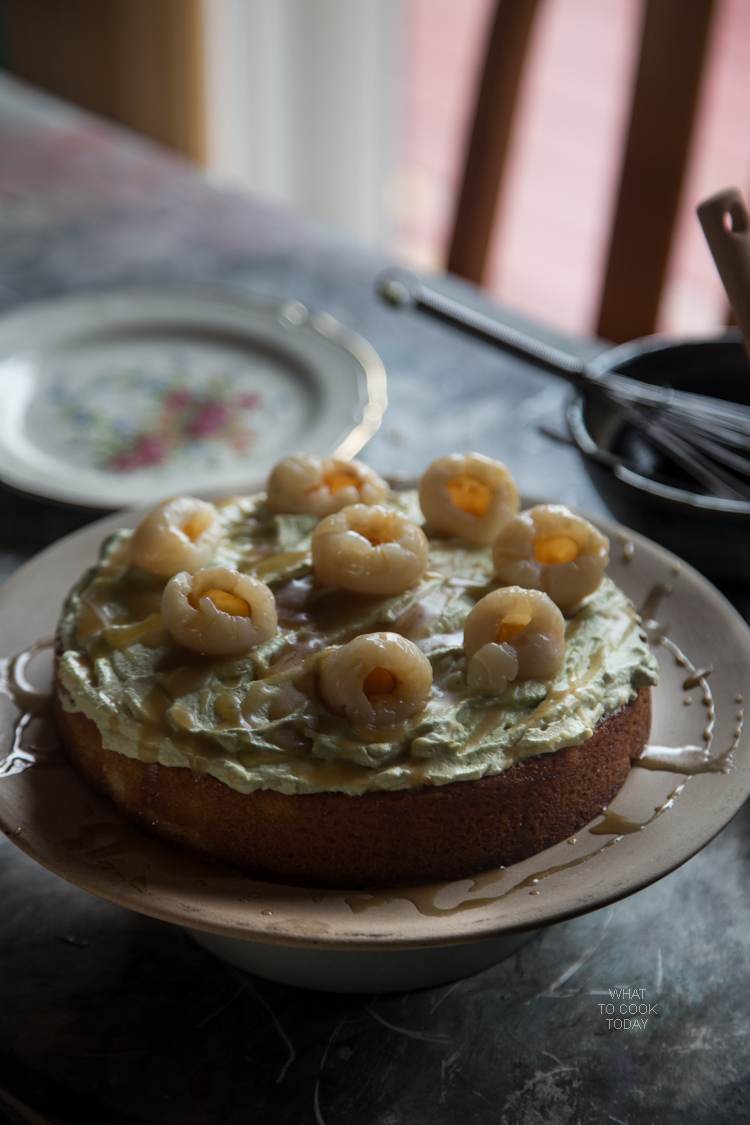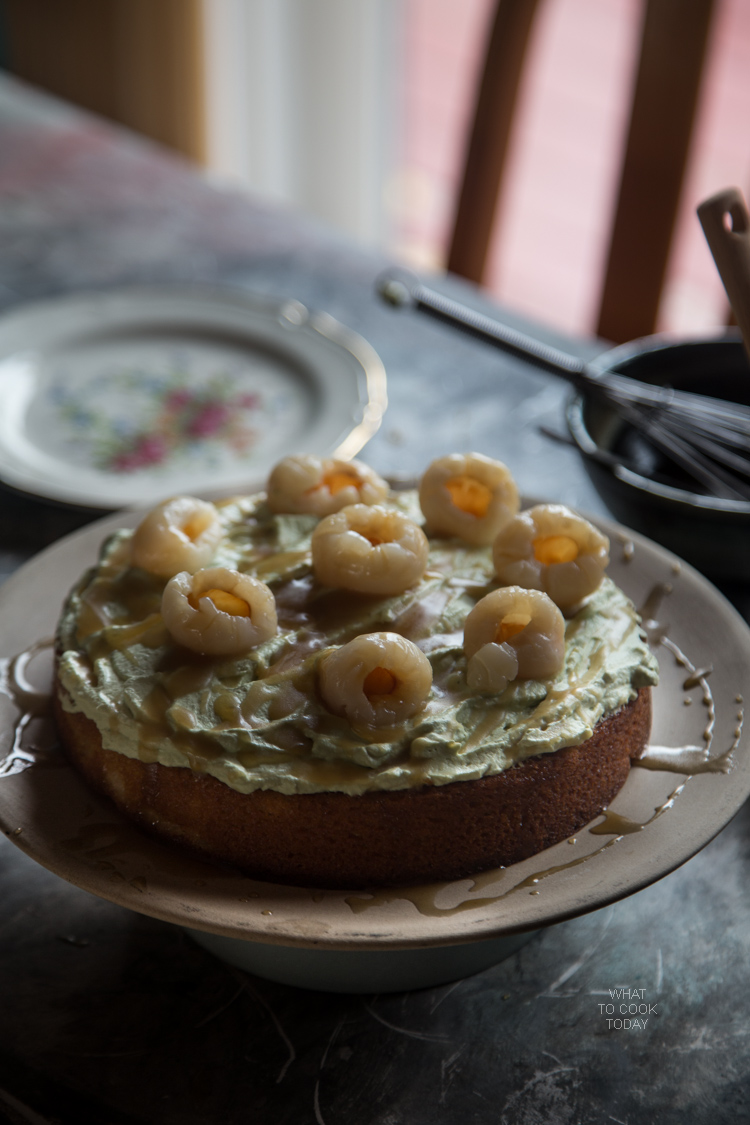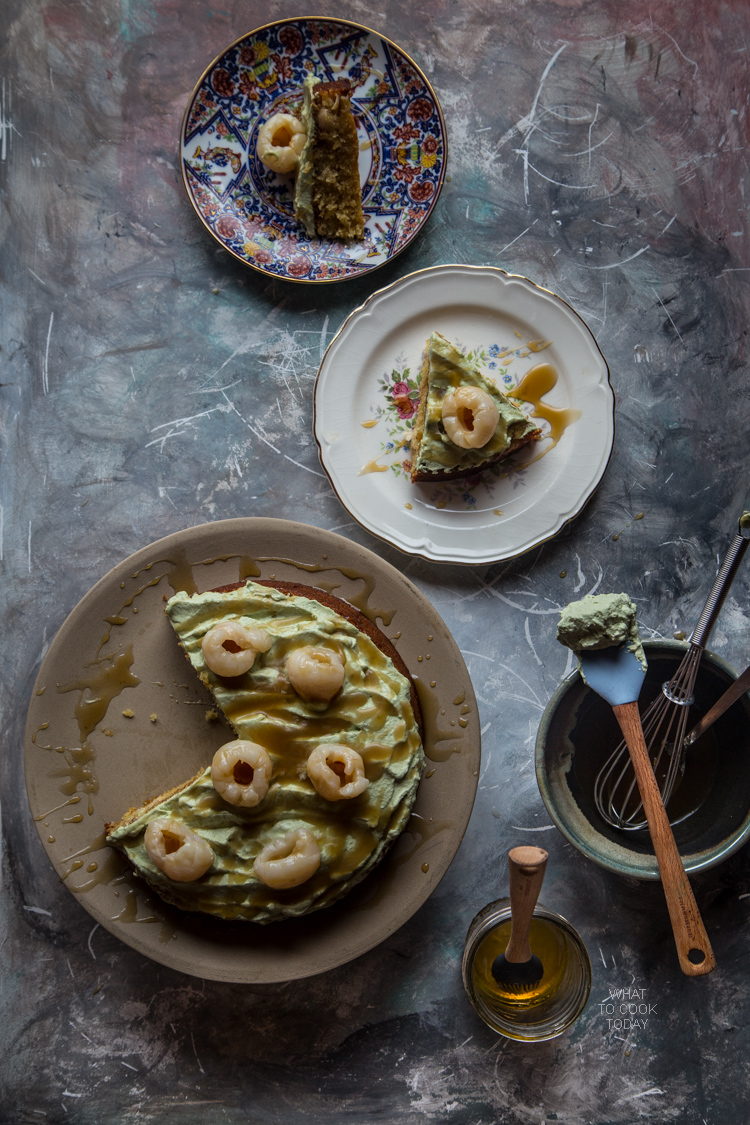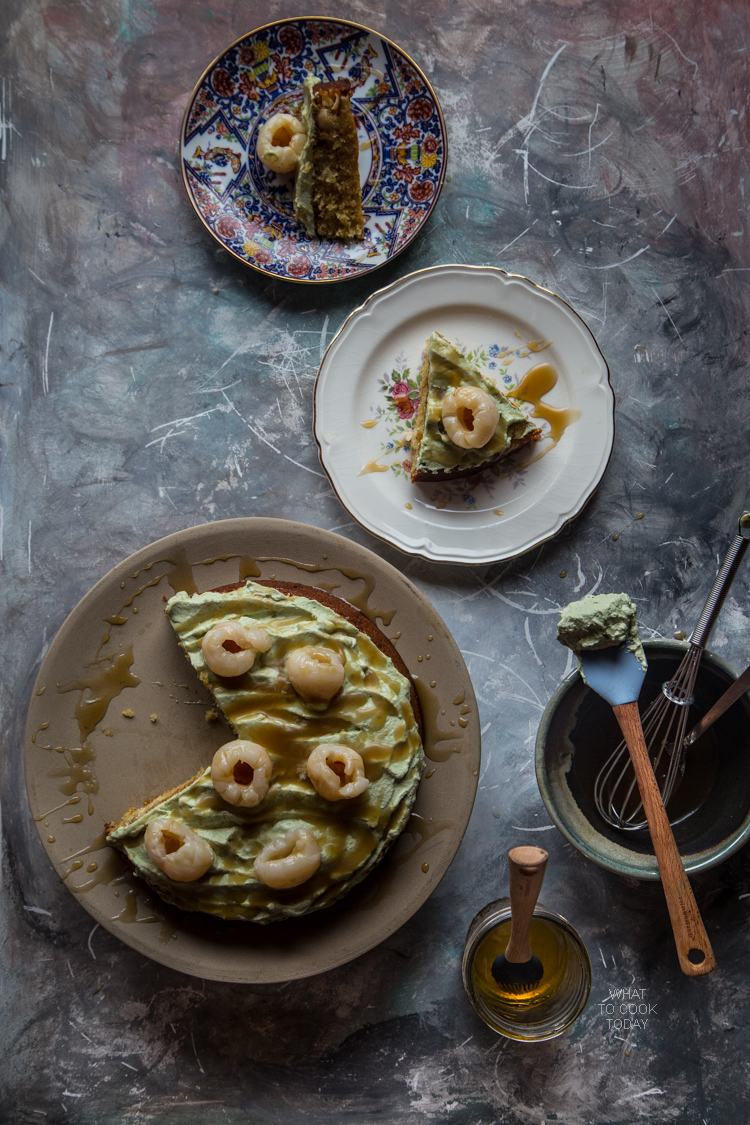 The Best Soft and Moist Lychee Cake Ever
Ingredients
Caramel sauce
50

gr

sugar

1.5 + 1/4 oz

1

Tbsp

water

20

gr

unsalted butter

3/4 oz, diced

2

Tbsp

heavy whipping cream
Decoration:
150

ml

heavy cream + 1 tsp matcha powder

1/4 pint, optional

100

gr

drained canned lychee

3.5 oz
Instructions
Preheat your oven to 350 F. Roughly chop the lychees and set aside. Grease 8-inch cake tin and line with a parchment paper. Place butter and 75 gr sugar in a bowl of stand mixer with paddle attachement and whip until pale and fluffy. Add in 1 egg at a time and continue to beat until all is combined. Add in the rest of the dry ingredients and beat until all is combined. Fold in the chopped lychee into the cake batter. Pour the batter into the cake tin and bake for about 30 minutes or tooth pick inserted into the middle of the cake comes out clean. Let it cool for 10 minutes in the tin and then let it cool down completely on wire rack
Prepare the lychee syrup:
Pour in the lychee syrup you reserved earlier and 2 Tbsp of sugar into a small sauce pan. Bring to a boil and then let it simmer until it is reduced by half. Remove from the heat and let it cool down completely. Once the cake has cooled down completely, brush this syrup all over the cake
Prepare the caramel sauce:
Combine sugar, water in a small sauce pan and cook for about 5-6 minutes until the mixture turns a golden-brown caramel. Stir in the diced butter and cook for another couple of minutes. Slowly add in the heavy cream and stir continuously and continue to cook for another 2 minutes. Remove from the heat and let it cool down
Assembling the cake:
Whisk the heavy cream and matcha powder (optional) in a stand mixer until it form a soft peak. Place the cake on a serving plate and spread the whipped cream on top of the cake. Place some lychee pieces on top of the cake and then drizzle with caramel sauce. It is best served at room temperature. It may be a bit hard when you first get it out from the fridge, so let it sit for about 30 minutes at room temperature and then it will be softer and super yum! It will keep for up to 4 days in the refrigerator
Notes
The original recipe makes two-layer cakes. You can just double up the recipe for the cake, caramel sauce and the decoration
This blog post contains affiliate links. I earn a small commission when you made purchase at no extra cost to you. Learn more.