Vietnamese Banh Mi is typically filled with meat, spread of liver pate, mayonnaise, pickled veggies,fresh veggies and herbs. It is truly an explosion of taste and flavor in one bite. It is my favorite sandwich EVER!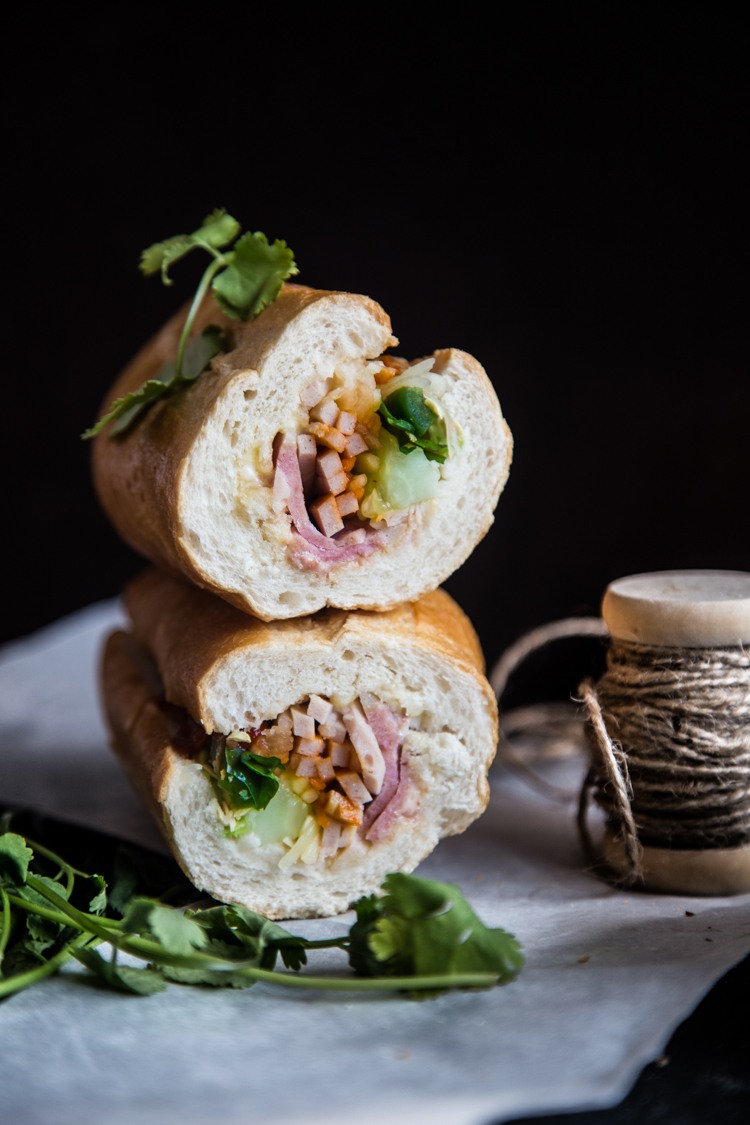 I first got hooked to banh mi when I still lived in Oklahoma during my school year. I can never forget this little Vietnamese shop that is located in the almost-middle-of-the-street with a milk bottle on top of the roof. It's a pretty distinctive way to be recognize isn't it ? I can't remember who brought me there for the first time. The store is really tiny and the banh mi is freshly made when you order. The best thing about this place, besides the great banh mi they have, is the price of the banh mi. You can get 3 banh mi for $5.00 (tax included). Yes…where can you get a deal like that. The banh mi is huge too and loaded with meat and all the good stuff. Geez…I'm hungry just typing it. Every time I visited the little Vietnamese town there, I always got the banh mi. I might not be able to eat all 3 at one go, but I always got 3. They were selling it for $2.00 each with tax included (which was still cheaper than the banh mi I bought here, it was for $3.75 before tax). But this was back in the 2000 lol! I'm sure price has gone up by now 🙂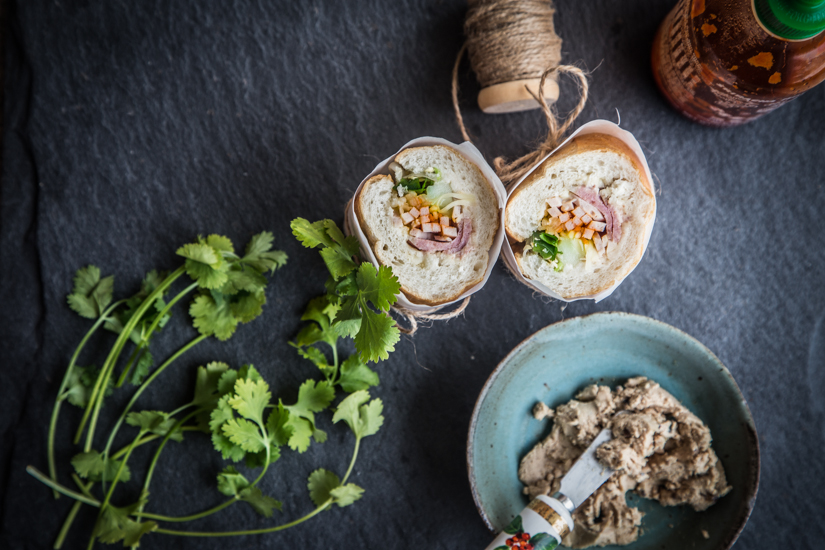 What makes this sandwich so special (at least to me) is its whole combination of taste and flavor is simply bombastic. Love this sandwich so much. Banh mi is certainly has gained lots of popularity in North America these days. They have been adapted into many different versions.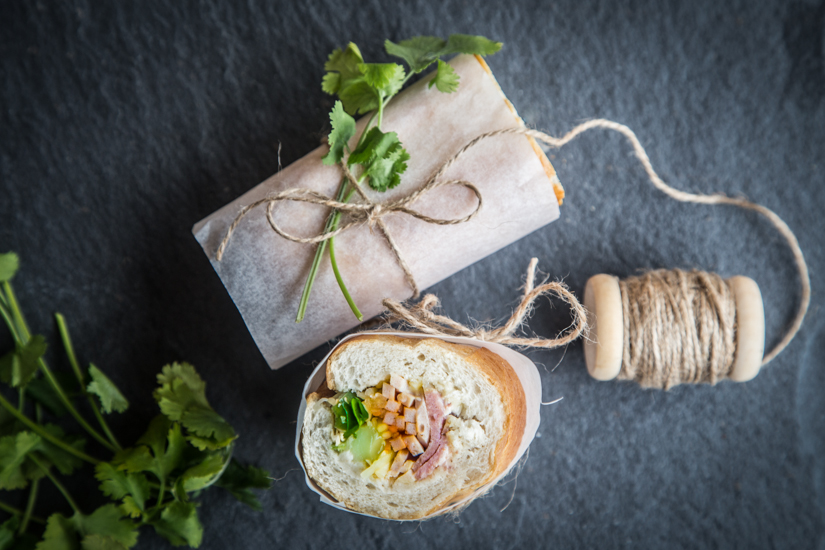 This Banh Mi recipe is adapted from Hot, Sour, Salty, Sweet cookbook by Jeffrey Alford and Naomi Duguid. I added some liver pate because I just love liver pate 🙂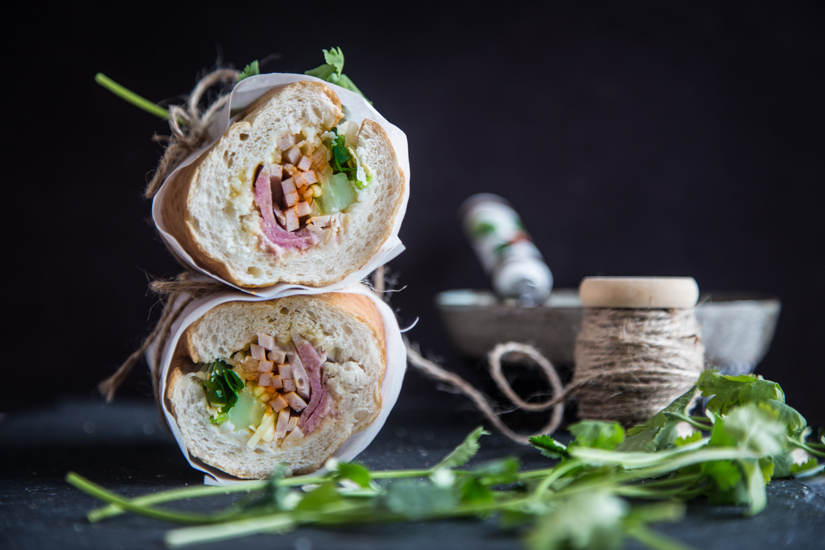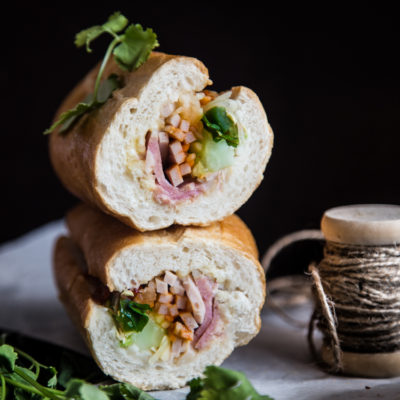 Vietnamese Banh Mi
Ingredients
One 6- to 8-inch length French bread/baguette

split, or substitute a kaiser roll, sliced open

Butter

Mayonnaise

Real Mayonnaise

Vietnamese Baked Cinnamon pate or store bought or substitute with ham

left over chicken meat or any meat you like

Vietnamese ham/ Cha Lua- cut into strips

I used store-bought

Chicken Liver Pate

I buy from Vietnamese Store

Minced bird chiles or slices of jalapeno

Sriracha chili sauce

optional

Fresh coriander sprigs

Fresh cucumber

seeded and julienned
Radish and carrot pickled:
1

cup

julienned daikon/radish

1

cup

julienned carrot

1

Tbsp

salt

3

Tbsp

sugar

¼

cup

vinegar

1

cup

warm water
Instructions
Preparing the radish and carrot pickled:
Use 1 Tbsp of salt and sprinkle over the carrot and radish. Rub the salt in and let it stand for about 15 minutes. Use your clean hands and squeeze the extra liquid out from the radish and carrot (you'll be surprised by how much the salt extracted the water out). Rinse with cold water and drain off. Place the vegetables in a glass jar or container. Add in sugar and vinegar. Stir to mix everything and store in refrigerator and let it marinate overnight
Assembling the sandwich:
Preheat oven to 325 and bake it for about 15 minutes to crisp up the bread. Cut the baguette horizontally into half but doesn't cut it through (so they just open up but still attached. As seen in photo). Then I open up the bread and use a spoon to scrap off some of the bread to make it kinda "hollow" for you to put in the filling. Spread both sides of the bread lightly with butter on one side and mayonnaise on the other. Spread the liver pate on both sides. Lay few slices of cha que on it. Top with strips of Vietnamese ham. Top with carrot and daikon shreds, cucumber strips and a few pieces of minced chiles, if using, and coriander, spreading them along the length of the sandwich. Close and press firmly but gently to make the sandwich hold together. Serve whole or cut crosswise in half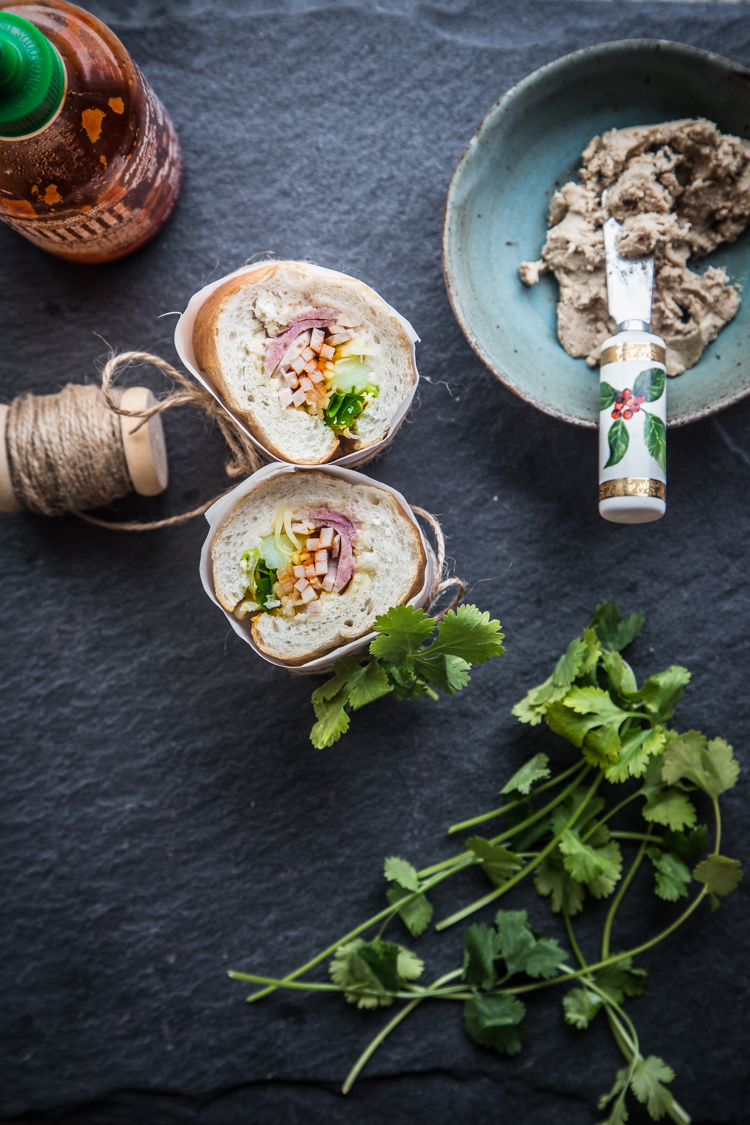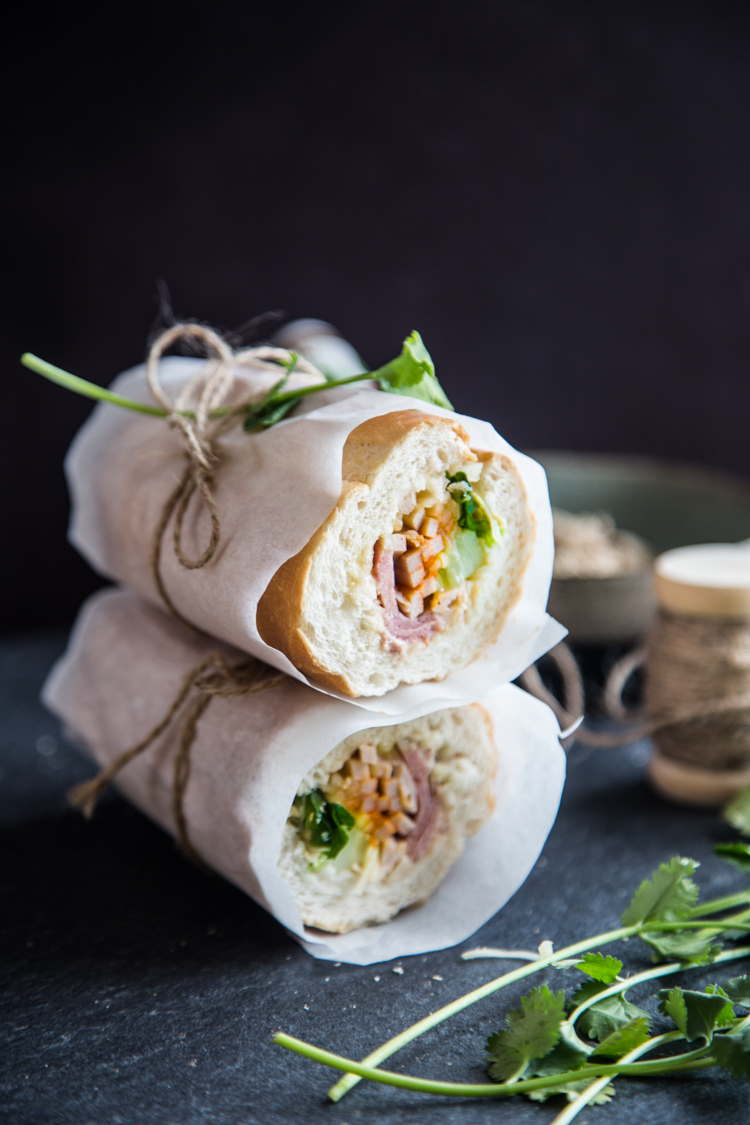 Unwrapping these babes is truly the second best part of all!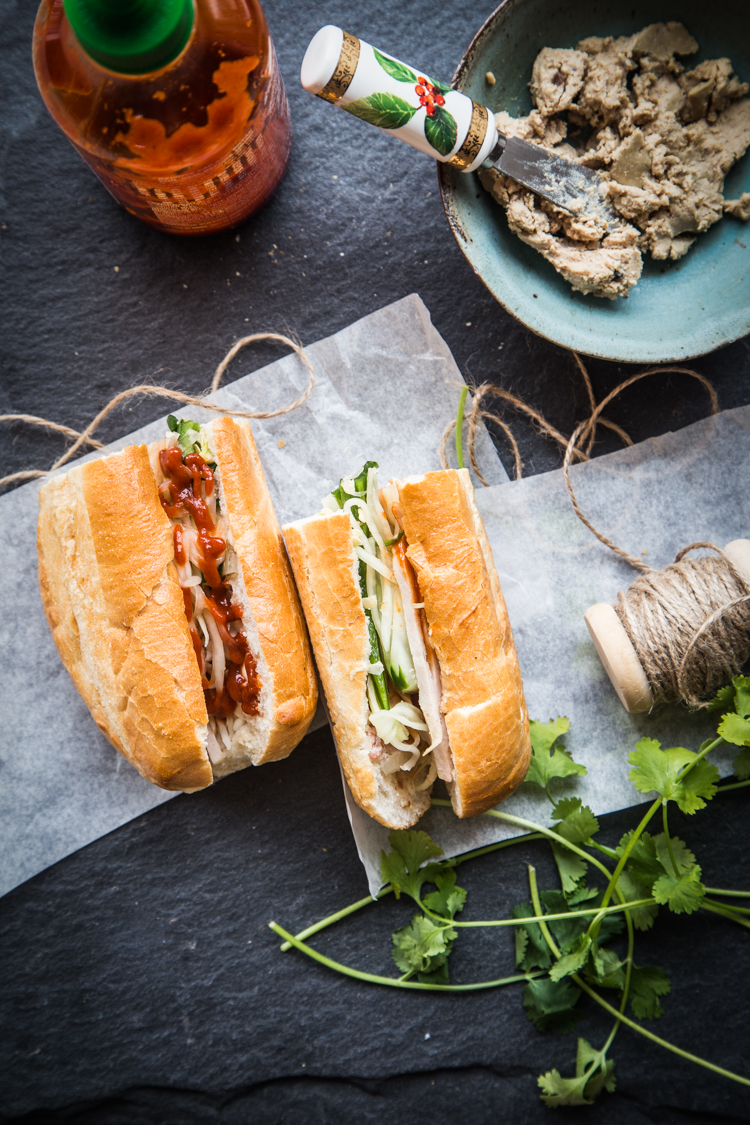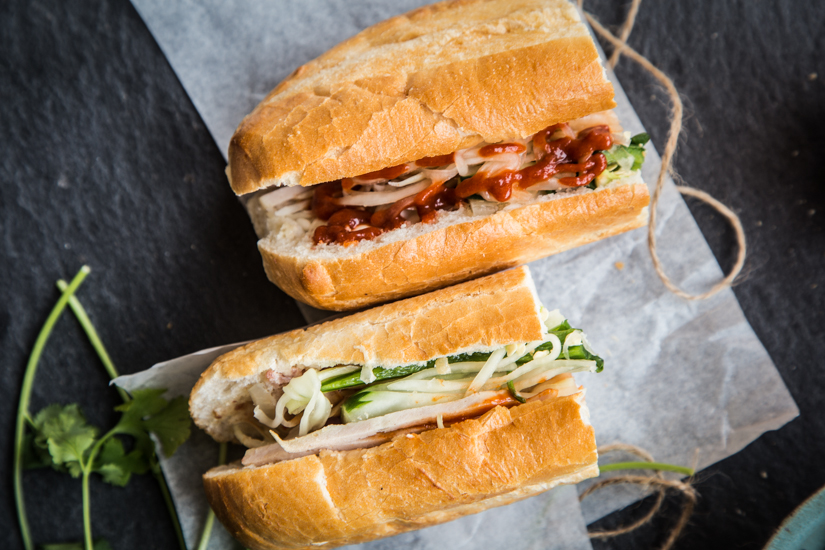 Eating it is, needless to say, the best thing on earth!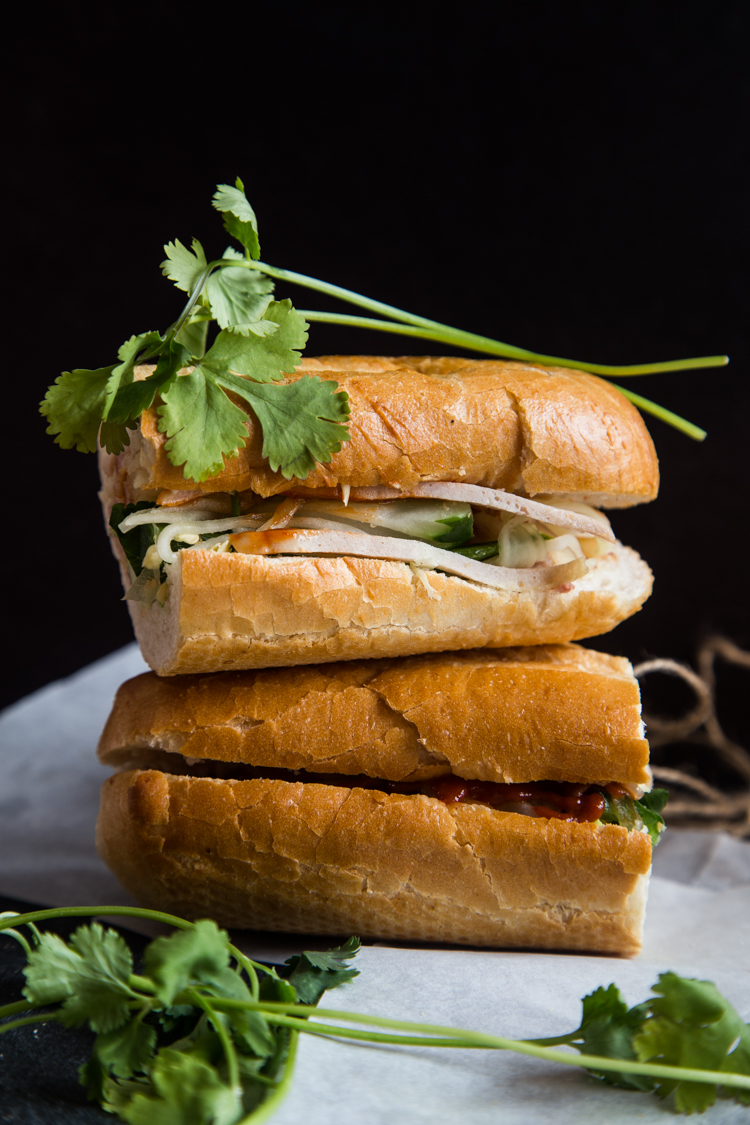 PIN IT!