Dồ Chua (Vietnamese Pickled Daikon and Carrot) – Strips of daikon (Asian white radish) and carrot are pickled in sweet and sour brine. Do Chua is a staple condiment in Vietnamese cuisine.

I'm never a fan of salty sour pickles, but if you give me sweet and sour pickles, like this do chua, I absolutely love them. I don't consider myself having a sweet tooth, but I like my pickles to have that sweetness. Just like this Acar Timun I made a while ago, I absolutely like the cucumbers being pickled this way.
DO CHUA (VIETNAMESE PICKLED DAIKON AND CARROT)
What in the world is daikon you might wonder at first. Daikon is a large white radish, typically used in Asian cuisine.
Sometimes also known as oriental radish or Chinese radish. Daikon is also referred to as turnip or carrot in Singapore. Whey they say carrot cake in Singapore, they mean this Kue lobak / Chai tow kway (Chinese savory daikon / turnip cake)
Daikon and carrot are the main ingredients in this Vietnamese do chua. They are both pickled in acidic, sweet, and sometimes spicy brine. Majority of the work, if you ask me, lies on cutting the daikon and carrot into strips. Of course you can always shred them shredder too.
RATIO OF DAIKON AND CARROT IN DO CHUA
How much of daikon and carrot in do chua really depends on your preference. Some people like 1:1 ratio, meaning the same amount of daikon and carrot. I like it more daikon than carrot. To me, the carrot is more for pleasing the eye. The nice vibrant orange against the pale daikon. So, it's really up to you.
TIPS FOR MAKING DO CHUA
1. Draw the water out
The daikon and carrot will be treated with salt to draw water out from them before being pickled. This step is important as the vegetables will remain crunchy for longer time
2. Pickle for at least 24 hours
Some people will tell you that you need at least 48 hours before you can serve the pickle. When I feel like it does taste the best at 48 hours, when I tasted it at 24 hours, the do chua actually taste decent too. So, if you are pressed for time, I would say you can use it at 24 hours, not anything sooner than that though
PUNGENT SMELL OF DO CHUA
I have to warn you though that the longer the do chua being pickled, the pungent the smell gonna get. It is all because of the daikon and really, nothing is wrong with your do chua. It hasn't gone bad or wrong! It's just the nature of daikon. Before serving, you can open the lid of the jar and let the smell "out" a bit before serving if you that really bothers you. The do chua itself doesn't taste like it smells. I promise!
YOU CAN SERVE DO CHUA WITH:
1. Banh Mi
2. Bun Thit Nuong
3. Banh Beo
3. Any noodle dishes
4. Any rice dishes
This blog post contains affiliate links. I earn a small commission when you made purchase at no extra cost to you. Learn more.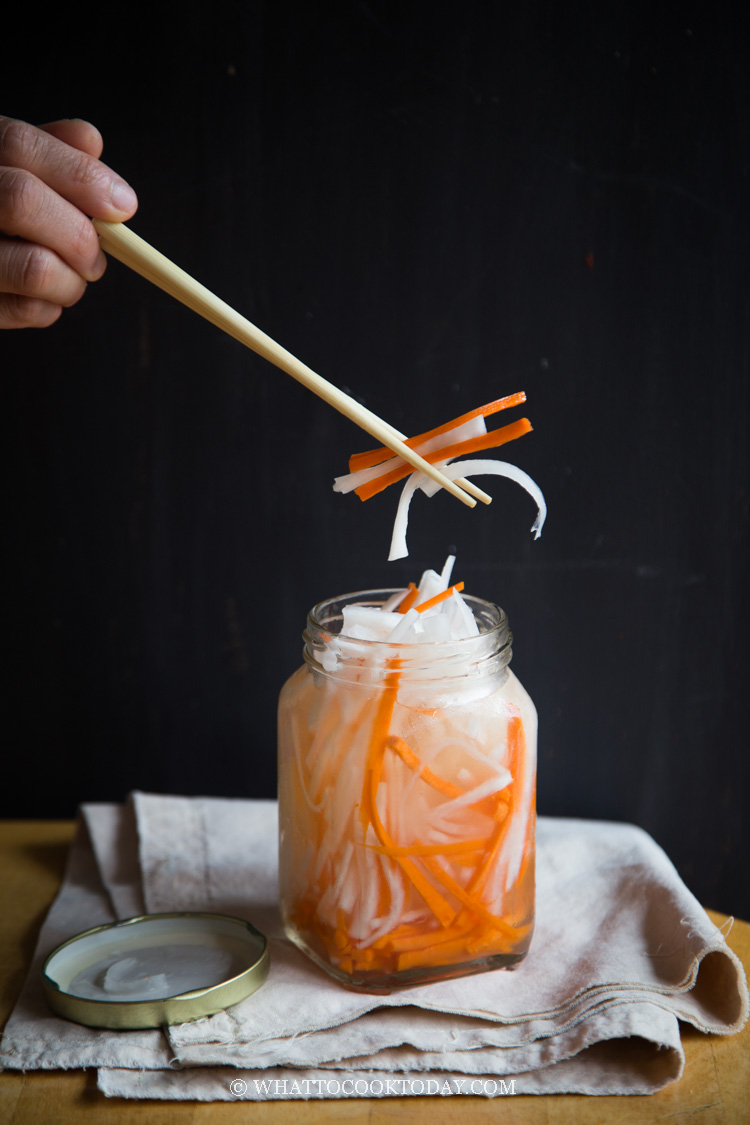 The recipe is adapted from the Hot, Sour, Salty, Sweet cookbook by Jeffrey Alford and Naomi Duguid.
Do Chua (Vietnamese Pickled Daikon and Carrot)
Ingredients
¾

lb

daikon

, peeled

¼

lb

carrot

, peeled

1

Tbsp

salt

1 ½

cups

water

5

Tbsp

sugar

¼

cup

distilled vinegar
Instructions
Coarsely grate the carrots and daikon into strips, or use a knife to cut into matchsticks. Sprinkle on the salt and toss to mix and let stand for 20 to 30 minutes

Meanwhile, in a nonreactive saucepan, combine the water, vinegar, and sugar and bring to a boil. Remove from the heat; cool to room temperature. (Don't cook the vegetables, bathe them). Rinse the vegetables briefly with cold water, then squeeze dry and transfer to a medium bowl

Pour over the vinegar mixture and stir gently with a wooden spoon to ensure all the vegetables are well moistened. When it has cooled down, keep it in the refrigerator. Let stand for 24 hours before serving. It tastes best at 48 hours I think, but I find it acceptable starting at 24 hours point if you are pressed for time. They can be kept in a refrigerator for up to 2 weeks