Sapo Tahu Seafood (Claypot Egg Tofu and Seafood) – Egg tofu along with seafood like shrimp, crab, fish cakes, etc are cooked in a claypot and then thickened with cornstarch. A super popular homecooked food across Asia. Can be made without claypot too.
SAPO TAHU IN INDONESIA
Sapo tahu (claypot egg tofu) is one of the popular Indonesian Chinese food I grew up with. Whenever we went out to eat at a a Chinese place, sapo tahu was one of the things my parents like to order. Sapo tahu has several varieties in Indonesia such as it can be made with chicken, vegetables, or seafood, but one thing in common is that all varieties usually use Japanese egg tofu in it. The egg tofu is briefly fried (pan-fried in my case) and then cook with other ingredients.


JAPANESE EGG TOFU
We particularly love the Japanese egg tofu used in claypot tofu. Egg tofu is so soft and silky. The egg tofu is packed in a tube packaging and then sliced into thick coins. Egg tofu can be made at home by using eggs and soy milk and then steamed. The technique of making the egg tofu smooth and silky is similar to chawanmushi

HOW TO PREPARE JAPANESE EGG TOFU FOR MAKING SAPO TAHU
The manufacturer usually include a "dotted line" at the back of the packaging to let you know where to cut. Use a sharp knife to cut the egg tofu on that line

Gently push the tofu out from the plastic by squeezing the end of the tube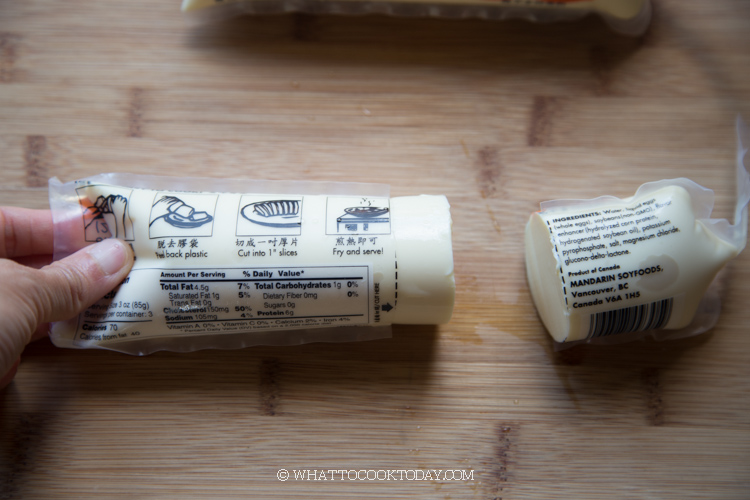 Slice the tofu into about 1-inch thickness

The two ends won't be perfect rounds, but that's totally okay.

Pat the egg tofu dry with an absorbent paper towel so the oil won't splatter when you cook them. You can either pan fry them until golden brown like I did or deep fry them in oil. By pan-frying or deep-frying the egg tofu, it makes the egg tofu less prone to break because the crispy layer of skin from frying is sort of "protecting" the delicate egg tofu. I only pan fry both sides, you can do the sides too if you want.

SAPO TAHU CAN BE MADE WITHOUT A CLAYPOT
Many years ago before I had a claypot, I made this in a wok or skillet. It's totally acceptable. Now that I have a big claypot, I like to use them to make sapo tahu. Just because I can 😉 Many older generation like my mom, swears by claypot for cooking because they believe cooking in claypot yield a much tastier food. Claypots cook the food slowly and food doesn't lose its moisture as much compare to other cooking equipment. But, don't worry, you will still end up with delicious sapo tahu if you cook it in regular wok or skillet.
WHICH CLAYPOT TO CHOOSE
I got mine from Asian grocery store I usually shop at. The one I'm using is about 9 inch. If you can't find any claypot near you, you can always just use wok or skillet. If you really want to get one, you can look into this or this beautiful one
HOW TO MAKE GOOD SAPO TAHU SEAFOOD
1. Pan fry or deep fry the egg tofu
This is to prevent the tofu from falling apart
2. Cook the seafood first
Seafood like shrimp and fish balls cook quickly. I don't want the seafood to be simmering together with raw vegetables and by the time the raw vegetables cook, your shrimp will be way overcooked
3. Add the egg tofu last
Too many stirring inside the claypot or wok will break the egg tofu into pieces. So egg tofu is usually added last

Sapo Tahu Seafood (Claypot Egg Tofu and Seafood)
Ingredients
Vegetables:
1

large

carrot

peeled and sliced

6-7

medium broccoli florets

1

cup

snow peas
Aromatics:
1

small

onion

peeled and quartered

2

cloves

garlic

finely chopped

1

tsp

grated ginger
Seafood:
200

gr

large shrimp

peeled and deveined

5

fish balls

sliced
Recommended tool:
Instructions
Prepare egg tofu:
Sliced the egg tofu into 1-inch slices. Pat them dry with an absorbent paper towel to prevent splattering when you cook them. Pan fry them in about 1/4-inch of oil on a pan until golden brown on both sides. You can deep fry them in oil too if you prefer
Cooking:
Preheat the claypot or wok/skillet. Add cooking oil. Add the aromatics and stir fry for about 1 minute. Add the shrimp and sliced fish balls and stir fry until the shrimp turn pink and cooked through. Remove the shrimp and fish balls from the claypot or wok. Leave the onion and garlic in there

In the same claypot/wok, add the vegetables and seasonings and stir fry for about 1 minute. Pour the chicken broth in and bring to a boil then gently lower the heat to simmer and cook until the vegetables are tender, but not mushy

When the vegetables are tender, Stir the shrimp and fish balls back in. Slowly drizzle in the beaten egg and stir at the same time. Give the cornstarch solution a stir and then pour into the claypot/wok and stir until the sauce is thickened. Have a taste and add more seasonings to your taste. It should be savory with just a hint of sweetness. Placed the egg tofu in and very gently stir to mix the sauce with egg tofu. Remove from heat, and serve immediately.