Silky Smooth Instant Pot Chawanmushi (Japanese Steamed Egg Custard) – Learn how to make an amazingly smooth and soft chawanmushi loaded with all the savory goodness in your Instant Pot. Stove-top method is included too.
My obsession with chawanmushi started many years ago when my daughter (my first child) was probably around 1 year old. My mom made chawanmushi for her to try and she immediately got hooked to this very day. Needless to say, I have been making it often since then. This is how she describes it "It's so smoootthhh and jiggly". I have now adapted the recipe to steam the chawanmushi in instant pot using the steamer feature.
WHAT IS CHAWANMUSHI?
Chawan means tea cup and mushi means steam in Japanese. The egg mixture is literally steamed in tea cups or like in my case, ramekins. Chawanmushi is made with eggs, dashi stock , soy sauce , salt and mirin . The stuff you can add in there though, that's my favorite. People will add things like udon noodles, vegetables like carrots, mushrooms, etc, protein like shrimp, crab meat, chicken, etc to chawanmushi. The chawanmushi is then drizzled with ankake sauce.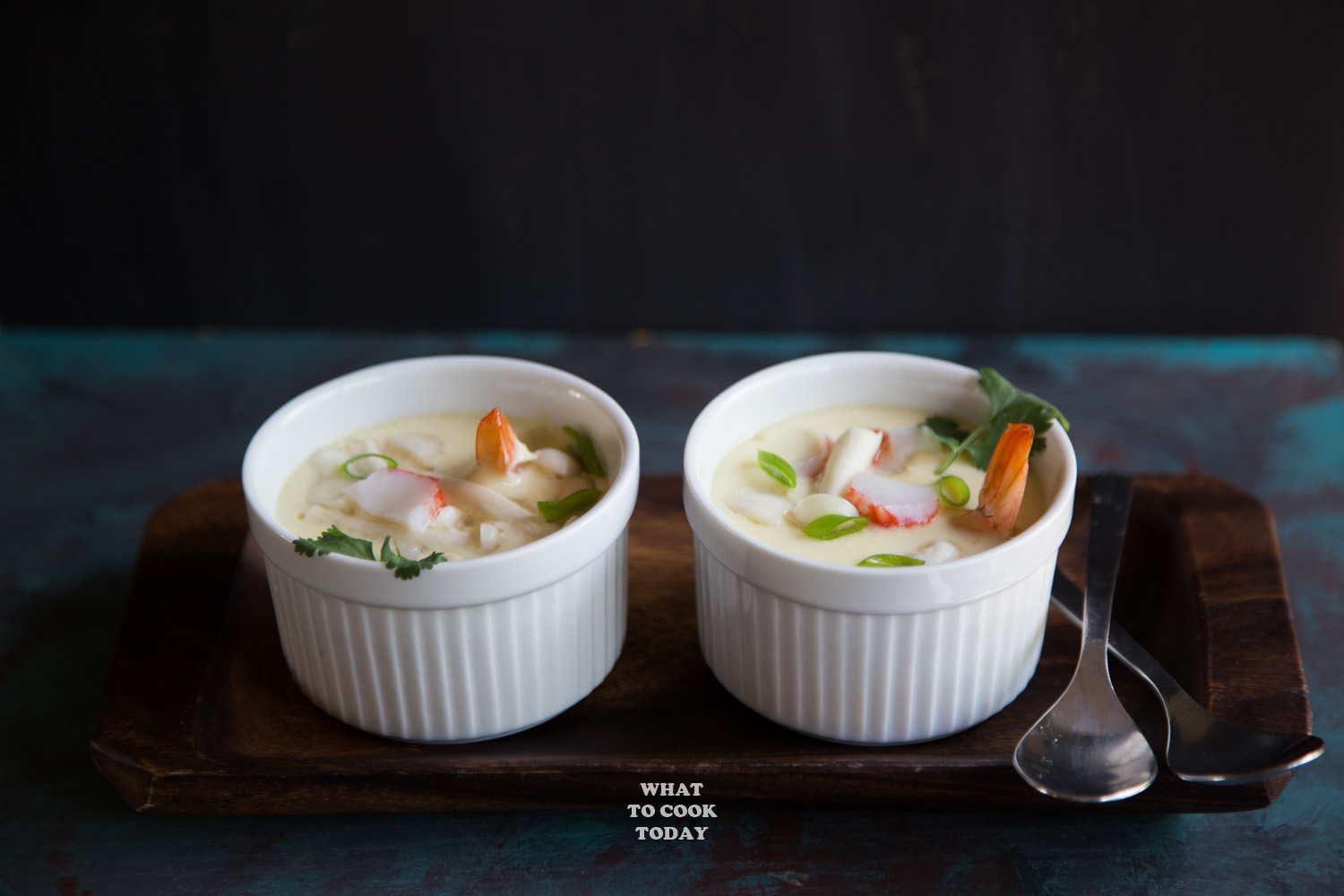 SPECIAL INGREDIENTS USED IN THIS INSTANT POT CHAWANMUSHI RECIPE
DASHI
Dashi can be easily prepared with kombu seaweed and katsuobushi. Both are widely available at Asian grocery store or any store that carries ethnic food.
MIRIN
Mirin is a sweet transparent liquid with a low alcohol content. It adds sweetness and silkiness to sauces and dressings.
TIPS ON HOW TO ENSURE A SILKY SMOOTH CHANWANMUSHI
1. The egg to dashi ratio
The ratio of the amount of egg to dashi is important in creating a silky smooth texture. The egg: dashi ratio I use here is about 1: 2.25 (1 cup of the egg to 2.25 cups of dashi stock), which I think it's perfect without being too soft or too solid
2. Strain the egg mixture
This is a must or you will not have a silky smooth texture
3. Wrap with plastic wrap
The purpose of wrapping each cup or ramekin with the plastic wrap before steaming is to prevent the moisture from dripping down on the custard, which will create an unsmooth texture
4. Steam on low heat
Low heat will ensure that the egg custard cooks smoothly. The high heat will cause the egg custard to boil and then creating bubbles and an uneven surface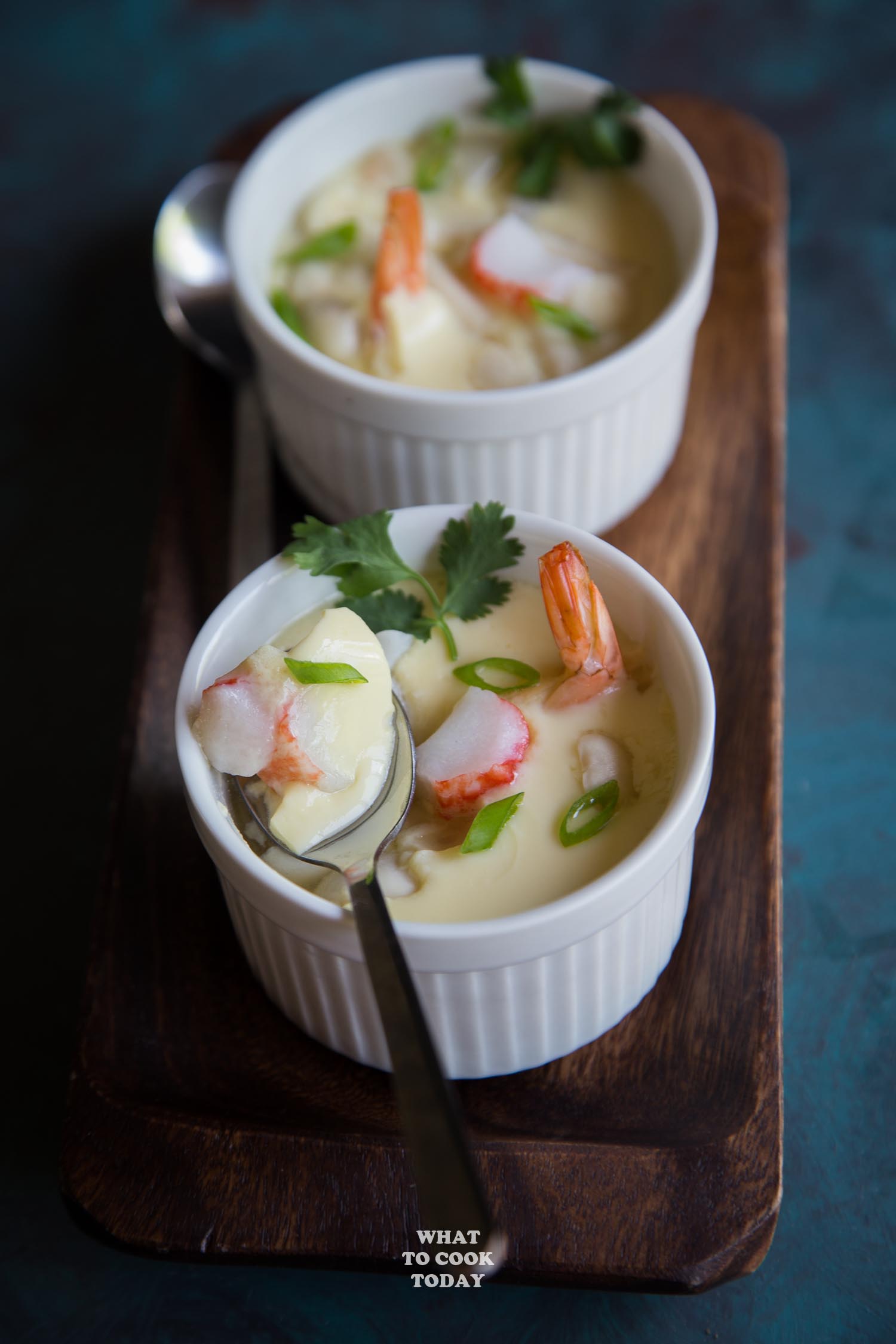 This chawanmushi recipe is a keeper forever and ever. It turned out great. It was smooth and melt in your mouth. The ankake sauce really makes the dish even tastier. Tried it and you'll love it.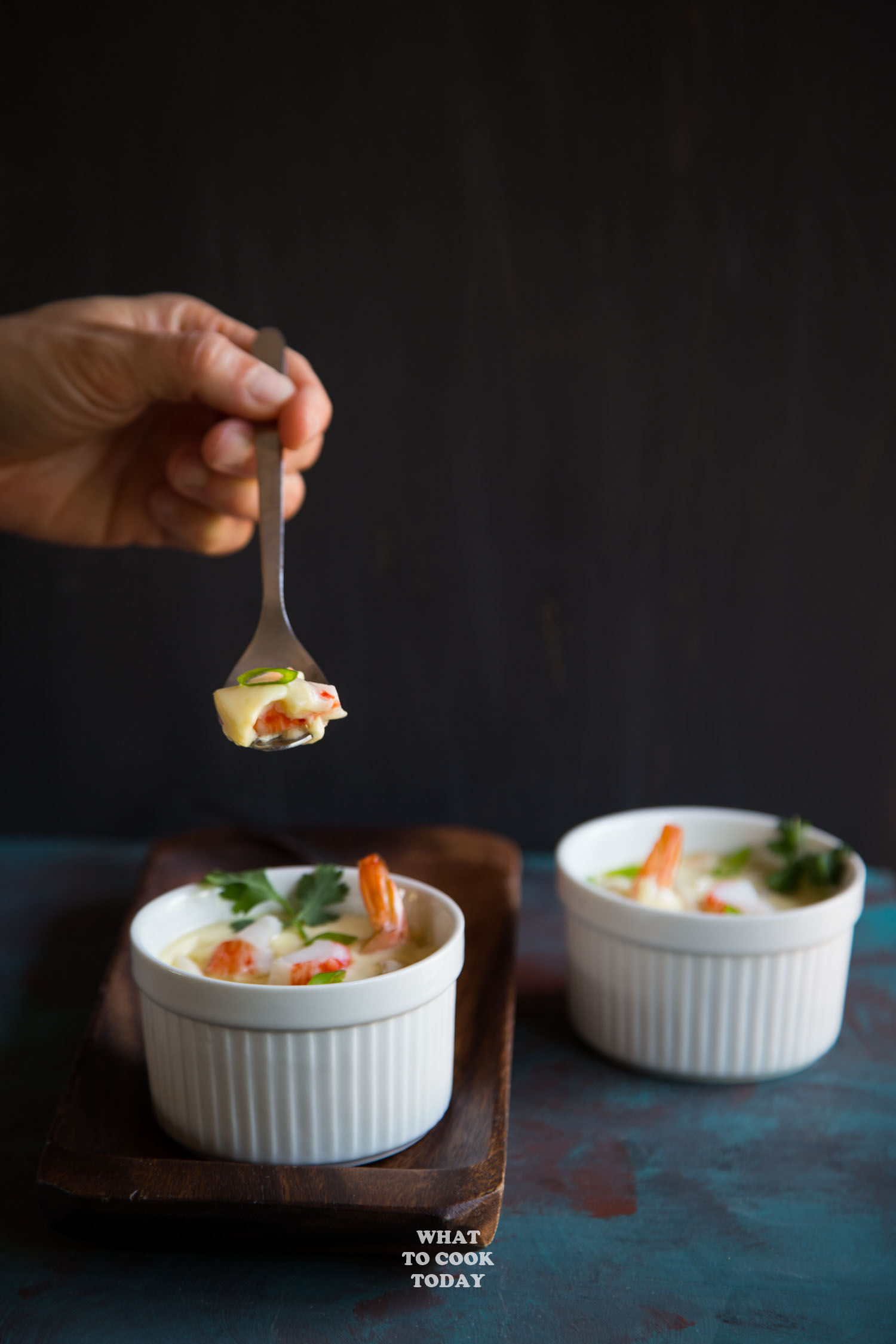 Original recipe is adapted from Everyday Harumi cookbook by Harumi Kurihara. I later modified it to use instant pot to steam the chawanmushi using the steamer feature.
*Recipe is written for 6-quart Instant Pot. Cooking time should remain the same for 8-quart size but will take longer to pressurize. For mini duo (3-quart), I recommend to half the recipe and use the same amount of time to cook*
Silky Smooth Instant Pot Chawanmushi (Japanese Steamed Egg Custard)
Ingredients
Optional ingredients you can add to chawanmushi:
8

large shrimp

peeled, deveined and leave the tail on

16

pieces

shimeji mushrooms

2

oz

boneless skinless chicken thighs

cut into bite-size

3

oz

surimi
Garnishes:
1

stalk

green onion

finely sliced at an angle

Fresh cilantro leaves
Instructions
Prepare egg custard:
Break the eggs into a bowl and beat together thoroughly. Gradually add the dashi stock, stirring constantly. Then, using a fine sieve, strain the mixture into a large measuring cup with a pout (makes your life easier). It is important to strain the mixture or you will not get a silky smooth texture. Discard the lumps

Add the seasonings to the mixture and stir to mix everything. Set aside
Assembling:
Wash and cut the root off shimeji mushrooms. Arrange about 4 pieces of shimeji mushrooms (a mixture of different sizes is ok), 2-3 piece of chunks of surimi, 1-2 piece of raw chicken meat and sit the shrimp in the middle of the ramekin with its tail pointing up. Repeat with the rest of the ramekins

Gently pour the egg mixture into the ramekins. Be careful not to fill it up all the way to the top, I'd say fill it up to about 3/4 of the dish you are using because the egg will expand during steaming

Pop any air bubbles you see. Air bubbles will create a bumpy surface. Cover each ramekin with aluminum foil
Steaming with Instant Pot:
Pour 1 cup of water into the inner pot of instant pot. Place the trivet in there. You need to steam in two batches. Carefully place the ramekins on top of the trivet. Cover the lid. Turn the steam release valve to seal. Press "steamer" and the light shows "low pressure". Set timer to 10 minutes or 15 minutes if the size of the ramekins/bowls are bigger

When the timer is up, you don't need to release pressure. Just wait for 5 minutes and then unlock the lid. Very carefully remove the ramekins from the pot
Steaming on stove-top:
Bring some water in a steamer to a boil. Place ramekins inside the steamer and lower the heat to low. Steam for 30 minutes over lowest heat. It is important to steam over low heat to ensure the smooth surface and texture
Prepare the sauce while the custard is steaming:
To make the ankake sauce, put the dashi in a saucepan, add the light soy sauce and mirin, and season with salt. Bring the dashi mix to a boil and add the potato starch and water mixture, to thicken
Serving:
Carefully remove the plastic wrapper. Pour some ankake sauce on top of each one and serve immediately
Notes
NOTES: It is very important to steam it on low heat to ensure a smooth texture.