Getuk Ubi Kayu/Singkong Gula Merah (Pressed Cassava Palm Sugar Cake)- Cassava/tapioca is boiled and then mixed with palm sugar/coconut sugar, grated coconut and then pressed onto a pan and sprinkle with grated coconut. Something so simple yet loved by many in Indonesia.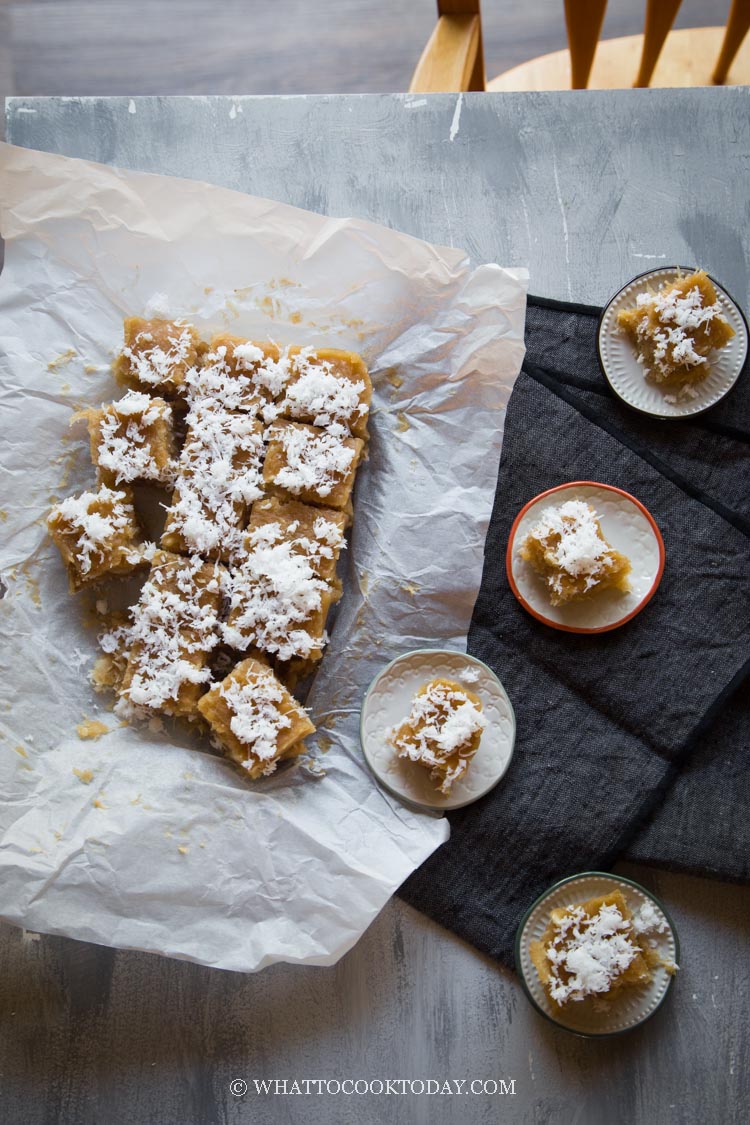 GETUK SINGKONG GULA MERAH
Getuk singkong gula merah is one of my most favorite kue ever since I was a little kid. Singkong means cassava/tapioca in Indonesian. Gula merah is palm sugar/coconut sugar. Kue is loosely translated into cake, not the type of cake you would imagine, with frosting etc. Getuk is considered one of the kue basah ("wet" cake). Kue basah is named as such because the kue is usually moist compared to kue kering ("dry" cake). Most of the time kue kering are baked. Kue basah usually steamed and sometimes boiled, or baked too.
HOW GETUK UBI KAYU IS MADE
Getuk singkong is made by boiling cassava root until tender and then mashed and mixed with grated coconut, palm sugar, white sugar, and a bit of salt while hot. The mixture is then pressed and packed into container and cooled down until it is firm enough to cut. It is a very cheap kue but highly popular street food and kue in Indonesia. Getuk is undeniably, one of the easiest Indonesian kue to make.
HOW TO MAKE MOIST AND DELICIOUS GETUK
1. Use sharp knife to peel off the thick skin of cassava
2. Cut into 2-inch pieces
3. Place cassava pieces in a pot and cover with water


4. Boil until really tender. Discard the boiling water completely after that


5. Place the rest of the ingredients into the hot cassava pieces


6. Mash everything until the sugar is melted and you get a pretty smooth mixture


7. Line the container with parchment paper overhanging on the sides. Pack this mixture into a container and really pack it down


8. Let it cool down for at least 3 hours before attempting to cut

TYPES OF CASSAVA TO USE FOR GETUK SINGKONG
The "types" I'm referring to are fresh and frozen. Usually, you have to peel the skin yourself for fresh cassava. The frozen version is already peeled.
I've also tried the frozen cassava to make getuk and the texture of the getuk is the same with when I used fresh cassava. So, to make a long story short, the frozen version is acceptable to make getuk singkong.
HOW TO STORE AND REHEAT GETUK SINGKONG
Kue basah (wet cake) doesn't keep as long at room temperature, especially if humidity is high where you are. If it's not humid where you are, you can keep this at room temperature for 1-2 day max. After that, they need to go to the refrigerator. They can be kept in the refrigerator for up to 5 days. They can be reheated in the microwave just until warm enough, not hot or you can use steamer to reheat.
Freezing the cake is not recommended as it will definitely change the texture of the cake.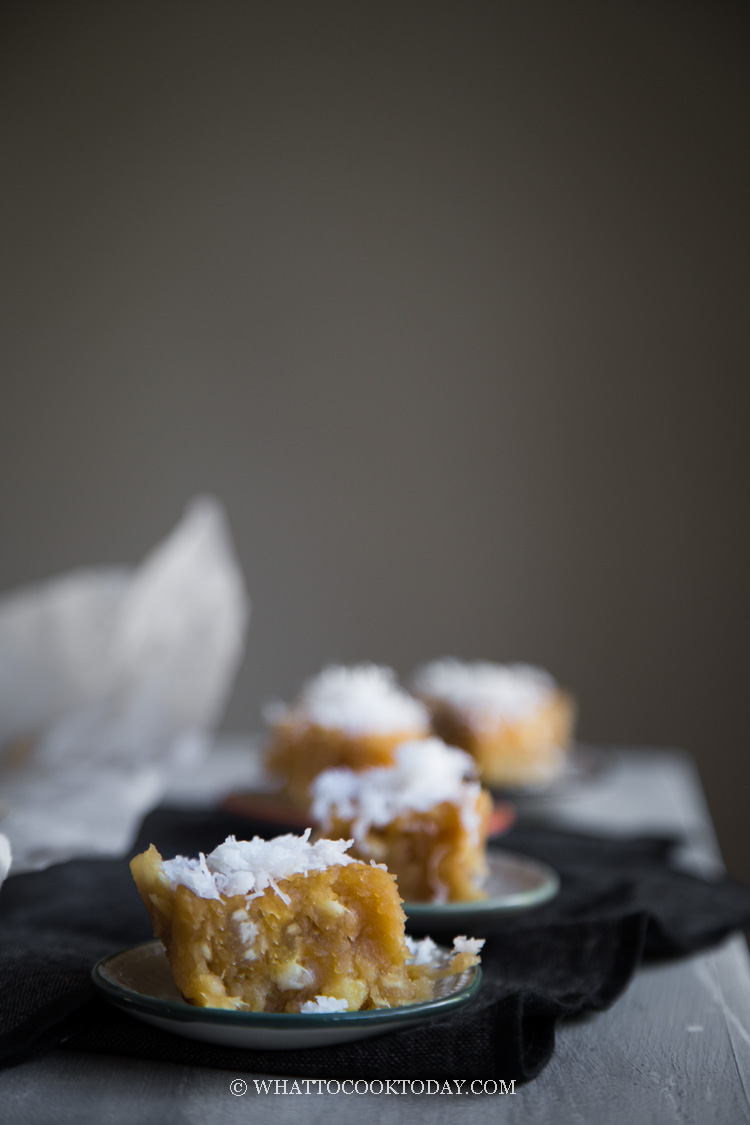 Recipe is from my aunt who is a good cook and baker 🙂
Getuk Ubi Kayu /Singkong Gula Merah (Pressed Cassava Cake)
Ingredients
1

kg

peeled cassava/tapioca root

cut into 2-inch pieces

200

gr

grated coconut, divided

thaw if frozen

50

gr

palm sugar

grated, or use coconut sugar

100

gr

sugar

¼

tsp

salt
Instructions
If you use frozen tapioca you get from Asian store, thaw in the refrigerator. Discard any excess liquid. The texture of the cassava will be soft after thawing, which is as expected after being frozen. Cut them into bite-size pieces

Place pieces of tapioca in a large pot. Cover with water and then bring to a boil and cook until the tapioca is fork tender, about 15 minutes. Remove any tough core if visible. Discard the cooking water completely

While the tapioca is still hot, add palm sugar, sugar, salt, and 100 gr of grated coconut. Mash until the tapioca is smooth and the sugar has melted. You may use immersion blender to do the job too. There might be few small chunks left if you mash by hands and that's ok, but try to mash them up as smooth as you can

Line the container of your choice with parchment paper overhanging at the sides. I use 8 x 10 rectangle pyrex container. Cake pan will work too. You can easily lift the cake out later. Press this into a container of your choice. Really pack it in, corner to corner and the middle to make sure there's no "holes" when you cut the getuk later

Let the cake cool down completely before attempting to cut, I would say for at least 3 hours. The cake with harden further once it cools down complete

Steam the rest of the grated coconut for 10 minutes. Set aside

Slice the cake into the desired size and sprinkle with some grated coconut. Ready to serve