Ham Chim Peng (Chinese Fried Doughnuts) – Two ways! – Soft dough is stuffed with white glutinous rice and another version with sweet red bean paste and then deep-fried. My favorite childhood food that reminds me of grandma
I couldn't help but thinking about grandma (my mom side) when I made ham chim peng a few months ago. My grandma loved ham chim peng, especially the one with glutinous rice stuffed in the middle of the dough. Every weekend we would visit grandma and mom would make sure she bought some ham chim peng with glutinous rice for her. I personally love both ham chim peng with glutinous rice and also the ones with sweet red bean paste (dou sha) stuffed inside, that's my dad's favorite too.
HAM CHIM PENG (CHINESE FRIED DOUGHNUTS)
Ham chim peng is of Chinese origin and obviously has made its way to Indonesia as well. It is a popular tea time snack among the Indonesian Chinese and also the native Indonesian. It is called kue bantal in Indonesia. Bantal means pillow in Indonesia. It is named as such because of its softness. Unlike the Western doughnuts, ham chim peng is made without any butter, milk, and eggs. Ham chim peng is made with starter dough that has been proofed for 2 days and then mixed with bread flour, yeast, baking soda, alkaline water, and sugar to form a very sticky dough. The dough is then shaped, filled (or not) and deep-fried. The result is incredibly soft and airy doughnuts. You will see large air holes inside the doughnuts when you tear it open.
This blog post contains affiliate links. I earn a small commission when you made purchase at no extra cost to you. Learn more.
SPECIAL INGREDIENTS USED IN MAKING HAM CHIM PENG – TWO WAYS!
1.
White glutinous rice
2.
Alkaline water / Lye water / Potassium Bicarbonate
3.
Sweet red bean paste
. You can also make
sweet red bean paste from scratch
if you want to
HAM CHIM PENG IS NOT LABOR INTENSIVE TO MAKE, BUT REQUIRES SOME PASSIVE TIME
Ham chim peng is not something that you can make out of a whim on the same day! Oh no my friend! Like I said, it's not hard, but you need to plan ahead and make the starter that you have to proof at room temperature for at least 15 hours. Original recipe calls for 2 days (48 hours), but I had success with only 15 hours. This starter dough will work together with the main dough to produce incredibly soft and airy doughnuts.
After that, the dough needs to be rested for 2-3 hours before you can start shaping. So, lots of waiting time, but not too labor intensive if you ask me.

WHY YOU WILL LIKE THIS HAM CHIM PENG RECIPE
1. It's the best I've ever tasted. Like seriously!! The dough is soooo soft, light, and airy.
2. Large air holes inside the ham chim peng, which is what we are looking for.
3. I use pressure cooker the cook the glutinous rice, which requires no soaking for the rice and it's cooked in 15 minutes, plus 10 minutes waiting time.
4. I use store-bought sweet red bean paste (dou sha) for the filling and that alone saves lots of time.
HOW TO STORE AND REHEAT HAM CHIM PENG
1. Uncooked dough
Once you are done shaping and filling the dough, you can freeze them by placing them on a large baking sheet lined with parchment paper in a single layer until firm and then wrap each one in a plastic wrapper and place in freezer bag. Thaw before frying. You may need to dust with some flour if they get too sticky after thawing.
2. Leftover.
Leftover ham chim peng can be stored at room temperature for about 2-3 days. This also depends on humidity. If it's really humid where you are, it's best to keep in the refrigerator for up to one week. You can reheat by wrapping them in aluminum foil and bake them in the oven at 350 F for 8-10 minutes in the oven.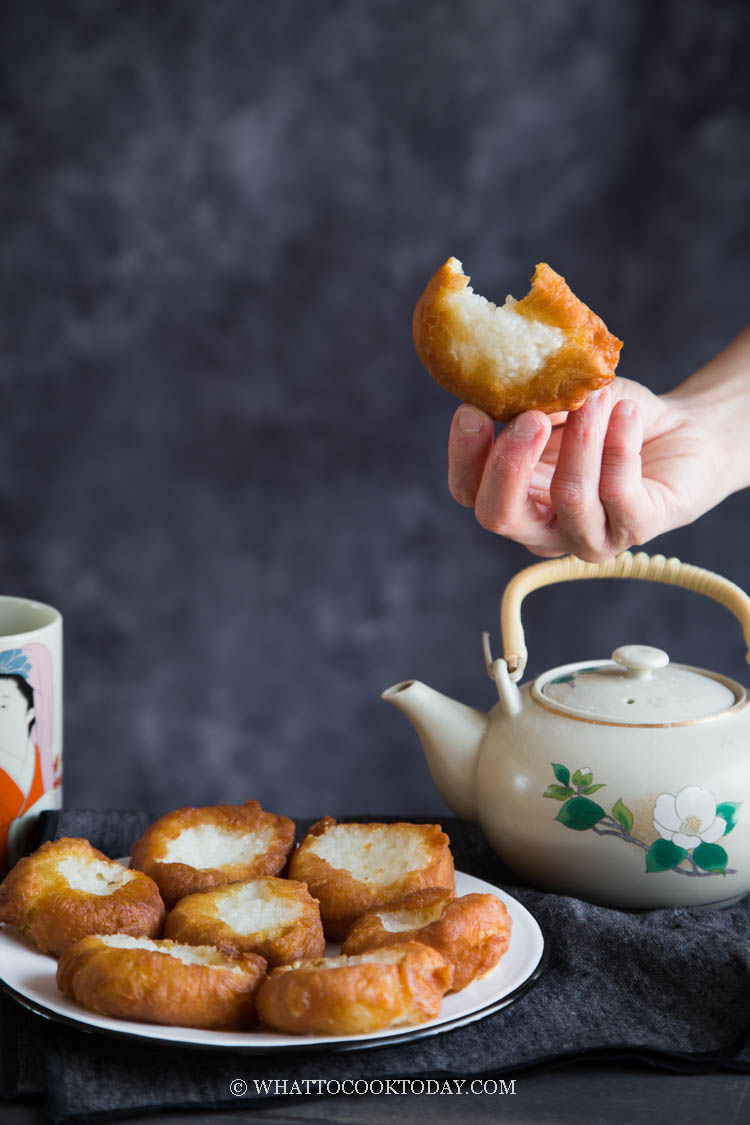 TIPS FOR MAKING HAM CHIM PENG SUCESSFULLY
1. Make sure you proof the starter for at least 15 hours
2. The glutinous rice must cook to the soft and moist consistency or they will harden when you fry them
3. Control heat so your ham chim peng won't get too brown too quickly before the inside gets cook properly
Recipe is adapted from Nasi Lemak Lover. The only ham chim peng recipe I ever need really!
*Recipe is written for 6-quart Instant Pot. Cooking time should remain the same for 8-quart size but will take longer to pressurize. For mini duo (3-quart), I suggest to half the recipe and use the same amount of time to cook*

Ham Chim Peng (Chinese Fried Doughnuts) - Two Ways!
Soft dough is stuffed with white glutinous rice and another version with sweet red bean paste and then deep-fried. My favorite childhood snacks!
Total Time:
3
hours
15
minutes
PIN RECIPE
PRINT RECIPE
Ingredients
Instructions
Prepare starter (1 day before you plan to make):
Place ingredients for starter in a mixing bowl and stir to mix everything. Covered with plastic wrap at room temperature for at least 15 hours (or up to 48 hours). I made it successfully with both 15 hours and 48 hours
Prepare the dough with stand mixer:
Place all ingredients for dough in a large mixing bowl for stand mixer if you have one. Add in the starter that has been proofed for at least 15 hours. Use a dough hook to knead the dough at medium speed for 2 minutes. The dough is super sticky at this point. Proceed to proofing
Prepare the dough by hands:
Place all ingredients for dough in a large mixing bowl for stand mixer if you have one. Add in the starter that has been proofed for at least 15 hours. Use rubber or wooden spatula to mix. Cover the dough and let rest for 20 minutes. After 20 minutes, bring the dough from the sides into the center and continue to do this until the dough is smooth. Rest 20 minutes again

Repeat the folding and resting process for another 3 more times. The dough is super sticky at this point. Proceed to proofing
Proofing:
Pour a bit of oil on the palm of your hands and rub some oil on the surface of dough, cover well with plastic wrap and leave to proof for 2 - 3 hours at a warm place. I preheat my oven to 100 F and then turn off and wait 10 minutes and then let the dough proof in there for 2 hours. It will double in size
Cooking glutinous rice with Instant Pot pressure cooker:
No soaking required if you use a pressure cooker. Briefly rinse the rice with clean water. Drain all water. Pour 1 cup of water into the inner pot. Place the trivet in the pot. Pour the rice into a heat-proof container. Add water, sugar, and salt. Stir to mix and to make sure the rice is covered by water

Close the lid. Turn the steam release valve to seal. Press pressure cooker, high pressure, and set timer for 15 minutes. When 15 minutes is up, wait 10 minutes and then release pressure completely. Open the lid carefully and remove the rice from the pot

Place a parchment paper on a working surface, about 10x10 inch. Transfer the rice to the parchment paper and carefully shape the rice into a 2-inch diameter and about 8-inch in length log using the aid of the parchment paper. Shaping and gently squeezing to form a log
Shaping (for ham chim peng with glutinous rice):
Divide the dough into two. Cover the other one you are going to use for sweet red bean paste filling. Dust your working surface and your hands generously with all-purpose flour. Pour the dough out. The dough is very soft

Roll dough into a rectangle shape, it should triple the width of the glutinous rice log, about 6 inches in width, and slightly longer than the log, so it could wrap it over. You need to use your hands to do this, rolling pin will not work as the dough is quite sticky

Place the glutinous rice log in the middle of the rectangle dough. Gently lift one side of the dough up to cover the glutinous log

Then roll over to completely cover. Pinch to seal the end

Cut into 1-inch pieces, you'll get probably about 15 pieces

Because the dough is very soft, they will be slightly out of shape after you cut. Just use your hands to shape it bag into rounds the best you can. Proceed to cook
Shaping (for ham chim peng with sweet red bean paste filling):
Divide the 250 gr of sweet red bean paste and roll into 10 equal balls. I didn't do this, but making it into balls actually makes your life easier

Dust your working surface and your hands generously with all-purpose flour. Pour the dough out. The dough is very soft. Cut the dough into 10 equal pieces.

Flatten the dough slightly and then place the sweet bean paste ball in the middle of the dough

Gather the side to wrap and seal. Press some white sesame seeds on top. Proceed to cook
Cooking:
Heat oil until 325 f and deep fry the dough. When dough floats to the top, use the chopsticks to turn dough as frequently as possible. Turning the dough allows even puffiness. Fry until dough is golden brown. Place on an absorbent paper towel to absorb extra oil. Transfer to serving plate. Serve warm