Pieces of chicken are cooked in aromatics and coconut water and then deep-fried to perfection and served with spicy sambal and sometimes kecap manis. You should definitely try ayam goreng Kalasan.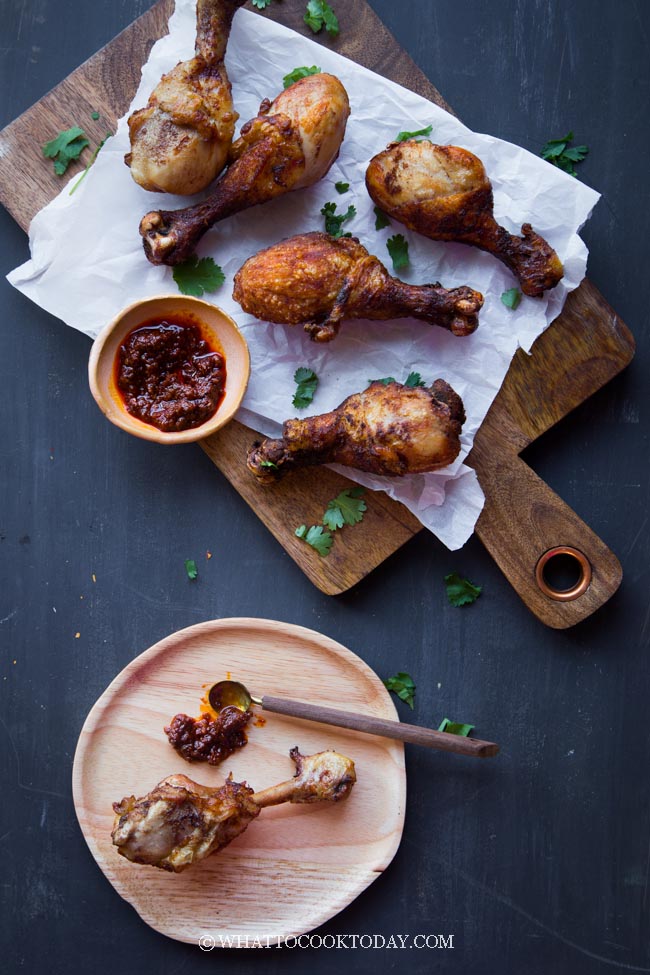 AYAM KALASAN
There are so many different version of fried chicken throughout Indonesia and one of my favorites is this ayam goreng Kalasan or sometimes just called ayam Kalasan. It was said that ayam goreng Kalasan got its name from the popular Buddhist temple, Candi Kalasan, located in Central Java. There are several different versions of ayam goreng Kalasan too. In Medan, the ayam goreng Kalasan usually is served with kremes (crunchy bits) like ayam goreng kremes. Then there's also a version where the chicken is grilled (ayam bakar kalasan). The Javanese version like in this recipe is more at the sweet side. The chicken is first cooked in coconut water along with other spices and herbs and then deep fried and served with sambal and kecap manis sometimes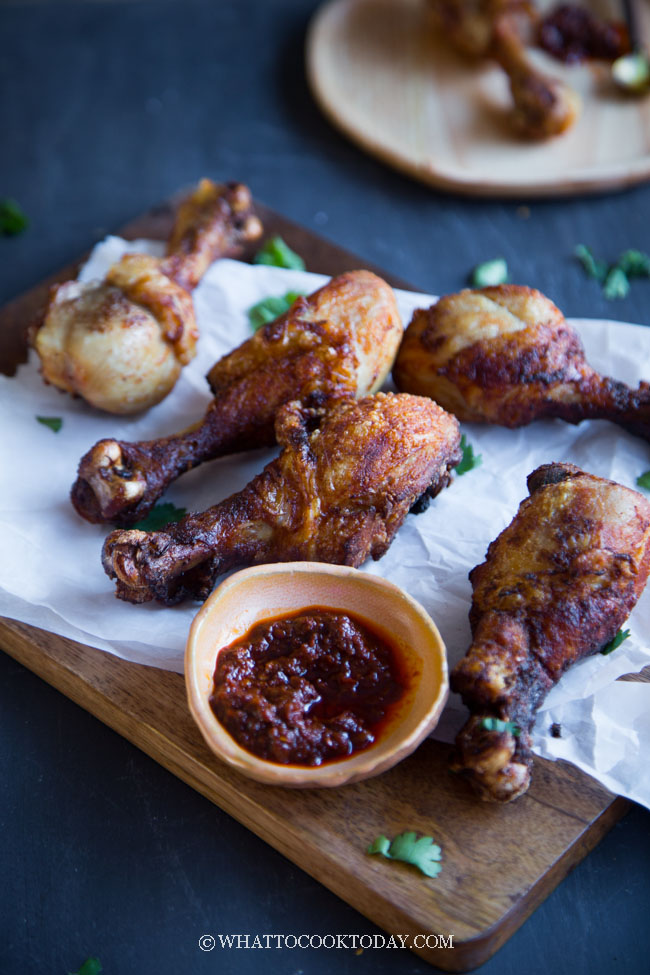 INGREDIENTS
My version of ayam goreng Kalasan is really simplified. I use mainly powdered spices such as galangal powder, coriander powder, but feel free to use fresh ground ingredients if you have access to them. For example, if you can get galangal roots, you can definitely ground them in bulk, portion into smaller portion and freeze the rest. Lemongrass stalks, coriander powder, bay leaves (though not salam leaves) can be easily found in both Asian and regular mainstream regular grocery stores at the ethnic aisle. Galangal roots or galangal powder is mainly available only at Asian grocery stores.
Coconut water is widely available in any regular stores these days. Just make sure you pick the pure 100% coconut water and no other ingredients like pineapple, etc, added to it.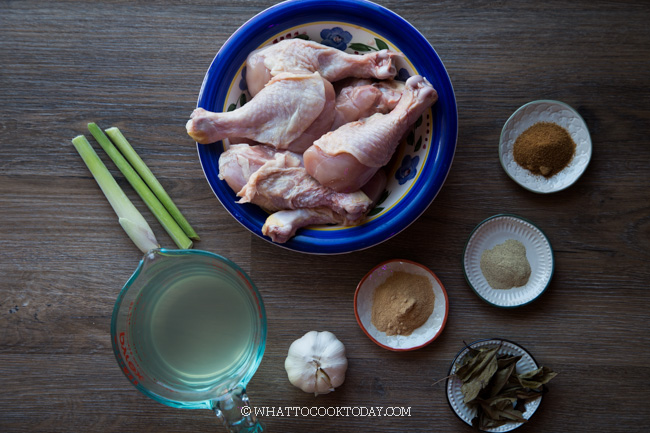 MY RECIPE VERSUS TRADITIONAL COOKING
Traditionally the chicken is boiled in coconut water along with other ingredients until cooked and then fried. I prefer to pressure cook the chicken and then fried. Ever since I owned my electric pressure cooker (a.k.a Instant pot), I've tried to convert many of my recipes to utilize it because it is so much more convenient and in certain cases, yield better results and faster too! I included a recipe for cooking on the stove-top too as I know not everyone owns a pressure cooker.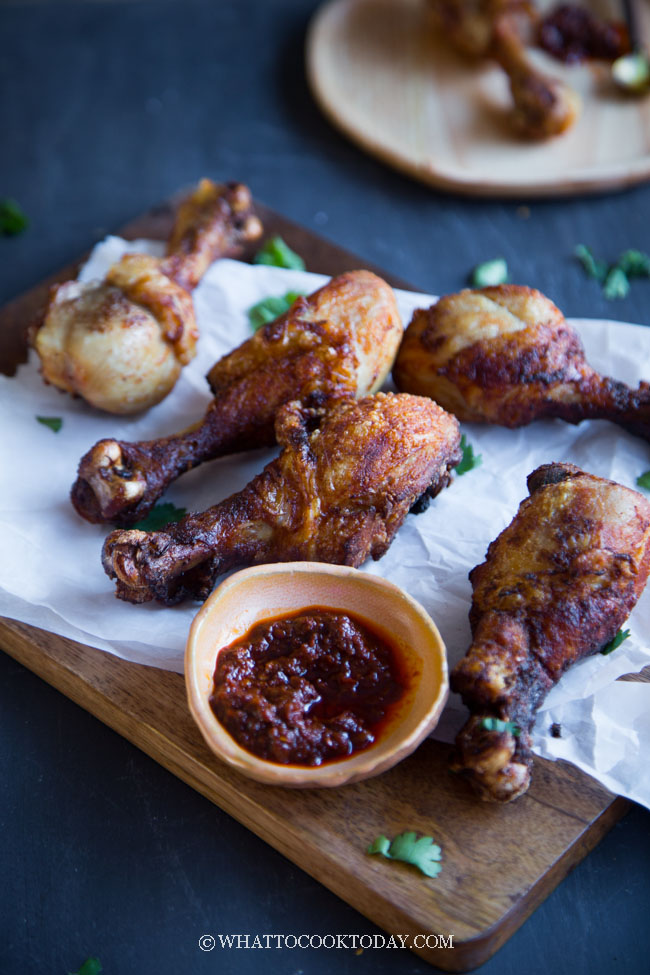 Now, let's get cooking shall we?
TOP TIPS FOR MAKING AYAM GORENG KALASAN
1. USE SAME CUT OF CHICKEN IF POSSIBLE
Traditionally, a whole chicken is used and then cut into pieces and boiled. Every cut cooks at a slightly different time and I like to use the same cut for the chicken, in this case, I used drumsticks. So when I pressure cook, I know they will all roughly cook through at the same time without being overcooked or undercooked
2. SMASH THE LEMONGRASS AND GARLIC
This helps to release the flavor instead of throwing them whole into the pot. You can use the side of the knife or pestle to smash them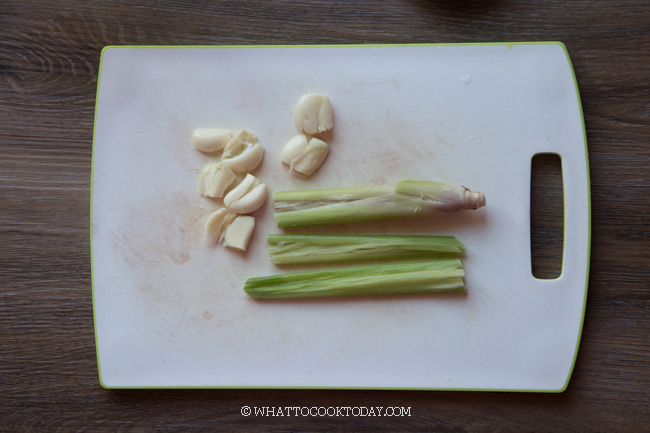 2. USE PRESSURE COOKER IF YOU HAVE ONE
I feel like the chicken pieces are more flavorful and we are not boiling the chicken to "death" 🙂 if you know what I means. Very little liquid escapes during pressure cooking and therefore also eliminates the need to adding liquid while boiling the chicken
3. YOU CAN PRECOOK THE CHICKEN IN ADVANCE
You can pressure cook or boil the chicken a few days before you plan to serve and then refrigerate them. When you are ready to serve them, bring them to room temperature by letting them sit on counter top for about 30 minutes and then proceed to deep fry them. This helps to save you lots of time on the day you want to serve them
HOW TO MAKE AYAM GORENG KALASAN FROM SCRATCH
1. SAUTE GARLIC AND LEMONGRASS FIRST
Whether you are using a pressure cooker or cooking on the stove, I highly recommend that you saute the lemongrass and the crushed garlic in a bit of oil. This helps to intensify the flavor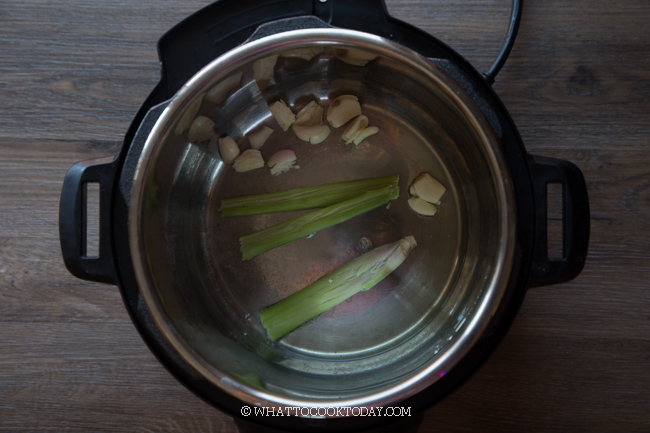 2. ADD CHICKEN, SPICES, HERBS, AND SEASONINGS
Stir to mix everything


3. ADD COCONUT WATER
Use a wooden spatula to scrape the bottom of the pot to make sure nothing got stock at the bottom of the pot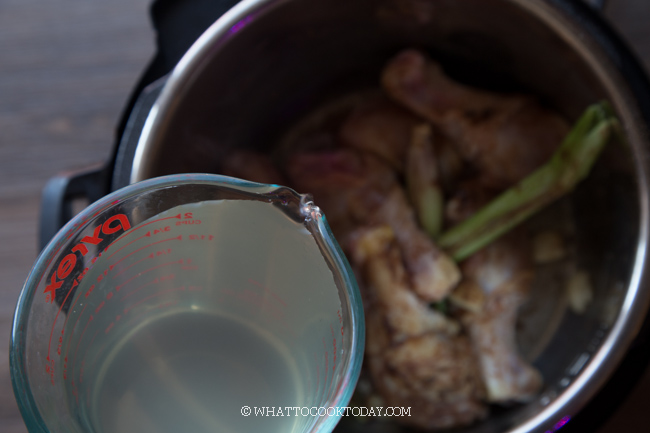 4. PRESSURE COOK OR BOIL
Add bay leaves. If you are using a pressure cooker, turn off saute mode (if using Instant pot), close the lid and turn the steam release valve to seal. Select pressure cooker, high pressure and set the timer to 12 minutes and then release pressure completely. If cooking on the stove, let the chicken gently simmering until cooked through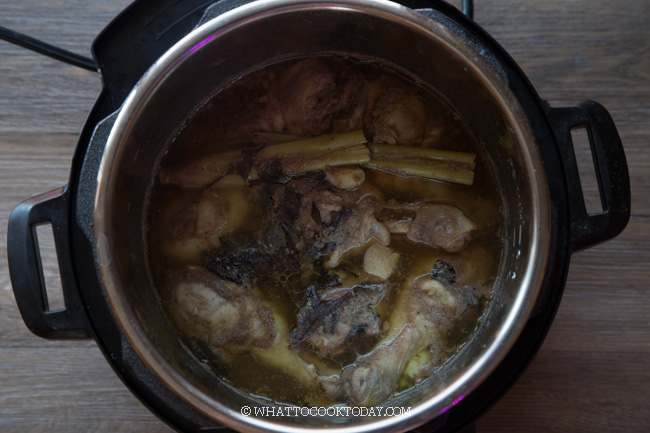 5. REMOVE COOKED CHICKEN TO LET THEM COOL DOWN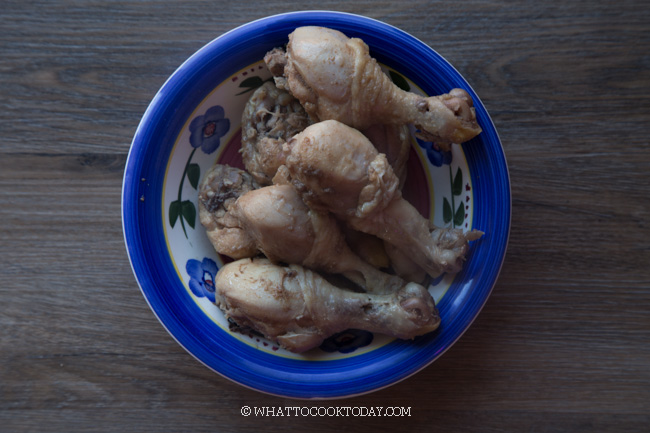 6. DEEP-FRY
The frying process is basically just to brown the chicken and to create thin layer of crispy crust on the chicken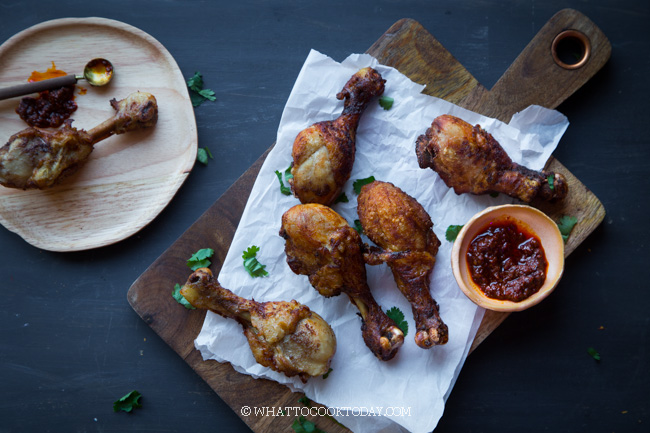 AYAM GORENG KALASAN SERVING SUGGESTION
Ayam Kalasan is typically served with rice, other side dishes, and also spicy sambal and/or Indonesian kecap manis.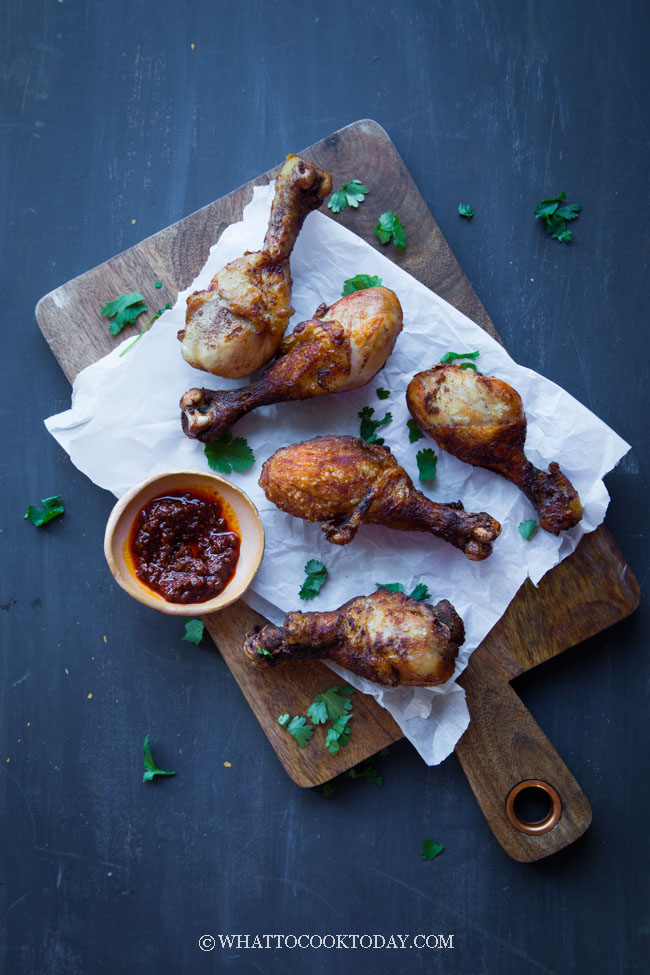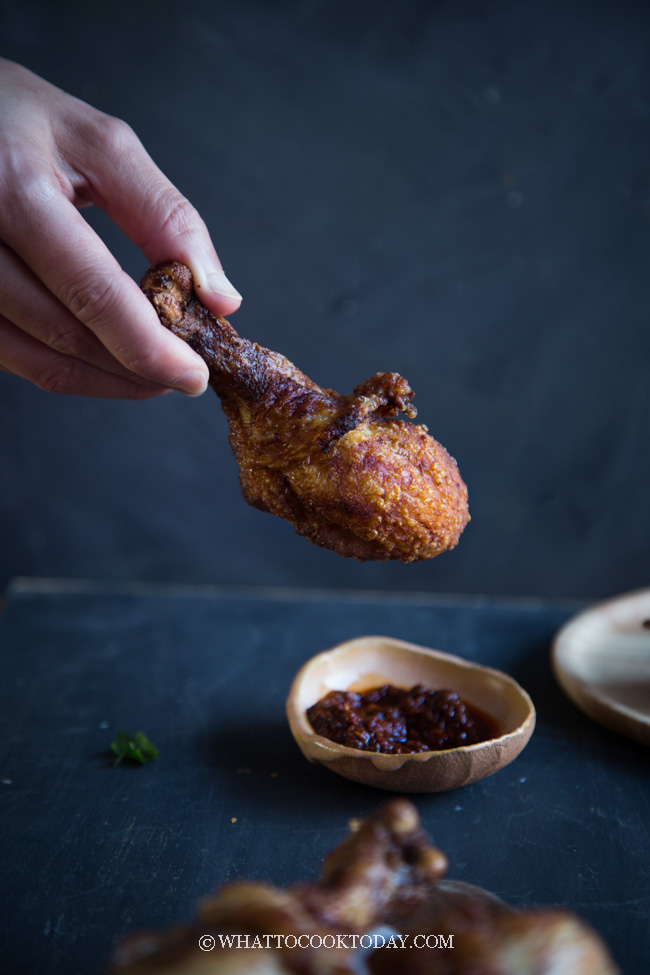 I believe almost everyone has his or her favorite fried chicken. What's yours? Have you tried ayam goreng Kalasan before?

This blog post contains affiliate links. I earn a small commission when you made purchase at no extra cost to you. Learn more.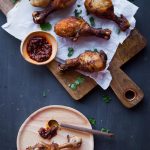 Ayam Goreng Kalasan (Javanese Fried Chicken)
Ingredients
3

lbs

bone-in skin-on chicken drumstick

or whichever part of the chicken you like

1

Tbsp

cooking oil

500

ml

coconut water

more if cooking on the stove

Generous amount of oil for frying
Aromatics:
6

cloves

garlic

peeled and smashed
Instructions
Cooking with Instant pot pressure cooker:
Press saute on instant pot. When it's hot, add 1 Tbsp cooking oil. Add the crushed garlic and lemongrass. Saute for about 1 minute. Add the chicken pieces follow by galangal powder, coriander powder, seasonings, and bay leaves. Pour in coconut water and stir to mix everything

Turn off saute mode. Close the lid. Turn the steam release valve to seal. Press pressure cooker, high pressure and set timer to 12 minutes. When timer is up, release pressure immediately

Unlock the lid and carefully transfer the chicken pieces out and let them cool down before deep frying. You can save the stock for other use if you want to (I save it to make chicken noodle soup). Proceed to deep-frying
Cooking on stove-top:
Preheat a large pot. Add 1 Tbsp cooking oil. Saute the garlic and lemongrass until fragrant, about 1 minute.

Add the chicken pieces follow by galangal powder, coriander powder and seasonings. Pour in coconut water and stir to mix everything

Bring to a boil and then lower the heat to let it gently simmer until the chicken pieces are cooked through and the meat is tender. Add a bit of coconut water if the liquid evaporates before the chicken pieces are cooked through

Once the chicken pieces are cooked through, remove the chicken to let them cool down. Save the liquid for other use if you want too. Proceed to deep-frying
Deep-fry the chicken:
Heat oil in a fryer/wok and fry chicken until golden brown
Serving:
Serve the chicken pieces with sambal . In Medan where I grew up, kecap manis is also used in addition to the sambal