Ayam Penyet (Indonesian Smashed Fried Chicken)-The chicken is traditionally being marinated and then boiled, deep-fried, SMASHED !!!! and served with sambal. Alternatives to deep-frying are included in the recipe too.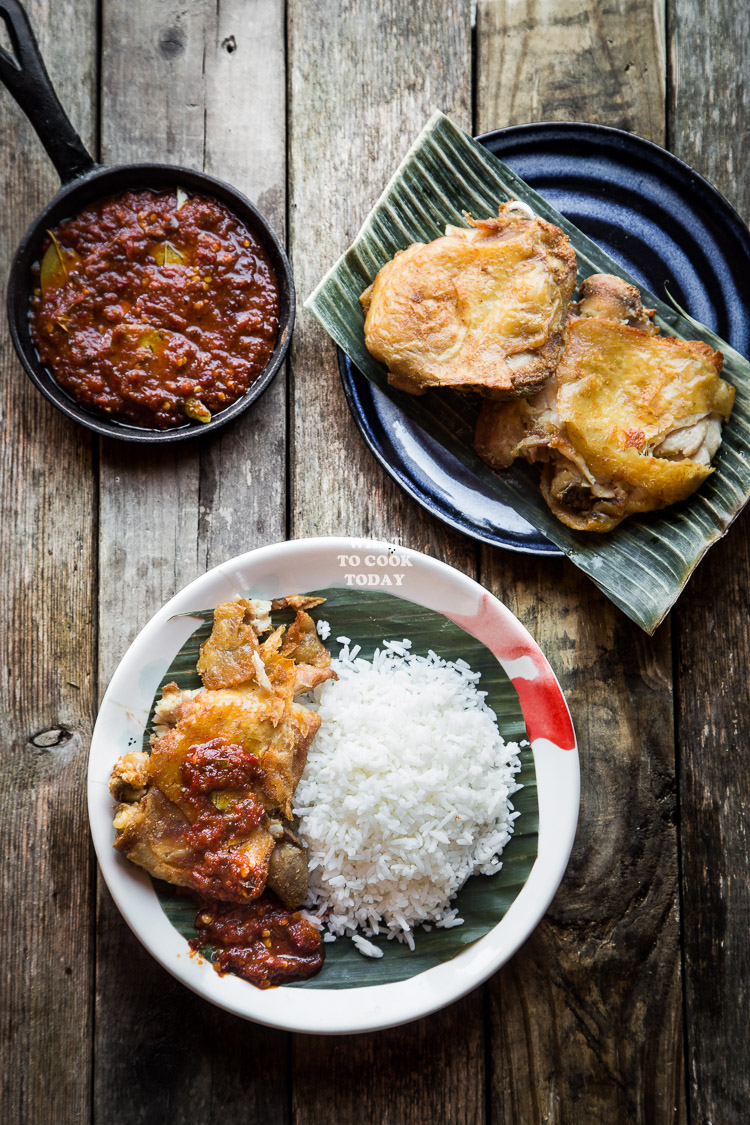 I found it quite amusing that there were actually many Indonesian food that I never really knew when I was still living there. It wasn't until after I left home for the first time when I was 18, being far away from home that I started my journey with food. Though I didn't really cook that much either during college time. If I did, they were simple stuff. My sister said "Ma Po tofu again?" I cooked that so often that it had become a joke to her. I got more serious into cooking after I married Mr. G. because I really missed lots of food that I could easily get when I was in Southeast Asia.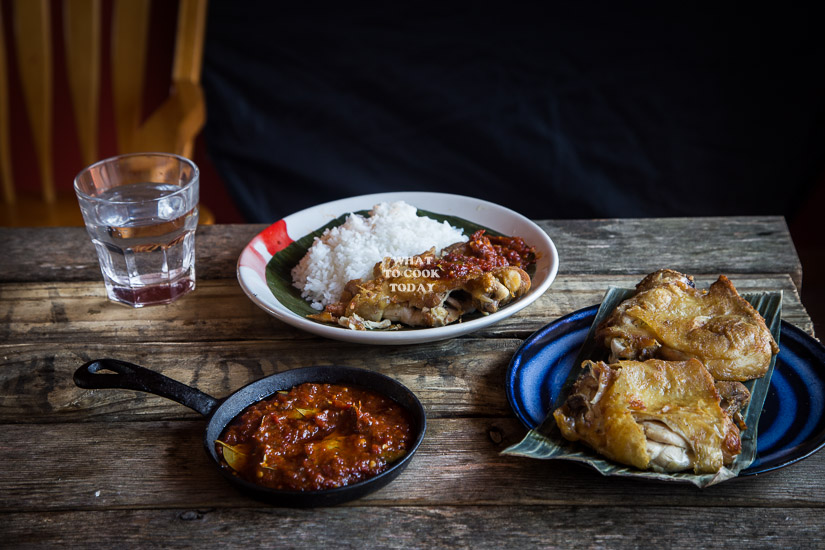 Ayam penyet is one of the food I never even heard of for the first probably 28 years of my life (yes..that's a long time I know!). I learned about ayam penyet when I stayed a short while in Singapore. Needless to say, my sister and I were frequent patrons.
What is the big fuss about this ayam penyet btw ? In case you ever wonder what that funky name means, Penyet means being smashed. Ayam means chicken. So, the "direct" translation for Ayam Penyet is Smashed fried chicken 🙂 The fried chicken is literally smashed after being cooked and hence the name 😉 The chicken is being marinated and then boiled, deep-fried, and then SMASHED !!!! and served with sambal. I did a little tweak on the recipe. Instead of boiling and deep-frying, I steamed the chicken and then air-fried them. It is quite a revolution I must say! Steaming the chicken will give you chicken that does not taste bland.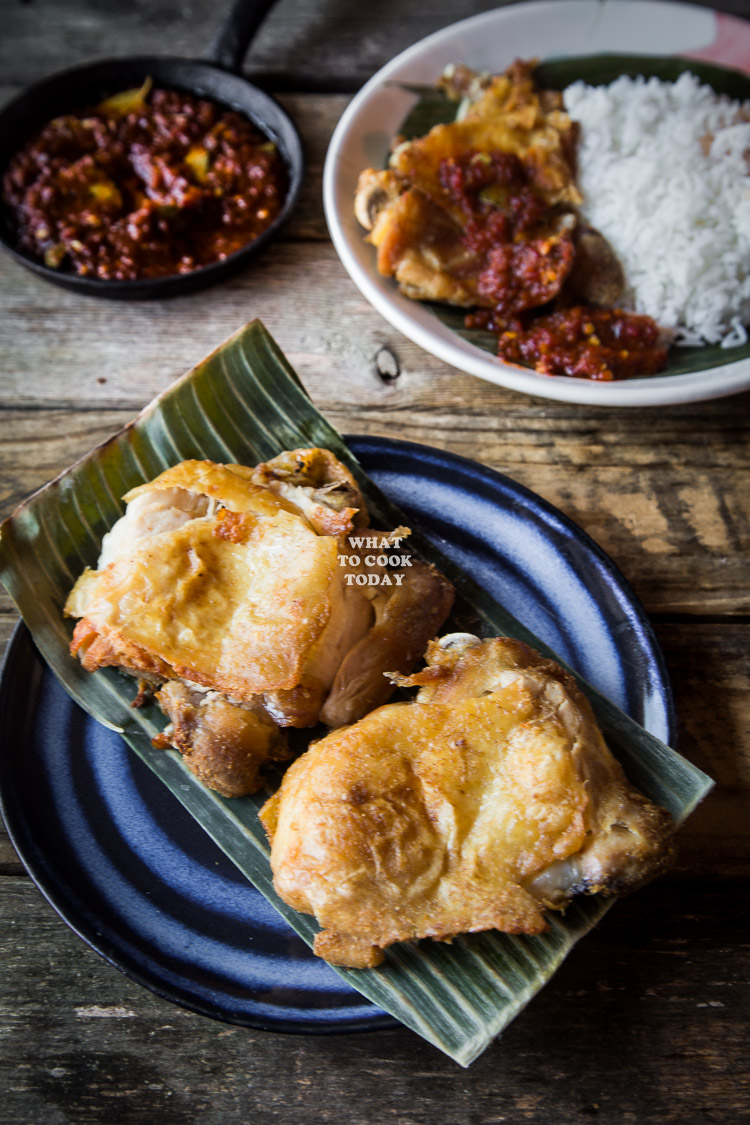 You will see some ayam penyet recipe that is served with crispy crumbs scattered on top too. This version is a little bit different, without the crumbs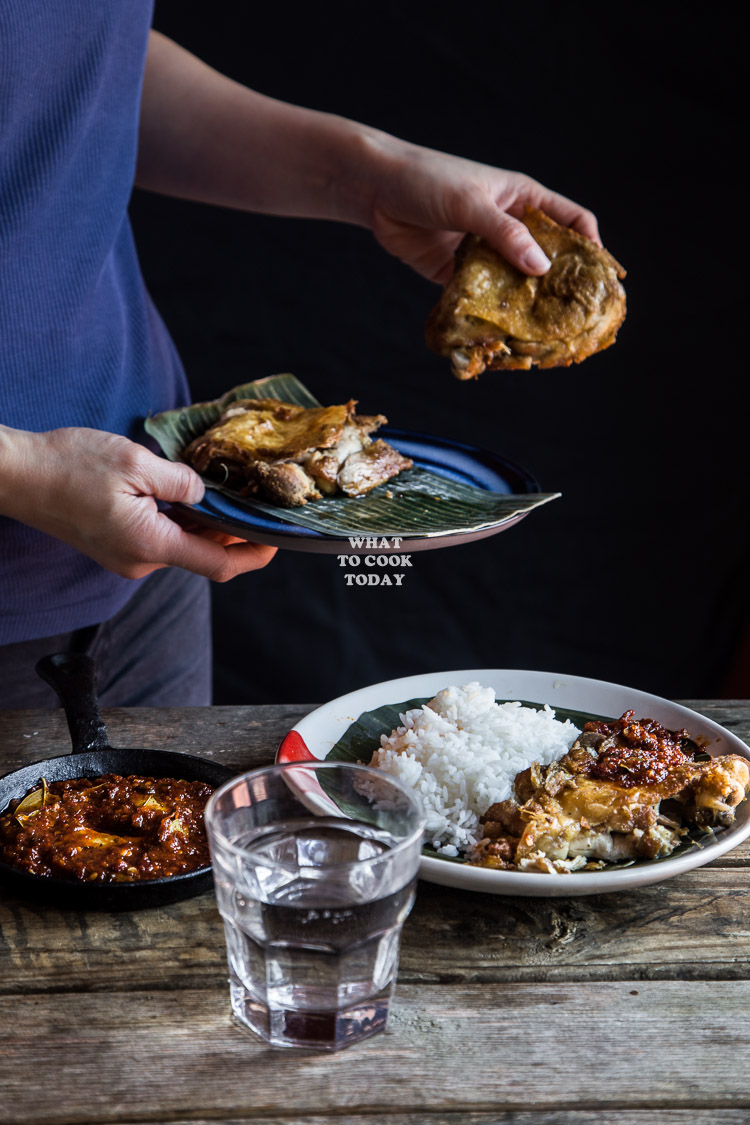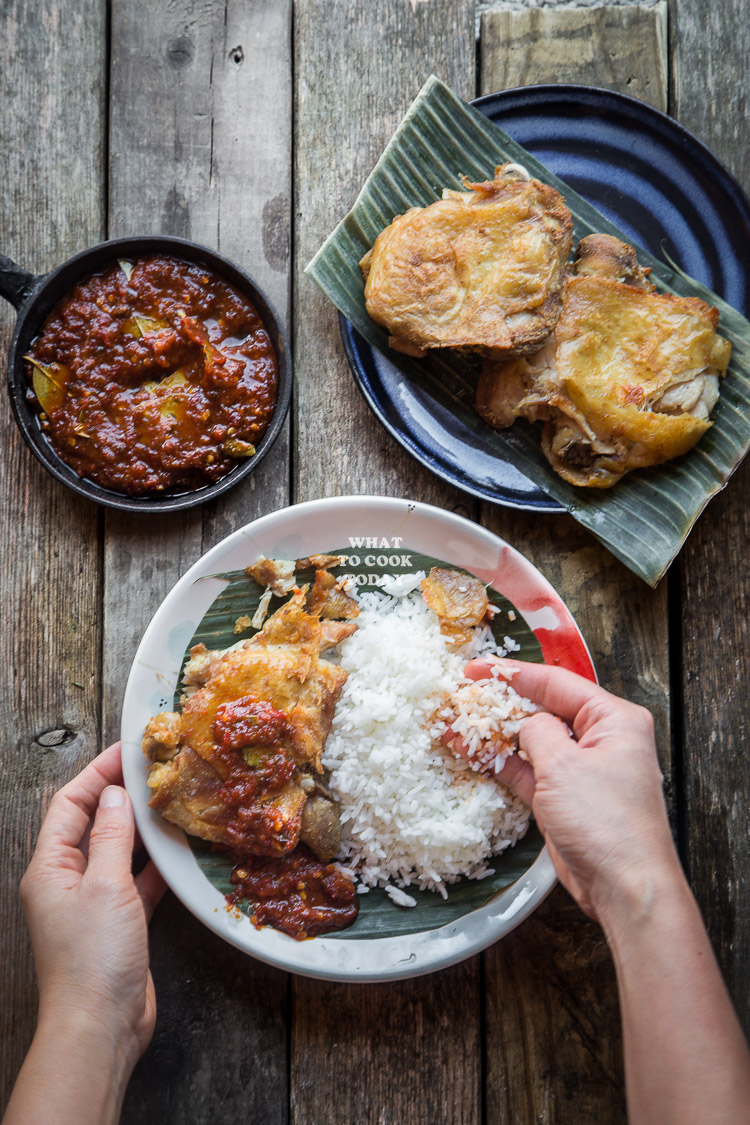 I did not make any crunchy bits while taking photos of this ayam penyet but I did in the video.
Ayam Penyet (Indonesian Smashed Fried Chicken)
Ingredients
4

boned-in skin-on leg quarters or you can use combination of 4 chicken thighs and 4 drumsticks

1

tsp

salt

1

Tbsp

coriander powder

1

tsp

turmeric powder

1

Tbsp

ground candlenuts

or you can omit if you must
Crunchy bits (kremes):
4

Tbsp

rice flour

1

tsp

ground galangal

or 2 tsp galangal powder

¼

tsp

salt

½

cup

water
Instructions
Cooking the crunchy bits (kremes):
Place all the ingredients in the mixing bowl and whisk to mix everything. Preheat about 2-inch of oil in a frying pan. When the oil is hot, drizzle about 1 Tbsp of the thin batter. It will sizzle ferociously, but don't worry. Try not to disturb it while frying as the batter might stick. Fry until they are golden brown. Remove onto an absorbent paper towel. They will crisp up further as they cool down. You can break up the large piece into smaller bits
Steaming and air-frying (alternative to boiling and deep-frying):
Place the salt, coriander, turmeric, and ground candlenuts in a small bowl and mix them. Rub the mixture on the chicken all over. It is best if you marinate them overnight or if you are pressing for time at least 30 minutes to 1 hour

Bring the water in a steamer to rolling boil. Steam the chicken for 45 minutes or until cooked through (no more pink juice oozing out from the chicken). If you use the combination of thighs and drumstick, the drumstick may cook faster than the thighs. Pour off the liquid that oozes out from steaming the chicken. This are good addition to your chicken broth

Let the chicken pieces cool down a little bit and then brush the skin with some oil. Place in air fryer (you may need to do this in batches) and fry at 400 F for 10 minutes or until the skin is crispy. Let it cool down for a minute and then smashed with pestle, back of your knife or cleaver if you have one. Serve immediately with rice and sambal and the kremes
Traditional method (boiling and then deep-frying)
Place the salt, coriander, turmeric, and ground candlenuts in a small bowl and mix them. Rub the mixture on the chicken all over. Get a pot with a lid ready and pour in 1 cup of water and let the water comes to a boil. Put in the chicken, lower the heat to medium, cover and let them cooked with the lid on until water is almost dry. I know 1 cup of water is not a whole lot, but the whole idea is to just partly simmer the chickens. Let them cool down before frying

Heat some oil in a fryer. Add in chicken and fry until they are crispy and dry. Remove from the fryer. Let it cool down for a minute and then smashed with pestle, back of your knife or cleaver if you have one. Serve immediately with rice and sambal and the kremes
Making the sambal:
Place the chili and shallots in a food processor and process into a paste. Preheat 1 Tbsp of oil and stir-fry the shrimp paste until fragrant, about 1 minute. Add chili mixture and stir fry for another 30 seconds. Add tomato and the rest of the ingredients, except for lime juice. Cook until it comes to a boil and then lower the heat and continue cooking until the tomato turns into mush. Squeeze in the lime juice. Have a taste and season with more salt and pinch of sugar as needed. It should be savory with just a hint of sweetness. Keep in the jar in the refrigerator for up to one week