Easy MaPo Tofu (Spicy Sichuan Minced Meat Tofu)-Learn how to make this easy yet authentic tasting Sichuan Mapo Tofu. This classic Sichuan dish will quickly become your favorite.
I LIVED ON MAPO TOFU BACK IN COLLEGE
I've made this ever since I was in college. It's like one of the easiest one-pot Chinese dish to prepare. I remember how my sister often teased me whenever I decided to cook back in those days. She knew we would be having mapo tofu ha..ha…! I always have some sort of ground/minced meat and tofu in our fridge. So, needless to say, this appeared on the menu pretty often.
WHAT IS MAPO TOFU?
You probably don't need me to tell you that mapo doufu, or mapo tofu, is a popular Sichuan dish. It is a combination of tofu (bean curd) in a spicy chili oil and Chinese chili bean paste (dou ban jiang), often cooked with minced pork and amplified by the numbing Sichuan peppercorns. I know it sounds weird, but I love that numb sensation these peppercorns give on the tongue.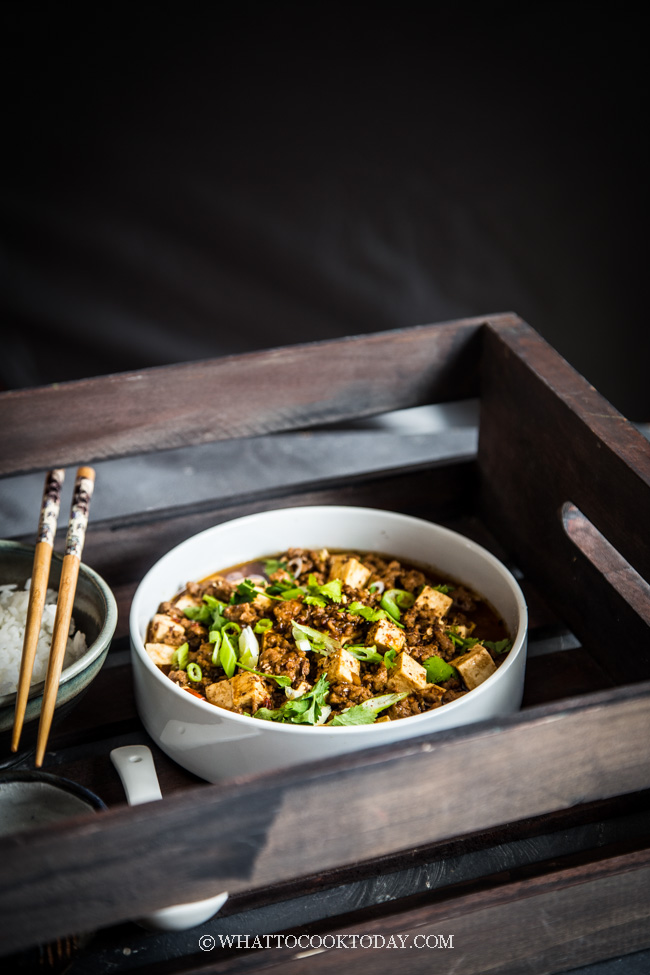 HOW TO MAKE THIS EASY MAPO TOFU THAT STILL TASTES AUTHENTIC
1. Fry the Sichuan peppercorns
Frying the peppercorns briefly really amplify the aroma. Both my husband and I just love them. It's just not the same if you don't cook them first
2. The texture of tofu
In this recipe I used medium firm tofu. I don't recommend going any "firmer" than that though. You don't want it to be too firm or if you use silken tofu, the tofu will definitely not hold up well for you. Soft tofu can be used in this recipe as long as it's not silken tofu
3. Dou ban jiang
Chili bean paste or known as dou ban jiang is one of the essential ingredients in making authentic mapo tofu. This is my favorite dou ban jiang to use
4. Chili oil
You can make your own chili oil or use a premade chili oil like I did. The chili oil is not only to provide some heat, but also to add extra flavor and makes the overall dish looks more appetizing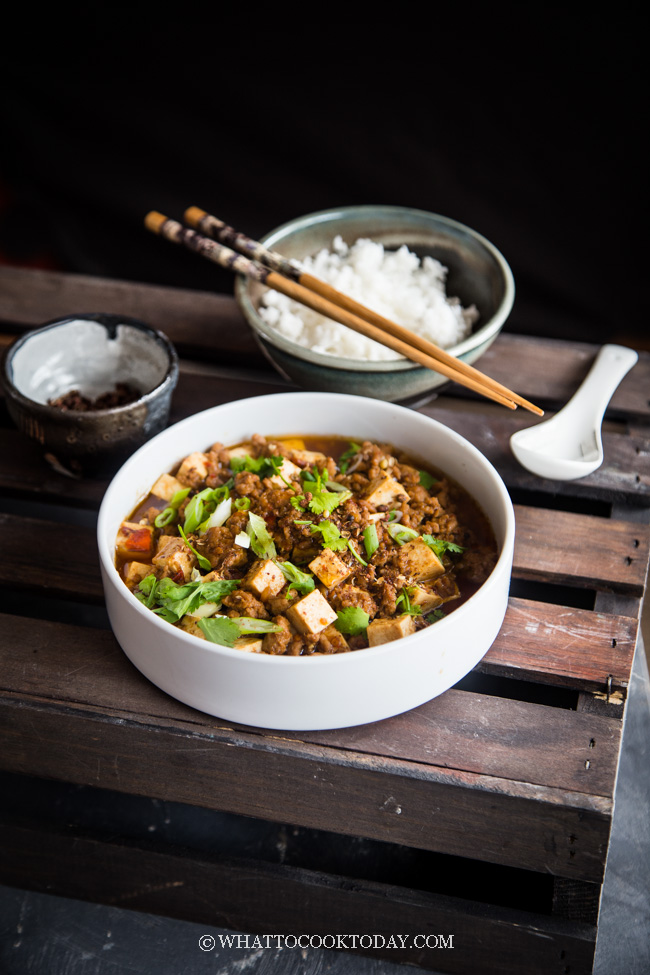 VARIETIES YOU CAN DO WITH THIS MAPO TOFU RECIPE
1. Vegan Mapo Tofu
You can easily omit the meat and chicken broth. You can add some mushrooms like oyster mushrooms or fresh shiitake mushrooms if you like They are kind of "meaty" in a way and perfect for spicy Sichuan dish like this. Use vegetable broth instead of chicken broth
2. Use different meat
You can use ground turkey, chicken, or beef. A fatty cut of meat like pork belly slices will be very tasty too.
This blog post contains affiliate links. I earn a small commission when you made purchase at no extra cost to you. Learn more.
Easy MaPo Tofu (Spicy Sichuan Minced Meat Tofu)
Ingredients
15

oz

medium firm tofu

cut into 1-inch cubes

8

oz

ground pork

⅓

cup

cooking oil

1

cup

chicken broth

2

tsp

cornstarch + 2 tsp water
Aromatics:
1

tsp

fresh ginger

grated

2

Tbsp

finely minced garlic
Garnish:
1

stalk green onion

finely chopped
Instructions
Roast the Sichuan peppercorns:
Preheat a wok/skillet over medium heat. Add 1/3 cup of cooking oil. Add Sichuan peppercorns and fry them for about 2 minutes or until really fragrant. Use a slotted spoon to dish out
Cooking:
To the same wok and oil, add aromatics and stir fry for about 30 seconds or until fragrant. Watch out not to burn them. Add ground pork and stir-fry for 2 minutes and use the wooden or metal spatula to break up the meat while stir frying.

Add dou ban jiang sauce and sugar and stir fry for another minute. Add the chicken stock. Bring it to a gentle simmer. Add the tofu cubes in. Gently stir to mix. Give the cornstarch solution a stir and then drizzle in while continue to stir. The sauce will thicken

Add the Sichuan peppercorns back in follow by the chili oil. Give it one last stir. Have a taste and add more salt if needed. Remove from the heat and garnished with chopped green onion. Serve immediately
This blog post contains affiliate links. I earn a small commission when you made purchase at no extra cost to you. Learn more.