"Onigiri is popular in Japan. People from young to old eat this rice balls. It's like eating rice you are right ! Just in a much more fun way to eat it. In different shapes ! So, this is very fitting for Halloween I thought. Perfect for your kids' lunch box too"
Growing up in Indonesia for the first 17 years of my life, I never knew much about Halloween. It's not being celebrated back in those years. At least not in our house or neighborhood I grew up in. Then off I came to Uncle Sam when I was 18 years old and had my very first Halloween party with some friends I knew from college. I still remember my dress-up costume. It was me in pajama! I know…so creative! Now, Halloween is not just another day to me anymore. With these two kiddos around, especially my 4.5-year old daughter, she gets me into the mood of celebrating Halloween.
Most of us know what is the first thing that comes to mind with Halloween trick-or-treating. SWEETS !!! The whole bucket was usually filled up with sweets all the way to the top. Only few stickers and pencils in the buckets. I didn't even see those because they were buried all deep at the bottom somewhere and covered by candies. My kids don't care about pencils and stickers on Halloween! They really don't! They are blinded by sweets !! The last thing I want to make at home is another sweet treat for Halloween. Though the thought about doing that crossed my mind several times. But my teeth are aching by just the thought of sweets. I have sweet tooth, but I'm not a candy person. Make sense ? N0 ? It's okay…let's move on. The point is…I tried to come up with something savory. Still represents Halloween. Somewhat Asian (it's in my blood!! can't help it!).
That's when the thought of onigiri suddenly hit the right side of the brain. Or was that the left side ? anyway…onigiri. Yes, what the heck is onigiri ? To put it on layman term, it's a rice ball. Made of rice. This is a fancy word for rice balls in Japan. The Japanese are very well-known for their beautiful presentation when it comes to food or pretty much anything. Onigiri is popular in Japan. People from young to old eat this rice balls. It's like eating rice you are right ! Just in a much more fun way to eat it. In different shapes ! So, this is very fitting for Halloween I thought. Perfect for your kids' lunch box too.
They were actually pretty easy to make. Okay, I know I often say easy, maybe because it's something that I'm familiar with. If you are not used to cooking rice often, I understand that it maybe intimidating. But, trust me, you can do this if I can. We have this rice cooker for all our rice/grain-cooking. But you don't need to own a rice cooker to do this. You can cook the perfect rice stove-top. I won't recommend using long-grain rice because you won't get the "sticky"ness that you need to form onigiri balls.
How To Make Onigiri (Japanese rice balls)
Ingredients
1

cup

of Japanese short-grain rice

1 ¼

cup

of water
Decoration:
Roasted seaweed sheets

Nori

Veggie straws

Furikake

Japanese rice seasoning
Instructions
Rinse the rice in water 3-4 times until the water runs clear. Place the rice back in the pot and soak with water for about 30 minutes. Use a strainer to drain off the water. I like to do this because if you just pour the water out, chances are, there are still some water collected in the pot. So, drain it with strainer and give it a little shake

Put the rice in a heavy-bottomed pot in tight-fitting lid and pour in 1 1/4 cup of water. Bring it to a boil and cover and lower the heat and let it simmer for about 15 minutes. The water should be absorbed by the rice by now, if now, close the lid back and cook for few more minutes until all water is absorbed. Turn off the heat and do not open the lid and let the steam continue to cook the rice for another 10 minutes. The rice should be soft and fluffy at this point

Fluff the rice and let it cool down a little bit. Cool enough for your hands to shape the rice into onigiri. When ready to make the onigiri, wet both of your hands with water. Failure to do so, and all the rice will stick to your hands with no mercy. You can wet them as needed. Scoop about 1/2 cup of the rice or more (depending on what shape you want to make) onto the palm of your hand and using another hand to press the rice grains together into the shape you like. Keep them covered when you are preparing other things

Most Japanese have bento-making tools like shape puncher to punch different shapes on seaweed sheets. I don't, so I use a regular scissors to cut out the eyes and whatever shape you like. Make sure the seaweed doesn't come into contact with water or it will just wilt away and disappear !!
Notes
You can easily stuff meat or fish into the rice balls too if you like. I will post more about Stuffed Onigiri rice balls in the future. It's a great way to used up leftover chicken meat, pork, etc.
I used an orange coloring for the pumpkins. Kinda against my will as we are steering away from artificial ingredients. I was thinking about using carrot juice for natural coloring, but I wasn't sure how the rice going to turn out with that and I haven't experimented on that yet.
I rolled the rice balls in Furikake or they call it Japanese rice seasonings. The Japanese like to sprinkle their rice in Furikake and they usually comes in many different kinds too. This particular one that I used is a Kimchi Furikake. You are welcome to use whatever you like. I used veggie straws (my kids love them) as the sticks for the pumpkin and the rice balls (which was inspired by caramel apple sticks, but rolled in Furikake). You are really only limited by your own creativity 🙂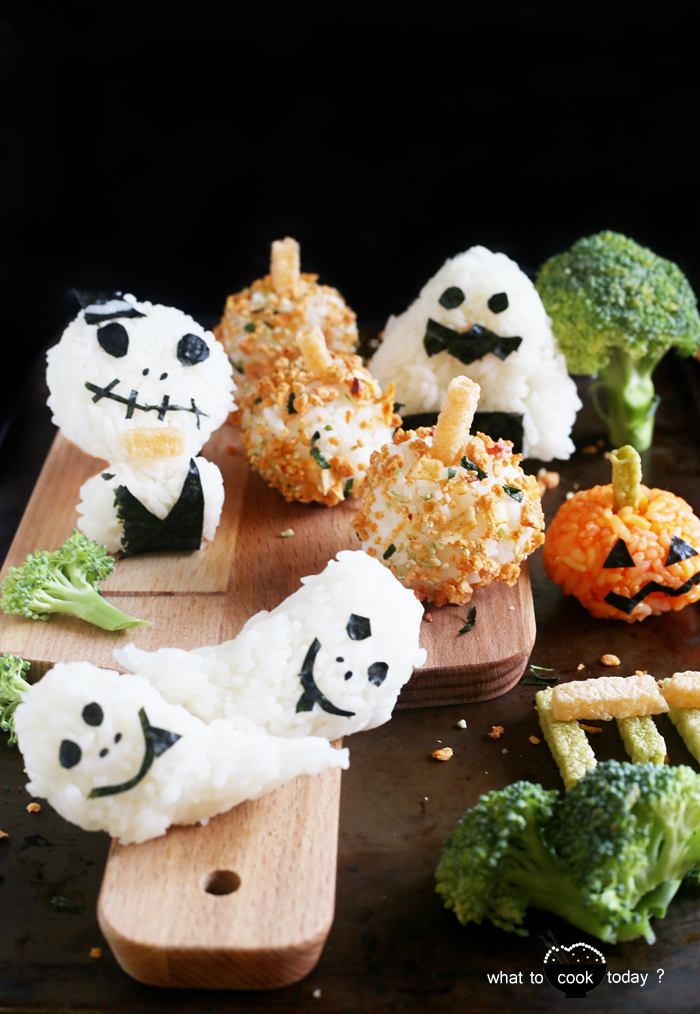 [bctt tweet="#wtct shares How to make a fun Halloween-themed lunch box. No sweets involved!" via="no"]
*This post contains affiliated links, which means: when you click on the links, they will go to the site showing the products I used for this post. If you ended up purchasing them through the links, I get some commission, if not, it's no big deal. I'm not endorsing any of the products for any companies.