Learn how to easily make soft fluffy Japanese cheesecake using a rice cooker. This rice cooker Japanese cheesecake is really light yet decadent at the same time. All the tips you need to know and also a video recipe for your reference.
I have owned a rice cooker since I was in college. That was actually the first thing I bought when I first moved into an apartment with friends. I had very limited skills when it came to cooking and so the rice cooker was a staple for me to cook rice 🙂 I did not know how to cook rice properly using a regular pot on the stove! I know! Fast forward 19 years later, who would have thought I would make rice cooker cheesecake! like seriously! I've made it twice since to test the recipe to make sure it's legit! and IT IS you guys! I'm very impressed with this rice cooker cheesecake! Japanese cheesecake is soft, airy and fluffy in texture.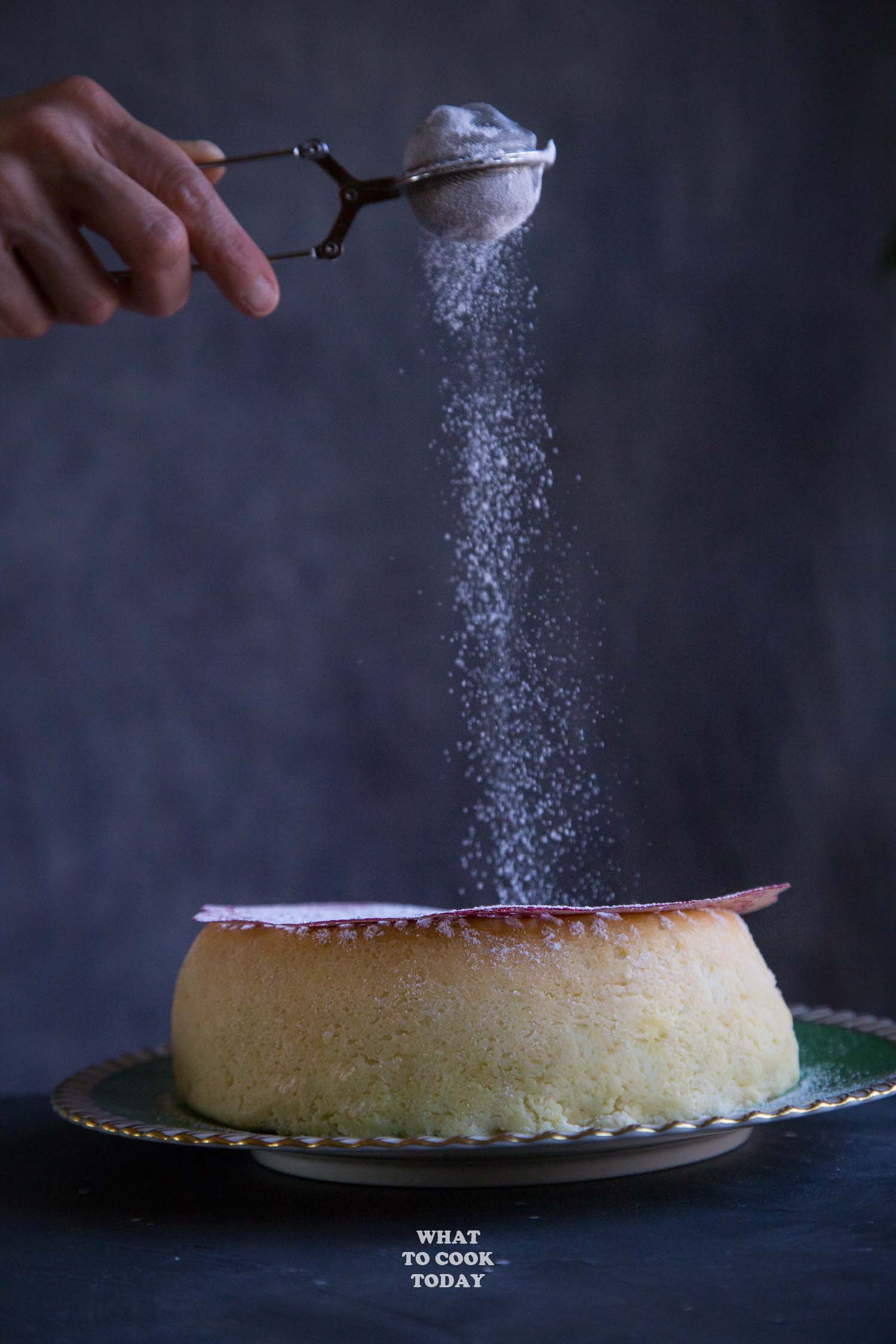 WHY USE RICE COOKER TO BAKE JAPANESE CHEESECAKE
It's much easier if you ask me. I haven't succeeded in making it in the oven for several times, but the first time I made the cheesecake in the rice cooker, it turned out perfect. Then second and so forth time made it again and turned out perfect too! I was almost in tears when I flipped the cheesecake out from the rice cooker and I saw what I saw! Japanese cheesecake!!!
DO I NEED A SPECIAL RICE COOKER TO MAKE JAPANESE CHEESECAKE ?
Any rice cooker with a multi-cooker function with a capacity of at least 4 cups would be able to make this rice cooker cheesecake. If there's "cake" button, it's even better. Mine doesn't, but I still manage to cook it with a "brown rice" setting . If your rice cooker only has a button to turn it on and no other setting, I won't recommend you proceed with this recipe. It's hard to get the job done because the button will keep popping up after a certain time (maybe in 10-15 minutes) and you have to wait before you can push the button down again. It will take you forever to bake this cake.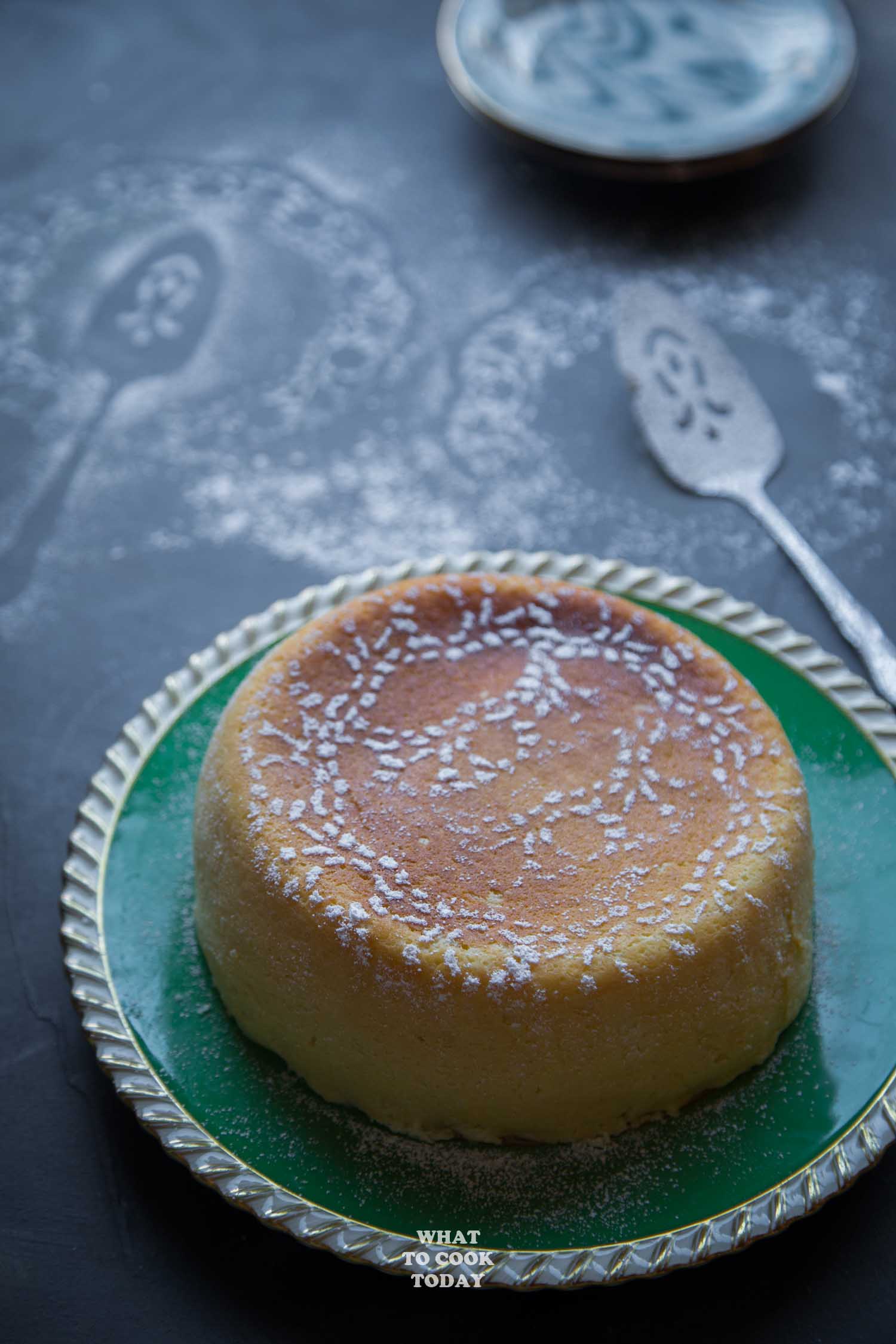 HOW TO MAKE EASY RICE COOKER JAPANESE CHEESECAKE SUCCESSFULLY
1. MAKE THE THICK BATTER
Use a small knob of butter to grease the bottom and the side of the inner pot of the rice cooker. Set aside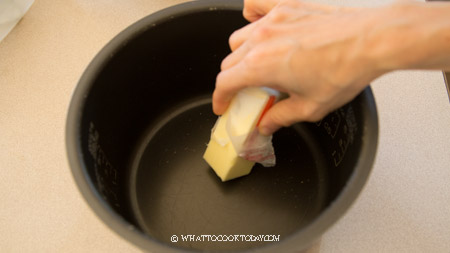 Bring all your cold ingredients like milk, cream cheese, heavy cream (or yogurt), and eggs to room temperature by placing them on the counter for 30 minutes before you plan to start making. Cold ingredients need longer mixing time and can cause curdles and also the cheesecake to collapse after baking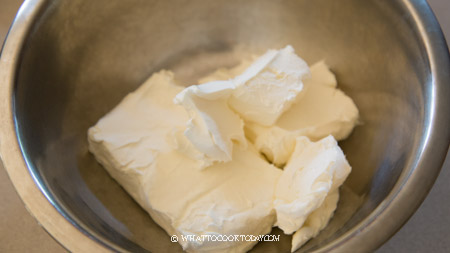 Place softened cream cheese, egg yolks, melted butter and sugar in a large mixing bowl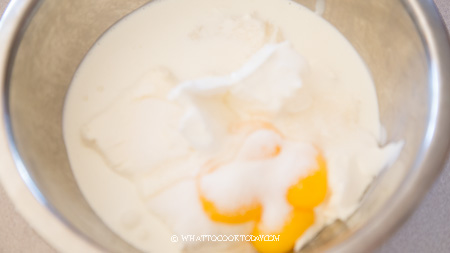 Use a hand mixer or stand mixer with a paddle attachment to mix until the mixture is creamy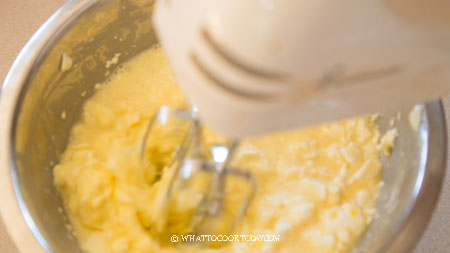 Gradually fold in all-purpose flour in 3 batches and mix until it's smooth. Strain the mixture if necessary if there are lumps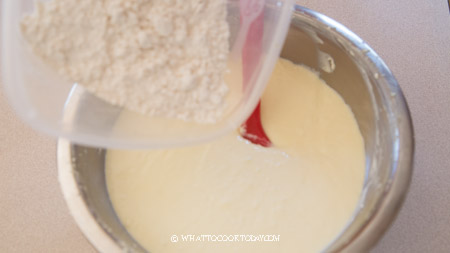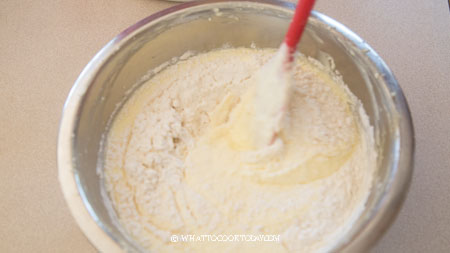 2. MAKE THE MERINGUE
Place the egg whites in a mixing bowl and then use a whisk attachment to beat the egg whites on medium speed until foamy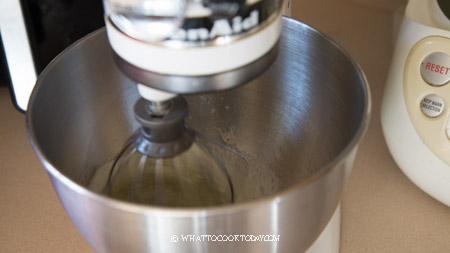 Once it's foamy, gradually add in sugar in batches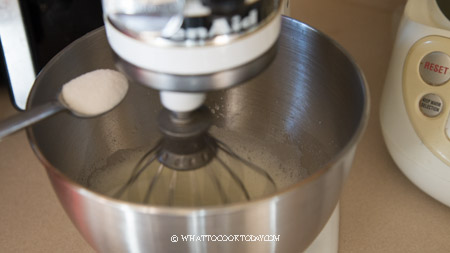 Beat until it turns white, shiny, and form a stiff peak. When you hold it up, it won't drip
3. FOLD THE MERINGUE INTO THE BATTER
Take about 1/3 of the merinuge and slice the blade of the spatula straight down through the meringue and then scrape the spatula following the curve of your bowl and scoop the batter up and fold over. Turn the bowl and repeat the same action again. Fold in the next 1/3 of the meringue and fold again before you add the last 1/3. You can stop once they are well incorporated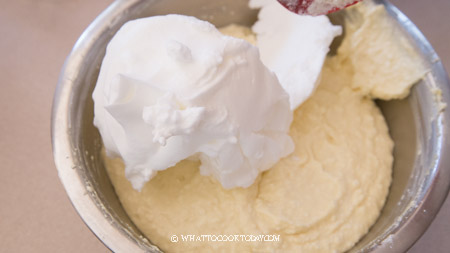 4. BAKE IN RICE COOKER
Pour the batter into the greased inner pot and gently smooth the top with a spatula. Gently bang the bottom of the inner pot on a countertop several times to release some air bubble. Place inside the rice cooker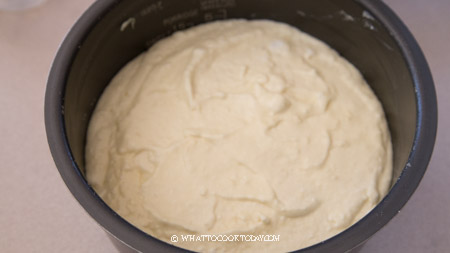 Once it is done baking, open the lid. You can see the cake has pulled away from the sides if it's cooked. You can also use a skewer to double check and insert into the middle of the cake to make sure it comes out clean. If it's not, cook a bit longer. If it's cook through, leave the cake in there for about 15 minutes. This to prevent the cake from collapsing from a sudden change in temperature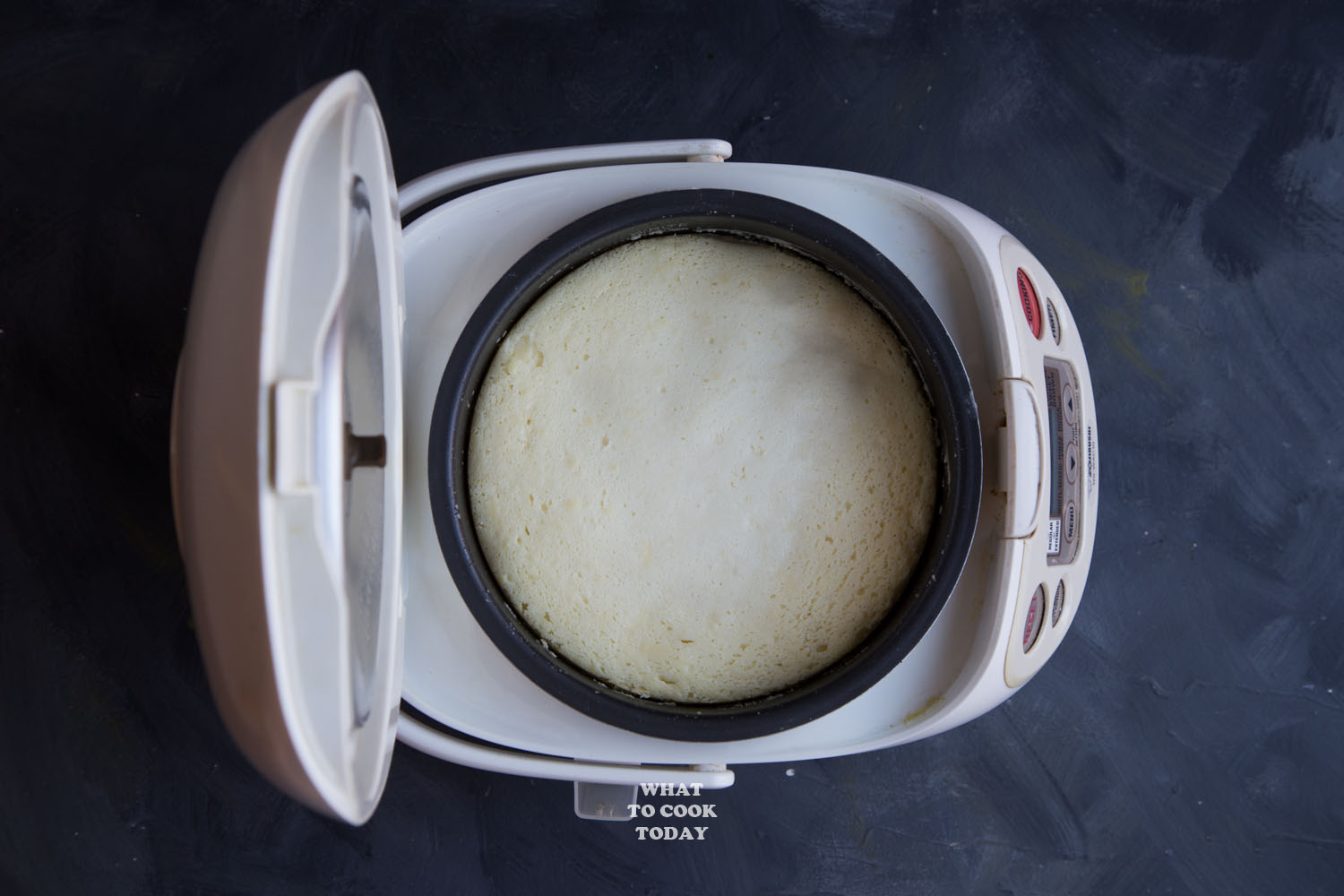 5. LET IT COOLS DOWN
Remove the inner pot from the rice cooker. Place a large flat plate on top of the inner pot and gently but quickly flip the pot over and there's your cheesecake. Let it cool down completely for about 1 hour. Chill in the refrigerator for 4 hours or overnight before decorating. The taste is even better after the next day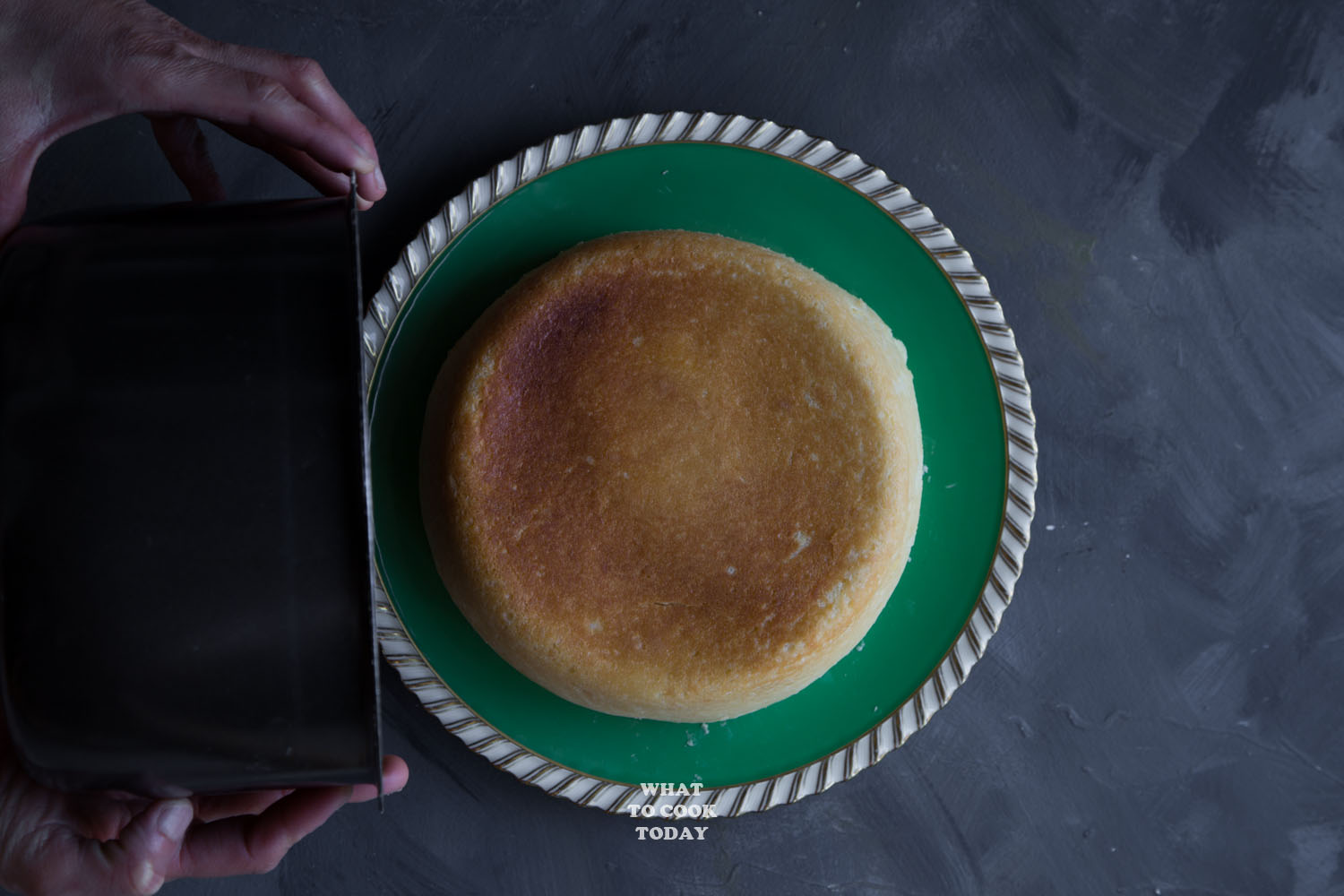 6. DECORATING
I use a doilies paper to decorate some pattern using confectioner's sugar. You can do whatever cute pattern you like. Some like to decorate with fresh berries and whipped cream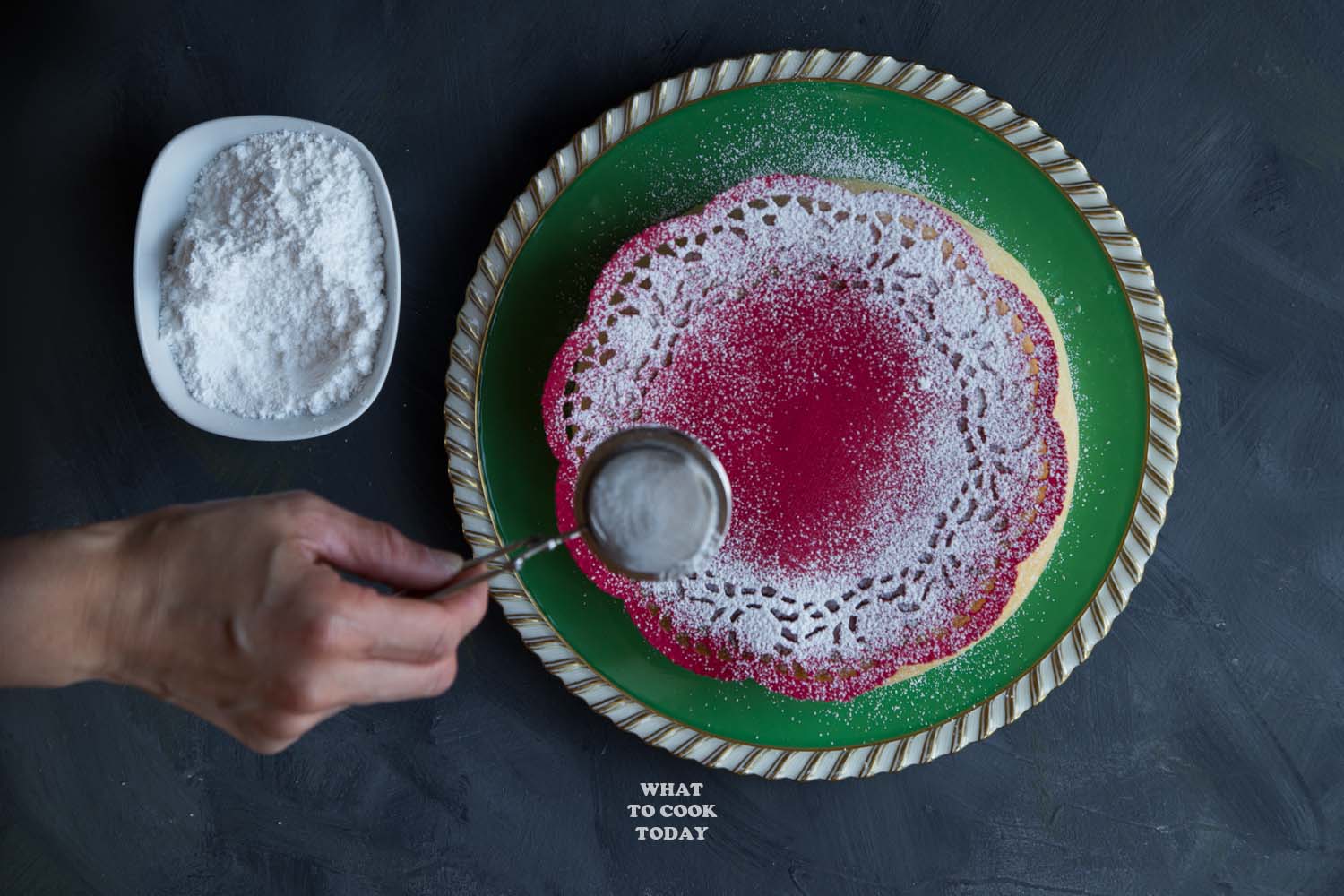 WHICH RICE COOKER SETTING TO USE (choose one of the followings)
1. CAKE/BAKE SETTING
If your rice cooker has a "cake/bake" setting, you can use that. It takes about 80 minutes to bake this large cake and from what I read from Zojirushi that their 5.5 cups model take about 80 minutes for cake setting
2. WHITE RICE SETTING
The white rice setting takes about 45 minutes to cook. So you may need about 2 cycles, but you can check 10 minutes earlier before the end of the 2nd cycle
3. BROWN RICE SETTING
I use the "brown rice" setting on my Zojirushi rice cooker, which takes about 80-90 minutes to cook, which is perfect to let me cook continuously without stopping. I checked at about 80-minute mark and the cake was done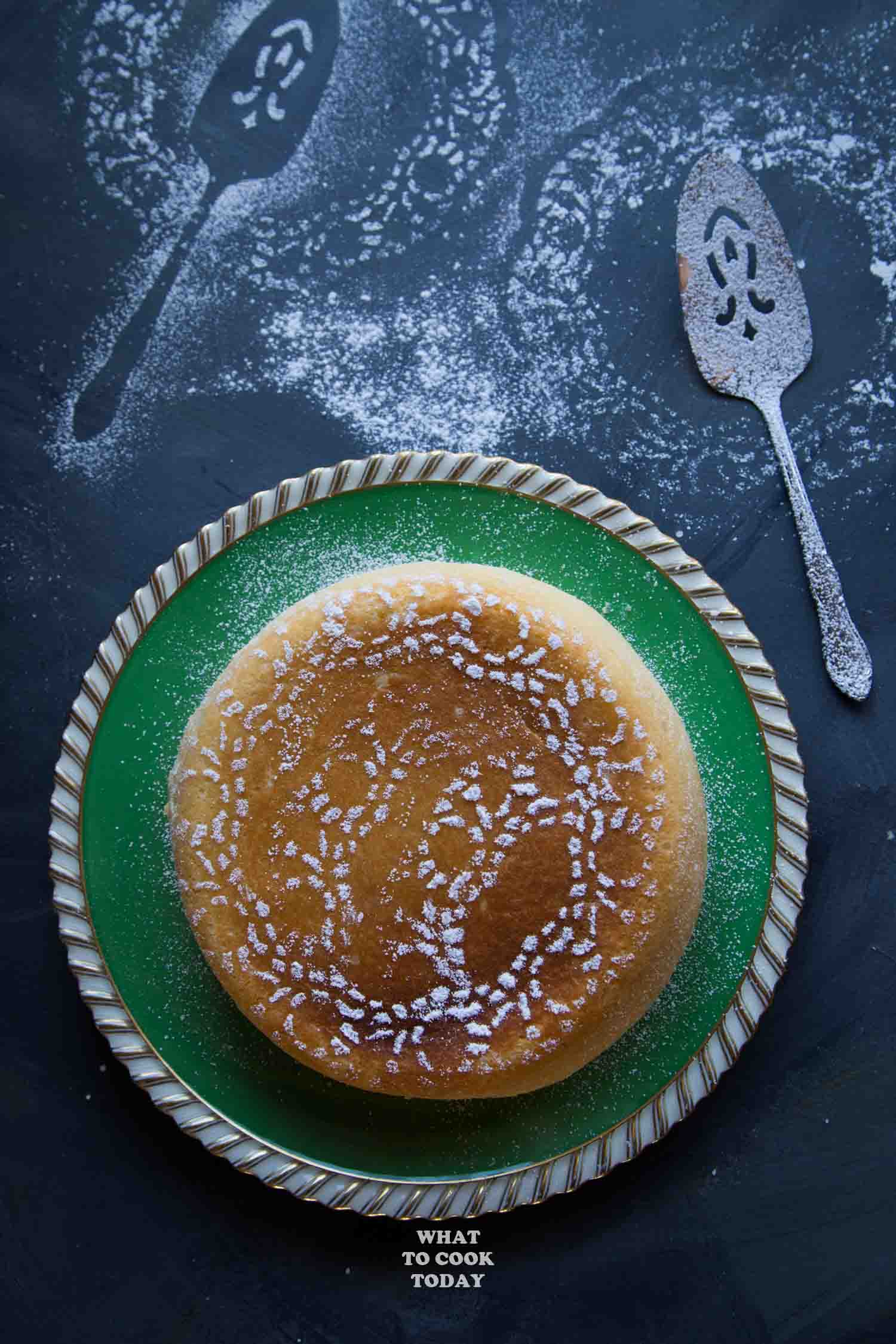 TROUBLESHOOTING
1. Why are there lumps in the batter?
Your ingredients, especially the cream cheese, eggs, and heavy cream/yogurt are not at room temperature. They are cold and when you mix them, they will curdle and it's hard to remove them unless you use immersion blender or blender to smooth them
2. Do I need to sift the flour?
Ideally, yes. But I didn't. I just make sure I fold the flour in batches instead of dumping it all in. This way, I can mix them in without overmixing. But you are welcome to sift your flour into the thick batter if you prefer
3. My meringue won't whip properly
Make sure the mixing bowl is not greasy. If it's greasy, good luck trying to whip those egg whites. You can wipe the bowl with some acid like lemon juice or apple cider vinegar before you whip. Make sure the egg whites are at room temperature too and there is no trace of egg yolks when you separate the eggs
4. My cheesecake collapse when I take them out
This could be caused by several things:
– Sudden change in temperature
After the cheesecake is done cooking, open the lid and test with a chopstick or a skewer to make sure it's cooked through. If it is, turn off the rice cooker (or simply unplug it) and leave the cake in there for 15 minutes before removing from the inner pot of the rice cooker. A sudden temperature change will cause the cake to collapse or shrink
– Overbeating or under beating the meringue
The meringue needs to be a stiff peak. Once it reaches a stiff peak, meaning it holds its shape even if you turn it upside down, stop beating. Overbeating will cause the cake to crack and deflate as well.
– Batter and meringue are not properly incorporated
When you fold the meringue into the batter, they are not fully incorporated. A properly folded in meringue will make the overall batter spongy in texture and with the same volume. If your batter seems to reduce in volume after folding in the meringue, you have overmixing or your meringue was not properly beaten to reach that stiff peak
5. Can I use this recipe and bake it in the oven?
I won't recommend it because this recipe is specifically for cooking in the rice cooker and it may not turn out correctly in the oven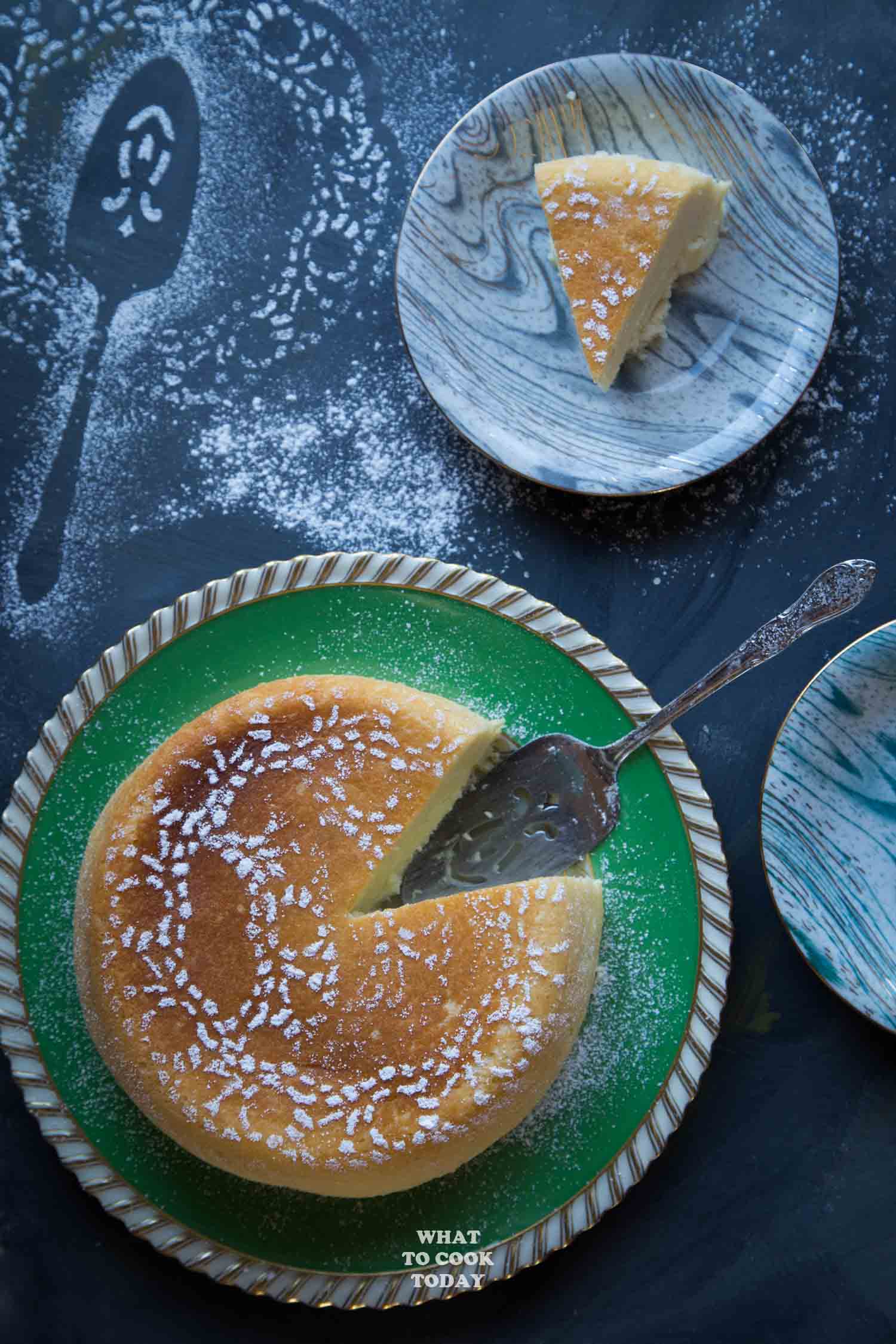 HOW TO STORE JAPANESE CHEESECAKE IN THE FRIDGE
1. After removing the cheesecake from the inner pot, let the cake cools down completely at room temperature
2. Transfer to a fridge and chill for another 1 hour. If you want to decorate, chill for at least 4 hours for the best result
3. Cover and wrap it up tightly with a cling plastic wrap and store in the fridge for up to 1 week. Make sure it's properly wrapped so the cake will not dry out and absorbs odor from other food inside the fridge
4. Alternatively, you can also store them in an air-tight container if you don't want to wrap it with a plastic or ruin the decoration on the cheesecake (if any)
5. Simply pull them out and let them sit at room temperature for about 30 minutes before serving will have the best taste and texture
HOW TO STORE JAPANESE CHEESECAKE IN THE FREEZER
1. Once the cake has cooled down completely, cut into serving slices
2. Wrap individual slices tightly with a cling wrap
3. Place this individually wrapped cheesecake inside another freezer bag, push all the air out and seal for extra protection
4. They can be kept this way for 2 months max. I won't go longer than that
5. Simply thaw them in the fridge one day before you plan to serve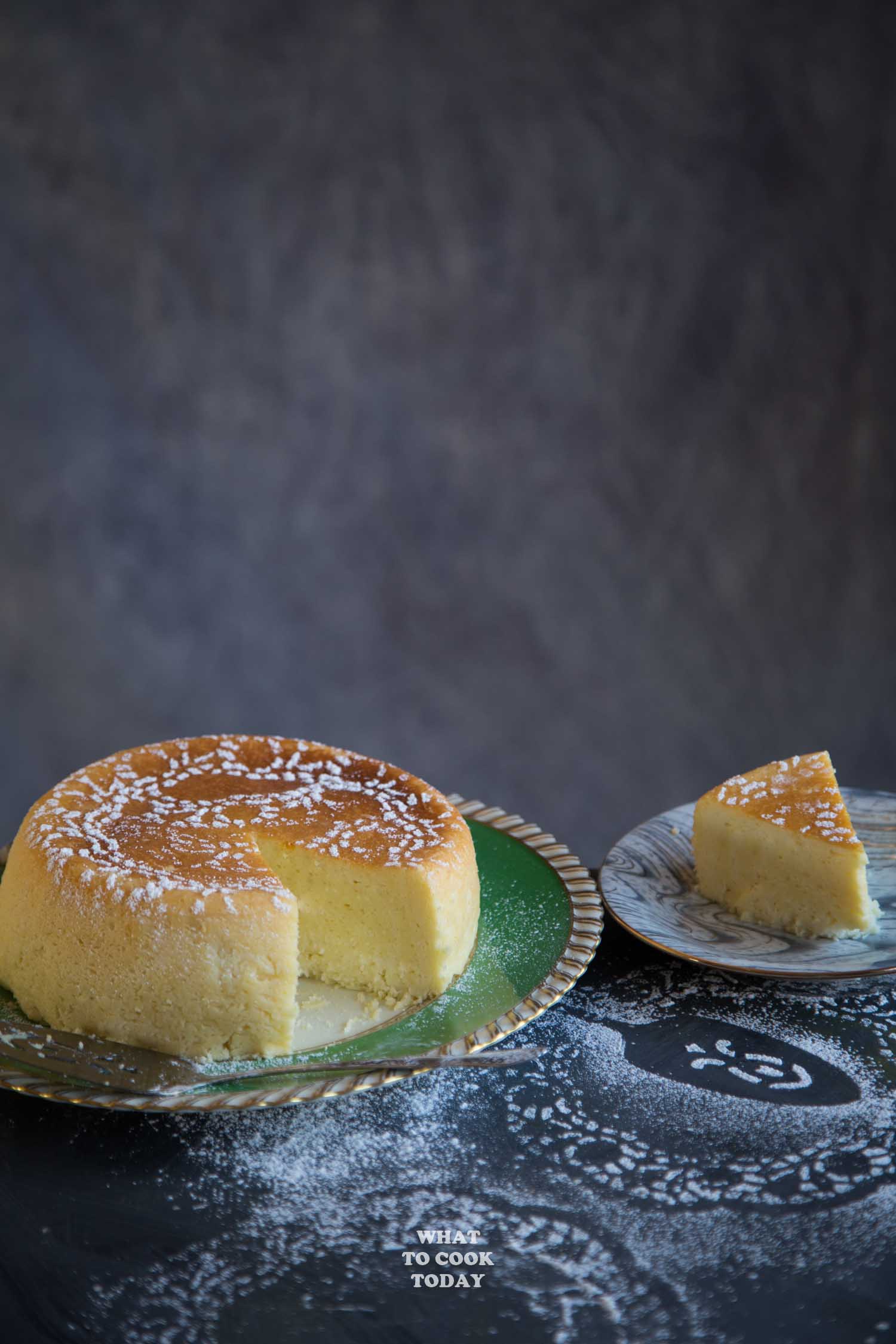 DID YOU MAKE THIS EASY RICE COOKER JAPANESE CHEESECAKE RECIPE?
I love it when you guys snap a photo and tag to show me what you've made 🙂 Simply tag me @WhatToCookToday #WhatToCookToday on Instagram and I'll be sure to stop by and take a peek for real!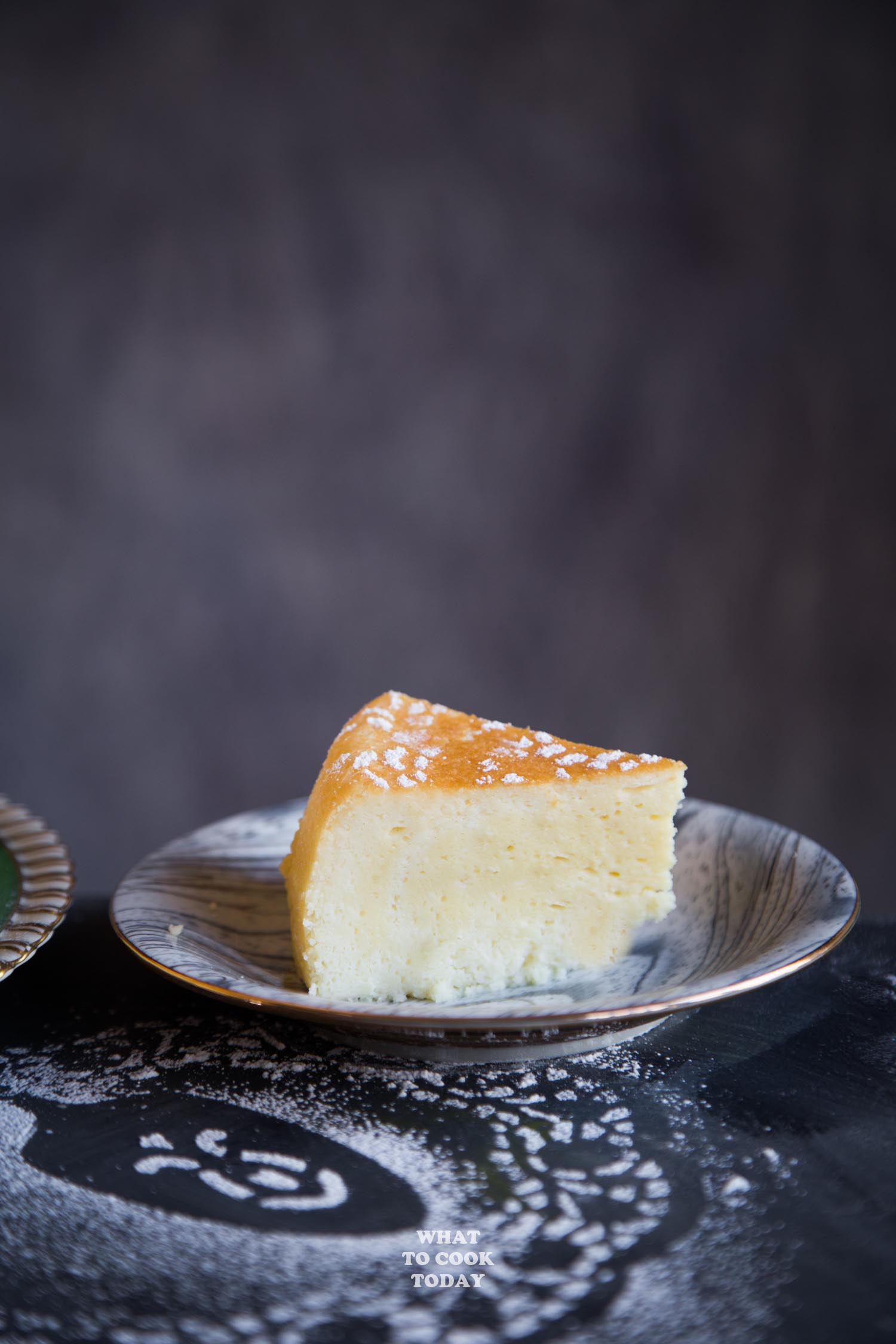 This might be how I'm going to make my cheesecake from now on! IN THE RICE COOKER! 😉 I found it easier and less intimidating for some reason and it tastes really good too!
This recipe is adapted from Dingo Food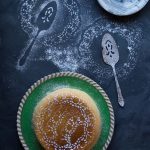 How To Make Easy Rice Cooker Japanese Cheesecake
Ingredients
Thick batter:
400

gr

cream cheese

1 2/3 cups, softened

40

gr

sugar

3 Tbsp

4

egg yolks

room temperature, from large eggs (55 grams each with shell)

40

gr

butter

melted, about 3 Tbsp

200

gr

heavy cream

7 Tbsp or sub with same amount of plain yogurt

100

gr

cake flour

1 cup + 4 Tbsp
Meringue:
4

egg whites

room temperature, from large eggs

80

gr

sugar

6 1/3 Tbsp
Greasing:
Small knob of solid butter
Optional decorations:
Fresh fruit

Whipped cream

Confectioner's sugar
Instructions
Use a small knob of butter to grease the bottom and the side of the inner pot of the rice cooker. Set aside
How to soften cream cheese:
Bring all your cold ingredients like milk, cream cheese, heavy cream (or yogurt), and eggs to room temperature by placing them on the counter for 30 minutes before you plan to start making. Cold ingredients need longer mixing time and can cause curdles and also the cheesecake to collapse after baking

Cut the cream cheese up into small cubes and leave them at room temperature about 30 minutes and they will soften faster than the whole block. Alternatively, you can always remove the cream cheese from its wrapper and microwave them for 20 seconds. You don't want to melt the cream cheese
Make the thick batter:
Make sure all ingredients are at room temperature or you will have curdles later. Place softened cream cheese, egg yolks, melted butter, heavy cream (or yogurt) and sugar in a large mixing bowl. Use a hand mixer or stand mixer with a paddle attachment to mix until the mixture is creamy

Gradually fold in the flour in 3 batches and mix until it's smooth. Strain the mixture if necessary if there are lumps
Make the meringue:
Place the egg whites in a mixing bowl and then use a whisk attachment to beat the egg whites on medium speed until foamy and then gradually add in sugar in 3 batches and turn the speed up to high (speed 6 on kitchen aid) and beat until it turns white, shiny, and form a stiff peak. When you hold it up, it won't drip
Folding the batter:
Slice the blade of the spatula straight down through the meringue and then scrape the spatula following the curve of your bowl and scoop the batter up and fold over. Turn the bowl and repeat the same action again. Fold in the next 1/3 of the meringue and fold again before you add the last 1/3. You can stop once they are well incorporated
Baking in the rice cooker:
Please note that every rice cooker varies greatly. I highly suggest using a rice cooker with multifunctions to get the best result

Pour the batter into the greased inner pot. Gently bang the bottom of the inner pot on a countertop to release some air bubble. Place inside the rice cooker. If your rice cooker has a "cake/bake" setting, you can use that. I don't have. I use "brown rice" setting on my Zojirushi rice cooker, which takes about 80 minutes to cook, which is perfect to let me cook continuously without stopping. Please note that every rice cooker is different and you may need to experiment with setting and timing on yours

If your rice cooker doesn't have the ability to set a timer, use the "white rice" function or "cook rice" function. You may need 2 cycles in the row to cook the cake. This depends on how long your rice cooker cooks a regular white rice. Most rice cooker with white rice setting takes about 45 minutes to cook. So you may use 2 cycles, but check 10 minutes earlier before the end of 2nd cycle. Please note that with this type of rice cooker, you may not get a very good result

Once it is done baking, turn off/cancel or simply unplug to turn off the rice cooker. Open the lid. You can see the cake has pulled away from the sides if it's cooked. You can also use a skewer to double check and insert into the middle of the cake to make sure it comes out clean. If it's not, cook a bit longer. If it's cook through, leave the cake in there for about 15 minutes. This to prevent the cake from collapsing from a sudden change in temperature

Remove the inner pot from the rice cooker. Place a large flat plate on top of the inner pot and gently but quickly flip the pot over and there's your cheesecake. Let it cool down completely at room temperature. Chill in the refrigerator for about 1 hour and then cover and wrap it up and can be stored for up to one week. The taste is even better after the next day
Decorating:
I use a doilies paper to decorate some pattern using confectioner's sugar. You can do whatever cute pattern you like. Some like to decorate with fresh berries and whipped cream
Recommended products:
TRY THIS RICE COOKER EGGLESS BLACK SESAME SPONGE CAKE