How To Make Easy Rice Cooker Cheesecake – Your rice cooker is not only for cooking rice. Learn how to easily make cheesecake using a rice cooker and family voted that this rice cooker cheesecake is LEGIT!
RICE COOKER JAPANESE CHEESECAKE
I have owned a rice cooker since I was in college. That was actually the first thing I bought when I first moved into an apartment with friends. I had very limited skills when it came to cooking and so the rice cooker was a staple for me to cook rice 🙂 I did not know how to cook rice properly using a regular pot on the stove! I know! Fast forward 19 years later, who would have thought I would make rice cooker cheesecake! like seriously! I've made it twice since to test the recipe to make sure it's legit! and IT IS you guys! I'm very impressed with this rice cooker cheesecake! Japanese cheesecake is soft, airy and fluffy in texture. I haven't succeeded making it in the oven, but the first time I made the cheesecake in the rice cooker, it turned out perfect. Then second time made it again and turned out perfect too!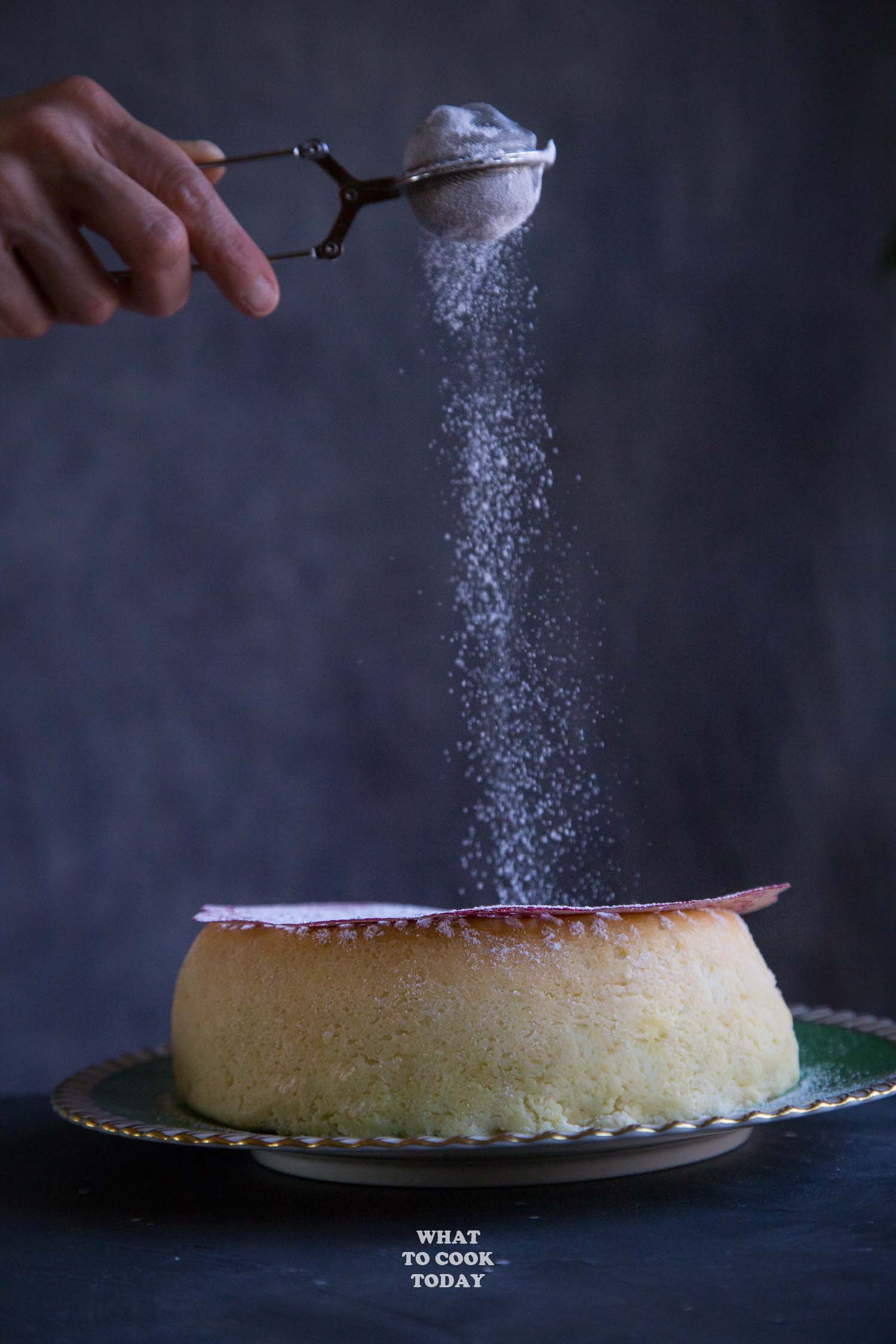 I was almost in tears when I flipped the cheesecake out from the rice cooker and I saw what I saw! Cheesecake!!! Not something that I thought was doomed to fail (because I made it!)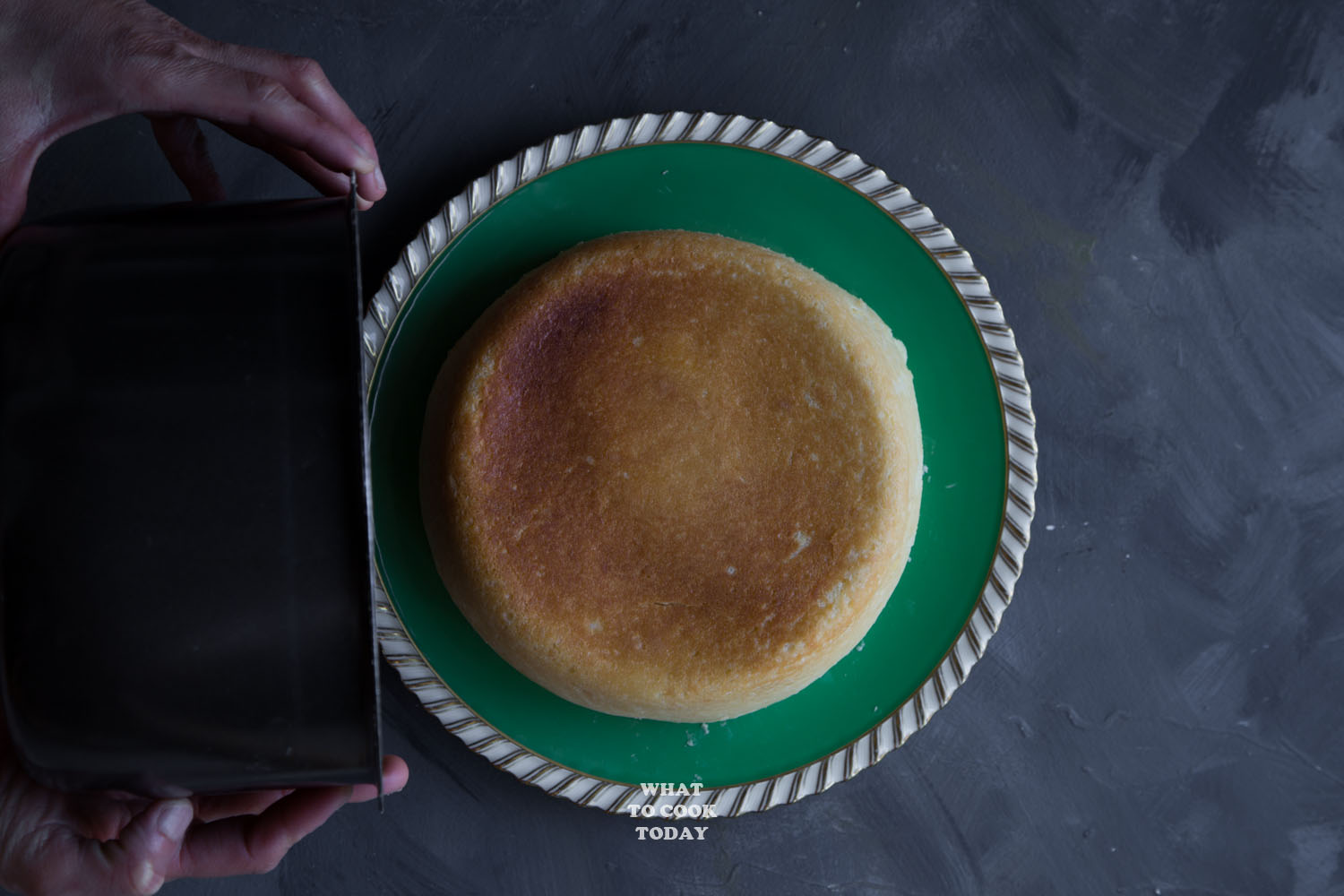 DISCLOSURE: This post contains affiliate links, which support this site at no extra cost to you. I only recommend products that I've personally used or liked. It's also a good way to show you how the products look like and you can always purchase at your local stores or wherever the cheapest. Learn more.
DO I NEED SPECIAL RICE COOKER TO MAKE RICE COOKER CHEESECAKE
I forgot to mention that back in college I owned a pretty old-fashion rice cooker (made by Tatung) where I need to fill the rice cooker with water and then set the insert inside to cook the rice. Does any of you remember that? I'm not sure if they still make that type. But anyway, my point it, I would not make cheesecake with that rice cooker. Simply because I'm not sure how it would turn out and there might be a chance of water splatters while cooking.
Any rice cooker with a capacity of 5 cups would be able to make this rice cooker cheesecake. If yours is smaller, you need to half the recipe. I've been using this Zojirushi rice cooker since 8 years ago and still going strong. It has the ability to set the timer, which I believe the majority of the rice cooker can this day. If your rice cooker can't set a timer, you can simply use "white rice" function or "rice" function. You need to know how long the cycle takes to cook white rice in your rice cooker (is it 20 minutes, 30 minutes?) and then repeat that cycle 2-3 times in a row to bake the cake properly (details in the recipe below).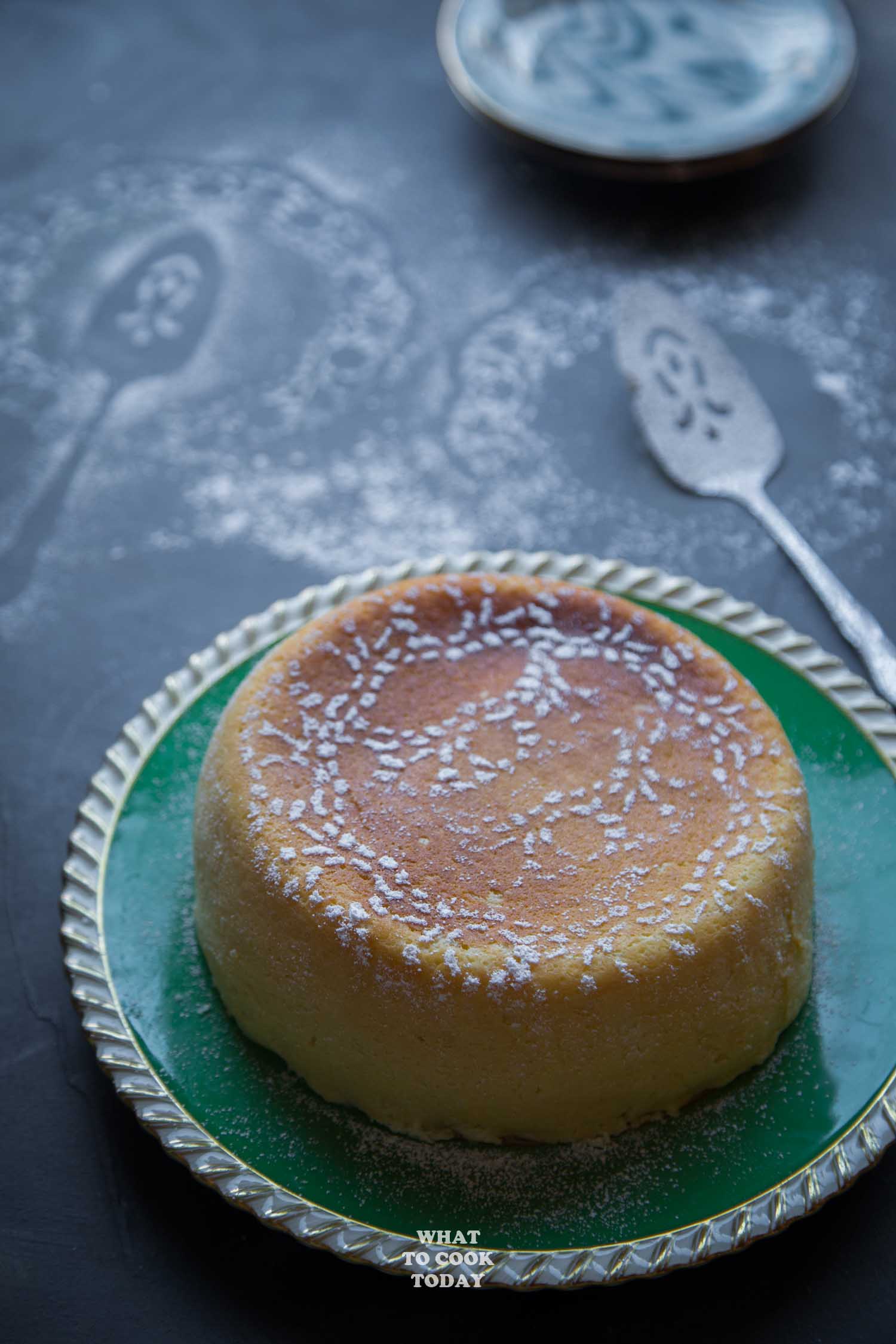 TIPS ON HOW TO MAKE EASY RICE COOKER CHEESECAKE SUCCESSFULLY
It's really not hard to make this cheesecake. You need to follow the instructions and some tips to make sure you get a good result.
1. Make sure you use large enough mixing bowl
It's a little thing, but it helps you get the job done better when you fold the meringue into the batter later
2. Soften the cream cheese
Cut the cream cheese up into small cubes and leave them at room temperature about 10-15 minutes and they will soften faster than the whole block. Alternatively, you can always remove the cream cheese from its wrapper and microwave them for 20 seconds
3. Let eggs come to room temperature
We separate the yolks from the whites and they are both needed in the recipe. The yolks will be mixed with cream cheese and if they are cold, they will separate and you won't get a smooth batter. The whites are used to make meringue. Room temperature whites are easier to whip at room temperature
4. Know how to fold the meringue into the batter
This is another important step that makes your cheesecake light and airy
– Use a flexible wide rubber spatula as this helps to fold more amount
– Add the meringue into the batter 1/3 at a time
– How to fold: Slice the blade of the spatula straight down through the meringue and then scrape the spatula following the curve of your bowl and scoop the batter up and fold over. Turn the bowl and repeat the same action again. Fold in the next 1/2 of the meringue and fold again before you add the last 1/3. You can stop once they are incorporated. There may be still a few lumps, don't panic. The batter won't be perfectly smooth. You don't want to overfold them and deflate the meringue
5. Tap to release air
Once you pour the batter into the rice cooker inner pot, tap the bottom gently on the countertop to release air bubbles. Too many bubbles will cause too many air holes in your cake
6. COOK IN RICE COOKER
Set the timer in your rice cooker for 80 minutes. If your rice cooker doesn't have the ability to set a timer, use the "white rice" function or "cook rice" function. You may need at least 2 cycles in the row to cook the cake. This depends on how long your rice cooker cooks a regular rice. For example: my rice cooker takes 20 minutes to cook white rice and so I will need about 3 cycles in a row to bake the cake properly.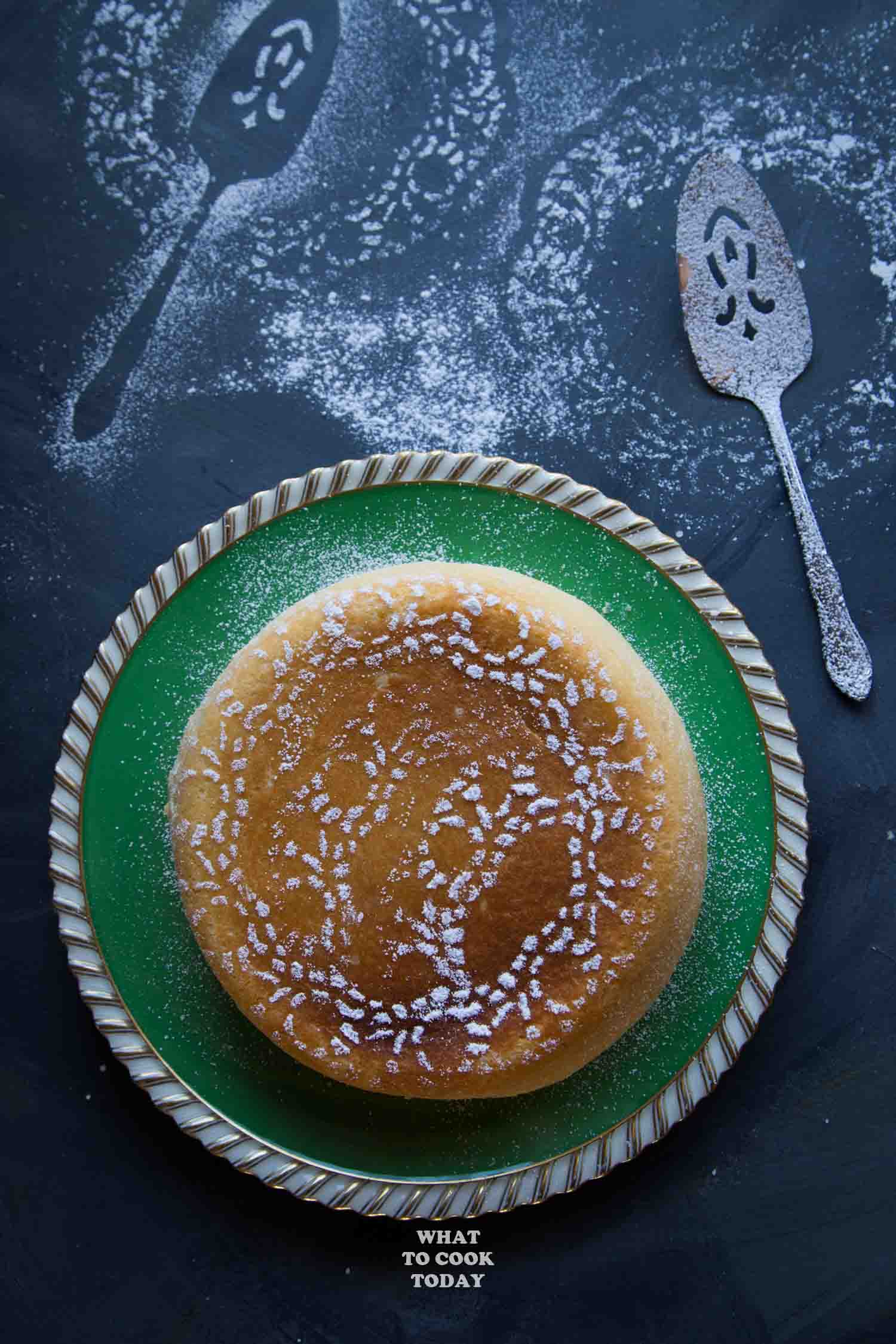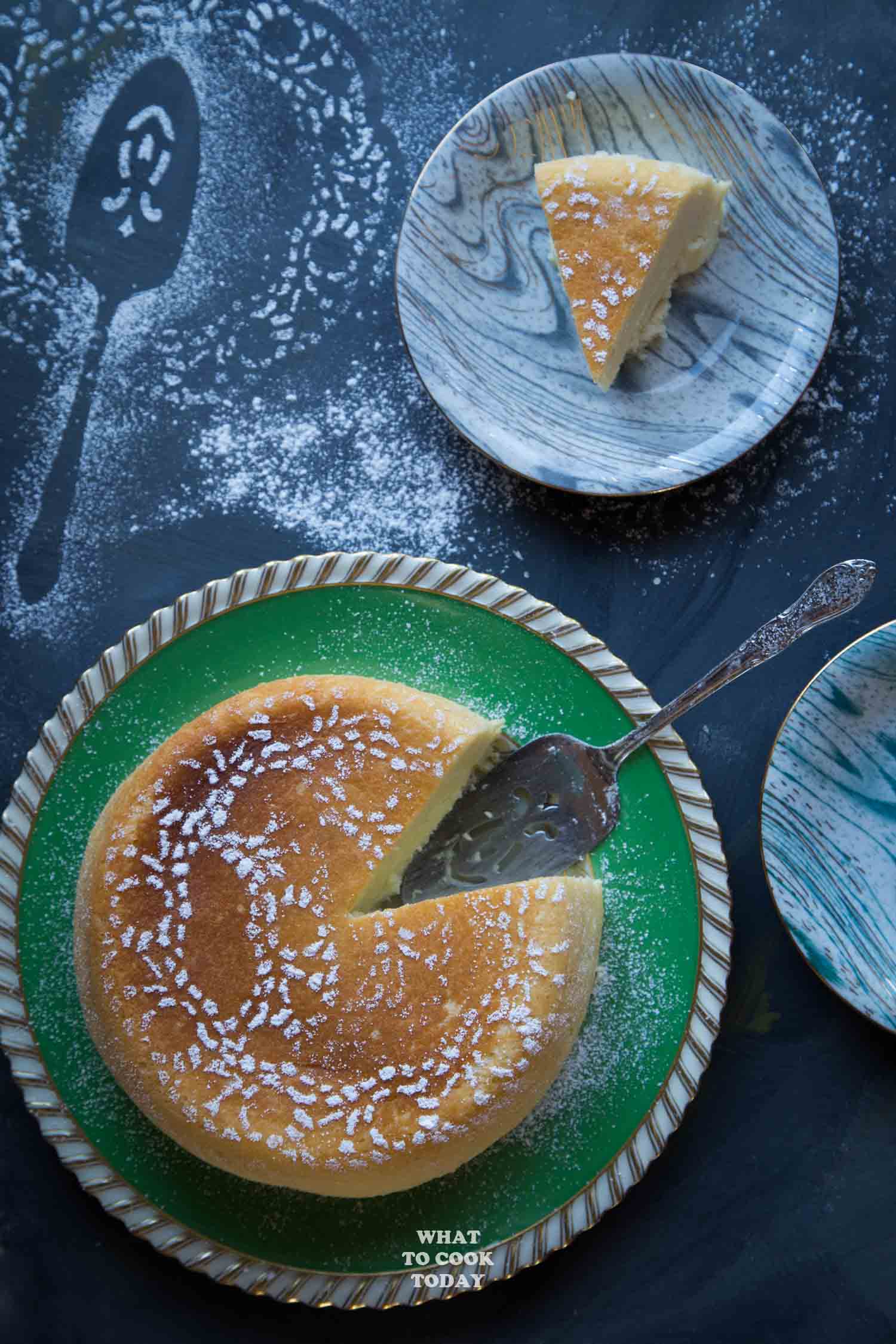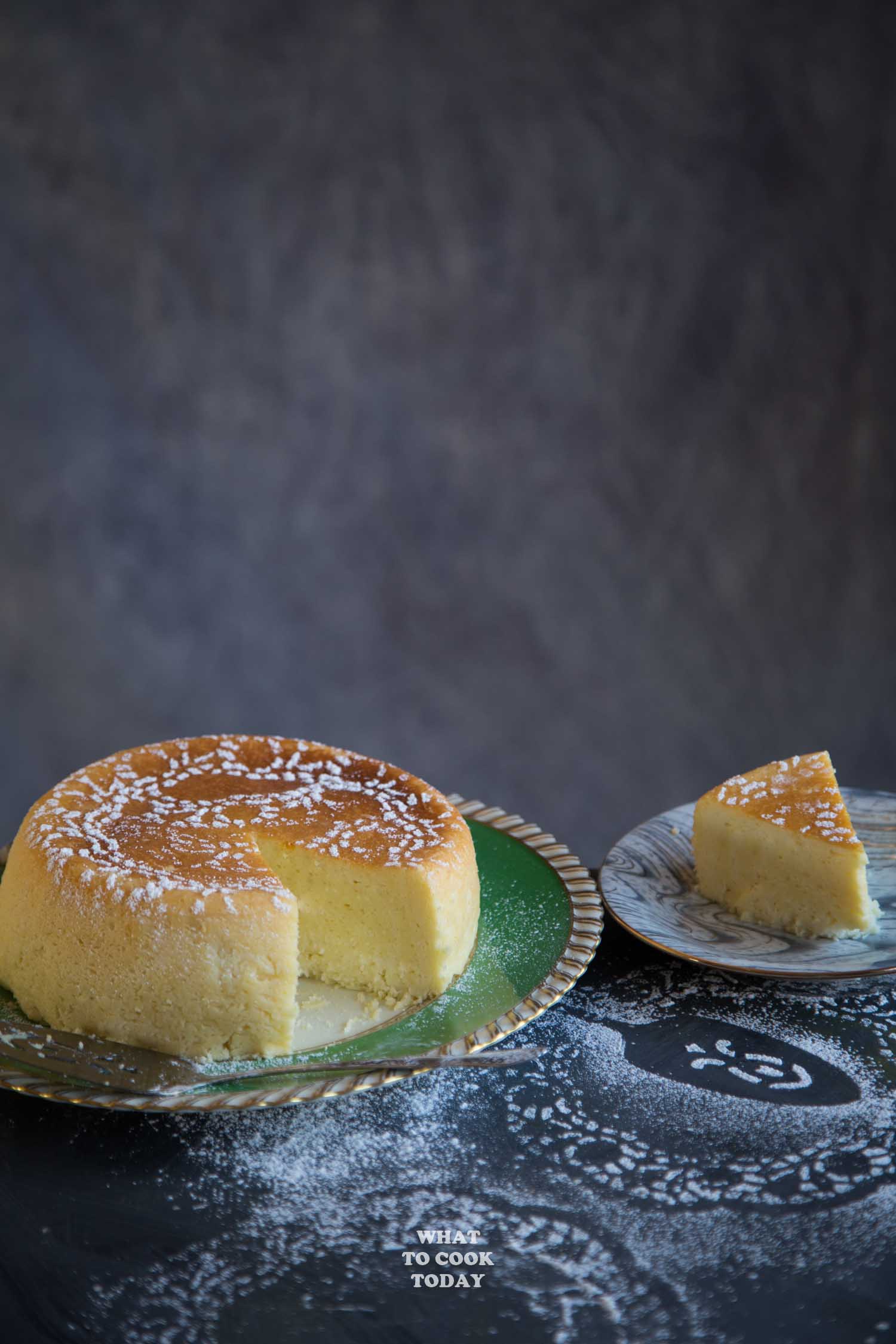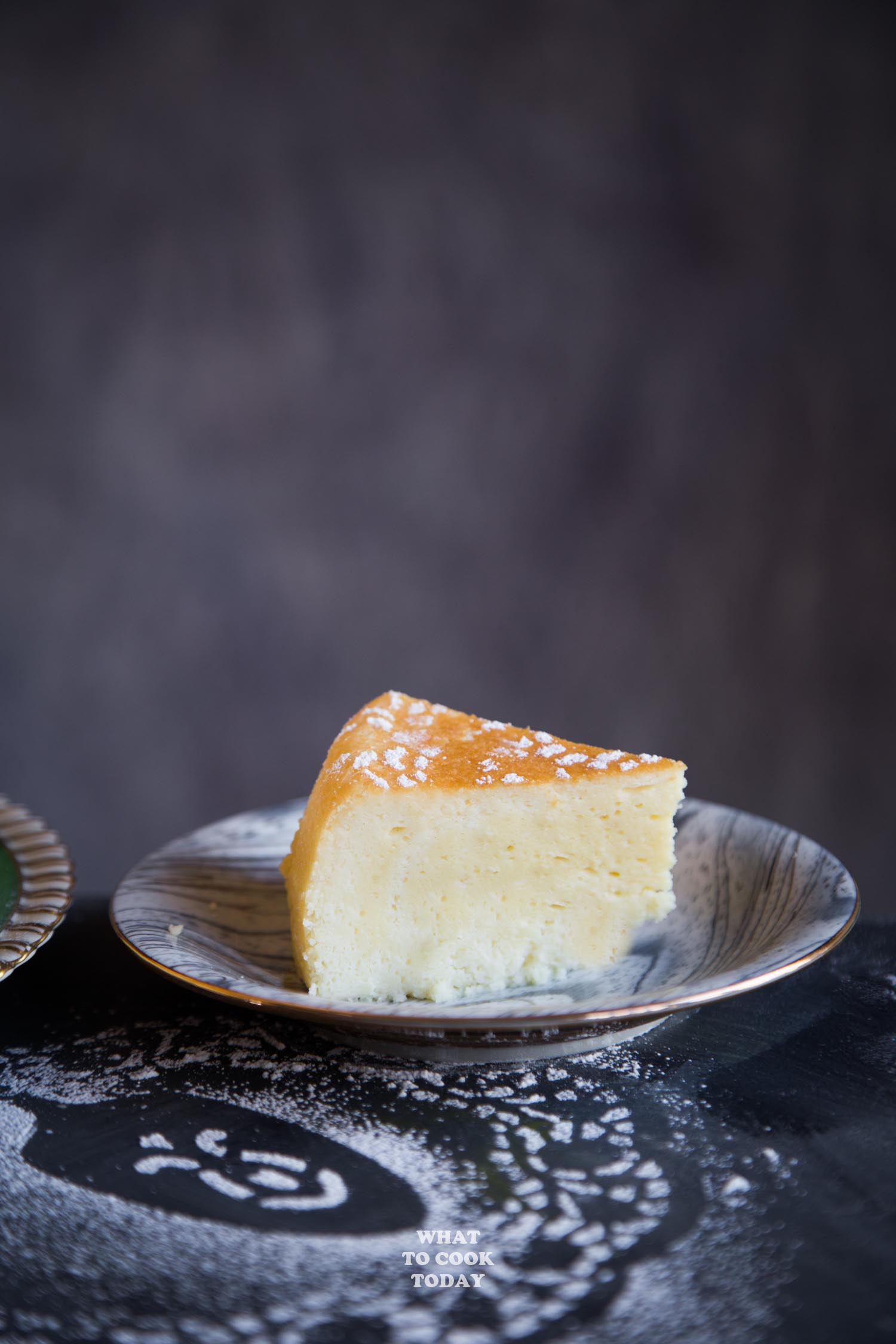 This might be how I'm going to make my cheesecake from now on! IN THE RICE COOKER! 😉 I found it easier and less intimidating for some reason and it tastes really good too!
This recipe is adapted from Dingo Food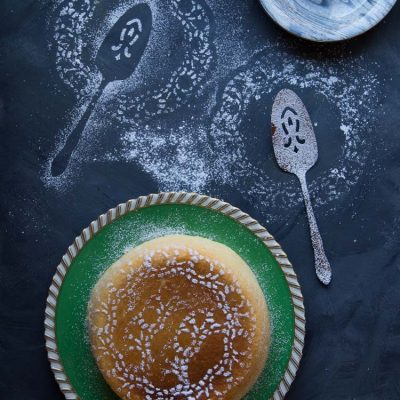 How To Make Easy Rice Cooker Cheesecake
Your rice cooker is not only for cooking rice. Learn how to easily make cheesecake using rice cooker and family voted that this rice cooker cheesecake is LEGIT!
PRINT
INGREDIENTS:
400

gr

cream cheese

softened

100

gr

sugar

4

egg yolks

room temperature, from large eggs

40

gr

butter

melted

200

gr

whole milk yogurt

or sub with heavy cream

100

gr

all-purpose flour

sifted
Meringue:
4

egg whites

room temperature, from large eggs

120

gr

sugar
Greasing:
Small knob of solid butter
Optional decorations:
Fresh fruit

Whipped cream

Confectioner's sugar
INSTRUCTIONS:
Use a small knob of butter to grease the bottom and the side of the inner pot of the rice cooker. Set aside
How to soften creamcheese:
Cut the cream cheese up into small cubes and leave them at room temperature about 10-15 minutes and they will soften faster than the whole block. Alternatively, you can always remove the cream cheese from its wrapper and microwave them for 20 seconds
Make the thick batter:
Place softened cream cheese in a large mixing bowl. Use a spatula to mix and mash until smooth while gradually adding sugar. Add in egg yolk one at a time. This is important because if you dump all of them in at the same time, your batter will separate. Stir until mix before adding another yolk

Once all the yolks are in and thoroughly mixed, add in the butter and yogurt. Stir to mix. Sift in the all-purpose flour and stir until mix. Do not over stir the flour. Set aside
Make the meringue:
Place the egg whites in a mixing bowl and then use a whisk attachment to beat the egg whites on medium speed until foamy and then gradually add in sugar in 3 batches and turn the speed up to high and beat until it turns white, shiny, and stiff. While you whole it upside down, it won't drip
Folding the batter:
Slice the blade of the spatula straight down through the meringue and then scrape the spatula following the curve of your bowl and scoop the batter up and fold over. Turn the bowl and repeat the same action again. Fold in the next 1/2 of the meringue and fold again before you add the last 1/3. You can stop once they are incorporated. There may be still a little bit of lumps, don't panic. The batter won't be perfectly smooth. You don't want to overfold them and deflate the meringue
Cooking in the rice cooker:
Pour the batter into the greased inner pot. My inner pot has a 5 cups capacity. Gently tap the bottom of the inner pot to release some air bubble. Place inside the rice cooker and set the timer to 80 minutes. The time may vary slightly depending on the type of rice cooker

If your rice cooker doesn't have the ability to set a timer, use the "white rice" function or "cook rice" function. You may need at least 2 cycles in the row to cook the cake. This depends on how long your rice cooker cooks a regular rice. For example: my rice cooker takes 20 minutes to cook white rice and so I will need about 3 cycles in a row to bake the cake properly

Once it is done baking, open the lid. You can use a chopstick and insert into the middle of the cake to make sure it comes out clean. If it's not, cook a bit longer

Remove the inner pot from the rice cooker. Place a large flat plate on top of the inner pot and gently but quickly flip the pot over and there's your cheesecake. Let it cool down completely for about 1 hour. Chill in the refrigerator for 4 hours or overnight before decorating
Decorating:
I use a doilies paper to decorate some pattern using confectioner's sugar. You can do whatever cute pattern you like. Some like to decorate with fresh berries and whipped cream