Savory Chinese Sweet Potato Pancakes – Learn how to make this super easy naturally gluten-free sweet potato pancakes made with mashed sweet potatoes, glutinous rice flour, and scallion. Perfect side dish, appetizer or as a snack.
Another cleaning-up day at the kitchen led to this savory Chinese sweet potato pancakes. These pancakes are soft and stretchy (thanks to the glutinous rice flour). Traditionally, these Chinese sweet potato pancakes are made slightly sweet, but I modified it to make it savory and to add chopped scallions. They are perfect for snacks, appetizers, or brunch. I ate them for breakfast LOL!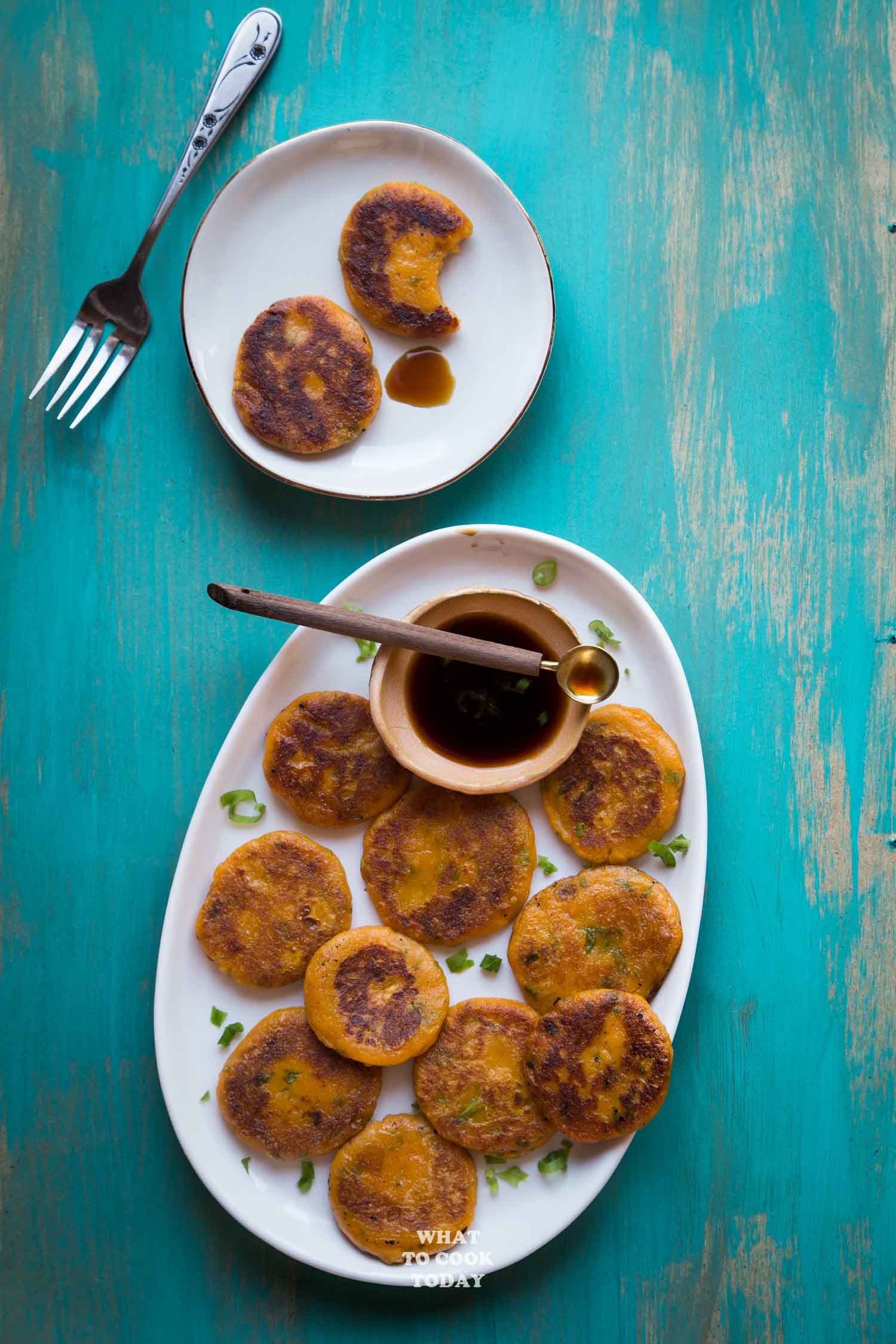 SPECIAL INGREDIENT USED IN THIS SAVORY CHINESE SWEET POTATO PANCAKES
Glutinous Rice Flour
Please don't confuse glutinous rice flour with rice flour. They will give you a different texture. Glutinous rice flour gives the cake that stretchy pliable texture.
HOW FLEXIBLE IS THIS RECIPE?
Traditionally, this Chinese sweet potato pancakes are made slightly sweet and meant to be served as snack/dessert. If you want to make it sweet, just swap the salt out with sugar and omit the scallion. Simple as that.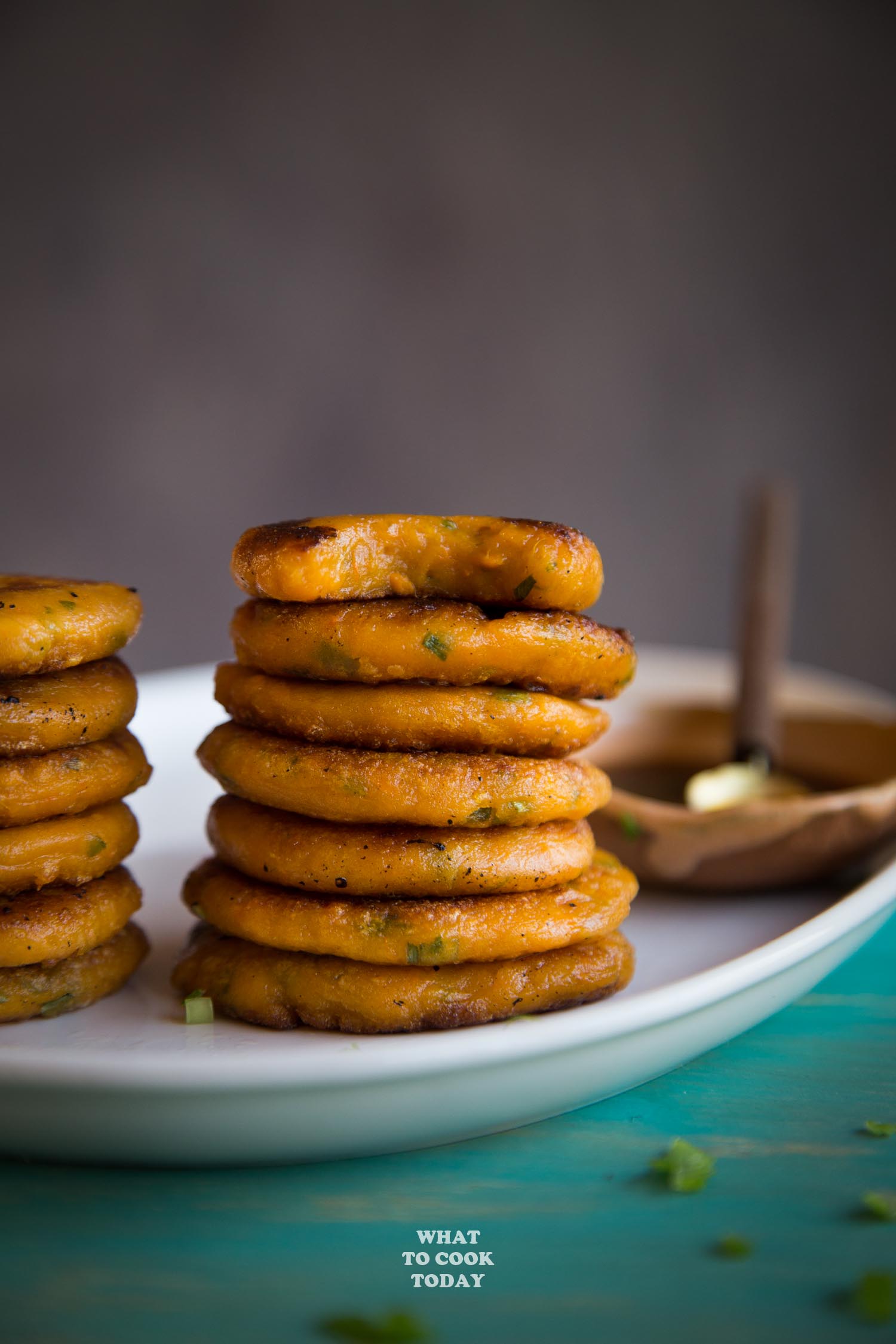 There are several different ways you can cook sweet potatoes. Most Asians would steam the sweet potatoes, but these days, there are so many kitchen gadgets that can cook them just fine too.
DIFFERENT WAYS OF COOKING SWEET POTATOES:
– Steamer: Steam the sweet potato for 15 minutes and then mash until smooth while it's hot
– Microwave: Pierce the sweet potato 6-8 times all over with a fork and then cook on high for 10 minutes. If you can pierce a fork through, then it's soft, if it's still hard, microwave a bit longer
– Oven: Preheat oven to 400 F. Pierce them 6-8 times all over with a fork and then placed on baking sheets and bake for about 40-45 minutes
– Air fryer: Pierce the sweet potato 6-8 times all over with a fork. Set temperature to 400 F and cook for about 35 minutes
– Instant pot: Put 1 cup of water in the inner pot. Set the trivet in there. Place the sweet potato in there. Close the lid and seal the steam release valve. Press pressure cooker and set timer to 15 minutes. Wait 10 minutes to release pressure
TIPS ON HOW TO EASILY MAKE SAVORY CHINESE SWEET POTATO PANCAKES
1. Mash the sweet potato
Mash the sweet potato while it's warm. This will ensure you get a smooth mash potato
2. Add glutinous rice flour and seasoning
Use a spoon to combine them and then when it's cool enough to handle, use clean hands to mix them into a smooth slightly sticky dough
3. Shape into pancakes
Lightly dust your palms with glutinous rice flour and then shape the dough into ball and then flatten to form pancakes
4. Cooking
Cook on a well-preheated pan and then lower the heat to medium and cook pancakes for about 2-3 minutes on each side until golden brown
The texture of the pancakes reminds me of the Chinese Nian Gao when pan-fried. Soft and stretchy, which I totally love!
*Recipe is written for 6-quart Instant Pot. Cooking time should remain the same for 8-quart size but will take longer to pressurize. For mini duo (3-quart), I suggest to half the recipe and use the same amount of time to cook*
Savory Chinese Sweet Potato Pancakes
Ingredients
450

gr

mashed sweet potato

240

gr

glutinous rice flour

or more as needed

1

tsp

salt

2

stalks

scallion

green part only, finely chopped
Instructions
Preparing dipping sauce:
Place all ingredients for dipping sauce in a small saucepan and just cook until sugar is melted. Remove from the heat and set aside.
Making the dough:
Peel about 450 gr of sweet potato. Cut into 1-inch slices and steam for 15 minutes until soft and mashable. Use the back of the fork or potato masher to mash the sweet potato while it's hot, until smooth. Please read above on different ways of cooking the sweet potato and also read the notes below

Add glutinous rice flour and salt and use a spoon to stir to mix. While the sweet potato is cool enough to handle, use your clean hands to mix the flour and the sweet potato to form a smooth dough. Fold in the finely chopped scallion and knead a few times to distribute the scallion. The dough will be slightly sticky to the touch. If your dough is very sticky, add a bit more flour. The water content in sweet potato also affects how much flour you need. Take care not to add too much flour or the pancake won't be soft
Shape into pancakes:
Lightly dust your both hands with some glutinous flour. Pinch a small amount of dough to form about 2-inch ball. Then press the dough with the palm of your hand to flatten into small pancakes. Repeat with the rest of the dough
Cooking the pancakes:
Preheat about 1 Tbsp of oil in a large non-sticky pan. When it's hot, lower the heat to medium and arrange pancakes on top of the pan, try not to overcrowd the pan. Cook for about 2-3 minutes on each side until golden brown. Repeat with the rest of the pancake and add more oil as needed
Serving:
Serve with the dipping sauce on the side
Storing and reheating:
Leftover can be stored in the refrigerator for up to 3 days. They can be reheated in the microwave, air fryer (350 F for 5 minutes), or in the oven by placing them in a baking sheet and bake at 350 for 5-8 minutes
Notes
If you are baking the potatoes in the oven and air fryer, you may not need all the flour calls for in a recipe while mixing the flour to form a dough. They tend to be on the dry side. Add a bit of water if necessary