Easy Pressure Cooker Chinese Braised Peanuts – Raw peanuts are braised in spices, seasonings, and herbs and typically served as appetizers, snacks, or even as a side dish. Pressure cooker cut down the cooking time tremendously.


I got to know this Chinese braised peanuts when I lived in Singapore for few years. I love anything nuts and of course, I got hooked immediately. They are usually served at the Chinese restaurant and they bring the Chinese braised peanuts out for you to munch while waiting for your food.

I remember as a kid we like to shell peanuts (with salted shells) and pop them inside our mouth as snacks. It's so hard to stop at just 20! Then I also grew up with boiled peanuts and boiled bambara groundnut, we call the latter kacang Bogor rebus. They are extremely addicting! Anyway, shelling and eating peanuts are one of my favorite things to do.
SPECIAL HERB I USED IN THIS CHINESE BRAISED PEANUTS
I love to add dong quay (Angelica Simensis) to braise the peanuts. It adds a wonderful herby aroma to it. If you cannot find any, you can absolutely just skip it and the braised peanuts will still taste delish.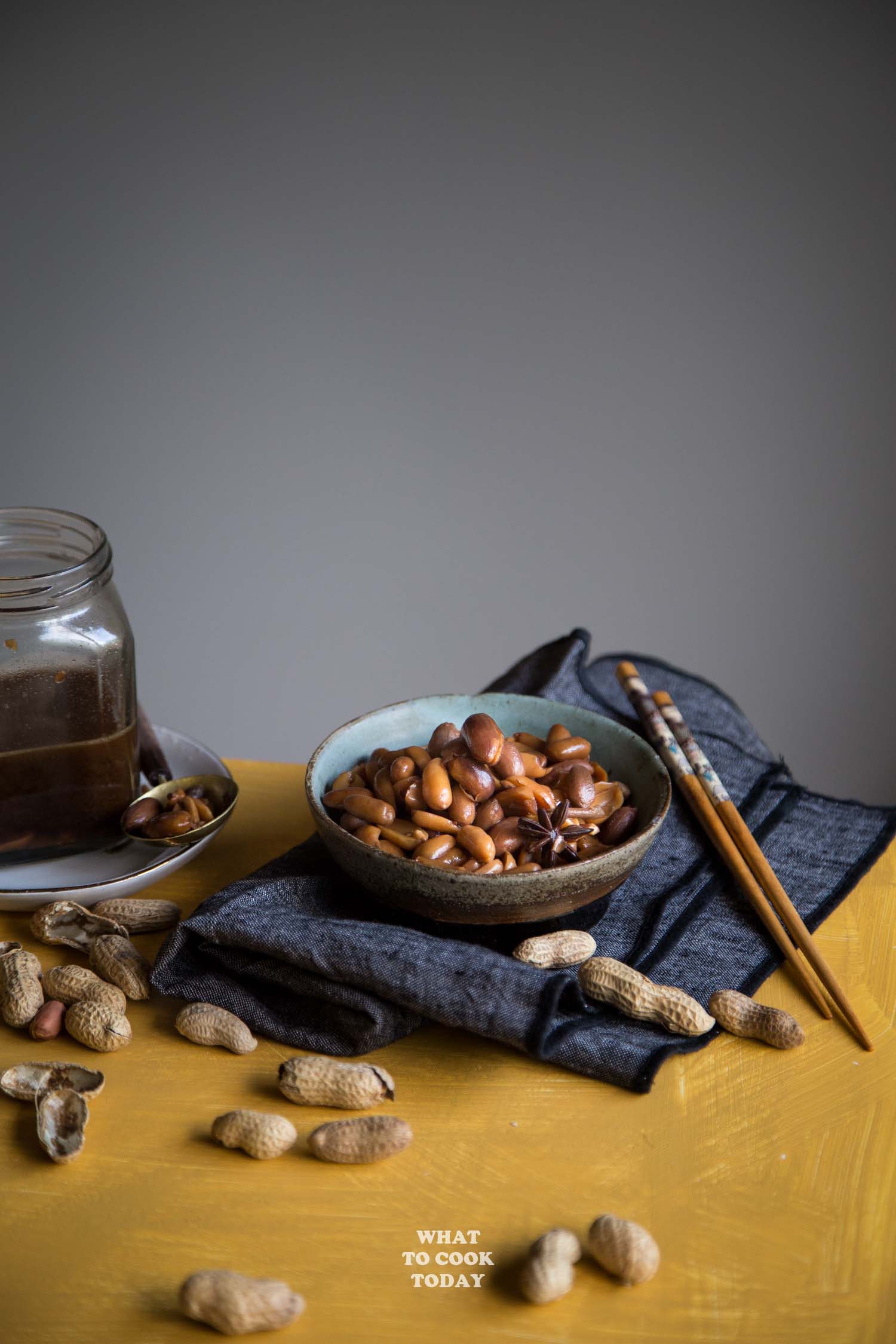 This blog post contains affiliate links. I earn a small commission when you made purchase at no extra cost to you. Learn more.
WHY I RECOMMEND USING PRESSURE COOKER TO MAKE CHINESE BRAISED PEANUTS
Conventional cooking on the stove takes about 2-3 hours. If you soak the peanuts overnight, you may cut it down to 2 hours. When I use the pressure cooker feature on
Instant pot
, it takes 1 hour and no soaking is necessary. You don't have to use Instant pot, any pressure cooker will do. Are you convinced yet? 🙂
CAN I USED PRE-SHELLED DRY ROASTED PEANUTS?
I had tried them before and I still think they turn out great. Dry-roasted peanuts usually already have the inner layer skin removed. When the thin skin that wraps the peanuts is intact, you will get larger size peanuts. It's really not a big deal if you ask me. I can't taste the difference in taste.
When I shelled the peanuts, some of the inner skin came off too and the peanuts split into half too. So, the answer is yes, you can use dry roasted peanuts if you are lazy to shell the peanuts on your own.
HOW DO I KNOW IF THE BRAISED PEANUTS ARE DONE COOKING?
Despite the long hours of cooking or being pressure cooked, the peanuts will hold their shapes. When you use the back of the spoon to mash the peanuts though, they will mash easily. When you get to that point, you are done! If it won't mash and still crunchy, you still need to continue to cook longer.
WHAT TO SERVE THIS CHINESE BRAISED PEANUTS WITH?
They are great on its own as an appetizer, snacks, or as a side dish. The Chinese like to munch on the braised peanuts on its own. Some serve the braised peanuts with a bowl of Asian rice porridge


What is your favorite savory dish that uses peanuts?
*Recipe is written for 6-quart Instant Pot. Cooking time should remain the same for 8-quart size but will take longer to pressurize. For mini duo (3-quart), I suggest to half the recipe and use the same amount of time to cook*

Easy Pressure Cooker Chinese Braised Peanuts
Ingredients
200

gr

raw peanuts

shelled, skin-on

1 ½

cup

water
Spices and herb:
5

gr

Dong Quay (Angelica Simensis)

optional

1

medium

star anise
Instructions
Remove the hard shells from the peanut. No soaking is required if you use a pressure cooker
Using instant pot:
Place the shelled peanuts, spices and herb, and seasonings in the inner pot of instant pot. Pour in water

Close the lid. Turn the steam release valve to seal. Press pressure cooker and set timer to 1 hour. Once the timer is up, wait 5 minutes and then release pressure. Unlock the lid once all pressure is released
Braising on stove top:
I recommend soaking the peanuts in water overnight. This will cut down on cooking time

In a heavy-bottom pot with a lid, Place the shelled peanuts, spices and herb, and seasonings. Pour in the water. Bring to a boil and then lower to a gentle simmer and cover the lid and let it braise for the next 2 hours or longer. The peanuts should retain its shape but you can easily mash it with the back of the spoon. If it's still crunchy and hard to mash, you need to cook it longer
Storing:
Let them cool down and then store them in a large glass jar with the braising liquid in the refrigerator. They taste even better the next day. They keep in the refrigerator for up to one week. Do not freeze
Recommended products: