This simple yet very delicious Cantonese style fried egg noodles (Chow Mein) are flavored with umami soy sauce is popular breakfast food in Hong Kong and you can easily make this at home now.

It's not unusual to see rice and noodles served during breakfast time in Asia. This Cantonese Supreme Soy Sauce Pan-Fried noodle is one of the popular breakfast food in Hong Kong. I remember seeing this noodle in almost every table in a dim sum restaurant when we visited Hong Kong a while ago. This is like simplicity at its best! The noodles are quickly blanched and then fried in a bit of oil to get certain spots to crisp up and then stir fry with supreme soy sauce, which is a combination of soy sauce, oyster sauce, dark soy sauce, sesame oil, sugar, and pepper. So simple yet you will love this for sure!
INGREDIENTS
1. THIN EGG NOODLES
Make sure you get the one suitable for stir frying, not wonton noodles, which is more for soup. You can use fresh or dried version


2. ONION
You can use white or yellow onion. I used purple onion because that's what I had. Some people add the green onion cut into long strips
3. MUNG BEAN SPROUTS
This adds some crunch to the overall texture
4. SOY SAUCE
You can use light soy sauce (which I usually just refer to as soy sauce or regular soy sauce), gluten-free soy sauce, or low-sodium soy sauce if you prefer
5. DARK SOY SAUCE
Dark soy sauce is usually used to just give a slightly darker color. Dark soy sauce is usually thicker compared to light soy sauce and less salty too
6. OYSTER SAUCE
Oyster sauce is one of the quintessential sauce in Asian cooking. It is usually used to impart that extra umami flavor to the overall dish
7. SESAME OIL
High-quality toasted sesame oil adds a nice nutty flavor to the dish. If you don't like sesame oil, you can omit
8. SUGAR
If you ever wonder why do we need to add sugar to a stir-fry noodle, well, just like salt, a small pinch of sugar can help to enhance the taste of the overall finished dish
9. GROUND WHITE PEPPER
Ground white pepper is more commonly used in Asian cooking compared to ground black pepper, which is more common here in the U.S. White peppercorns have a stronger aroma, which I like. Perhaps because I grew up with this and used to it

HOW TO MAKE SUPREME SOY SAUCE PAN-FRIED NOODLES
1. Mix all the ingredients for the seasonings and set aside


2. Bring a large pot of water to a boil. Blanch the fresh egg noodles in the boiling water for 1 minute or less. Don't overcook the noodles


3. Preheat a wok or large skillet until really hot. Add 3 Tbsp of oil


4. Add the blanched noodles to the wok. Spread it on the wok as thinly as possible


5. Let them fry until certain spots get slightly charred and crispy. Flip over and let it crisp up on certain spots. Drizzle with a bit of oil on the side if necessary.


6. Dish out the noodles


7. Preheat the wok again. Add 1 Tbsp of oil and add onion slices. Usually, yellow/white onions are used, but I only have purple onion and that's what I used. Stir fry until they are slightly softened but still has a bit of crunch


8. Add the noodles followed by the seasonings. Toss to mix everything and to make sure the seasonings coat the noodles


9. Add beansprouts and stir fry for about 30 seconds or so or until it just a bit soft but still have that crunch. Have a taste and adjust by adding more soy sauce if needed


10. Turn off the heat and serve immediately

VARIETIES
Supreme soy sauce noodles is a very basic Cantonese chow-mein and usually with no protein or leafy vegetables added. However, if you want to make it into a "complete" meal with some protein and veggies, you certainly can.
PROTEIN: chicken, beef slices, pork slices, tofu, shrimp, etc. Stir fry this with a bit of oil after you pan-fry the noodles and then dish out and add them back in together with the noodles and seasonings later
VEGETABLES: Bok choy, yu choy, Chinese broccoli (gai lan), mushrooms, etc. After stir frying the onion, add the veggies and continue to stir fry until the veggies are soft and continue with the rest of the recipe
DID YOU MAKE THIS SUPREME SOY SAUCE PAN-FRIED NOODLES RECIPE?
I love it when you guys snap a photo and tag to show me what you've made 🙂 Simply tag me @WhatToCookToday #WhatToCookToday on Instagram and I'll be sure to stop by and take a peek for real!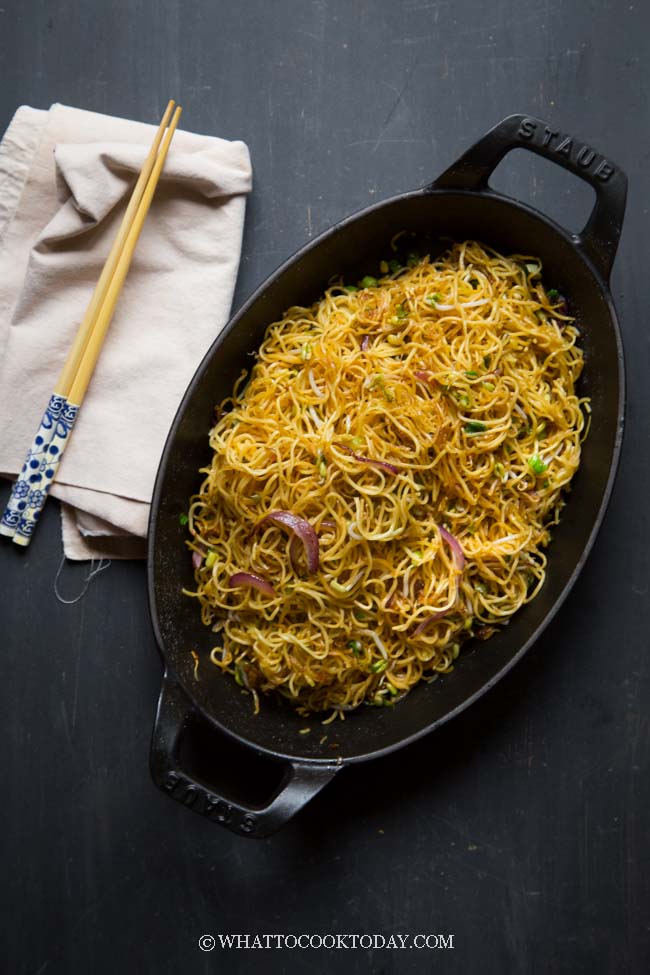 Cantonese Supreme Soy Sauce Pan-Fried Noodles
Ingredients
300

grams

fresh thin egg noodles

suitable for stir-frying, or 150 gr dried egg noodles

4

Tbsp

cooking oil

divided, plus more as needed

1

large

onion

peeled and thinly sliced

3

cups

beansprouts
Instructions
Mix all the ingredients for the seasonings and set aside

Bring a large pot of water to a boil. Blanch the fresh egg noodles in the boiling water for 1 minute or less. Don't overcook the noodles. If you use dried noodles, cook them according to instruction. I suggest to cook it to al dente and then refresh with cold water

Preheat a wok or large skillet until really hot. Add 3 Tbsp of oil. Add the blanched noodles to the wok. Spread it on the wok as thinly as possible and let them fry until certain spots get slightly charred and crispy. Flip over and let it crisp up on certain spots. Drizzle with a bit of oil on the side if necessary. Dish out the noodles.

Preheat the wok again. Add 1 Tbsp of oil and add onion slices. Usually, yellow/white onions are used, but I only have purple onion and that's what I used. Stir fry until they are slightly softened but still has a bit of crunch. Add the noodles followed by the seasonings. Toss to mix everything and to make sure the seasonings coat the noodles. Add beansprouts and stir fry for about 30 seconds or so or until it just a bit soft but still have that crunch. Have a taste and adjust by adding more soy sauce if needed. Turn off the heat and serve immediately
Recommended products:
YOU MAY ALSO LIKE THESE EASY STIR-FRIED NOODLES