Eurasian style soft and pillowy sweet potato buns are filled with aromatic savory slightly sweet minced meat filling is absolutely delicious and now you can make them with this less rich dough recipe but equally delish.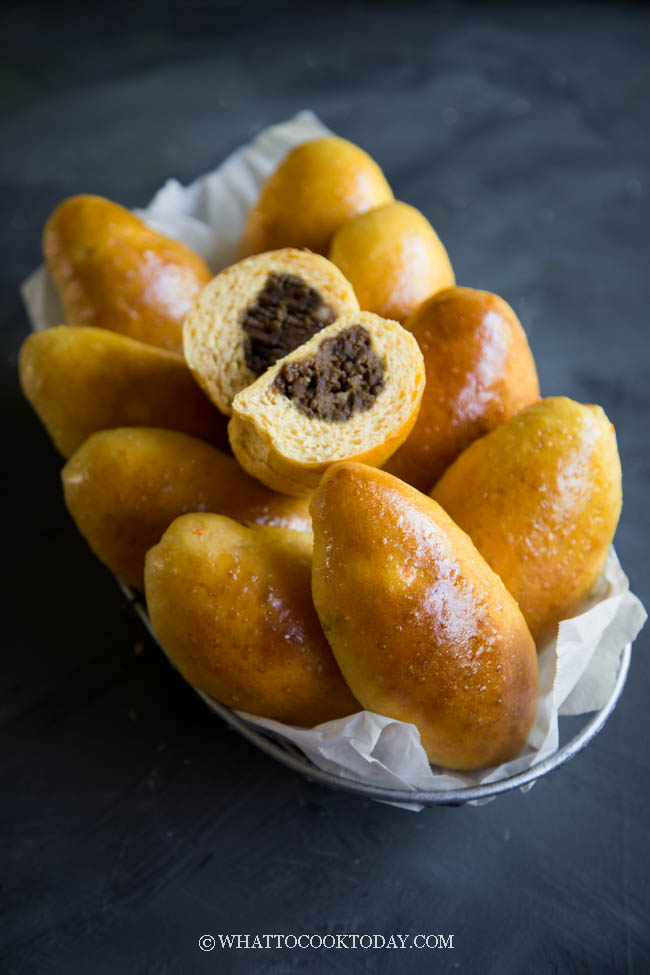 The name pang susi really got my attention. I've never heard of pang susi before and I got to know about it from Table for 2. Apparently, pang susi is a very popular bread/pastry among the Eurasian community in Melaka, Malaysia, especially during Christmas time. In Indonesia, we have something similar we call roti baso ayam (with chicken filling) or roti baso sapi (with beef filling). The filling is savory-sweet too but it doesn't use candied winter melon or much spices compared to pang susi.
A PASTRY OR A BREAD?
The Eurasian considered this more of a pastry than a bread/bun. The dough is rich and uses lots of butter, more sugar and also flavored with some brandy. I guess that's probably why it is more like a pastry than a bun. The Melaka version though, has candied winter melon added to it, which is not typically found in the Eurasian. The filling almost reminds me of Nyonya Chang, which has that amazing aroma of coriander and sweet candied winter melon.

MY VERSION: SOFT BUNS LESS RICH DOUGH
I use less sugar, a lot less butter, and opt-out on the brandy. I adapted my favorite sweet potato buns recipe from King Arthur's instead. It still yield nice soft sweet potato buns though and less calorie too if you are concern about that 😉 So, naturally my version of the dough will be more like a bread/bun instead of pastry.

HOW TO MAKE PANG SUSI FROM SCRATCH
1. Prepare the filling
Preheat a wok or skillet. Add cooking oil. Add the onion and stir fry until they are fragrant and soft, about 3-4 minutes.


Add the minced meat followed by the seasonings and spices, except for the candied winter melon.


Continue to cook until the liquid has evaporated and meat is cooked through.


Stir in the candied winter melon and stir to mix.


Have a taste and adjust accordingly. It should be savory with some hint of sweetness. Remove from the heat. Let it cools down completely before using it or cover and store in the fridge until ready to be used


2. Prepare the dough
Put all ingredients for the buns, except for the milk, in a mixing bowl. I use a stand mixer to knead. Add milk as needed so the dough can come together


Continue to knead until the dough is smooth and elastic, not necessarily reach a windowpane stage (the stage where you stretch the dough thinly and it won't break)


3. First proofing
Cover with a cling plastic wrap and let it proof at a warm place for about an hour or until the dough doubles in size


4. Shape the dough
Punch the dough to release air and knead a few times


Divide the dough into 10 equal portions. Keep them covered and work with one dough at a time


Take one dough and roll it out into an oval shape, about 4 inches long and about 2 inches wide.


Scoop the filling and place on the dough.


Gather the two sides of the dough and seal them on top, resembling a leaf shape (as shown in the photo). Continue with the rest of the dough and filling.


Place the shaped buns on a baking sheet lined with a parchment paper, seam side facing down on the baking sheet, about 2 inches apart.


5. Second proofing
Let them proof again until they are puffy again, about 40 minutes to one hour, depending on the temperature you are in


6. Baking
10 minutes before the end of the second proofing, preheat oven at 350 F (177 C). Brush the buns with egg wash.


Place the baking sheet 3rd rack from the top and bake for the next 20-25 minutes or until they are nicely golden brown. If they brown too quickly you can loosely cover with an aluminum foil on top


Remove from the oven and let them cool down completely on a cooling rack so the bottom of the buns won't get soggy

The family loves pang susi though. The savory-sweet filling with the soft sweet potato buns are just so yummy.

HOW TO STORE PANG SUSI
1. Room temperature: Let the freshly baked pang susi cools down completely and then wrap them in a cling wrap and store in a larger zipper bag and push all the air out and seal. They can be kept like this at room temperature for 3 days or so
2. Freezer: For longer storage I suggest storing them in the freezer. Let them thaw overnight in the fridge and loosely wrap in an aluminum foil and reheat in a toaster oven, oven, or air-fryer at 350 F for 5-8 minutes or until warmed

DID YOU MAKE THIS PANG SUSI RECIPE?
I love it when you guys snap a photo and tag to show me what you've made 🙂 Simply tag me @WhatToCookToday #WhatToCookToday on Instagram and I'll be sure to stop by and take a peek for real!

Pang Susi (Eurasian Sweet Potato Buns with Spiced Meat Filling)
Ingredients
Sweet potato buns:
300

gr

all-purpose flour

about 2 1/2 cups

2

tsp

instant yeast

1

tsp

salt

30

gr

sugar

2 Tbsp

160

gr

mashed sweet potato

about 3/4 cup

1

large

egg

30

gr

butter

2 Tbsp, softened, cut into smaller pieces

2

-3 Tbsp milk

or more as needed, amount depends on how moist the sweet potato is
Instructions
Prepare the filling:
Preheat a wok or skillet. Add cooking oil. Add the onion and stir fry until they are fragrant and soft, about 3-4 minutes. Add the minced meat followed by the seasonings and spices, except for the candied winter melon. Continue to cook until the liquid has evaporated and meat is cooked through. Stir in the candied winter melon and stir to mix.. Have a taste and adjust accordingly. It should be savory with some hint of sweetness. Remove from the heat

Spread this on a plate to let it cools down completely or let it cools down and then cover and store in the fridge for few days if you don't use it right away
Prepare the sweet potato buns dough:
I suggest getting about 200-250 grams fresh sweet potatoes. Peel the potatoes and then cut into smaller chunks and boil in water until they are fork-tender. Drain off cooking liquid and mash the sweet potatoes. Measure 160 grams of mashed sweet potatoes for the recipe

Put all ingredients for the buns, except for the milk, in a mixing bowl. I use a stand mixer to knead. Add milk as needed so the dough can come together and continue to knead until the dough is smooth and elastic, not necessarily reach a windowpane stage (the stage where you stretch the dough thinly and it won't break) . I used speed 4 on my KitchenAid and knead for about 5 minutes or so
First proofing:
Cover with a cling plastic wrap and let it proof at a warm place for about an hour or until the dough doubles in size
Shape and second proofing:
Punch the dough to release air and knead a few times and then divide the dough into 10 equal portions. Keep them covered and work with one dough at a time

Take one dough and roll it out into an oval shape, about 4 inches long and about 2 inches wide. Scoop the filling and place on the dough. Gather the two sides of the dough and seal them on top, resembling a leaf shape (as shown in the photo). Continue with the rest of the dough and filling

Place the shaped buns on a baking sheet lined with a parchment paper, seam side facing down on the baking sheet, about 2 inches apart. Let them proof again until they are puffy again, about 40 minutes to one hour, depending on the temperature you are in
Bake:
10 minutes before the end of the second proofing, preheat oven at 350 F (177 C). Brush the buns with egg wash and place the baking sheet 3rd rack from the top and bake for the next 20-25 minutes or until they are nicely golden brown. If they brown too quickly you can loosely cover with an aluminum foil on top

Remove from the oven and let them cool down completely on a cooling rack so the bottom of the buns won't get soggy
Recommended products: