Make this absolutely delicious, easy, and comforting Taiwanese sesame oil wine chicken soup (Ma You Ji Tang) served with mee sua noodles (or use somen noodles). It's especially perfect for the cold weather as it is a warming dish. Suitable as a Chinese confinement recipe too.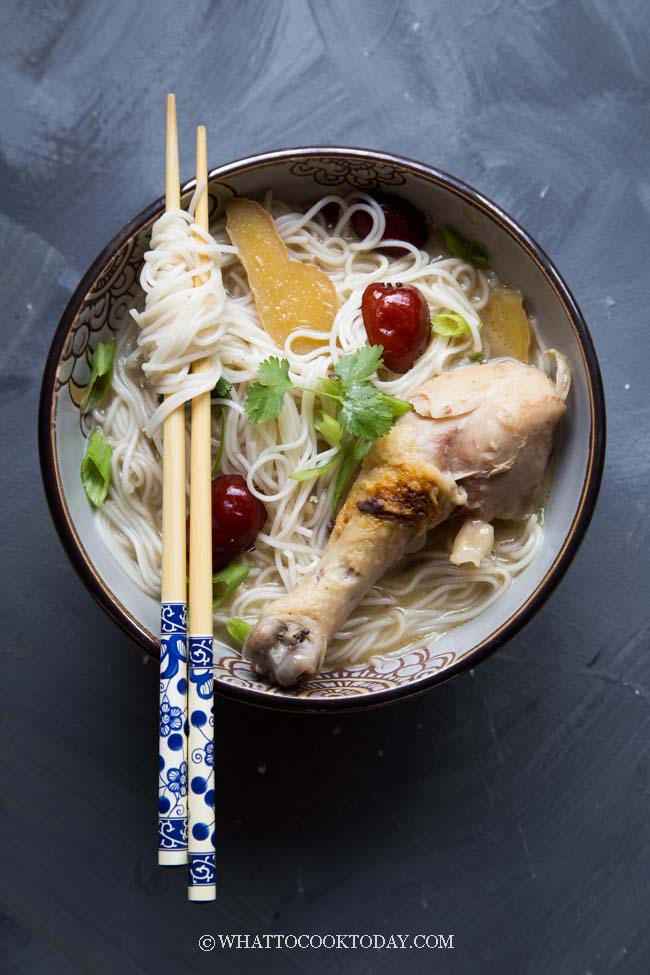 As the weather is cooling off here, I crave something warm like this Taiwanese sesame wine chicken soup. My mom made this for me during the Chinese confinement period when I just had my two kids many years ago. Of course, this is not only for postpartum ladies. My husband enjoys this dish too as it is very warming for the body. In TCM (Traditional Chinese Medicine), sesame oil, ginger, and wine are considered "heaty" food. They can warm up the body.
CUTS OF CHICKEN TO USE
I use chicken drumsticks but you can use chicken legs, leg quarters, drummettes or if you prefer to use whole chicken and cut it up into smaller piece, be my guest. If for confinement purpose, my mom uses organic free-range chicken or something similar to ayam kampung (village chicken is the direct translation) is what we call in Indonesia 🙂
SPECIAL INGREDIENTS
1. SESAME OIL
I recommend using black sesame oil if you can find it. I can't find any here. So I just use high-quality toasted sesame oil.
2. OLD GINGER OR YOUNG GINGER
Mom often says that old ginger is better in terms of providing warmth. It is more "heaty" compared to young ginger. Young ginger is juicier and less spicy. Old ginger can be really spicy (not the chili spicy, but you know…heaty spicy kind of spicy!). They usually look "older", not as plump, and fibrous
3. TAIWAN MICHIU (RICE WINE)
You can use any rice wine or usually known as "Michiu" if you can't find Taiwan michiu
4. MEE SUA (CHINESE WHEAT VERMICELLI NOODLE)
Mee sua is abundant in Asia, but it's so hard for me to find mee sua here. If you can't find any, use the Japanese somen noodles. It is very similar and my kids love it
5. CHINESE RED DATES
Chinese red dates aren't typically used in Taiwanese sesame wine chicken soup, but my mom likes to add this.
Red dates is considered quite "neutral" in TCM. Not too heaty or cooling and it has tonic effect for the liver and good to replace the lost "qi" especially for the post-partum ladies.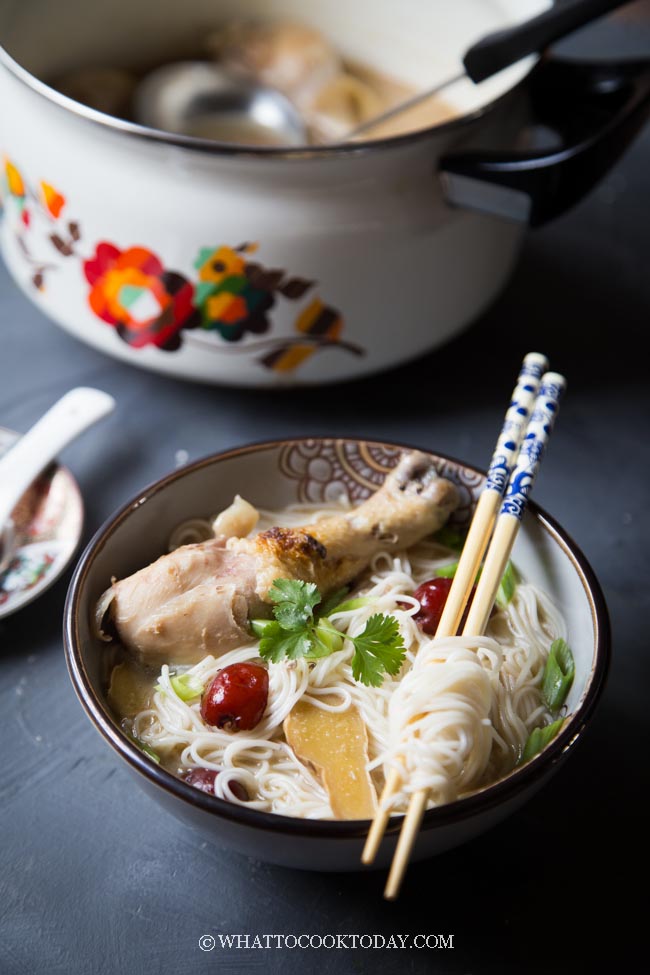 HOW TO EASILY MAKE TAIWANESE SESAME WINE CHICKEN WITH MEE SUA
1. Preheat a large pot over medium heat. Add 2 Tbsp sesame oil.


2. Add ginger slices and stir fry until fragrant, about 2-3 minutes.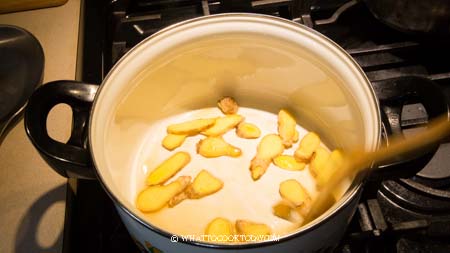 3. Remove the ginger but don't throw them away. Add the chicken pieces and brown the chicken pieces


4. Add chicken wine, chicken broth, and the ginger slices back into the pot. Bring to a boil


5. Add the pitted dates


6. Partially cover with a lid and lower the heat down to let it gently simmer for the next 30-40 minutes, this depends on the cut of chicken you use. Cook until the chicken pieces are tender and cooked through


7. Season with a bit of sugar and pinch of salt to your taste. Stir in the rest of the sesame oil if you prefer (I didn't)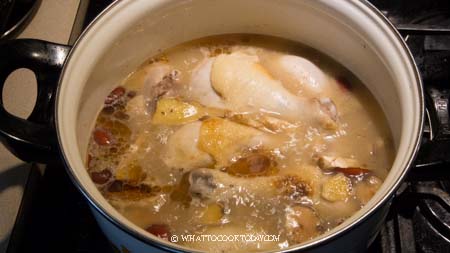 8. You can serve with rice or with a bowl of mee sua noodles. I actually used somen noodles because it's hard to find mee sua noodles where I am. Garnish with chopped green onion and cilantro leaves. Serve warm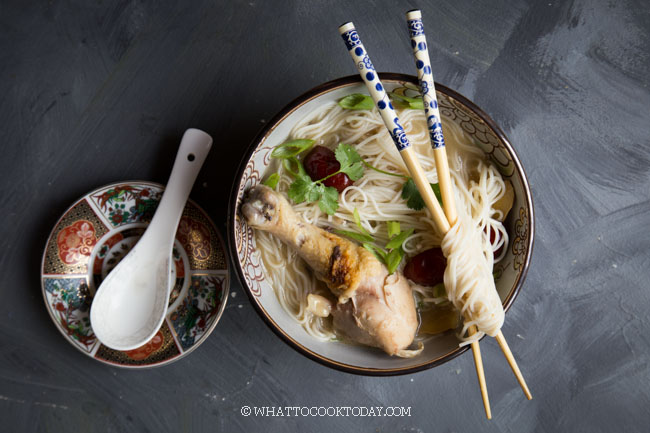 If you asked me, this is like a drunken chicken soup pretty much 🙂 Of course, the alcohol is cooked off during the cooking process so you won't be tipsy and it's appropriate for confinement ladies too.

DID YOU MAKE THIS TAIWANESE SESAME WINE CHICKEN WITH MEE SUA RECIPE?
I love it when you guys snap a photo and tag to show me what you've made 🙂 Simply tag me @WhatToCookToday #WhatToCookToday on Instagram and I'll be sure to stop by and take a peek for real!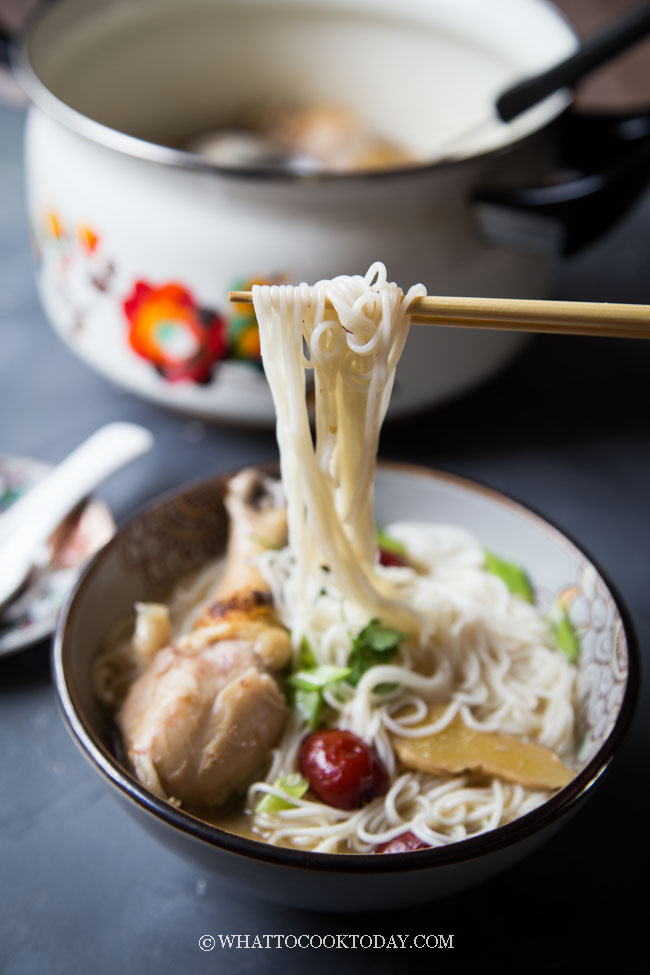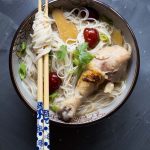 Easy Taiwanese Sesame Wine Chicken Mee Sua
Ingredients
Seasonings:
½

tsp

sugar

optional, you can skip

Salt to taste
Garnish with:
1

stalk

green onion

thinly sliced

Fresh sprigs of cilantro leaves
Instructions
Preheat a large pot over medium heat. Add 2 Tbsp sesame oil. Add ginger slices and stir fry until fragrant, about 2-3 minutes. Remove the ginger, but don't throw them away. Add the chicken pieces and brown the chicken pieces

Add chicken wine, chicken broth, and the ginger back to the pot. Bring to a boil. Add the pitted dates and partially cover with a lid and lower the heat down to let it gently simmer for the next 30-40 minutes, this depends on the cut of chicken you use. Cook until the chicken pieces are tender and cooked through

Season with a bit of sugar and pinch of salt to your taste. Stir in the rest of the sesame oil if you prefer (I didn't)

You can serve with rice or with a bowl of mee sua noodles. I actually used somen noodles because it's hard to find mee sua noodles where I am. Garnish with chopped green onion and cilantro leaves. Serve warm
Recommended products: