Another popular Chinese new year treat I want to share is this black sesame peanut candy that has a soft and chewy texture. They are so easy to make with only 4 basic ingredients and no maltose is needed.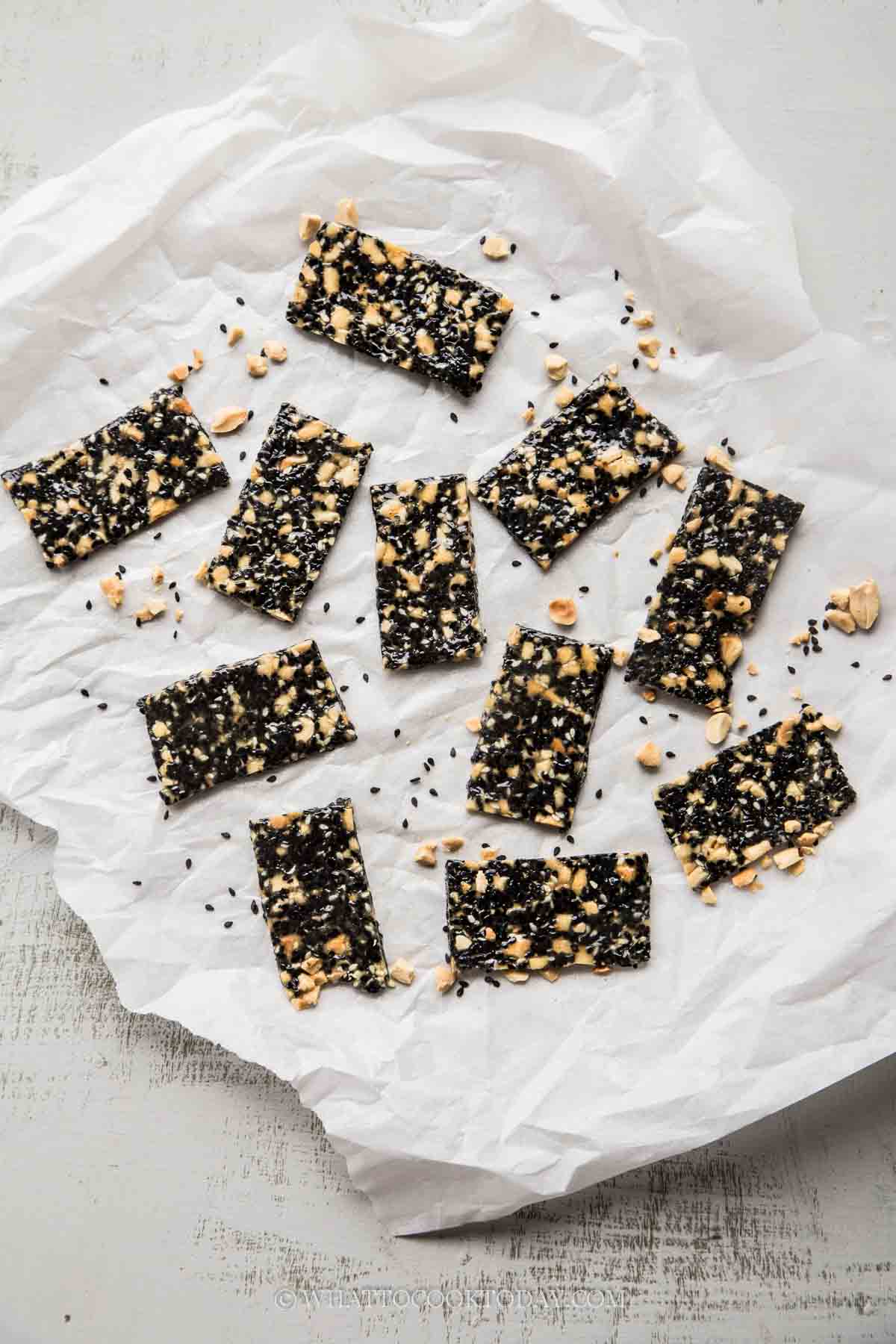 A while ago I made a similar Chinese new year treats, sesame peanut brittle, which has a texture totally the opposite with this black sesame peanut candy. The brittle is crunchy and hard. This has a soft and chewy texture.
The recipe rundown
Taste: Nutty and lightly sweet
Texture: Soft and chewy like a nougat texture. It gets stuck to the teeth because of its chewy texture, but it is expected of this type of candy
Level: Easy
Pros: You don't need special ingredients like maltose. You don't need a candy thermometer either
Cons: hot sugar can burn you, so please be careful

How to make soft and chewy black sesame peanut candy
1. Roughly chop the peanuts into smaller pieces using a food processor or a rolling pin. Set aside


2. Mix toasted black sesame seeds and peanuts together


3. Put sugar, vinegar/lemon juice, and water in a medium saucepan. Do not stir. Let them cook over medium heat until the sugar dissolves and start to bubble


4. Stir in honey and reduce the heat to low and let it cook on low heat for about 15 minutes


5. Get a small cup of water and carefully get a small amount of the molten sugar and drop it into the water. It will form a ball. Wait for a few seconds so it's not so hot and use your fingers to pick it up and it will flatten or bend when you touch it. We call this a soft-ball stage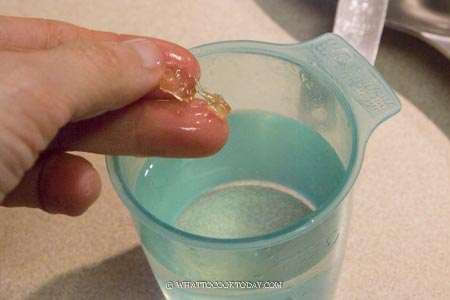 6. Turn off the heat and add 1 Tbsp of oil and stir to mix for a few seconds then quickly add the black sesame seeds and peanuts and stir to combine everything


7. Quickly but carefully transfer to an oiled parchment paper or silicone mat (need to oil the mat too or it will stick). Cover with another oiled parchment paper


8. Use a rolling pin to roll it into about 1/4-inch thickness


9. Peel the parchment paper off


10. Use an oiled knife to cut into the desired size while they are still warm. It's harder to cut when it has cooled down completely

Store them in an air-tight container and they last for months at room temperature, but they never last that long in our house

Tips
1. Get everything ready before you start
2. Do not stir the sugar as it will crystallize
3. Make sure you do the sugar test to know the consistency of the sugar. If you cook the sugar too long and pass the soft-ball stage, it will become hard and turn into brittles and not soft and chewy
4. Since this is a soft and chewy candy, you don't want to roll it out too thick, I won't suggest thicker than 1/4 inch or it will be too sticky or chewy for kids to eat them
5. Cut the candy with an oiled knife when they are still warm or they will be much harder to cut when they have cooled down completely

Did you make this soft and chewy black sesame candy recipe?
I love it when you guys snap a photo and tag to show me what you've made 🙂 Simply tag me @WhatToCookToday #WhatToCookToday on Instagram and I'll be sure to stop by and take a peek for real!

Easy Black Sesame Peanut Candy (Soft and Chewy)
Ingredients
50

gr

granulated sugar

1/4 cup

30

ml

water

2 Tbsp

1

tsp

lemon juice or vinegar

85

gr

honey

1/4 cup

15

gr

oil

1 Tbsp

40

gr

black sesame seeds

toasted, 1/2 cup

56

gr

unsalted peanuts

roasted, 1/2 cup
Instructions
Toast the black sesame on a dry pan over low-medium heat until fragrant, about 5 minutes. Remove from the pan. Do the same with the peanuts if they are not roasted already. Remove from the pan and let them cool down completely.

Prepare two large sheets of parchment paper, a chopping board, and an oiled knife

Roughly chop the peanuts into smaller pieces using a food processor or a rolling pin. Set aside

Put sugar, vinegar/lemon juice, and water in a medium saucepan. Let them cook over medium heat until the sugar dissolves and start to bubble. Do not stir. Stir in honey and reduce the heat to low and let it cook on low heat for about 15 minutes
Test the sugar with cold-water method:
Get a small cup of water and carefully get a small amount of the molten sugar and drop it into the water. It will form a ball. Wait for a few seconds so it's not so hot and use your fingers to pick it up and it will flatten or bend when you touch it. We call this a soft-ball stage. It's perfect for making soft and chewy candy like this. Turn off the heat and add 1 Tbsp of oil and stir to mix for a few seconds then quickly add the black sesame seeds and peanuts and stir to combine everything
Shape and cut:
Quickly but carefully transfer to an oiled parchment paper or silicone mat (need to oil the mat too or it will stick). Cover with another oiled parchment paper and use a rolling pin to roll it into about 1/4-inch thickness. Peel the parchment paper off and use an oiled knife to cut into the desired size while they are still warm. It's harder to cut when it has cooled down completely
Storing:
Store in an air-tight container at room temperature and they can last for months