These incredibly soft, crumbly, and melt-in-your-mouth eggless German potato cookies (melting moments butter cookies) infused with pandan or ube flavor only need 7 ingredients to make.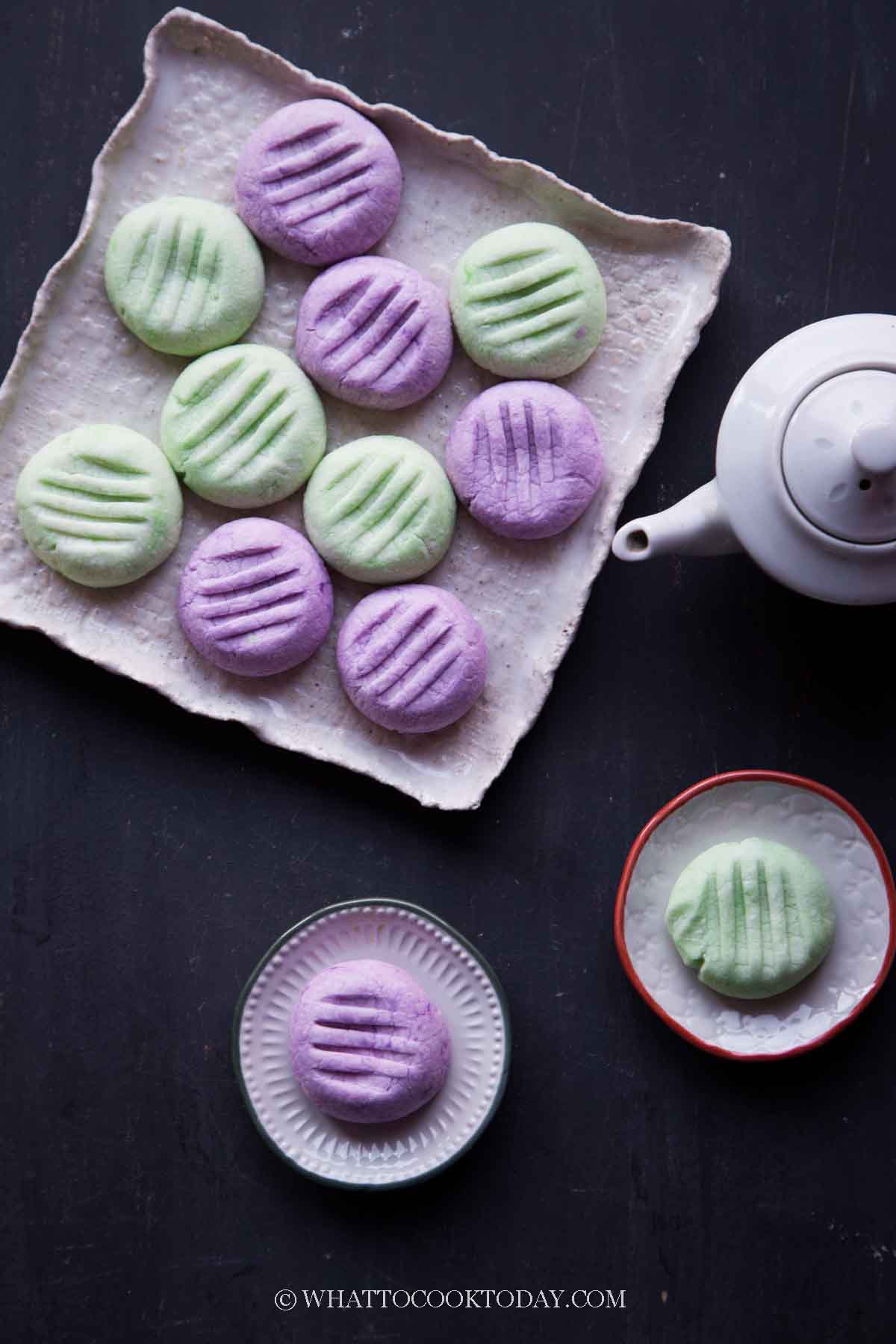 With Christmas and Chinese New Year approaches, it means lots of baking going on in this house 🙂 I can't say I bake a whole lot for Christmas, but I sure do bake more Chinese New Year cookies. This year I add these incredibly easy to make and melt-in-your-mouth German potato cookies to the collection.
What is German Potato Cookies?
German potato cookies are also known by several names such as German crunch cookies, melting moments cookies, and cornstarch cookies (because they can be made with cornstarch as well). Despite there is "German" in its name, these cookies aren't from German, perhaps they were inspired by German butter cookies? I'm not sure either. Well, nobody really knows for sure, but these cookies seem to be heavily favored in Southeast Asia countries such as Malaysia and Singapore.
From my own observation, in Asia countries, potato starch is used most of the time instead of cornstarch to make these cookies. Potato starch is widely available in Asia. Whereas here in the U.S., where they are called melting moments, they are made with cornstarch and usually dusted with icing sugar as a finishing touch. Cornstarch is easier to get compared to potato starch could be one of the reasons too. One thing for sure, these German potato cookies are often made to celebrate Christmas and Chinese New Year.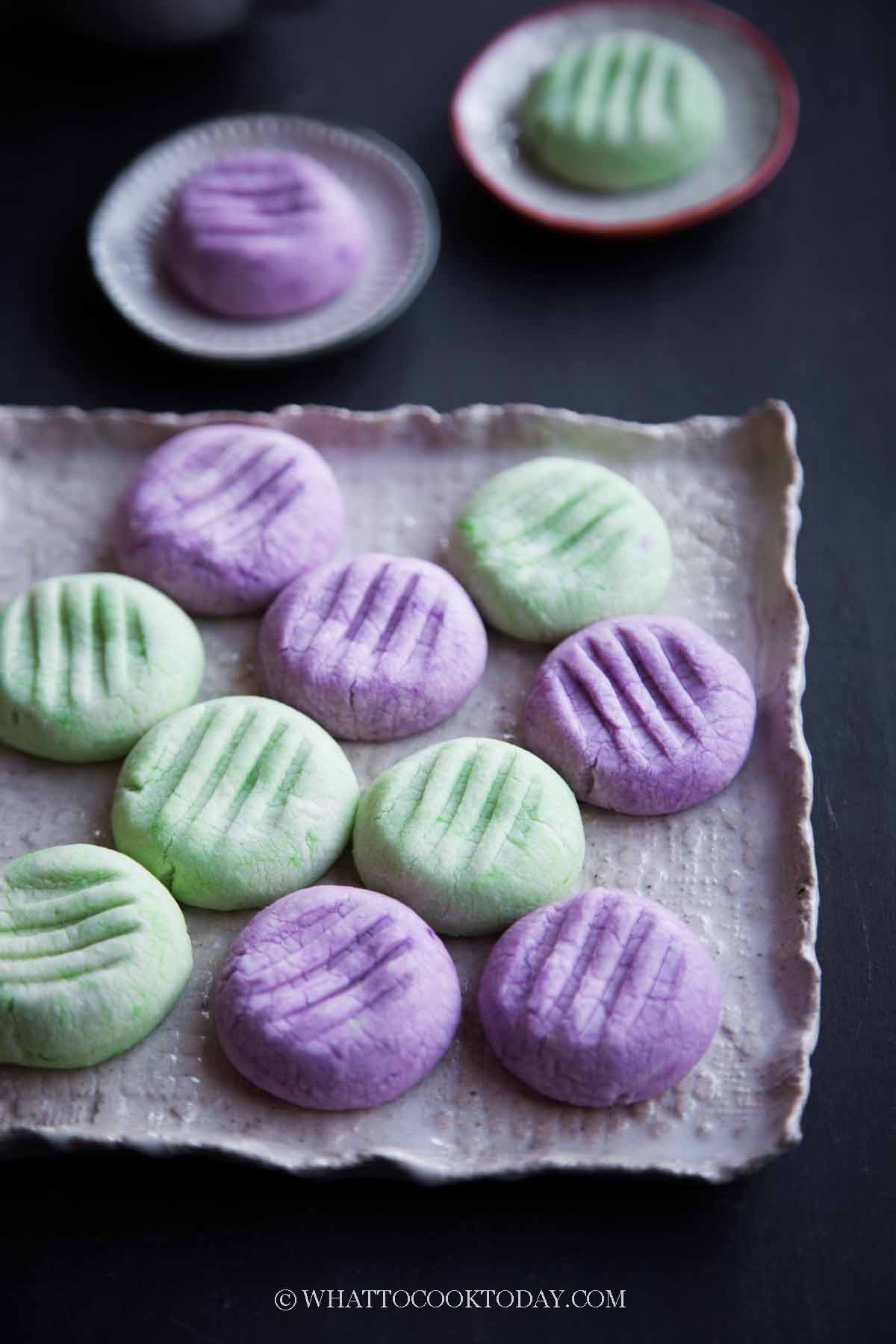 The recipe rundown
1. Taste: They are sweet and buttery
2. Texture: Soft, crumbly, and literally melts in your mouth
3. Ease: Easy
4. Pros: It's a pretty straightforward recipe and doesn't need any kitchen gadgets
5. Cons: These cookies are hard to stay away from 🙂
Ingredients
These German potato cookies can be made with only 5 ingredients. If you add flavoring, well 6 ingredients:
1. Butter
Butter is the star ingredient in this recipe. Make sure you get high-quality unsalted butter. If you use salted butter, omit the salt in the recipe
2. Icing sugar
Icing sugar contributes to the melt-in-your-mouth texture. I don't encourage substituting with granulated/caster sugar or another sweetener like honey
3. Potato Starch
Potato starch is different from potato flour. So make sure you get the starch, not the flour. You can substitute with cornstarch, but after testing both versions, the potato starch version is slightly better
4. Cake flour
Cake flour has low gluten content and together with the potato starch will give you that amazing melt-in-the-mouth texture
5. Milk powder
I decided to add milk powder from my recent experiment with this recipe again. I actually like it better with some milky flavor. I use non-fat dry milk powder
6. Salt
I won't omit it if I were you. I love a small pinch of salt in my cookies. If you use salted butter, then omit the salt
7. Flavoring (optional)
I use ube and pandan essence to make two different color and flavors, but you can omit or use vanilla extract if it's easier to find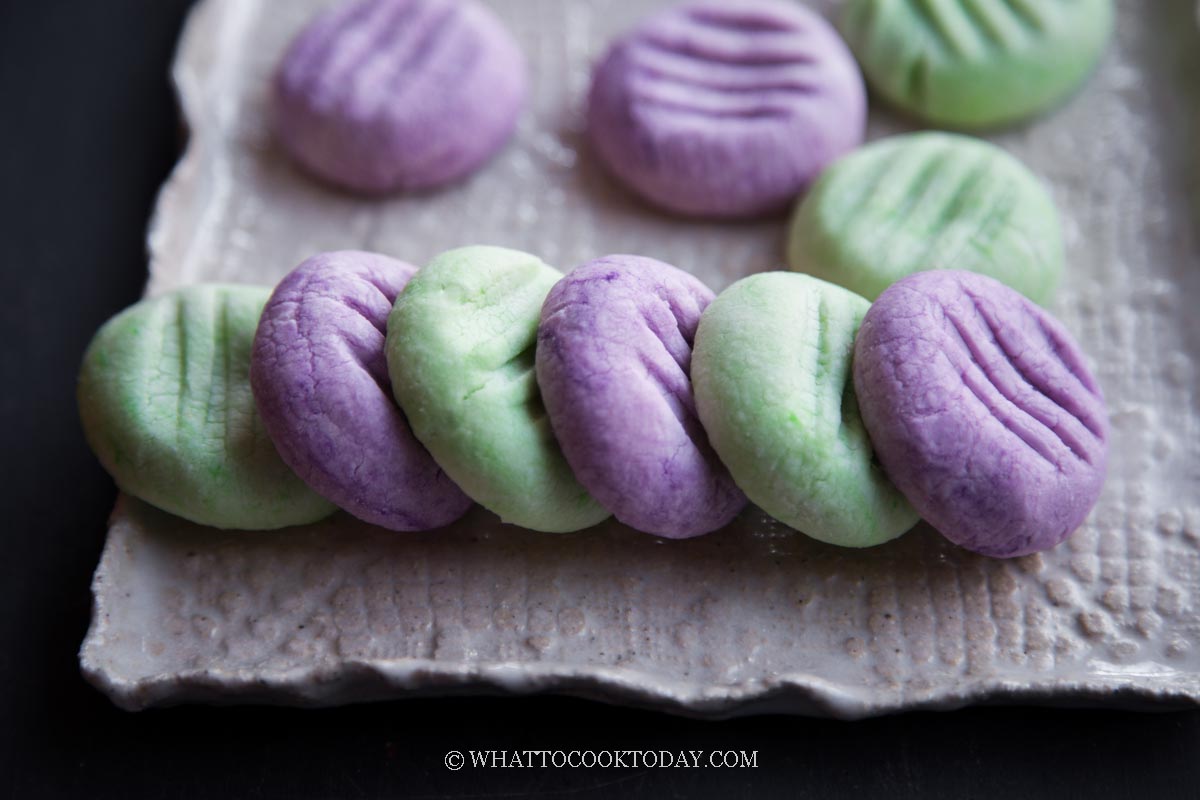 How to make melt-in-your-mouth German potato cookies in few simple steps
1. Preheat oven to 325 F (160 C). You are welcome to use a mixer but I don't feel like it's necessary to use one. Make sure the butter is soft. You can easily mash with a spatula. I took the butter out from the fridge and cut it up into smaller pieces and they are soft in about 30 minutes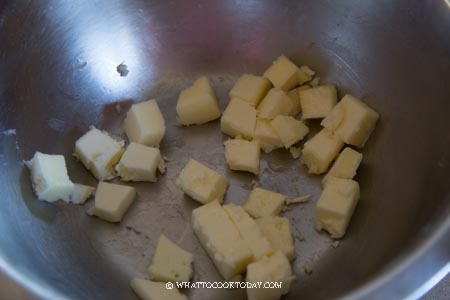 2. Mash the butter with a spatula. It should be soft enough for you to do so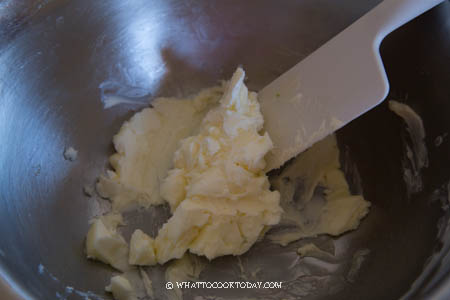 3. Add icing sugar, salt, flavoring (if you choose to use), and stir until combined.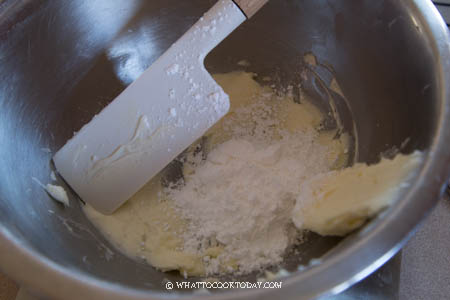 4. Stir until combined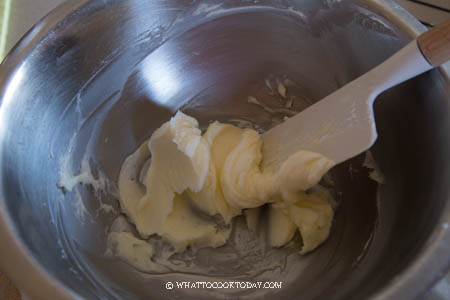 5. Sift in potato starch , cake flour, and milk powder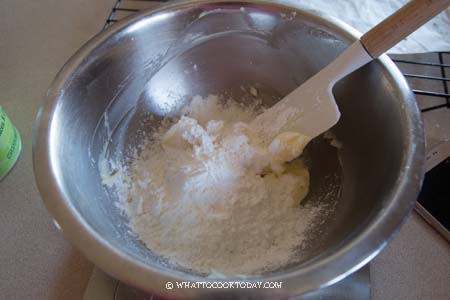 6. Stir to combine until it forms a soft dough, but not sticky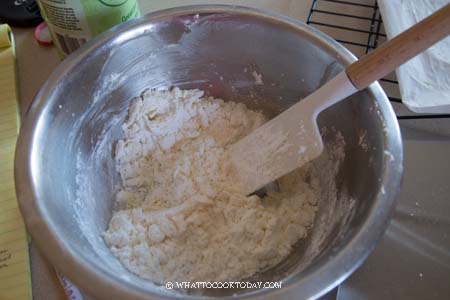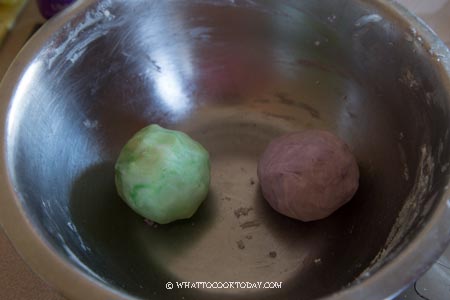 7. Divide the dough into about 10-15 grams each, I get about 25 cookies. Roll into balls and put on a baking sheet lined with parchment paper, about 1-inch apart. The cookies spread a little but not a whole lot.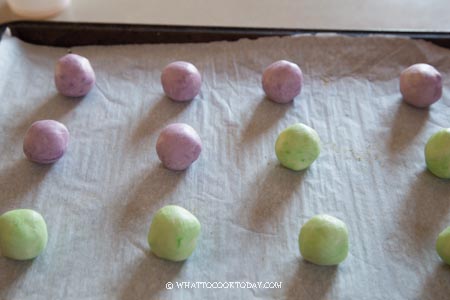 8. Flatten with a fork (dip the fork in a bit of icing sugar to prevent stickiness)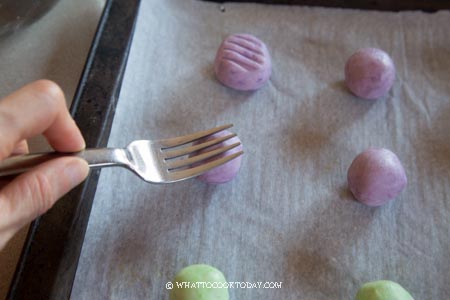 9. Put them in the freezer for 10 minutes before baking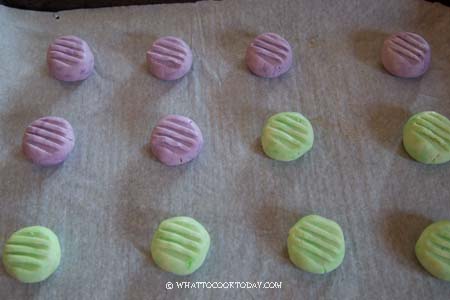 10. Bake in a preheated oven for 15 minutes. The cookies should not turn golden brown, they should be pale in color. Remove from the oven and let them cool down on the baking sheet for 5 minutes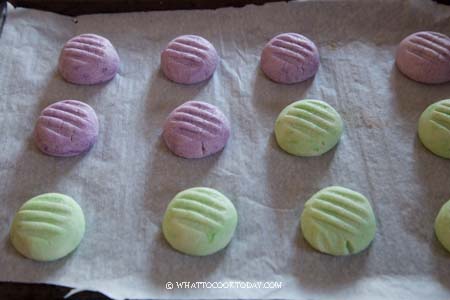 11. Transfer to a cooling rack to let them cool down completely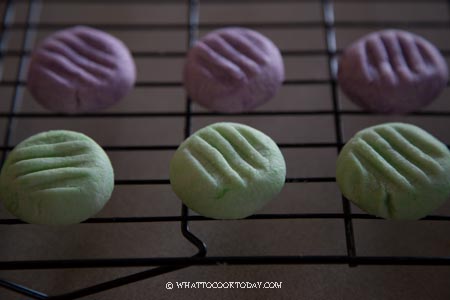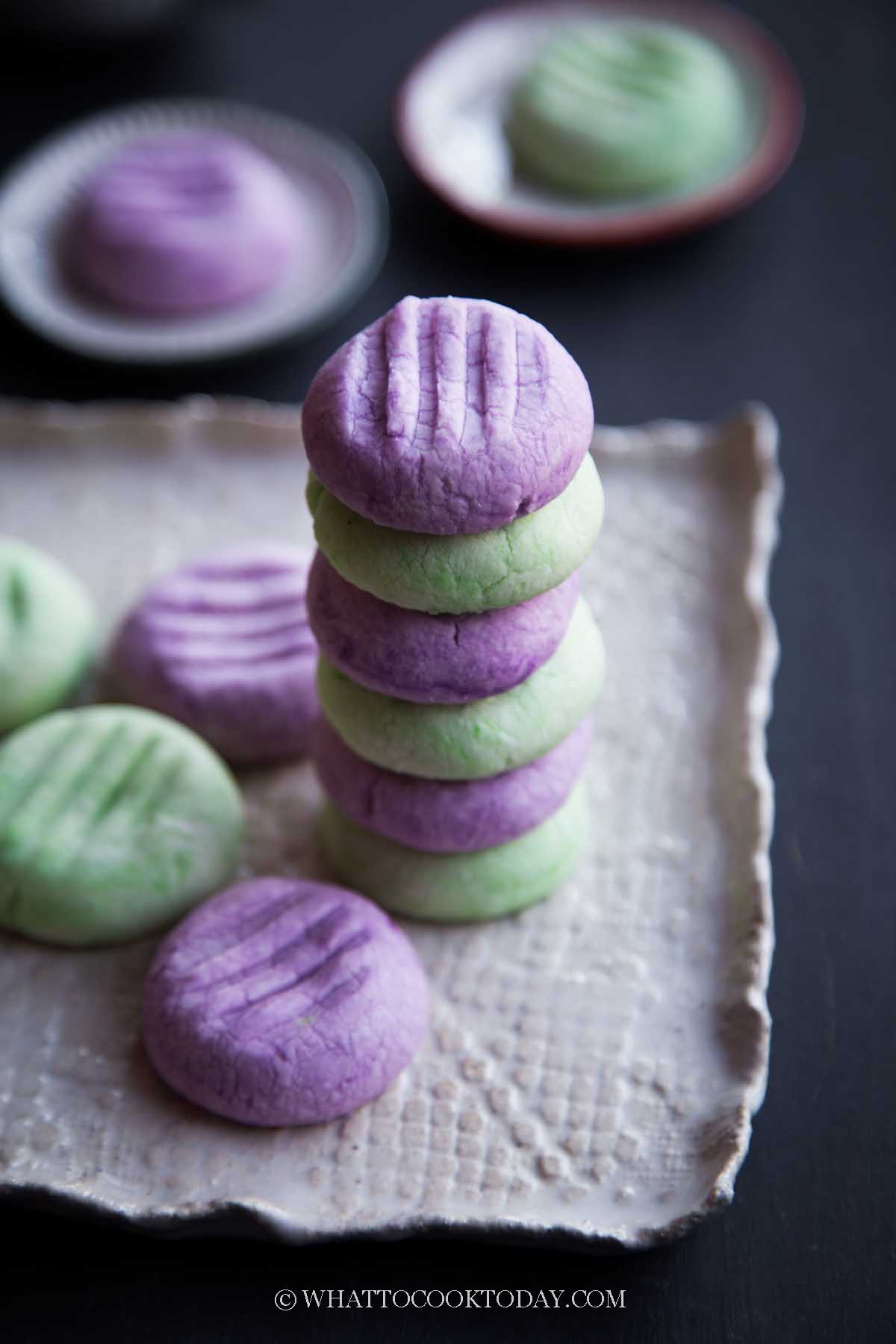 How to make ahead
You can store the unbaked cookie dough in the freezer and pretty much bake them whenever you want to. Here's how:
1. Prepare the cookies as directed up to shaping
2. Place them on a baking sheet lined with parchment paper, not touching each other
3. Place in the freezer for about 30 minutes to 1 hour. The unbaked cookies will harden
4. Transfer to a freezer bag and they won't stick to each other anymore. Push all the air out and seal the bag. I recommend putting into another freezer bag, push air out to prevent freezer burn
5. They can be stored for up to 3 months
6. When ready to bake, you don't need to thaw, but you do need to add 2-3 minutes extra on top of the instructed baking time
Variations
If you want to add a different flavor and not using liquid extract/essence, you can also use a powdered-form flavoring such as cocoa powder, matcha powder, ube powder, beetroot powder, black sesame powder, milo powder etc, simply replace 2 Tbsp of potato starch (20 grams) with 20 grams of the powder flavoring.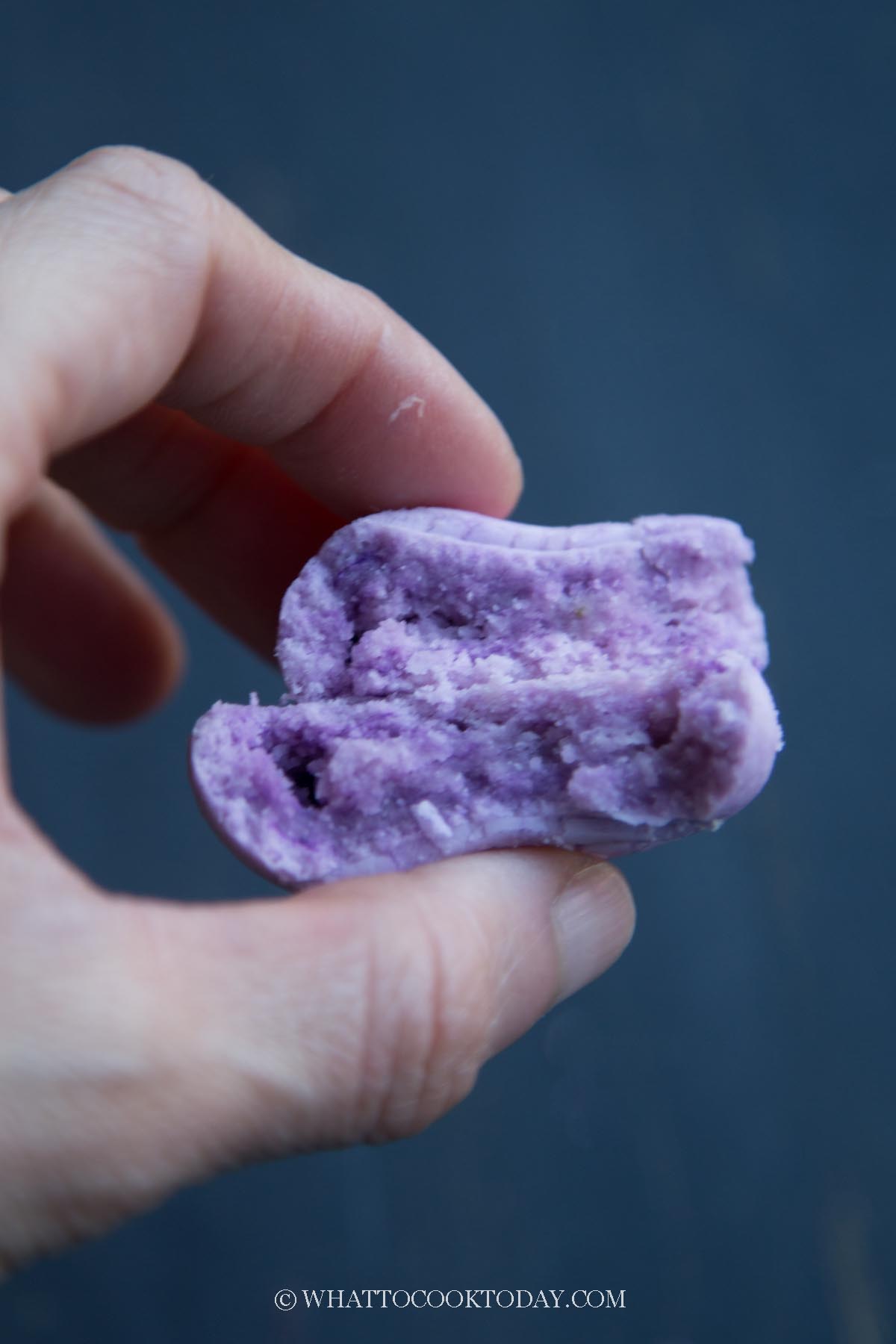 Did you make this Melt-in-your-mouth German Potato Cookies recipe?
I love it when you guys snap a photo and tag to show me what you've made 🙂 Simply tag me @WhatToCookToday #WhatToCookToday on Instagram and I'll be sure to stop by and take a peek for real!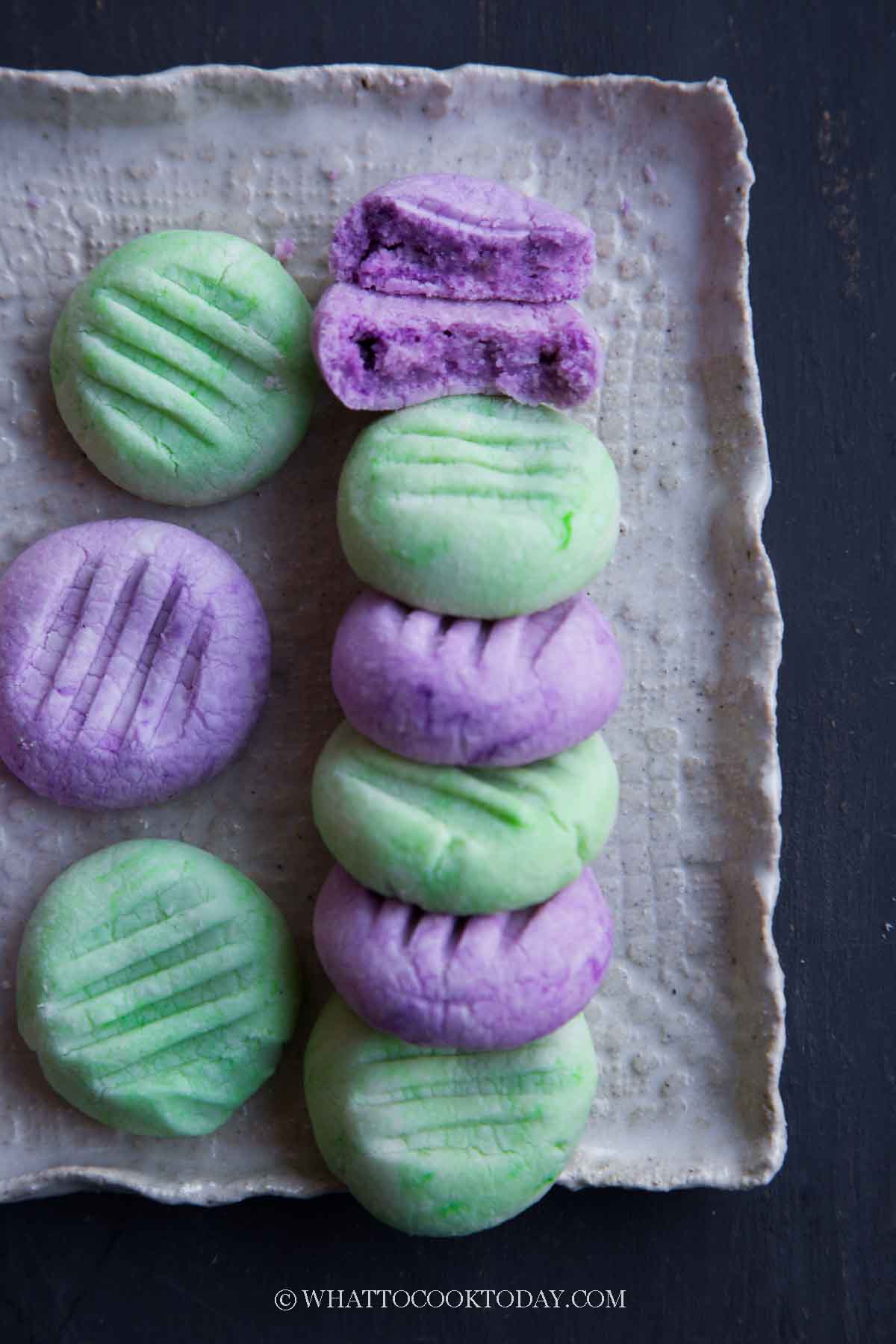 German Potato Cookies (Melting Moments Butter Cookies)
Ingredients
Flavor options (this is optional):
If you want to add powdered flavoring (optional):
Instructions
Prepare the dough:
Preheat oven to 325 F (160 C) for conventional oven. If you have a convection oven, you may need to lower the temperature by 25 F (15 C). You are welcome to use a mixer but I don't feel like it's necessary to use one. Make sure the butter is soft. You can easily mash with a spatula. I took the butter out from the fridge and cut it up into smaller pieces and they are soft in about 30 minutes

Mash the butter with a spatula. Add icing sugar, salt, and stir until combined. Add potato starch, cake flour, milk powder, and flavoring extract (if you choose to use), Stir to combine until it forms a soft dough, but not sticky

Edited: Wrap the dough in a cling wrap and then chill in the fridge for 30 minutes
Shape the dough:
Divide the dough into about 10-15 grams each. Roll into balls and put on a baking sheet lined with parchment paper, about 1-inch apart. The cookies spread a little but not a whole lot. Flatten with a fork (dip the fork in a bit of icing sugar to prevent stickiness). If you feel like the dough has turned out soft from handling too much, put them in the freezer for 10 minutes or longer before baking to prevent them from spreading too much
Bake:
Bake in a preheated oven for 20 minutes. The cookies should not turn golden brown, they should be pale in color. Remove from the oven and let them cool down on the baking sheet for 5 minutes and then transfer to a cooling rack to let them cool down completely

You can sprinkle with some icing sugar on top once they have cooled down if you like
Store:
Once they cool down completely, you can transfer to an air-tight jar or container. They can be kept for 2-3 weeks or so. The baked cookies can be kept frozen. Place them in a freezer bag, push all the air out. I put them in another freezer bag after that. They can be kept frozen for about 1 month for the best result. Simply thaw in the fridge overnight or at the counter until they are soft
Recommended products: