If you enjoy a sweet and savory cake and dessert, you will absolutely love this Filipino bibingka galapong. It has an amazingly rich taste without overly sweet and a nice soft chewy texture and nice ube (purple yam) aroma. It is a naturally gluten-free cake you will love to make often because they are so easy to put together too.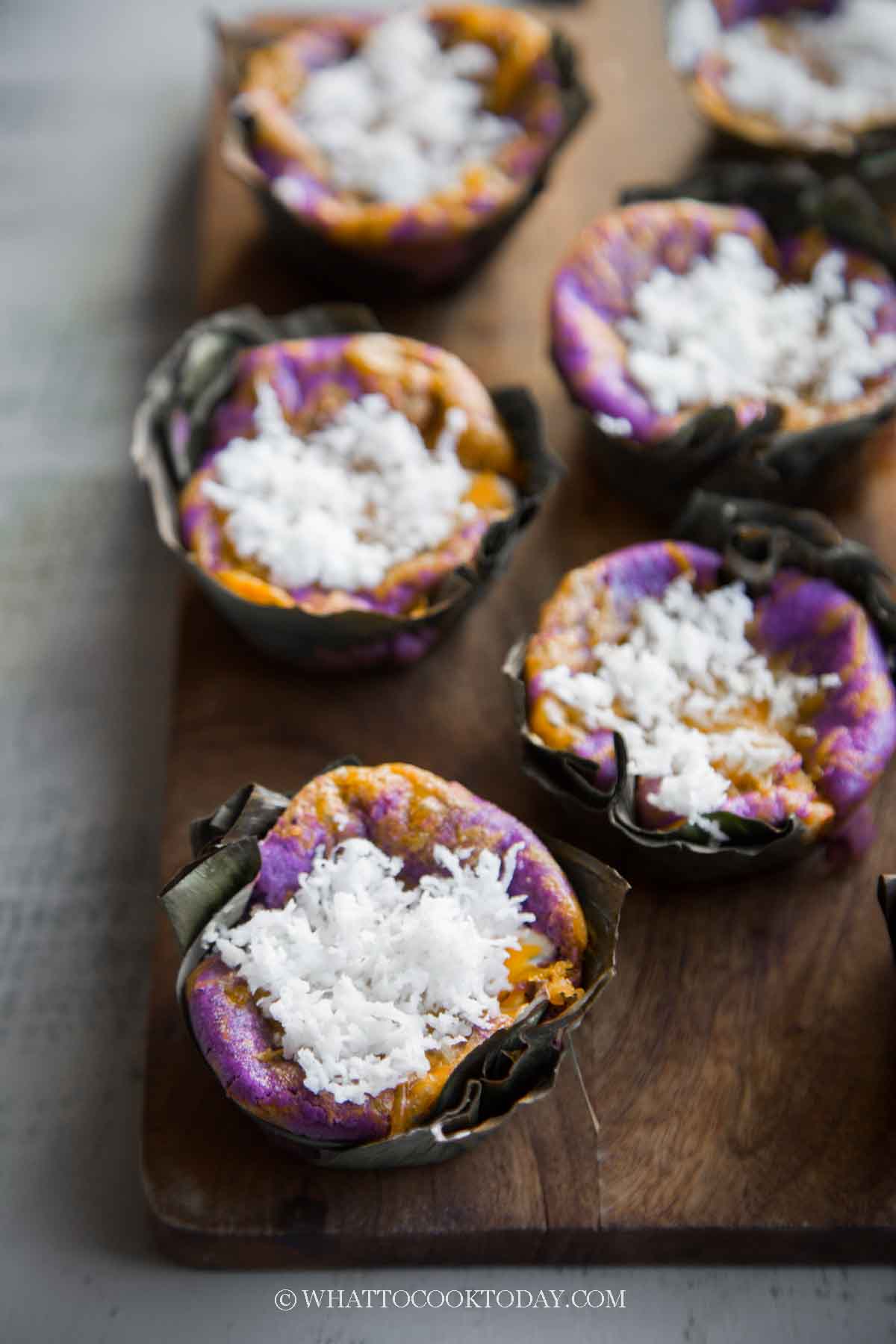 A little background of bibingka
Bibingka is just a general term for Filipino baked rice cake. Galapong refers to fermented glutinous rice paste, though more than often just called rice flour. Bibingka is very popular in the Philipines and I can totally see why. It is absolutely out of this world. It is considered one of the popular Filipino Christmas cakes eaten on the Christmas eve. Some said that the origin of Filipino bibingka can be traced to the Indonesian bibingka, particularly in the regions close to the Philipines border where Christian communities are mostly found. There are bibingka kelapa (coconut version), bibingka ubi (cassava version), bibingka abon (meat floss version), bibingka nenas (pineapple version). Wingko babat/wiwingka/bibika, which is popular in the East Java, is a popular pancake version of bibingka.
How Bibingka galapong is made
Traditional bibingka galapong is made with fermented glutinous rice that has been grounded into a paste-like texture, which gives a slightly sour after-taste, eggs, and water. It is quite a time-consuming cake to bake if you do it the traditional way. The cake is topped with slices of salted duck eggs and then baked in a terracotta container lined with banana leaves over an open fire and the cake is covered with another piece of banana leaves on top.
In this modern-day, bibingka is made with non-fermented glutinous rice flour (mochiko flour) or some just use regular rice flour, coconut coconut milk and eggs. The batter is then baked in the oven using a cake pan or muffin pan lined with banana leaves. Toppings such as butter, slices of salted duck eggs, grated cheese, and grated coconut are added on top.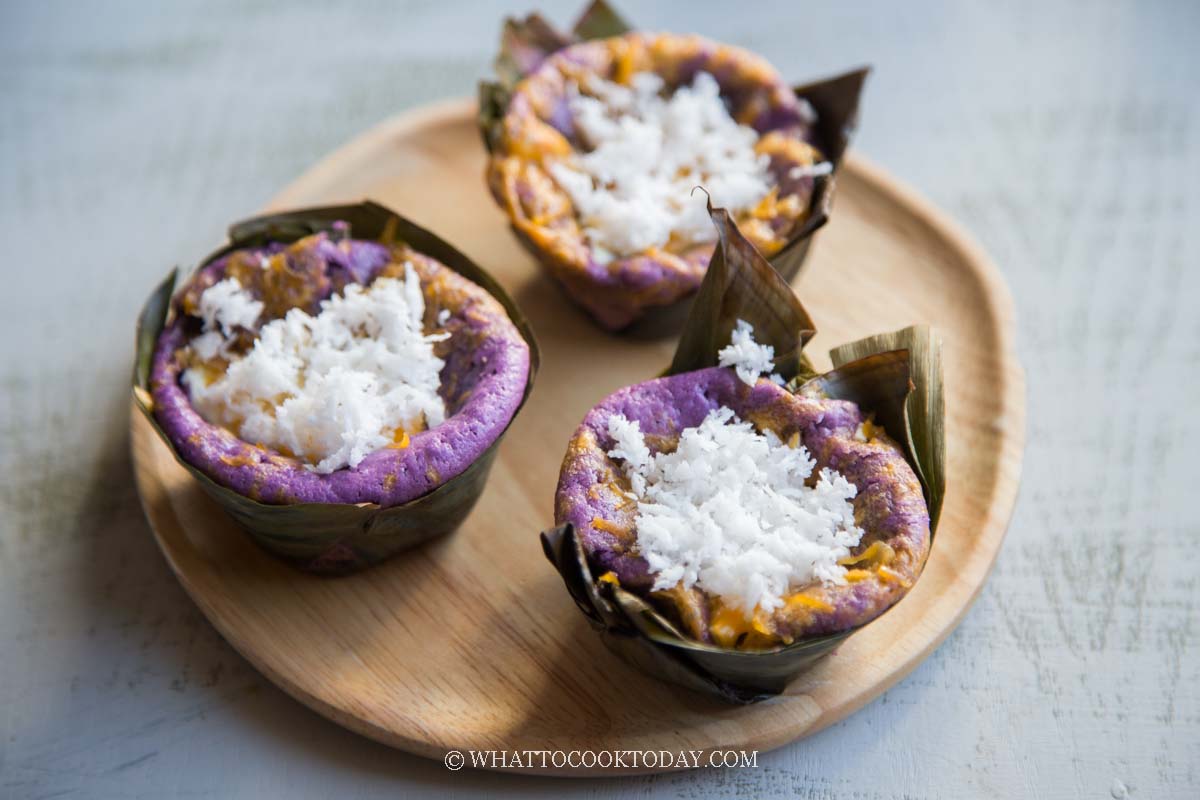 The recipe rundown
Taste: It's not overly sweet and complemented by the savory taste from the cheese and slices of salted eggs. Nice umami aroma from the salted egg yolk and a hint of coconut from the grated coconut. out of this world
Texture: Soft and chewy like a good mochi would
Ease: Easy. It's a very forgiving cake and it's hard to mess it up
Basic Ingredients for ube bibingka galapong
1. Glutinous rice flour (mochiko flour)
Glutinous rice flour is also known as sweet rice flour. Don't be mistaken with regular rice flour
2. Rice flour
Rice flour is made with regular rice ground into a flour
3. Coconut milk
I used canned unsweetened coconut milk
4. Eggs
I use large eggs, about 50 grams each without the shell
5. Ube extract
I use this ube extract, which is the best I've used and known so far. You can simply omit without changing the amount of the other ingredients in the recipe if you don't want ube flavor
6. Baking powder
Baking powder helps to leaven the cake
7. Sugar
I use granulated sugar, but castor sugar or other keto-friendly sugar like allulose or monk fruit sweetener should work too (though I haven't tried them first hand)
8. Salt
I won't omit the salt as a pinch of salt brings out a nice flavor
Ingredients for bibingka galapong's toppings
1. Salted duck eggs
In the U.S., only cooked salted duck eggs are available, which is what we need in this recipe. If you use raw duck eggs, you need to steam or boil them until they are cooked through. You can also make your own salted eggs
2. Cheese
Use shredded or grated cheese. I use mild cheddar cheese, but you can use mild or sharp cheddar cheese, parmesan, edam or your favorite cheese. Some Filipino friends like to use feta cheese crumbles, which is absolutely delicious for bibingka too
3. Grated coconut
Unsweetened grated coconut usually comes in a frozen state in an Asian store. Simply thaw before use
4. Butter
Use unsalted butter.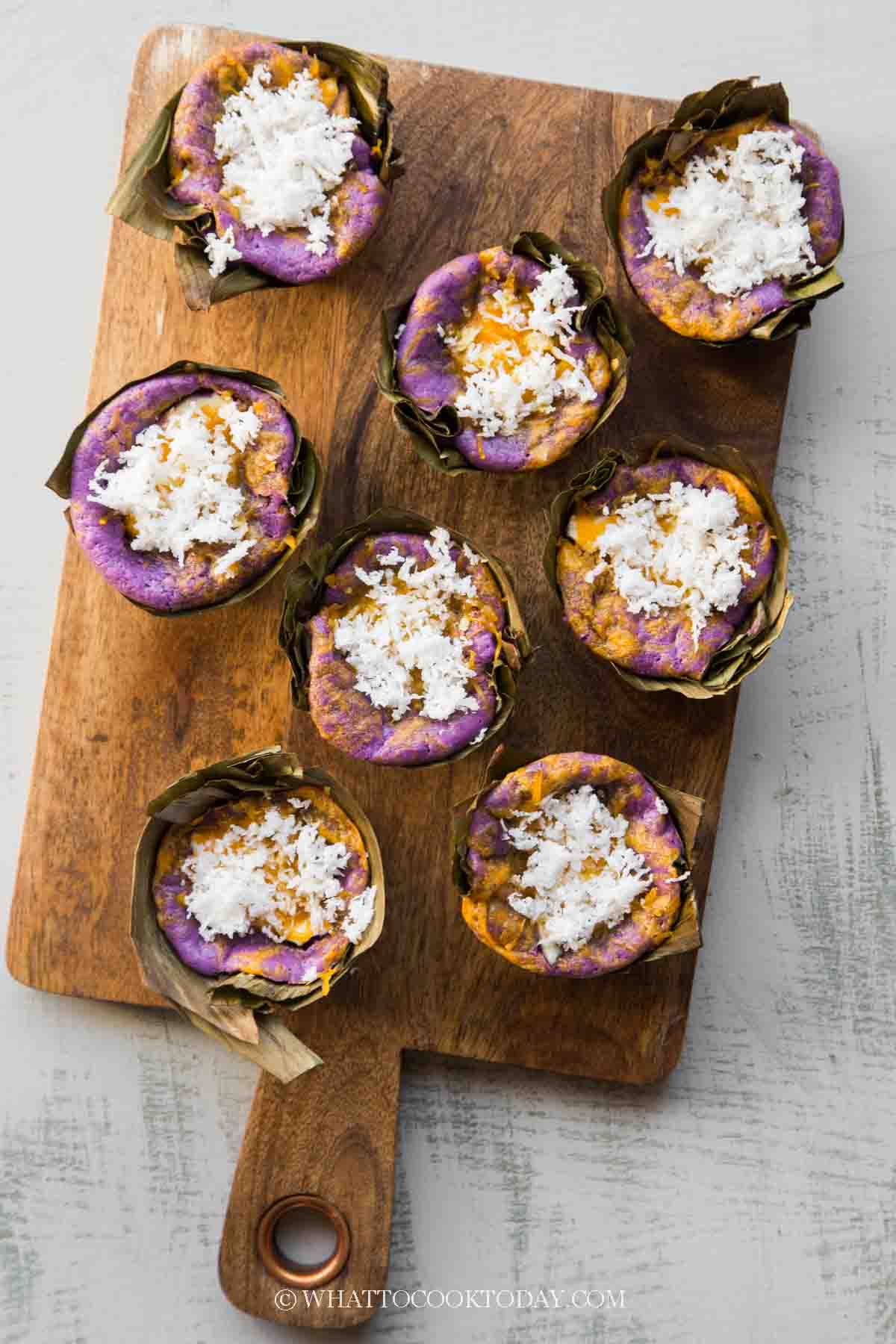 How to easily make ube bibingka galapong
1. Line the muffin tin with the banana leaves, which has been softened by scalding them in hot water, and use kitchen shears to trim off the excess on top but allow a bit extra because banana leaves shrink when you bake in the oven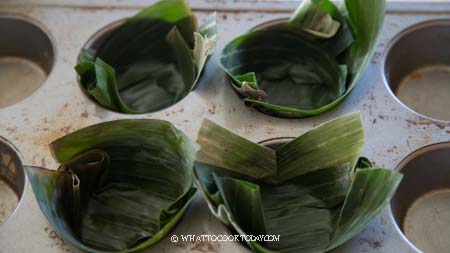 2. Brush the leaves with cooking oil all over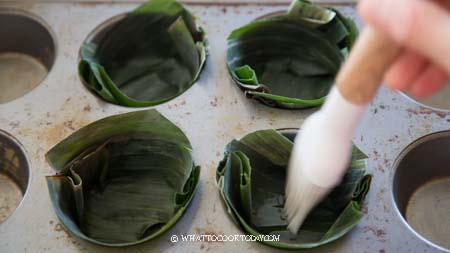 3. Boil the salted eggs until cooked. Peel and cut in half and then cut into 12 pieces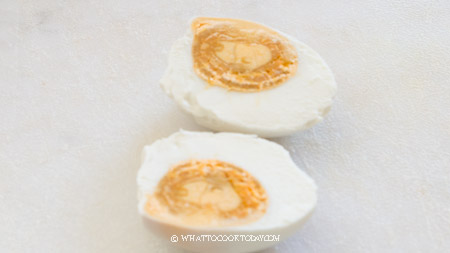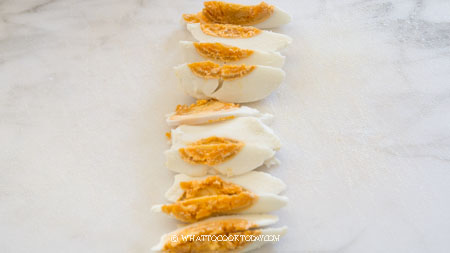 4. Preheat oven to 190 C (375 F). Mix coconut milk, sugar, eggs, melted butter and ube extract in a large mixing bowl. Whisk to combine everything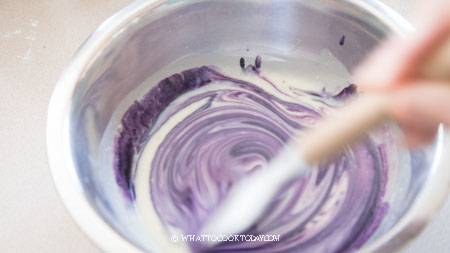 5. Sift in the dry ingredients using a flour sifter or a sieve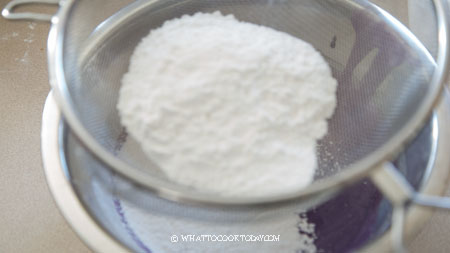 6. Use a rubber spatula to fold the dry ingredients into the wet until they are combined and no lumps are seen. Strain the batter to get rid of lumps if necessary. Alternatively, you can put everything in the blender and blend until smooth. Allow 10 minutes to rest if you use a blender so there won't be so much air bubbles
7. Pour the cake batter into the prepared muffin tins, about 3/4 full. Please don't fill up all the way as the cake will rise and overflow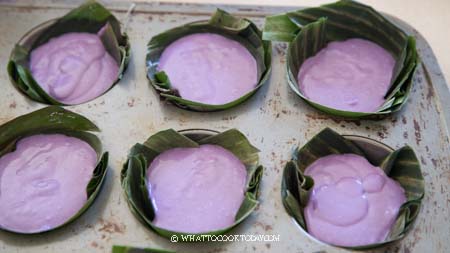 8. Top with half of the shredded cheese and top with one slice of salted egg. Put the tray in the oven, middle rack and bake for 20-25 minutes or until the cake tester comes out clean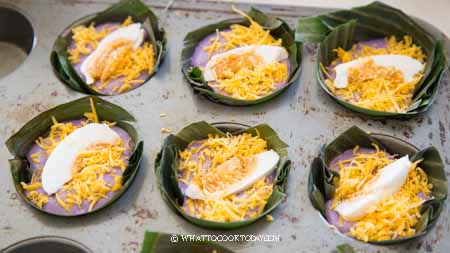 9.  Spread with some butter slices while they are still warm and the butter will slowly melt. Let them cool down completely and they can be kept at room temperature for 2-3 days.
10. When ready to serve, top with more shredded cheese and grated coconut. I suggest only add these toppings when you are ready to serve them as grated coconut spoils easily and can't be kept at room temperature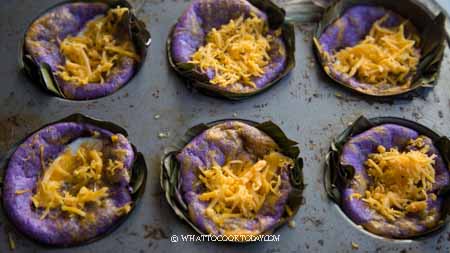 How to store leftover bibingka galapong
Room temperature
1. Spread some cold butter on a warm bibingka. The butter will gradually melt
2. Let the bibingka cools down completely
3. Transfer to a container with an air-tight container. They can be kept at room temperature for 3 days. Do not put any grated cheese or coconut topping on top until you are ready to serve
4. Simply put some grated cheese and grated coconut on top when you are ready to serve them
Refrigerator
1. Follow the same step 1 and 2 above. Wrap each bibingka with cling wrap and then put in an air-tight container. They can be kept this way in the refrigerator for about 1 week
2. Simply reheat in the microwave briefly until it is warm to your liking, then top with grated cheese and grated coconut
Freezer
1. Follow the same step 1 above, wrapping each one in cling wrap. Put them in a freezer bag. Push all the air out and then seal the bag. They can be kept this way for the maximum of 1 month. The longer you keep, the quality deteriorates
2. Simply thaw in the fridge overnight before serving and then reheati in the microwave until it is warm and then top with grated cheese and grated coconut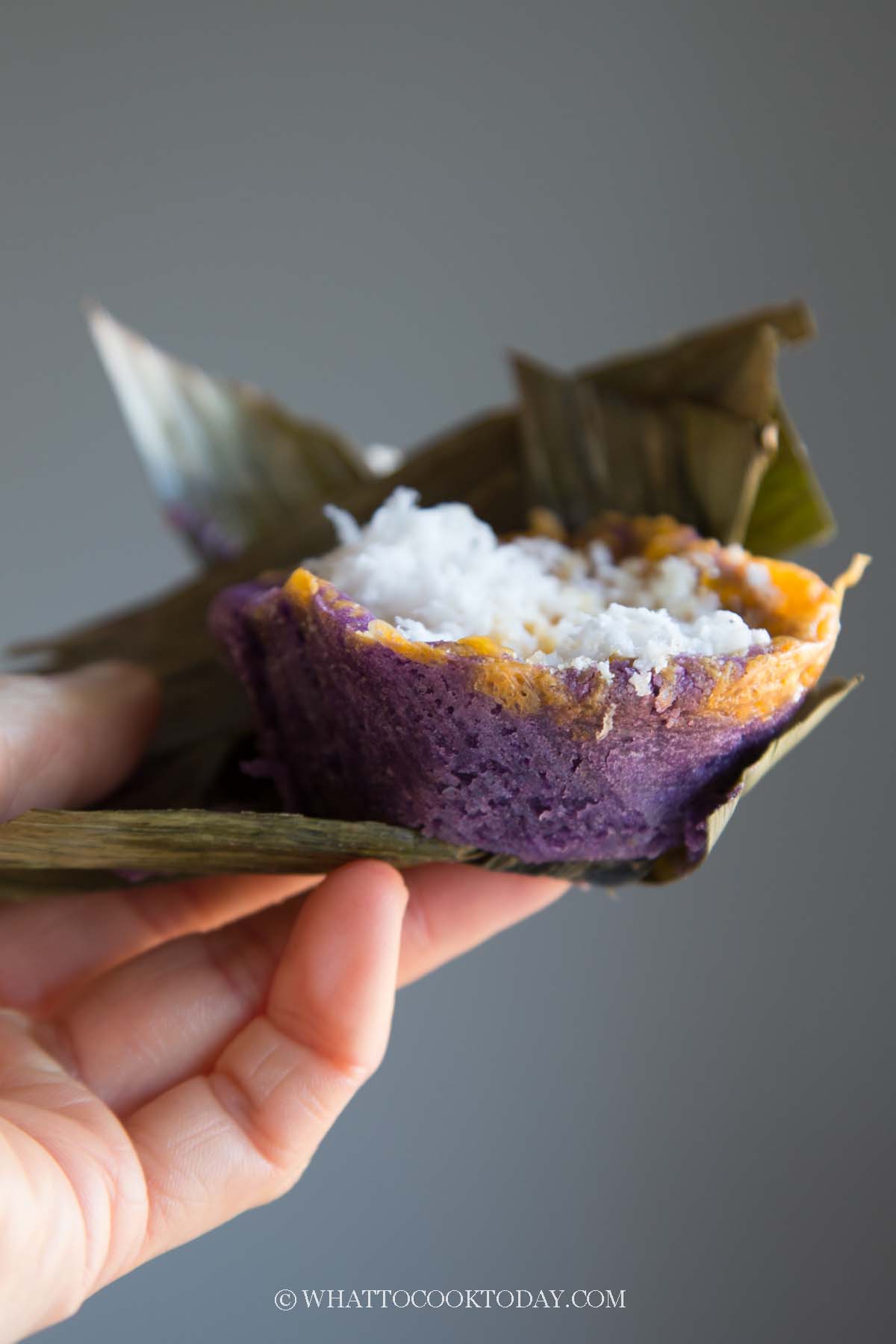 Did you make this Filipino ube bibingka galapong recipe?
I love it when you guys snap a photo and tag to show me what you've made 🙂 Simply tag me @WhatToCookToday #WhatToCookToday on Instagram and I'll be sure to stop by and take a peek for real!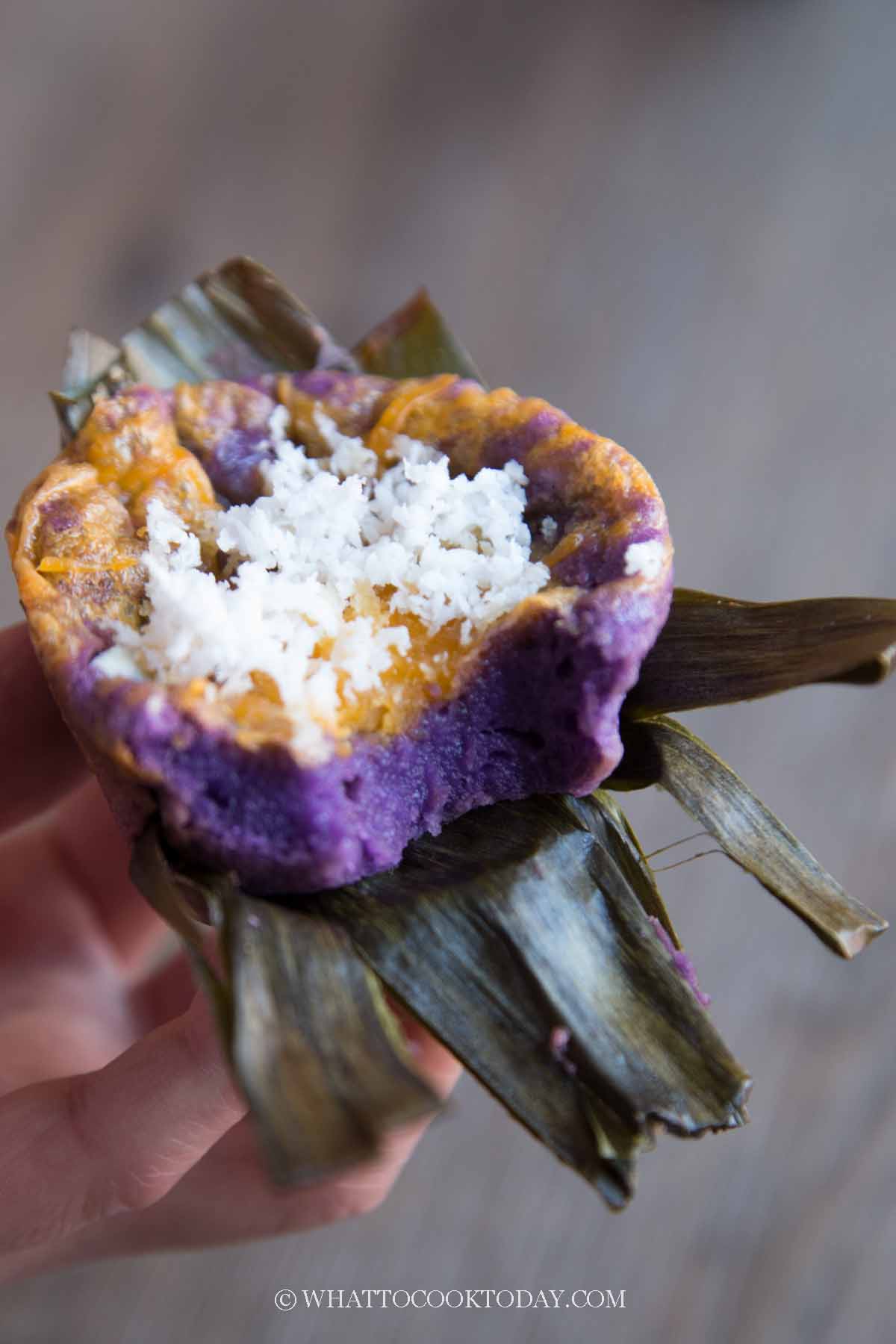 You may also like these recipes using ube
The recipe was originally published in 2011 and now updated with a really good and easy recipe, photos, and video on December 9,2020.
How To Make Bibingka Galapong / Filipino Baked Rice Cake (Ube Flavor)
Ingredients
Wet ingredients:
270

ml

coconut milk

1 cup + 2 Tbsp

113

gr

sugar

1/2 cup + 2 Tbsp

2

large

eggs

from 50-gram egg without a shell

35

gr

melted butter

2 1/2 Tbsp

1

tsp

ube extract
To line the pan:
5

sheets

banana leaves

thaw if frozen

Cooking oil or use melted butter

to brush the banana leaves

Slices of cold butter
Instructions
Steam the grated coconut:
Steam the grated coconut over high heat for 5 minutes. They last longer when you steam them. Set aside to cool down when you prepare other things
Line the muffin pan:
I use a standard muffin tin, which has 12 wells and 2 x 1 1/2 inch in size. Soften the banana leaves by scalding with hot water so they are flexible. Wipe the banana leaves clean with a damp cloth, cut into about 5 x5 inch square pieces. You will need 12 pieces. Allow some extra in case the banana leaves are torn

Line the muffin tin with the banana leaves and use kitchen shears to trim off the excess on top, but allow some extra as the banana leaves shrink when heated. Brush the leaves with cooking oil all over

If you don't have banana leaves, simply use cupcake liners if you like or brush the muffin tins with melted butter or cooking oil to prevent sticking
Prepare the cake batter:
Preheat oven to 190 C (375 F). Mix coconut milk, sugar, eggs, melted butter and ube extract in a large mixing bowl. Whisk to combine everything. Sift in the dry ingredients using a flour sifter or a sieve

Use a rubber spatula to fold the dry ingredients into the wet until they are combined and no lumps are seen. Strain the batter to get rid of lumps if necessary. Alternatively, you can put everything in the blender and blend until smooth. Allow 10 minutes to rest if you use a blender so there won't be so much air bubbles
Bake:
Pour the cake batter into the prepared muffin tins, about 3/4 full. Please don't fill up all the way as the cake will rise and overflow

Top with half of the shredded cheese and top with one slice of salted egg. Put the tray in the oven, middle rack and bake for 20-25 minutes or until the cake tester comes out clean

Spread with some butter slices while they are still warm and the butter will melt. Let them cool down completely and they can be kept at room temperature for 2-3 days
Serve:
When ready to serve, top with more shredded cheese and grated coconut. I suggest only add these toppings when you are ready to serve them as grated coconut spoils easily and can't be kept at room temperature