Savory and sweet sesame seeds dough is shaped into twisted ribbons and then fried until crispy. Such a perfect snack and a popular one for Chinese New Year celebrations.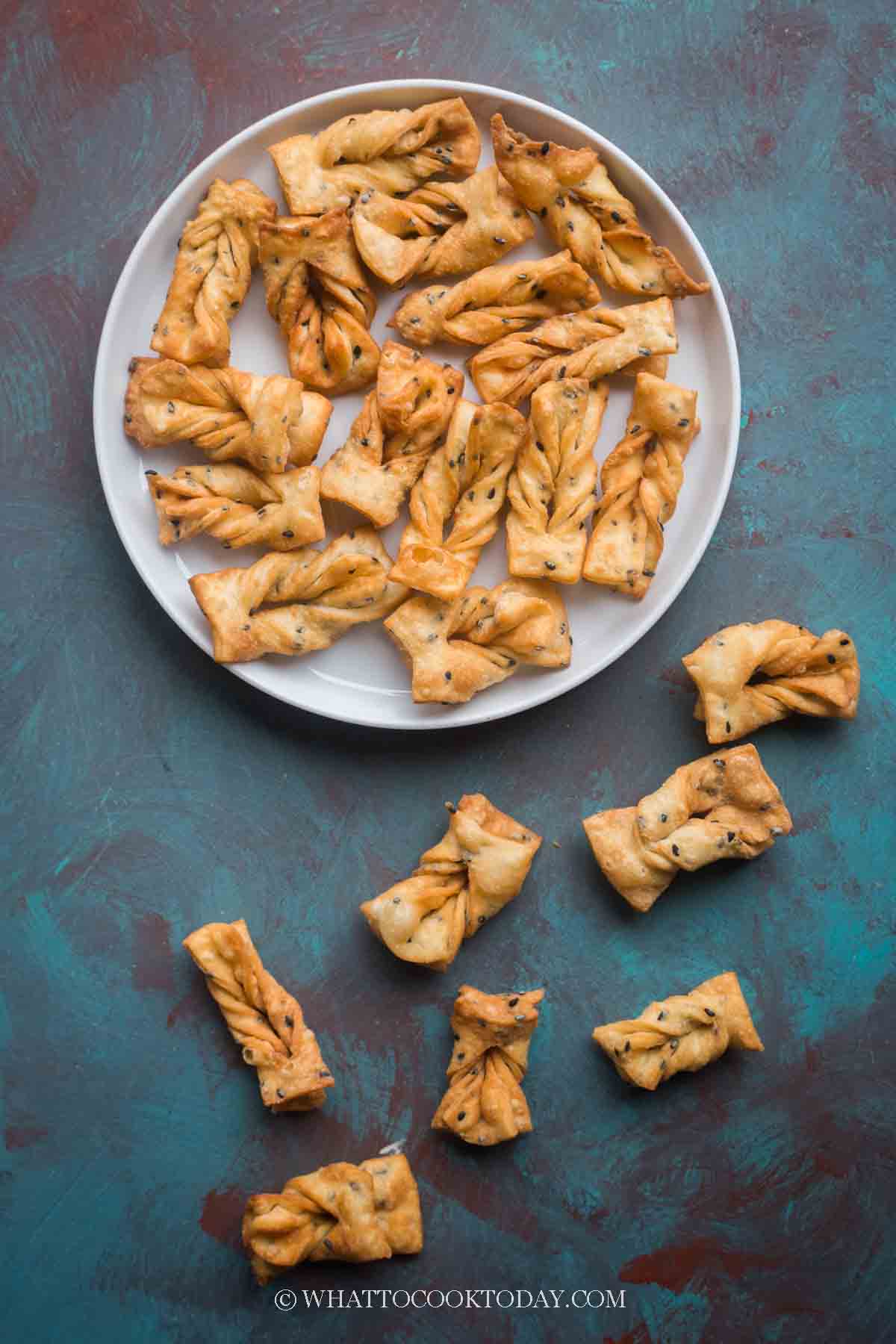 There are so many favorites of mine when it comes to Chinese new year cookies. This sesame ribbon biscuits or some call them sesame ribbon cookies or kuih ribbon, are among my favorites. Similar to Christmas celebration, Chinese new year is also filled with many cookies and other goodies.
What is ribbon biscuit
The twisted ribbons make these biscuits look fancy. They are made from a pretty basic dough flavored with some black sesame seeds. The dough is then rolled out into paper-thin sheet and then cut into smaller sheets to make a twisted ribbons. I use two sheets stacked on top of each other to create those twists.
The recipe rundown
Taste: A nice balance of savory and sweet with a nice nutty aroma from sesame seeds
Texture: Crunchy
Ease: Medium
Pros: They are tasty and addictive and no butter is used
Cons: It can be a time-consuming project
Ingredients
1. All-purpose flour
2. Oil
Any neutral-tasting oil of your choice will work
3. Granulated sugar
You can also use caster sugar
4. Salt
5. Black sesame seeds
I use toasted black sesame seeds, however, if yours are untoasted, it's not a big deal since we will be frying the ribbons anyway
6. Egg yolk

Can I use a pasta roller to roll the dough thin?
Yes, absolutely. I have one but I know the majority of people don't and so I just want to make it without one and it's not too bad rolling it thin manually after resting the dough for 2 hours.
How to make crispy sesame ribbon biscuits
1. Mix flour and oil. Rub the oil into the flour until they form coarse crumbs. This will produce a crispy and flaky biscuit. Add sugar, salt, and sesame seeds.


2. Add 1 egg yolk and water continue to knead until you get a dough. The dough is on the dry side and that's normal. Don't add any more water. Continue to knead until you can form a dough


3. Cover and let the dough rest for 2 hours. When you press the dough it will bounce back very slowly. If it bounces back immediately, rest it a bit longer


4. Divide the dough into two. Keep one covered and work with the other one


5. Flatten the dough and roll it out into a rectangle. It may not be a perfect rectangle and it's okay. You can trim off the excess to make it a neat rectangle. Dust with a bit of flour if it gets sticky. Don't use too much flour, just enough to get through stickiness if needed


6. Roll it as thin as possible, almost paper-thin


7. Use a knife to cut into rectangles about 1 x 3 inches


8. Stack one rectangle on top of the other. Fold into half


9. Use a knife to make a small slit


10. Unfold it back and you have a hole in the middle now


11. Take one corner and pass it through the hole and pull it through


12. You have just made the twisted ribbon


13. Repeat with the rest


14. Preheat about 2 inches of oil. When you put a skewer in the oil and there are bubbles around it, the oil is ready. Lower the heat to medium and fry the ribbons in batches until nicely golden brown. Put on an absorbent paper towel to catch excess oil


15. Let them cool down completely and then store them in an air-tight container
Did you make this crispy sesame ribbon biscuits recipe?
I love it when you guys snap a photo and tag to show me what you've made 🙂 Simply tag me @WhatToCookToday #WhatToCookToday on Instagram and I'll be sure to stop by and take a peek for real!

Crispy Sesame Ribbon Biscuits (Sesame Ribbon Cookies)
Ingredients
Helpful tool (optional):
Instructions
Make the dough:
Mix flour and oil. Rub the oil into the flour until they form coarse crumbs. This will produce a crispy and flaky biscuit. Add sugar, salt, and sesame seeds. Add 1 egg yolk and water continue to knead until you get a dough. The dough is at the dry side and that's normal. Don't add any more water. Continue to knead until you can form a dough

Cover and let the dough rest for 2 hours. When you press the dough it will bounce back very slowly. If it bounces back immediately, rest it a bit longer
Roll the dough out :
Divide the dough into two. Keep one covered and work with the other one. Flatten the dough and roll it out into a rectangle. It may not be a perfect rectangle and it's okay. You can trim off excess to make it a neat rectangle. Dust with a bit of flour if it gets sticky. Don't use too much flour, just enough to get through stickiness if needed. Roll it as thin as possible, almost paper-thin.

If you have a pasta roller, you can use it to roll the dough out as thin as possible
Shape into twisted ribbons:
Use a knife to cut into rectangles about 1 x 3 inches. Stack one rectangle on top of the other. Fold into half and then use a knife to make a small slit. Unfold it back and you have a hole in the middle now

Take one corner and pass it through the hole and pull it through. You have just made the twisted ribbon
Fry the ribbons:
Preheat about 2 inches of oil. When you put a skewer in the oil and there are bubbles around it, the oil is ready. Lower the heat to medium and fry the ribbons in batches until nicely golden brown. Put on an absorbent paper towel to catch excess oil

Let them cool down completely and then store in an air-tight container and they should stay crispy for weeks