Make this airy and crispy kue lidah kucing or known as katte tong in Dutch. It is one of the popular kue kering for Chinese New Year or Eid Mubarak celebrations in Indonesia. No cetakan or loyang needed.
In Indonesian language, lidah means tongue, kucing means cat and hence the name, kue lidah kucing. I remember how my late-grandma loved this kue lidah kucing so much. Every Chinese New Year, kue lidah kucing is a must to have when she was still around. My grandma grew up during the Dutch colonial era and so she's fluent in Dutch and her cooking had heavy Dutch influence. Kue Lidah Kucing is known as Katte Tong in Dutch and brought to Indonesia and being adapted to be kue lidah kucing. I remember grandma had this special mould for these cookies. It's basically a piece of baking tray with wells for you to pipe the batter so that they are neat and the same size. I don't have this special mould, but you don't need one to make kue lidah kucing.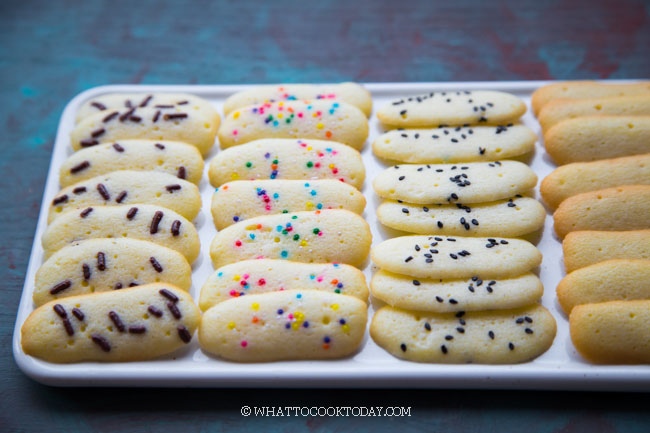 HOW TO MAKE KUE LIDAH KUCING WITHOUT CETAKAN/LOYANG
1. MIX SOFTENED BUTTER AND ICING SUGAR
Use a spatula or a spoon to mix the softened butter with the icing sugar until it's creamy. Set aside


2. PREPARE COOKIE BATTER
Put egg whites, icing sugar, and salt in a mixing bowl. Use a whisk attachment to beat the egg whites until a soft peak forms over high speed, may take somewhere around 5-8 minutes, depending on your mixer


Once a soft peak forms, lower the speed to medium and add 1/3 of the creamy butter mixture into it and 1/3 of the flour mixture and continue until you run out of butter and flour


3. PIPE THE BATTER
Fit the piping bag with a 1/2-inch tip (I used Wilton 2A round tip) Transfer the batter to a piping bag. Use scissors to snip off the tip of the piping bag. If you don't have a piping bag, use a ziplock plastic bag and fill it up and cut off about 1/2 inch of the tip


Start piping the batter onto a prepared baking sheet in one straight line, about 3 inches long and 2 inches apart as the cookie will spread as it bakes


If you choose to decorate, you can add chocolate sprinkles, black sesame seeds, or other toppings of your choice on top


4. BAKE THE COOKIES
Place the baking sheet in the oven, 3rd rack from the top and bake for 10-12 minutes or until the edges of the cookies are golden brown, but not too dark

POSSIBLE VARIATIONS
1. DIFFERENT FLAVORS
I use vanilla extract here, but you can certainly use other flavorings like grated lemon zest or grated orange peel or orange extract, add matcha powder, ground cinnamon, ground cardamom, etc
2. DIFFERENT TOPPINGS
You can use grated lemon zest, grated orange peel, sliced almonds, dip into melted chocolate and sprinkle with sea salt, etc

HOW TO STORE KUE LIDAH KUCING
Let them cool down at on a cooling rack and then transfer to an air-tight container and they will stay crispy for about 2-3 days (depending on how humid it is where you are) and will start to get soften. You can re-crisp them again in an air-fryer at 35- F for 1-2 minutes or in a preheated oven or at 350 F for 5 minutes or so.
These lidah kucing cookies are thin and crispy. The family loves them a lot! I hope you do to if you give them a try!

DID YOU MAKE THIS KUE LIDAH KUCING RECIPE?
I love it when you guys snap a photo and tag to show me what you've made 🙂 Simply tag me @WhatToCookToday #WhatToCookToday on Instagram and I'll be sure to stop by and take a peek for real!

Kue Lidah Kucing (Cat's Tongue Cookies / Katte Tong)
Ingredients
Instructions
Prepare butter mixture:
Place the butter on a counter for 30 minutes or longer to let it softens. You can cut it smaller too to let them soften quicker. Use a spatula to mix it with the icing sugar until it's creamy. Set aside
Prepare dry ingredients:
Mix cake flour, cornstarch, salt, and baking powder in a bowl and stir to mix everything
Prepare cookie batter:
Line baking sheets with parchment papers. Preheat oven to 320 F (160 C). Let egg whites come to room temperature by placing them on a counter for 30 minutes before you plan to make the cookies

Put egg whites, icing sugar, and salt in a mixing bowl. Use a whisk attachment to beat the egg whites until a soft peak forms over high speed, may take somewhere around 5-8 minutes, depending on your mixer

Once a soft peak forms, lower the speed to medium and add 1/3 of the creamy butter mixture into it and 1/3 of the flour mixture and continue until you run out of butter and flour
Pipe the batter:
The batter will be thick but spreadable. Fit the piping back with a 1/2-inch tip (I used Wilton 2A round tip) Transfer the batter to a piping bag. Use scissors to snip off the tip of the piping bag. If you don't have a piping bag, use a ziplock plastic bag and fill it up and cut off about 1/2 inch of the tip

Start piping the batter onto a prepared baking sheet in one straight line, about 3 inches long and 2 inches apart as the cookie will spread as it bakes

If you choose to decorate, you can add chocolate sprinkles, black sesame seeds, or other toppings of your choice on top
Baking:
Place the baking sheet in the oven, 3rd rack from the top and bake for 10-12 minutes or until the edges of the cookies are golden brown, but not too dark

Remove from the oven and let them sit on the baking sheet for one minute and then transfer to a cooling rack to let them cool down completely. The cookies will be airy and crispy