Make this super easy and delicious sweet and nutty old-fashioned hup toh soh for Chinese New Year celebration. This recipe doesn't use lard or shortening.

The mention of hup toh soh reminds me of childhood. These old school Chinese walnut biscuits are my favorites. They are fragrant, crispy, nutty, sweet, with a hint of saltiness..so good! Hup Toh means walnuts in Cantonese, but to my surprise after reading on the internet that old-fashioned hup toh soh has no walnuts in them! Then why the name? Well, nobody really knows the answer for sure I think, but some said it could be because of the appearance of the biscuit look like walnuts? Well, walnut or not, I love them!

THIS VERSION OF HUP TOH SOH
I've seen many recipes and each of them is pretty similar and the main differences are mainly in the type of fat, sugar, and leavening agents being used. Some use butter, lard/shortening, or the combination of both. Some use just peanut oil. Some use butter and cooking oil. Some use granulated sugar, some use icing sugar, etc. Some people swear by lard/shortening to make hup toh soh. I supposed that might make the best hup toh soh, but I decided to go with Messy Witchen's Hup Toh Soh. The recipe is simple, uses peanut oil, and there are actually some ground walnuts in there. The recipe is very simple but it's very tasty. The family loves this hup toh soh!

THE SHAPE OF HUP TOH SOH
You will see all kinds of different sizes and shape that people made out there. Traditional hup toh soh is round and slightly flat with crackly edges. Some like to shape their hup toh soh into round balls like a kue skippy (Chinese Peanuts Cookies) I made. I made these hup toh soh smaller in size and use my thumb to gently depress the middle to create the rough crackly edges.

WALNUT FLOUR OR GROUND WALNUT
I just bought ready-made Walnut flour, which is basically a ground-up walnuts. You can use whole walnut and roast them on a dry pan until nutty and then coarsely ground them in a food processor. Avoid overprocessing the walnuts or the oil will sip out and make the dough too wet. If that's the case, you need to scale down on the amount of oil used in the recipe.
HOW TO MAKE HUP TOH SOH
1. MIX DRY INGREDIENTS
Mix all the dry ingredients together and stir to mix


Gradually add oil until you are able to knead into a dough. The dough will be soft and a bit crumbly in texture. I suggest using hand as it is easier


The dough will be smooth and slightly crumbly


2. SHAPE THE BISCUITS
Pinch off about 1 Tbsp of cookie dough and roll into a ball. Use your thumb to gently press the middle to slightly flatten the cookie and to create an indentation in the middle and rough crackly edges. You can add a piece of walnut on top if you like (I didn't)


Place on a baking sheet about 1-inch apart. Brush the cookies with egg wash


3. BAKE THE BISCUITS
Bake in the preheated oven for 15-20 minutes or until golden brown. Let them sit on the baking sheet for 1 minute and then transfer to a cooling rack to let them cool down completely

HOW TO STORE HUP TOH SOH
Once the biscuits have cooled down completely, transfer them to a jar or container with a tight-fitting lid. They can be stored at room temperature for 2-3 weeks.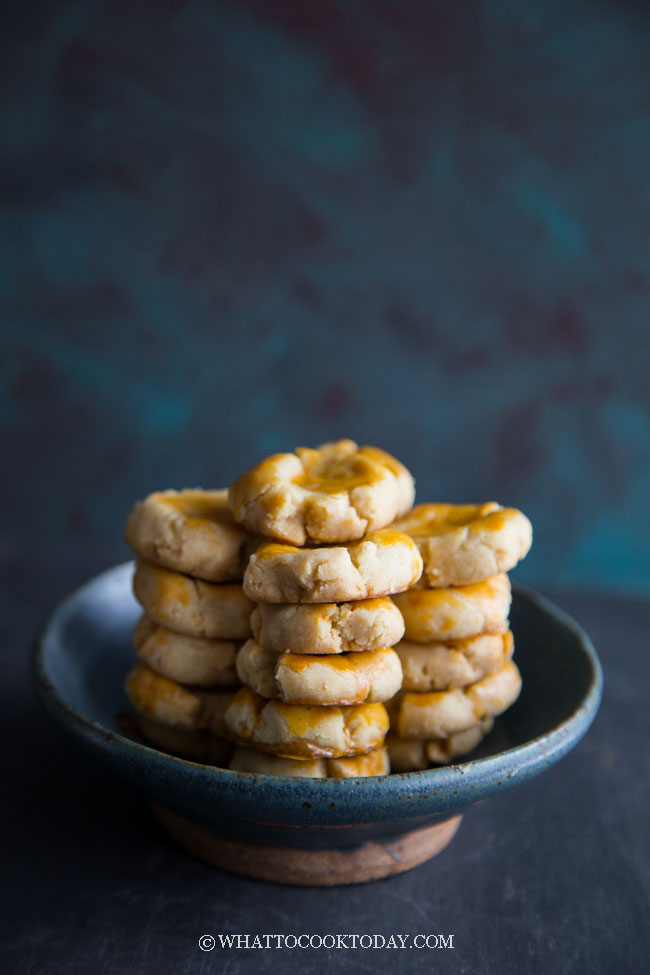 POSSIBLE VARIATION
USE DIFFERENT NUTS: You can use other types of nuts such as almond, pistachio
DID YOU MAKE THIS EASY HUP TOH SOH RECIPE?
I love it when you guys snap a photo and tag to show me what you've made 🙂 Simply tag me @WhatToCookToday #WhatToCookToday on Instagram and I'll be sure to stop by and take a peek for real!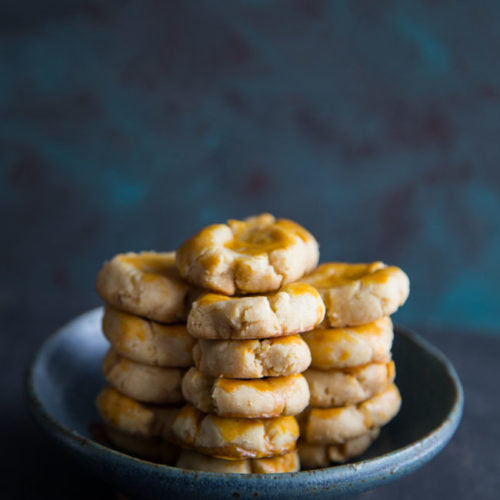 Make this super easy and delicious old-fashioned hup toh soh for Chinese New Year celebration.
For baking/ kueh making: I highly encourage to weigh ingredients with a digital kitchen scale instead of using measuring cups as they are not very accurate especially when it comes to recipe that requires precision.
GRAMS TO CUPS CONVERSION (UNSIFTED)
INGREDIENTS
To decorate cookies (optional):
40

pieces

whole walnut

-

unsalted
INSTRUCTIONS
Prepare the cookie dough:
Preheat oven to 350 F (176 C). Line baking sheets with a parchment paper. Mix all the dry ingredients together and stir to mix

Gradually add oil until you are able to knead into a dough. The dough will be soft and a bit crumbly in texture
Shape the cookies:
Pinch off about 1 Tbsp of cookie dough and roll into a ball. Use your thumb to gently press the middle to slightly flatten the cookie and to create an indentation in the middle and rough crackly edges (as shown in the photo and video). You can add a piece of whole walnut on top if you like (I didn't). Place on a baking sheet about 1-inch apart. Brush the cookies with egg wash

Bake in the preheated oven for 15-20 minutes or until golden brown. Let them sit on the baking sheet for 1 minute and then transfer to a cooling rack to let them cool down completely

Transfer to a cookie jar and secure the lid tightly. They can be kept at room temperature for 2-3 weeks
Notes
You can use 80 gr roasted unsalted walnuts and coarsely ground them 
RECOMMENDED PRODUCTS: