Grilled fish is smothered in flavorful, spicy, and addicting Padang-style sauce.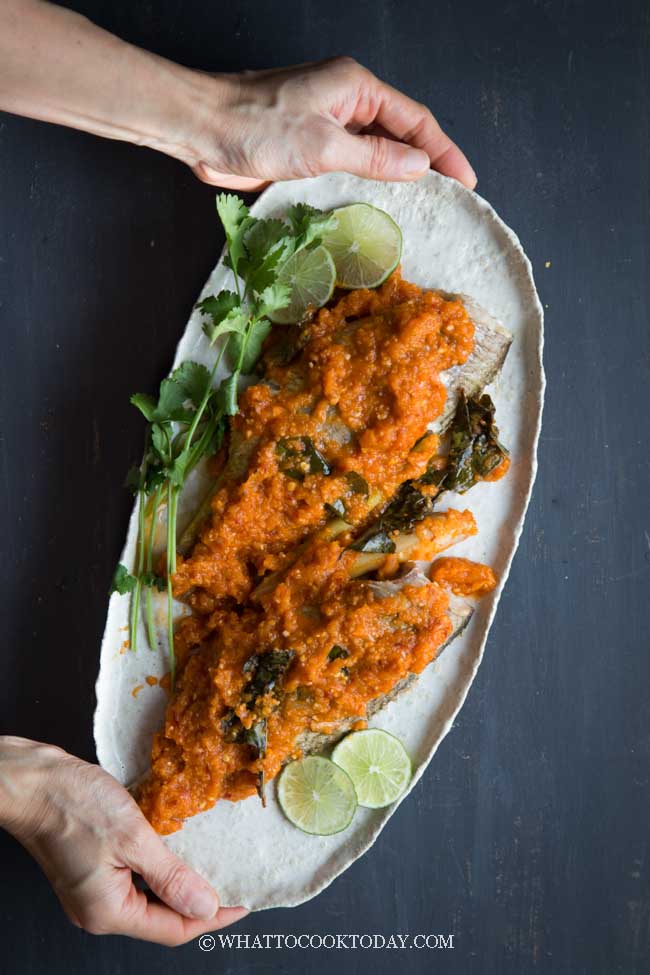 Padang is known for its amazing culinary, intense in flavor and aroma. If you have ever tried Rendang Sapi Padang, you will know exactly what I'm talking about. I've had many people told me how insanely good rendang was 🙂 and I would not argue a bit!
This ikan bakar/panggang bumbu Padang may not be as intense as rendang, but the sauce is still really good.
The fish is baked and then smothered in the sauce and you can broil it in the oven again for that extra "char" if you like. You have to make sure you cook enough rice to mop that sauce 😉
TYPE OF FISH TO USE
1. USE WHOLE FISH INSTEAD OF FILLET
I suggest using a whole fish if you can (even if it's headless, like the one I'm using here). I bought the whole fishes which had been gutted and head removed. We need to have the skin still intact
2. USE YOUR FAVORITE FISHES
I used tilapia here but you can use any of your favorite fishes. Just some ideas: Snapper, Yellow Tail, Seabass
HOW TO COOK IKAN BAKAR BUMBU PADANG
1. MARINATE THE FISH
Once you have scaled and gutted the fish, rinse briefly with water and then pat them dry with an absorbent paper towel


Squeeze some lime juice over and rub on both sides of the body


Cut 3-4 diagonal slits on top of the bodies


Sprinkle with salt, pepper, and coriander powder, rubbing them on both sides of the body. Let them marinate for about 15 minutes


2. BAKE THE FISH
Brush with some cooking oil on both sides


Bake in a preheated oven at 450 F for 20-25 minutes. If you can easily flake the fish, it's done cooking


3. PREPARE THE SAUCE
While the fishes are baking, put all the ground ingredients for sauce in a blender and process into a paste. Add a bit oil to keep it going if needed


Preheat 1 Tbsp of oil


Add the ground up paste and stir fry until fragrant, about 5 minutes


Add the herbs and seasonings. Add about 1/4 cup (or more as needed) of hot water to thin down the thick sauce a bit. Let it simmer for another 5 minutes


4. TOP WITH SAUCE
Once the fish is done baking, pour the sauce on top and you can serve immediately or for an extra step, you can broil the fish briefly in the oven to get that slightly "char" (bakar) look
5. BROIL THE FISH
Turn your broiler to low. Place the fish bake in the oven and let it broil until nicely charred, but not burn on both sides. Do not walk away during this process as they may get burn easily. Serve immediately after that

THE SAUCE IS VERSATILE
You can definitely use the sauce with other types of seafood or meat too. For example: grilled/sauteed shrimp, grilled/sauteed squid, grilled/baked chicken or duck. It's great to be served on a side as a "sambal". It's your call!
MAKE AN EXTRA SAUCE
I like to double or triple the recipe for future use. Here's how:
1. After grinding the ingredients for the sauce, portion them out to one recipe portion and keep in a freezer bag or container
2. When ready to use, simply thaw them overnight in the fridge or submerged in cold water for quick thawing
3. Just proceed per recipe and add the fresh herbs and seasonings
DID YOU MAKE THIS IKAN BAKAR BUMBU PADANG RECIPE?
I love it when you guys snap a photo and tag to show me what you've made 🙂 Simply tag me @WhatToCookToday #WhatToCookToday on Instagram and I'll be sure to stop by and take a peek for real!

Ikan Bakar Bumbu Padang (Grilled Fish in Spicy Padang Sauce)
Ingredients
2

large

whole fishes

scaled and gutted

1

Tbsp

cooking oil

plus more to brush on the fishes later
Ground ingredients for the sauce:
200

gr

red chili

or use 4 Tbsp (or more) sambal oelek

3

Thai chili

optional

4

cloves

garlic

4

shallots

1

inch

ginger

1

inch

galangal

or use 1 Tbsp galangal powder

1

inch

turmeric

or use 1 tsp turmeric powder
Instructions
Marinate the fishes:
Once you have scaled and gutted the fish, rinse briefly with water and then pat them dry with an absorbent paper towel

Preheat oven to 450 F (232 C). Line the baking sheets with heavy-duty aluminum foil. Place the fish. Squeeze some lime juice over and rub on both sides of the body. Cut 3-4 diagonal slits on top of the bodies. Sprinkle with salt, pepper, and coriander powder, rubbing them on both sides of the body. Let them marinate for about 15 minutes
Bake the fish:
Brush the fishes with some cooking oil (the one that can withstand high heat)

Place the baking sheet 3rd rack from the top at bake for 20 - 25 minutes, depending on how big is the fish. If you can easily flake the flesh of the fish, it's cooked through, if not, let them cook a little longer
Prepare the sauce:
While the fishes are baking, put all the ground ingredients for sauce in a blender and process into a paste. Add a bit oil to keep it going if needed

Preheat 1 Tbsp of oil. Add the ground up paste and stir fry until fragrant, about 5 minutes. Add the herbs and seasonings. Add about 1/4 cup (or more as needed) of hot water to thin down the thick sauce a bit. Let it simmer for another 5 minutes. Remove from the stove and set aside
Top with the sauce:
Once the fish is done baking, pour the sauce on top and you can serve immediately or for an extra step, you can broil the fish briefly in the oven to get that slightly "char" (bakar) look
Broil the fish in the oven (optional):
Turn your broiler to low. Place the fish bake in the oven and let it broil until nicely charred, but not burn on both sides. Do not walk away during this process as they may get burn easily. Serve immediately after that
Recommended products: