Learn how to make the real deal Indonesian beef rendang Padang from scratch. All the tips you need to replicate this on the stove or with a pressure cooker.
AUTHENTIC INDONESIAN RENDANG PADANG MINANG
You don't know delicious until you taste authentic rendang Padang. I'm not even kidding! Rendang is one of my most favorite Indonesian dishes. It is one of Indonesia's National Dishes. I remember eating rendang Padang with sweat streaming down my face but yet I couldn't stop because it's so addicting. The rendang sauce with the rice is so freaking good!
THE ORIGIN OF RENDANG
Rendang is originated from the Minangkabau ethnic group in the city of Padang in West Sumatra, Indonesia. It is sometimes known as Randang in Minang dialect. Padang food is known to be one of the most popular in Indonesia, known for its rich taste and incredible flavor. Rendang Padang is one of the super popular ones across Indonesia or even in Southeast Asia or worldwide these days.
WHAT MAKES RENDANG PADANG TASTE SO INCREDIBLE
Just scroll down and take a look at the list of the spices, herbs, and other ingredients and you will understand why it tastes so damn good! The coconut cream is also what makes rendang Padang tasted incredible. It is such a complex flavor that it's hard to describe. It's a loongggg list of ingredients, but I can assure you, it's worth it!!
HOW TRADITIONAL BEEF RENDANG PADANG IS MADE
Traditional beef rendang is also known as the dry rendang. Back in the old days before refrigerator is common, the method of cooking rendang calls "merendang" (slow cooking) is actually to preserve the meat longer. Rendang is cooked in lots of spices, herbs, and coconut cream. As the beef is slowly cooked until tender, it will ooze out the liquid, this liquid is continuously cooked until it evaporates and the oil from the coconut cream separates. The oil will then gently fry the meat. No more liquid in the dish means it can last longer without spoiling and the oil that separates will help to preserve the meat longer too.
WHAT MAKES REAL-DEAL RENDANG PADANG
1. The color
Traditional rendang Padang is dark in color. The spices, the coconut cream and everything else in there will gradually change color as you cook the rendang.
2. The oil separation
Yes, that's one of the key signatures of rendang. The oil that separates from the coconut cream helps to preserve rendang and also adds an incredible flavor to the dish.
WHY YOU'LL LIKE THIS RENDANG SAPI RECIPE
1. TASTE AUTHENTIC
It tastes as good as I can remember it when I had it as a kid.
2. SIMPLIFIED WITHOUT COMPROMISING TASTE
I simplify the recipe by using some ground spices, which are widely available these days, but I can assure you that the end result still tastes amazing.
3. THE BEEF IS PRESSURE COOKED
Traditionally the beef is boiled for hours until tender. I only need 30 minutes to pressure cook the beef until it's tender. I love pressured cooked meat because it's tender in less amount of time.
THE BEEF IS PRESSURED COOKED IN INSTANT POT AND THEN RENDANG IS REDUCED ON STOVE-TOP
Why in the world do I want to do that you would ask! Wouldn't it be more convenient to reduce the sauce right there in the Instant Pot. I tried! While it's possible to do this, it really creates a mess. I can't control the level of heat on the saute mode in Instant pot, which means, the rendang is continuously boiling at possibly high heat and the sauce keep splattering all over. I finally decided to transfer the rendang to a regular pot and reduce it over low to medium heat. It works great! Beef is tender in half the time and less mess.
USEFUL TIPS YOU NEED TO KNOW TO MAKE THE BEST BEEF RENDANG PADANG
1. USE CANNED COCONUT CREAM
In Indonesia, we don't use canned coconut cream. Coconut milk or coconut cream is freshly squeezed at the market. You don't have to do it yourself if you don't want to. No such service here in Minnesota 🙂 You can do it yourself, but not me 🙂 Coconut cream is your best bet! The thick coconut milk with very little water. Here's the one I usually use:


Look how thick the coconut cream is. The bottom part is more watery. I usually use a spoon to carefully spoon the cream out and leave the watery part for other use. The more concentrated the coconut cream, the better because you won't have as much liquid to boil off later while reducing the rendang.
2. CUT OF BEEF TO USE IN RENDANG PADANG
My favorite is with the combination of chuck and shank. Traditionally the rendang Padang doesn't usually include shank. But the shank is so good after it is pressure cooked to tender. You can also make it with just chuck. Chuck is perfect for long cooking. It's a personal preference, but I don't like rendang made with sirloin, but that's just me.
3. SIZE OF THE BEEF
You definitely don't want to cut the beef too small or too large. Try to cut into equal size as much as possible. Cut into about 1 inch (2.5 cm) pieces
4. TOASTED UNSWEETENED GRATED COCONUT
The toasted unsweetened grated coconut adds another layer of flavor to the rendang Padang. You might think this rendang Padang might end up tasting like a bit pot of coconut, but let me tell you it's not. Everything used in to make the rendang just comes together beautifully to give you such a complex rich flavor and taste.
5. SAUTE THE GROUND SPICES FIRST
This is important in most Indonesian cooking. Most ground spices and herbs are usually sauteed until really fragrant and darken in color. This step will amplify the flavor of the dish.
HOW TO MAKE REAL DEAL INDONESIAN BEEF RENDANG PADANG IN A NUTSHELL
1. Grind the spices into coarse paste


2. Saute the paste until really fragrant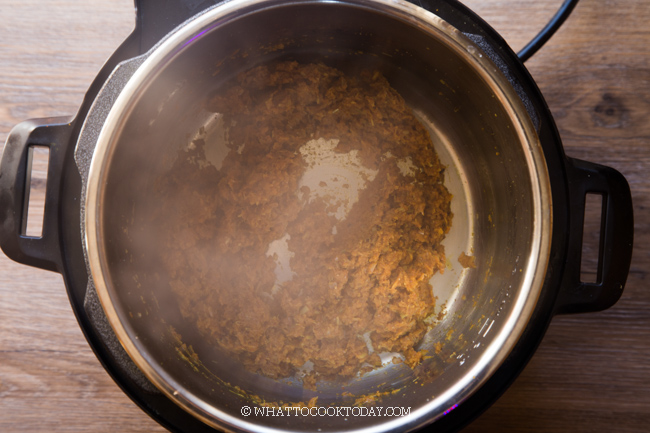 3. Pour the coconut cream in and then add beef


4. Pressure cook the beef for 30 minutes
This, of course, isn't a traditional method, BUT, it saves more time and gives you tender beef without compromising the end result. This was how it looked like after pressure cooking. The coconut cream has actually separate and of course, we have some liquid oozing out from the beef that we need to slowly cook until evaporates


7. Reduce the rendang on stove top
I remove the beef after pressure cooking and transfer the rest to a pot and let it slowly simmer until all liquid evaporates and the oil separates. How dry you want it to be is really up to you. Authentic rendang Padang is really dry, but if you like it more moist with a bit more sauce, you don't have to reduce as long.
8. Add the fried potatoes
I used air-fried potatoes instead of deep-fried potatoes. Frying the potatoes first will ensure that the potatoes hold their shapes and won't turn into mush in the rendang. Add the potatoes in and stir to mix everything.


9. You are done!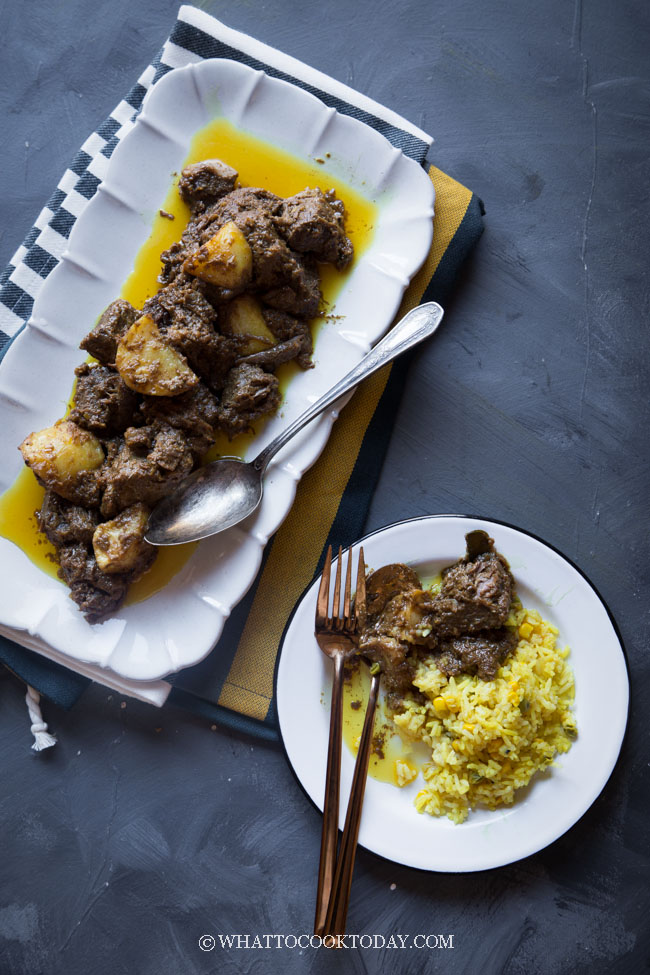 This blog post contains affiliate links. I earn a small commission when you made purchase at no extra cost to you. Learn more.
*Recipe is written for 6-quart Instant Pot. Cooking time should remain the same for 8-quart size but will take longer to pressurize. For mini duo (3-quart), I recommend to half the recipe and use the same amount of time to cook*
Learn how to make the real deal Indonesian beef rendang Padang from scratch. This recipe will be your go-to beef rendang Padang! All the tips you need to replicate this successfully at home on the stove or with pressure cooker.
I highly encourage to weigh ingredients with a digital kitchen scale instead of using measuring cups as they are not very accurate especially when it comes to recipe that requires precision.
GRAMS TO CUPS CONVERSION (UNSIFTED)
INGREDIENTS
3

lbs

beef shank/chuck/rump

-

see notes - cut into large chunks

150

gr

unsweetened grated coconut

3

Tbsp

coconut oil -

or regular cooking oil

500

ml

coconut cream

1

Tbsp

Tamarind paste -

mix with 2 Tbsp of water

2

large

potatoes

-

peeled and quartered
Ingredients to grind into paste:
5

cloves

garlic

-

peeled

5

shallots

-

peeled

200

gr

cayenne peppers

1/2

inch

ginger root

-

peeled

1-

inch

turmeric root

-

peeled, or about 3 tsp ground turmeric powder

1 1/2

inches

galangal root

-

peeled, or 4 tsp of galangal powder

1/4

stalk

fresh lemon grass
INSTRUCTIONS
Things you can prepare ahead:
Roast the grated unsweetened coconut:
Toast the unsweetened grated coconut on a dry pan until it is golden brown and aromatic. Remove from the heat
Grind the ingredients:
Use the "fat" part of the lemongrass and slice into rings. Place the rest of the ingredients to grind in a food processor and ground into a coarse paste
Cook the potatoes (if you choose to include potatoes):
Peel and cut the potato into quarters. You can deep fry the potato or like what I did, I pat the potatoes dry and then toss with a bit of oil and cook in the air fryer at 350F for 15-20 minutes until golden brown and cooked through
Pressure cook the beef first:
Press saute on instant pot. When it's hot, add coconut oil/cooking oil. Add the ground spices and stir fry until really fragrant, about 5 minutes. Add the rest of the herbs and spices. Use a wooden spatula to scrape the bottom of the pot if necessary.

Turn off the saute mode. Make sure nothing gets stuck at the bottom of the pot and you scrape with a wooden spatula if necessary. Add the meat, tamarind paste, seasonings and coconut cream (make sure it's coconut cream and not coconut milk). Give it a stir. Cover the lid. Turn the steam release handle to SEAL. Press pressure cooker and high pressure. Set the timer for 30 minutes

Once the timer is up, do a quick release by turning the steam release handle to venting. I usually loosely cover a cloth on top of the pressure valve so when the steam shoots out, it won't be as "forceful". Once the valve collapses all the way down, open the lid and remove the beef pieces onto a serving platter. Turn the saute mode on and stir in the grated coconut and continue to cook until the sauce reduces and thickened. Pour this on top of the beef pieces
Transfer to a large pot:
Transfer the rest to a large pot and bring to a boil on the stove and then lower the heat to let it gently simmer until all liquid evaporated and you can see the oil separates from the coconut milk. It may take roughly about 1 hour or longer depending how much liquid is in the rendang. Be sure to scrape the bottom of the pot every now and then to prevent anything get burn during this process

Add the fried potatoes in and stir to make sure the sauce is coating the potatoes too. Turn off the heat. The rendang tastes even better the day after.
If you make rendang on stove-top without pressure cooking the beef first:
Use a large pot that has a lid. Preheat your large pot. When it's hot, add coconut oil/cooking oil. Add the ground spices and stir fry until really fragrant, about 5 minutes. Add the rest of the herbs and spices. Use a wooden spatula to scrape the bottom of the pot if necessary

Add the meat, tamarind paste, seasonings, roasted grated coconut and coconut cream (make sure it's coconut cream and not coconut milk). Give it a stir and bring to a boil then lower the heat to let it simmer. Cover with the lid and let the beef cook until they are soft and everything started to turn brownish. This may take about 1.5 to 2 hours

You will start seeing oil separates from the coconut too. If the beef is tender, increase the heat to medium and let the rendang continue cooking until all the liquid evaporates leaving you with thick and dark brown rendang. This process may take another one hour, depending on how much liquid in your rendang

Add the fried potatoes in there and stir to mix everything. You are done!
Notes
I personally think the best cut of beef to use for beef rendang is beef shank/beef shin because it has a mixture of tendon and meat and when you cook them long enough (or pressure cooked), it gives you that melt-in-your-mouth texture. But shank is not always available and that's when I use chuck, which works really well too.