This shop has been compensated by Collective Bias, Inc. and its advertiser. All opinions are mine alone. #CerealAnytime #CollectiveBias
I'm one of those people when you ask me to make fried rice or fried noodle or noodle soup is like assembling a peanut butter sandwich. It's literally my lazy meal. I know…I know…you may argue…that is NOT lazy at all. NOT! If you grew up eating fried rice, fried noodles and noodle soup 3/4 of your life, then it is. To me, cooking is pretty "forgiving". Even if they don't come out like what it intended to be, it could become a new revelation of some "newish" dish. Baking…well, baking is in another league for me. See, we hardly ever baked. Oven was a luxury back in my childhood days living in Southeast Asia. Most desserts and breads are steamed as far as I know. Then this blog started 6 years ago and that's when I started to tap into this baking thing. I even own a stand mixer now (it's a big deal, trust me!). Does that make me a good baker ? Heck, no ! I'm just entering the kindergarten or maybe preschool of baking. I enjoy it though. Some days I look at them as challenges I want to tackle. Some days I just need to walk away from the kitchen before I start pulling on my hair.
For the longest time, I've been trying to avoid anything that involved making meringue. I thought I was just setting myself up for failures. But you know what…I think it's probably just inside my head. This voice telling me that I didn't want to mess with meringue. For the past few weeks of kitchen experiments, I found myself enjoyed making meringue-based desserts. This Pavlova for example. They are one of my favorite desserts to make now. The flavoring you can add to it is pretty limitless too. I choose rosewater extract because I just love that hint of sweet flowery smell in such elegant dessert.
Then I found this Post Great Grains Blueberry Morning cereal. My family loves this for breakfast. They are made of whole-grain clusters, real fruit and crunchy almonds. But, I know it has potential beyond just breakfast. The Pavlova is good on its own, but why settle for good if it can be great ? Put the two together….wait a minute, Pavlova and cereal ? Absolutely. They worked! The Pavlova was topped with easy homemade blueberry compote and this Great Grains Blueberry Morning cereal.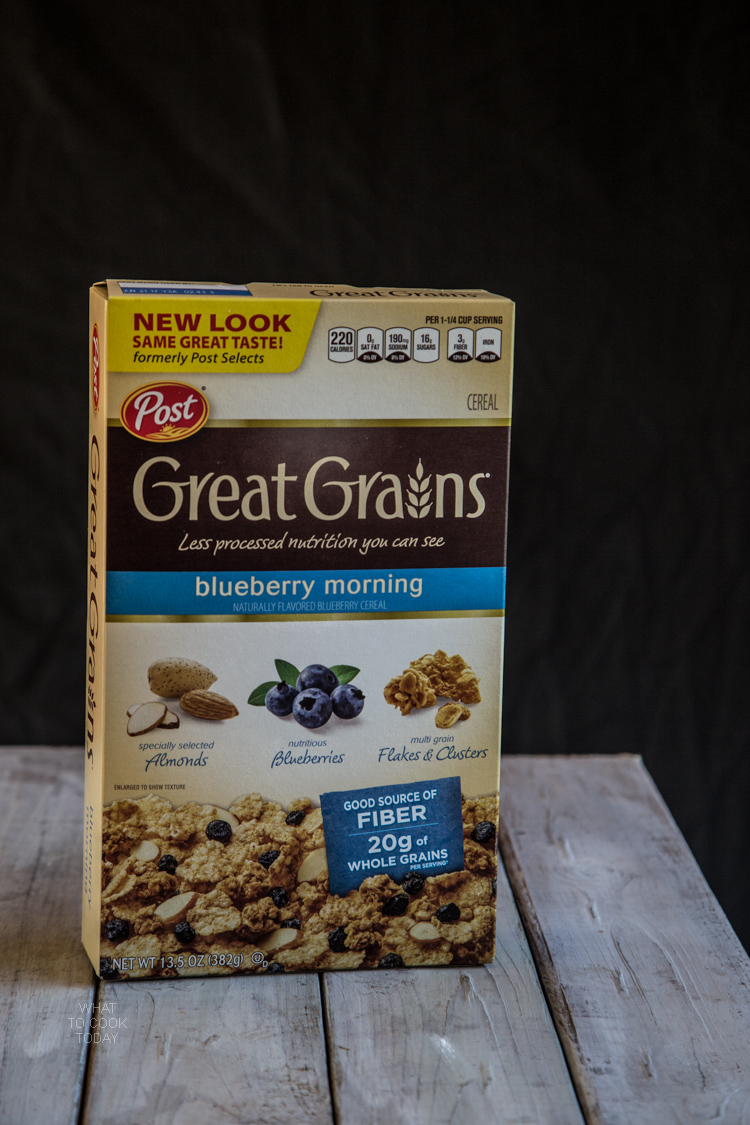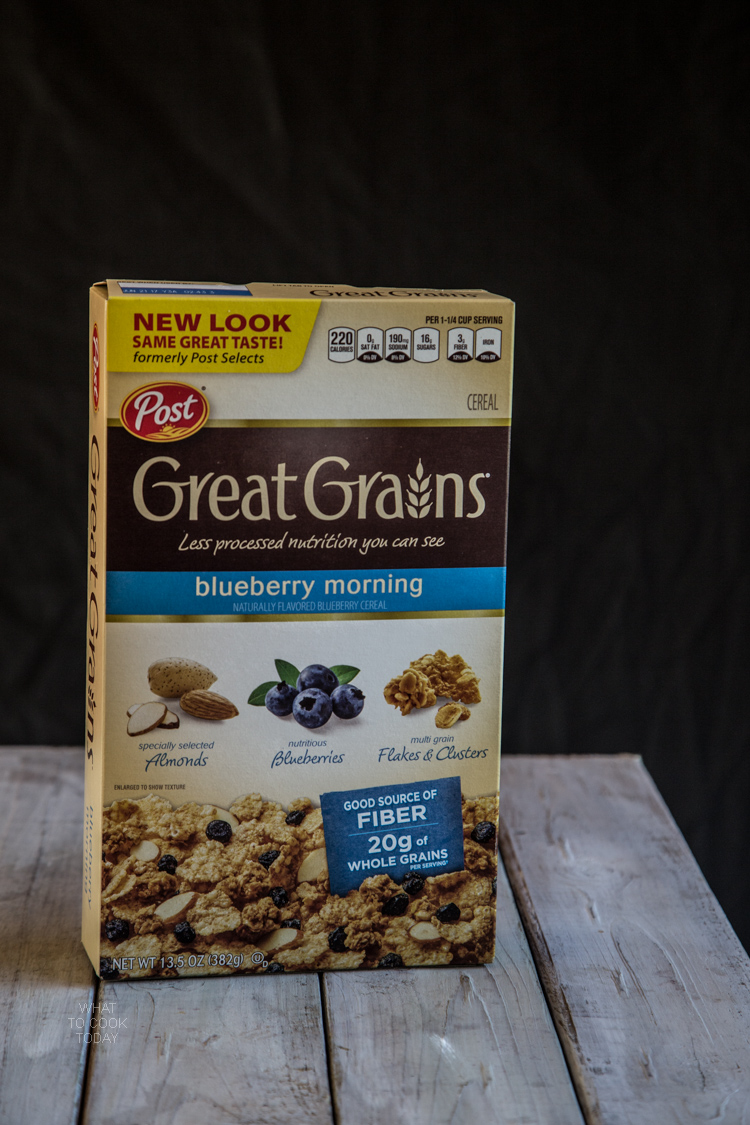 The sweet Pavlova is balanced by the tart blueberry compote and the cereal clusters, the nuts, and the fruits just seal the deal.
Mini rosewater blueberry pavlova (About 16 of 3-inch pavlova)
Ingredients
Pavlova:
1

tsp

vinegar

1

tsp

rosewater extract

2

tsp

corn starch

4

egg whites

room temperature

1 ¼

cup

sugar
Blueberry compote:
10

oz

of fresh blueberries

2

Tbsp

of Balsamic vinegar

3

Tbsp

of coconut sugar/regular sugar

1

tsp

of corn starch
Topping:
Great Grains Blueberry Morning cereal
Instructions
Preheat oven to 300 F. Combine the vinegar, rosewater extract and corn starch in a bowl and set aside. Separate the egg whites from the yolks into a mixing bowl and make sure there are no droplets of yolks or any grease coming into contact with the egg whites. You will have trouble whipping the egg whites later. Beat the egg whites until they are foamy and white using a mixer (stand mixer is best if you have one). Gradually add in the sugar 1 tablespoon at a time and continue to beat until the meringue is glossy and forms a medium peak when you hold it up. Fold in the rosewater mixture until combined, but don't overmix it

You can drop the meringue onto the parchment-lined baking sheets using spoons to form a roughly 3-inch circle and about 1-inch apart from each other. Use the back of the spoon to create indentation in the middle. If you choose to use piping bag (which I did), spoon the meringue into the bag. Do not fill it up too much and snip the end of the piping back to create this 1-inch hole. Gently pipe out the meringue to form a roughly 3-inch circle and about 1-inch apart from each other. Use the back of the spoon to create indentation in the middle.

Lower the oven temperature to 215 degrees and pop the meringue into the oven. I baked both trays at the same time. One on top and one at the bottom. Bake for the next 1 hour 15 minutes. Turn off the oven and then leave the Pavlova inside the oven for another 1 hour. Remove from the oven to cooling rack to let them cool down completely
While the pavlova is baking, prepare the compote:
Place all the ingredients of the compote in a small saucepan and stir to mix everything. Make sure the cornstarch is dissolved. Place on stove top and bring to a gentle boil and let it simmer away until you can easily mashed the blueberries and the compote is thick. It will thicken further as it cools down. Let it cool down completely before using
Assembling:
Spoon about 1 Tablespoon or so of the compote on top of the pavlova followed by Great Grains Blueberry Morning cereal.

I recommend to top the pavlova with the compote and Blueberry morning cereal as many as you want to eat so the pavlova won't get soggy.
I'm having my little "proud" moment there holding that tray of goodness.
It's hard not to smash into few of them for that rustic, messy, delicious shot.
Stacking them up high always works too.
Taking a few bites is definitely mandatory.
When you are at Walmart, you can find this Great Grains Blueberry Morning cereal at the Breakfast Aisle.
These mini rosewater blueberry Pavlova is definitely my go-to easy dessert.