This shop has been compensated by Collective Bias, Inc. and its advertiser. All opinions are mine alone. #SpreadTheHeat #CollectiveBias
You know I'm sucker for interesting, unusual, or something out-of-the box type of food. I really do. I remember my parents said before when I was a little girl "You are born to eat" (Do they call those people Foodies these days?). I guess it's safe to say that I have a pretty adventurous palates. My husband does too. Food brings people together ? Another thing about us…if there is some sort of "heat" in the food, we totally go for it. Now I believe you start to see where this is leading you to. Strawberry japaleno you see in the title. What ?? Smucker's Fruit & Honey Strawberry Jalapeno Fruit Spread to be exact . OMG! Why didn't I think of something like that ?!? This is a new product from Smucker's.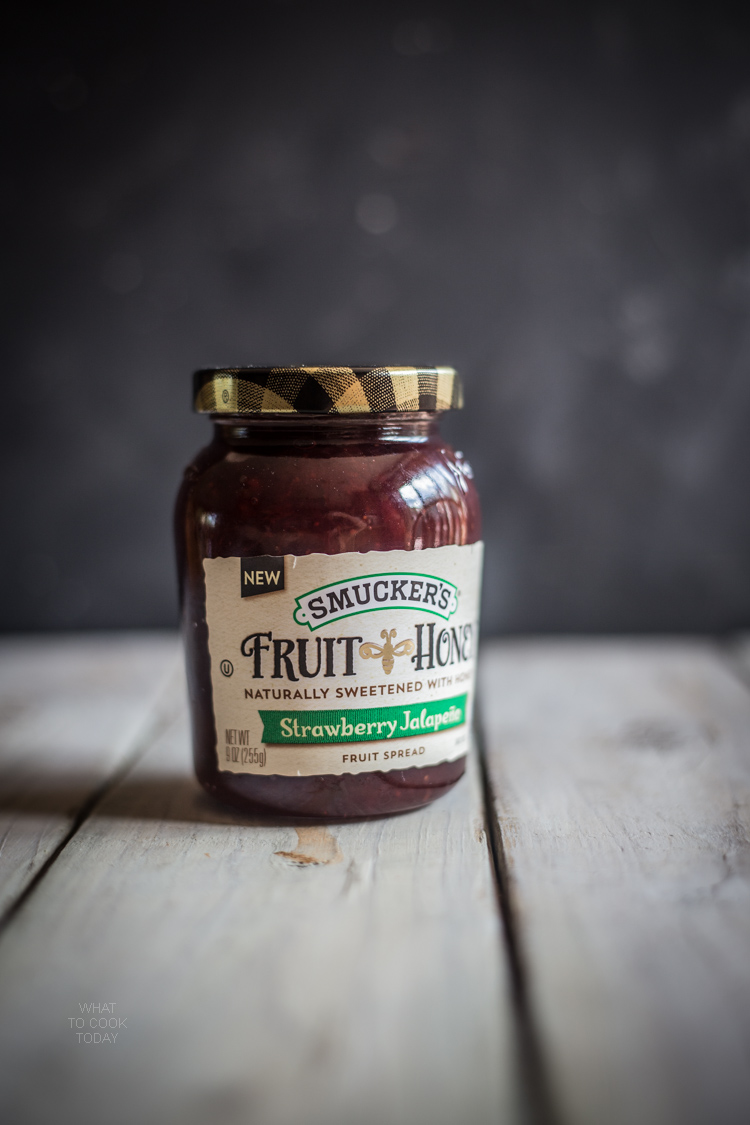 I love the fact that this spread is naturally sweetened with honey and there are no preservatives in the product. Then my brain started to go wild with the food I wanted to eat this Strawberry Jalapeno Fruit Spread with. I would eat them spoonful by spoonful, but…let's keep it real that I wanted it on a food that I could feed the hungry souls. Then this chorizo with chickpeas mash came into the picture. What if….I thought…what if I spreaded this strawberry jalapeno on these sandwiches ? Which I did and served this up for lunch and the husband said "The best combination EVAAA (I think that's his exact words)"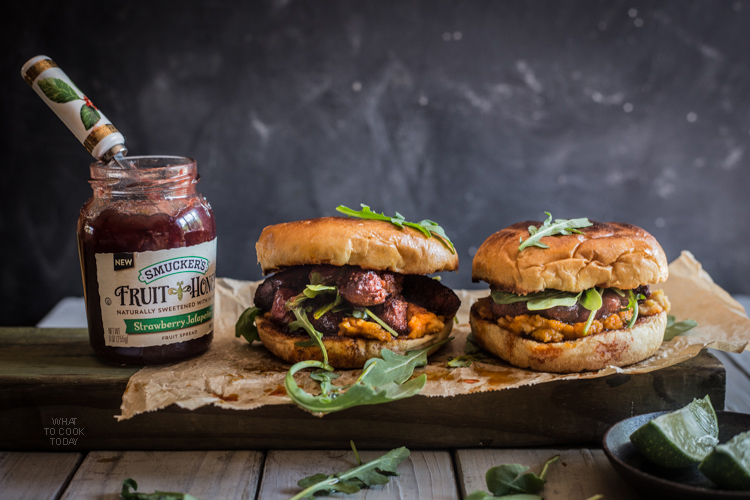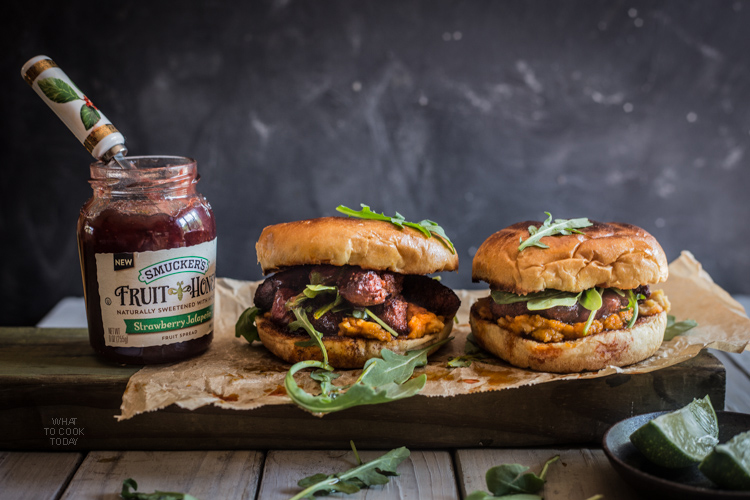 The spread has that heat from the jalapeno which makes it so good. It's not just a hint, but it's not overly hot that it's going to put your mouth on fire! It's just perfect for a chili heat-lover like me! Enough to kick the sandwich up a notch! Just perfect with everything else I put on that sandwich.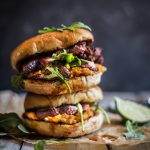 Chorizo with chickpeas mash and strawberry jalapeno sandwich (4 sandwiches)
Ingredients
1

can chickpeas/garbanzo beans

15 oz, drained and rinsed

Juice of 1 lime

½

cup

of olive oil

Salt and pepper to taste

1

lb

of chorizo sausage

1

jar of Smucker's Fruit & Honey Strawberry Jalapeno Fruit Spread

15 oz

5

oz

bag of fresh arugula

4

sandwich buns

I used Brioche buns
Instructions
Making the chickpeas mash:
Place the chickepeas, lemon juice, oil and pinch of salt and pepper into a food processor and process into a smooth paste. Have a taste and season with more salt and pepper as needed. Pour this into a medium saucepan and cook until they boil. Turn off the heat and set aside.
Preparing the chorizo:
You can cook the chorizo sausage on the grill until they they have those nice grill marks or cook them on stove-top with a grill pan or regular pan until they are nicely brown with a little char. Let them rest for about 5 minutes and then slice them at an angle into 1-inch slices
Assembling:
Toast the sandwich buns in a toaster or a pan (it's up to you). Spread both sides of buns with Smucker's Fruit & Honey Strawberry Jalapeno Fruit Spread. Scoop about 2-3 Tbsp or more of the chickpeas mash on top followed by about 4-5 slices of chorizo. Scoop about 2 Tbsp of the Smucker's Fruit & Honey Strawberry Jalapeno Fruit Spread on top of the chorizo. Top with some arugula leaves and finally top with the other bun. Repeat to assemble the rest of the sandwiches
I added some arugula in the sandwich too. Love the peppery arugula. It's just so perfect together.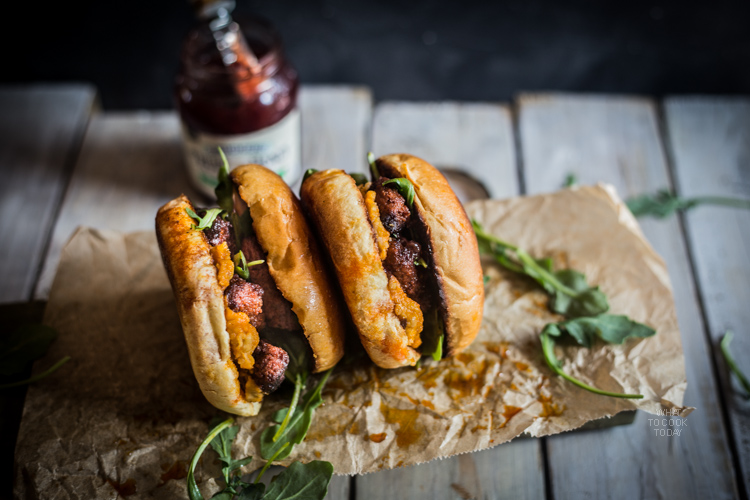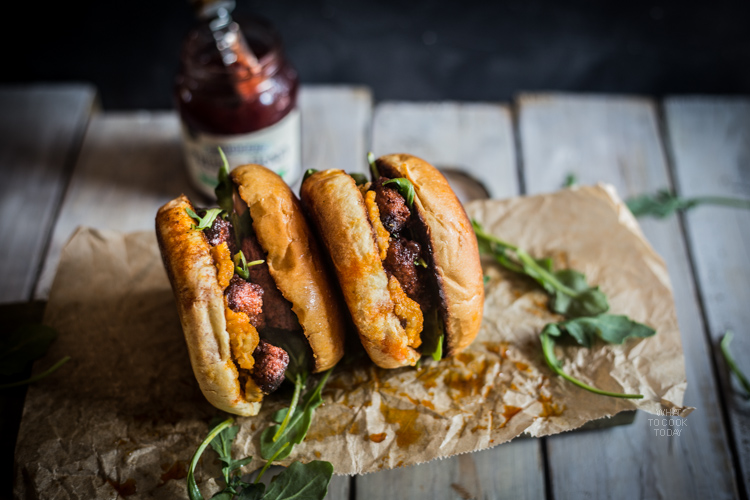 A lunch situation that I just wished could last a little longer.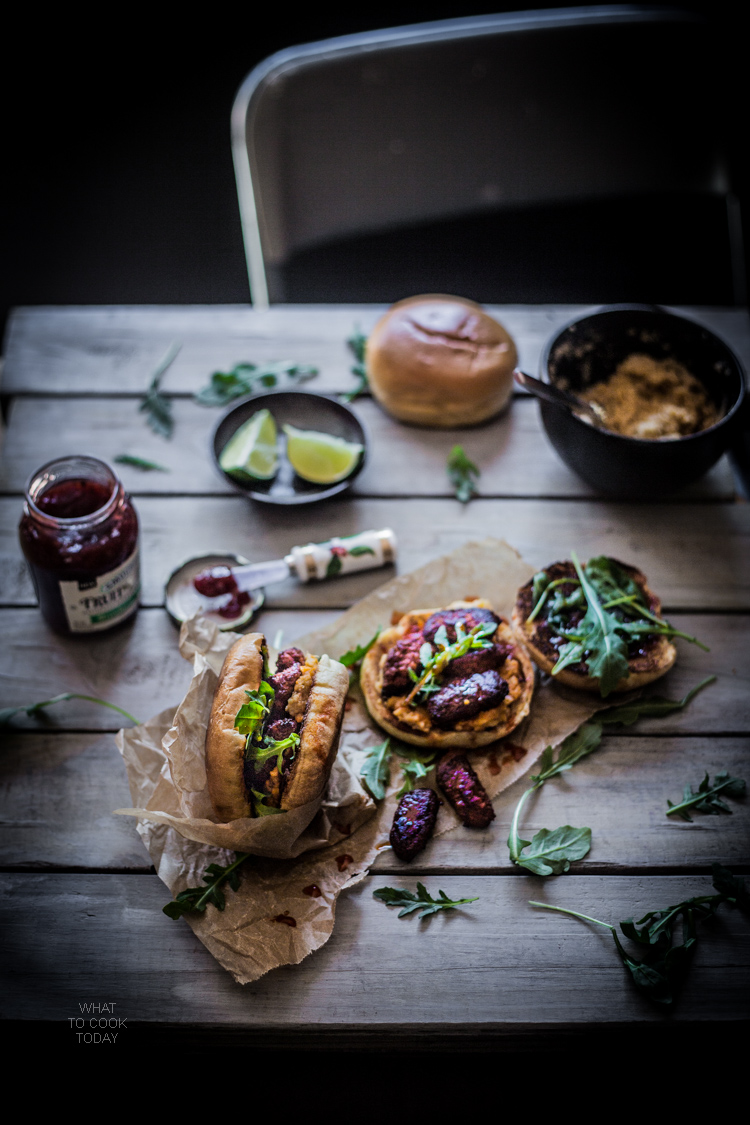 The next time you are at Walmart, please do check out this Smucker's Fruit & Honey Strawberry Jalapeno Fruit Spread and other delicious flavors from Smucker's. I believe you won't regret it. There is also an offer from Ibotta where you can earn $1.00 off Smucker's Fruit & Honey Fruit Spread.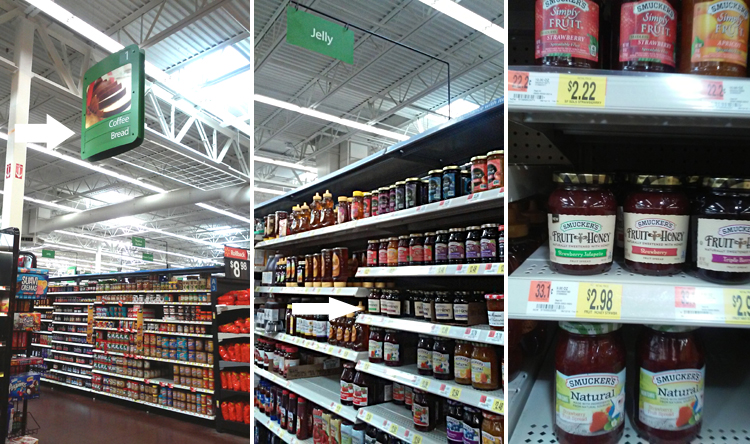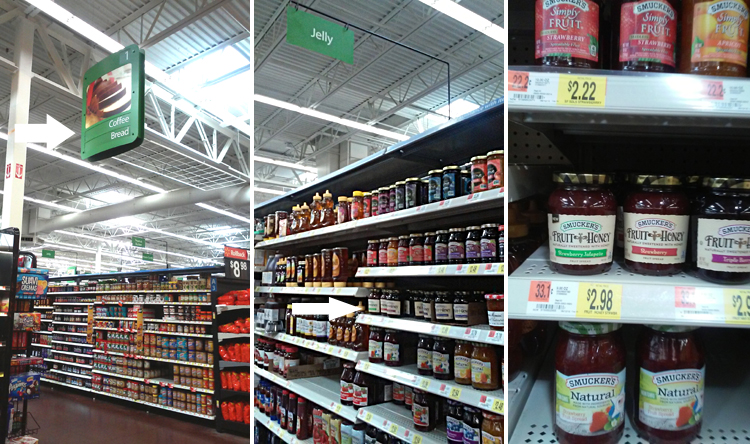 It's definitely way bigger than my mouth and things are dripping off, but do you think I mind it ?
Now you can find great ways to spread the heat too with this strawberry jalapeno fruit spread