This shop has been compensated by Collective Bias, Inc. and its advertiser. All opinions are mine alone. #mixinmoments #CollectiveBias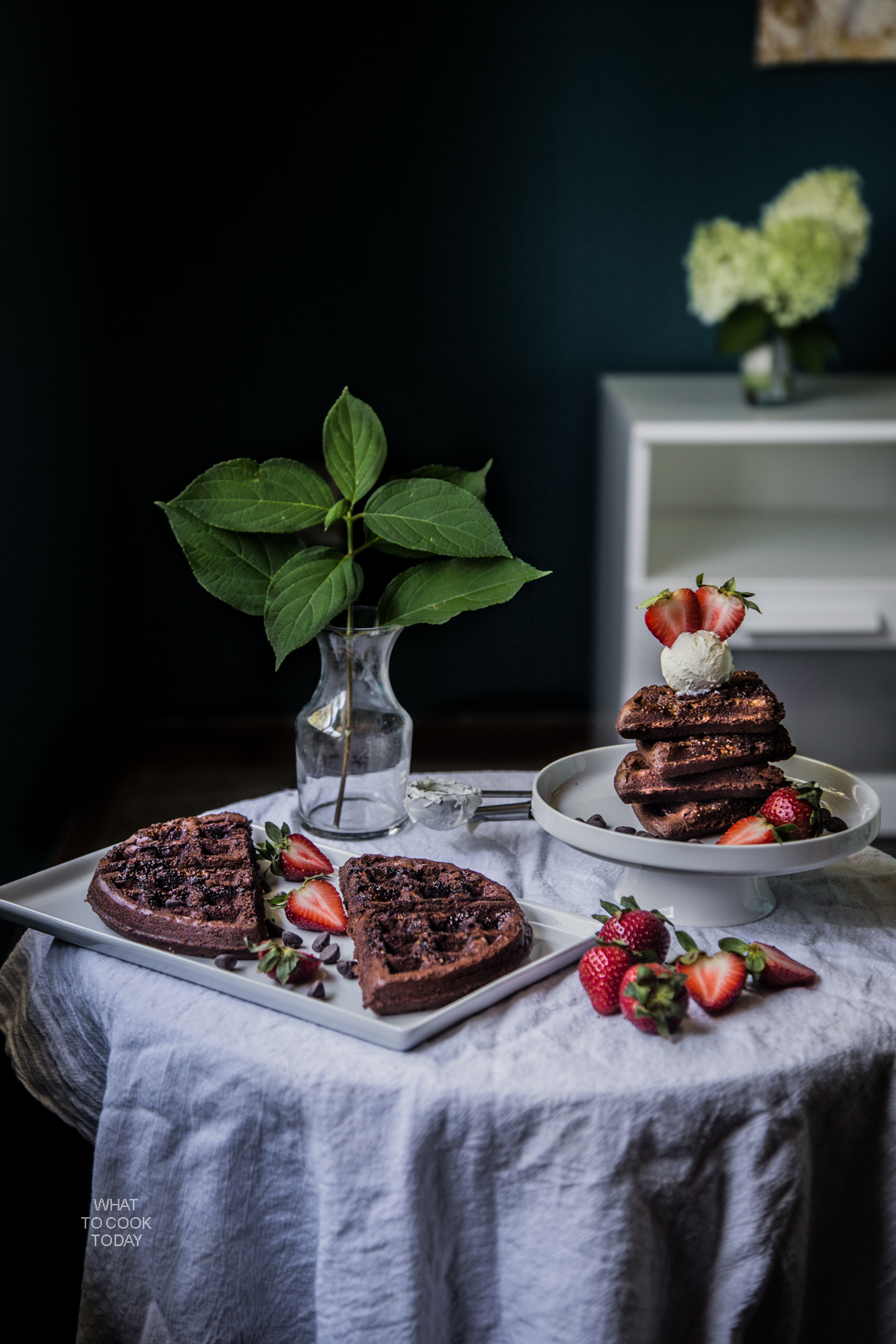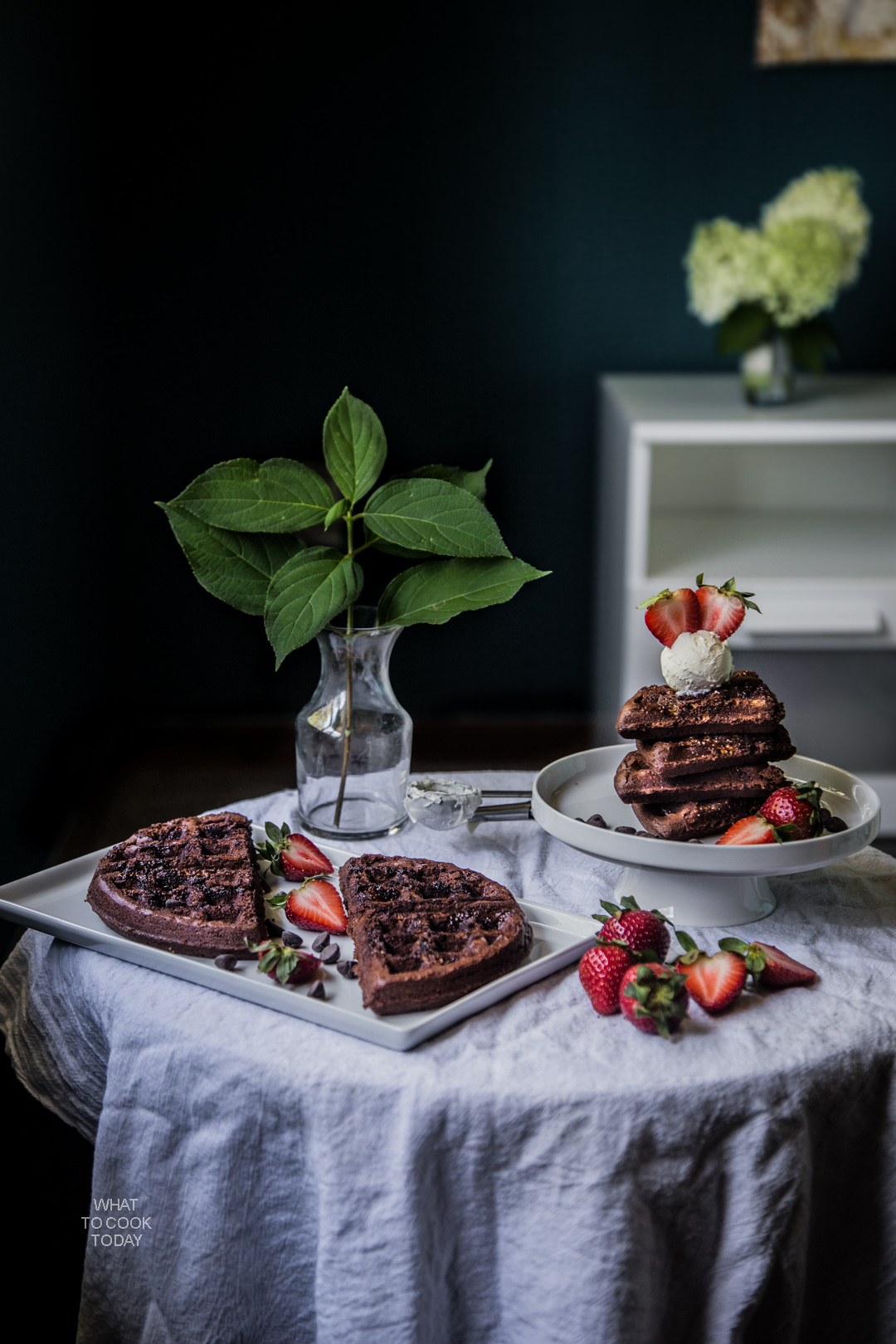 If felt kinda like a big deal when I opened up the box and gently slided out this little round machine that supposed to do wonder at the kitchen. Please welcome the waffle maker addition to our family. This is actually the second waffle maker I've owned in my entire life so far. The first one quitted on us about 5 years ago and I never replaced it. Then lately I kept seeing waffles popping up all over social medias. I'm pretty sure it's not just lately, but perhaps subconsciously I wanted waffles and so I kept seeing photos and recipes of waffles.
The first waffles I made were savory waffles. These Brownie waffles with mascarpone and berries were the first sweet waffles I made. I don't know if you are aware of Nestlé Toll House is launching a new product line that it's not only premium but also highly versatile like Brownies & More Chocolate Baking Mix and also Cookies & More Cookie Baking Mix ? Okay, in case you didn't hear, now you know 😉 I bought these 4 varieties.
I used the Brownies & More Chocolate Baking Mix with Semi-sweet Chocolate Morsels and also the one with Butterfinger® Baking Bits to make these awesome brownies.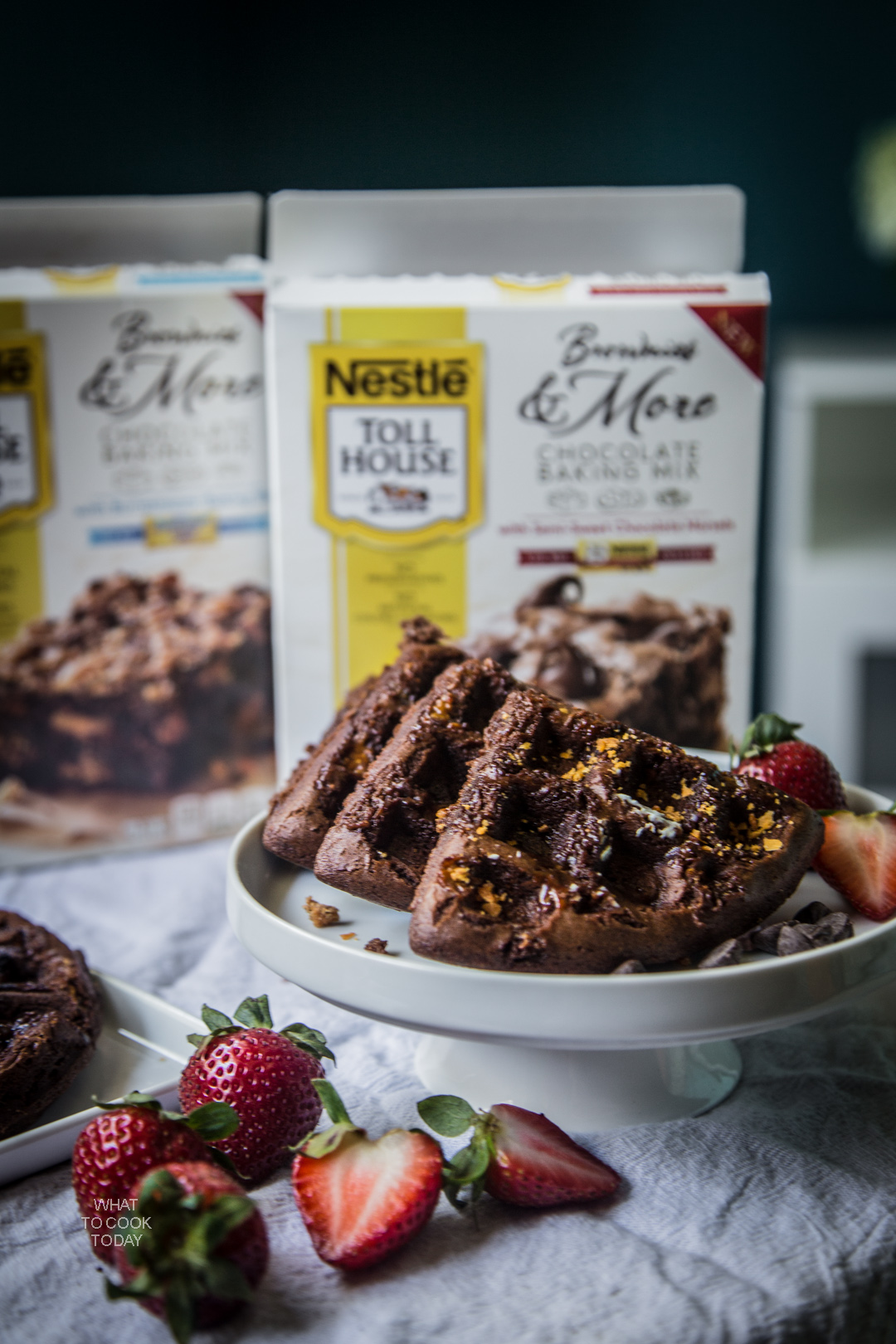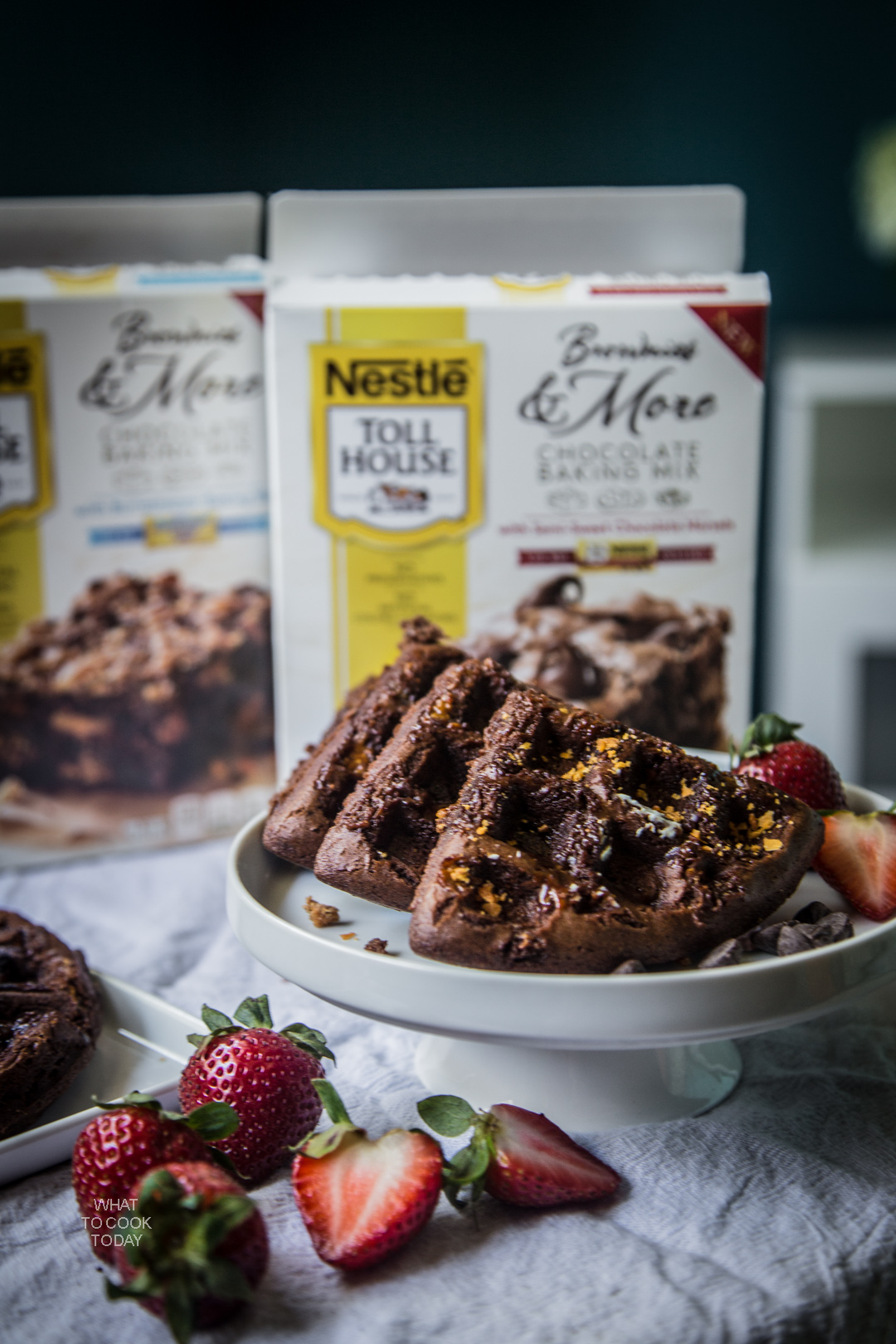 I was like WOW !! Pretty much a luscious delicious brownies in 5 minutes using waffle maker versus the traditional baking in the oven of 30 minutes or so. Your entire house doesn't heat up because you are baking brownies in this glorious Summer days. Most important to me is there are no artificial flavors or colors in the baking mixes. Yay!! Have I mentioned easy too when you use this Nestle Toll House baking mixes ? It cuts down the prep time and all the measurings.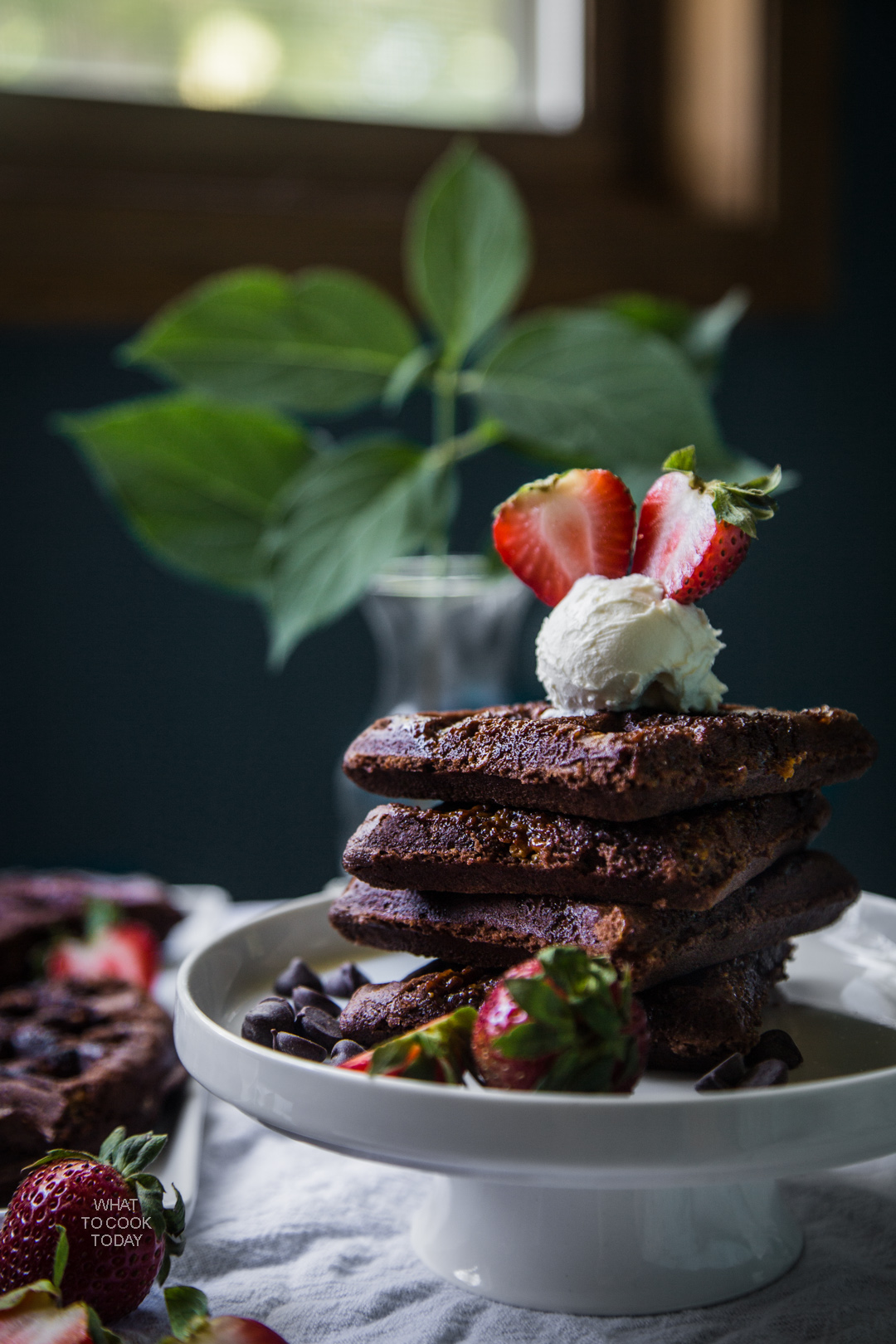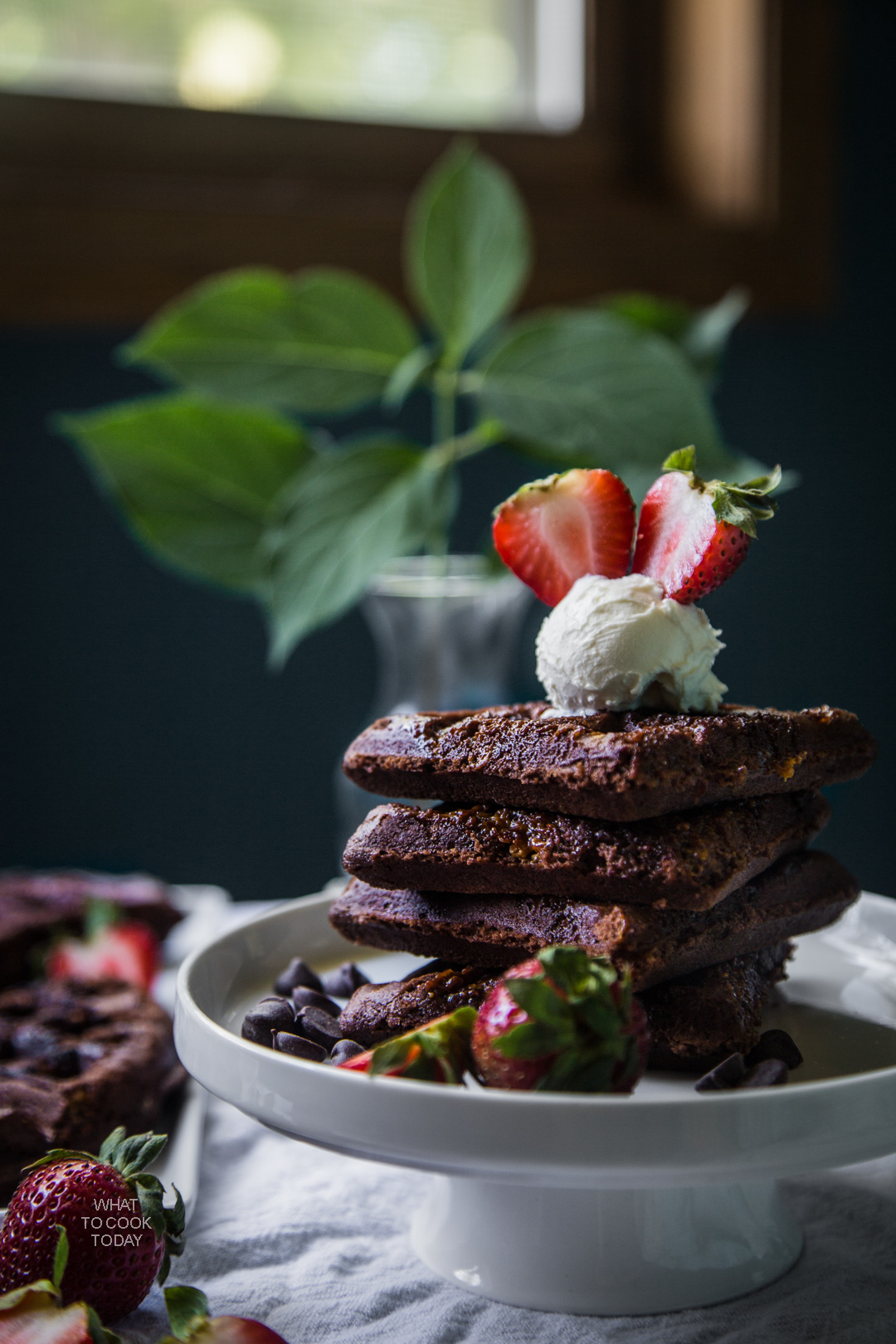 Brownie waffles with mascarpone (2 Belgian waffles - 8 pieces)
Ingredients
1

box of NESTLÉ® TOLL HOUSE® Brownies & More Chocolate Baking Mix with Semi-Sweet Chocolate Morsels OR 1 box of NESTLÉ® TOLL HOUSE® Brownies & More Chocolate Baking Mix with Butterfinger® Baking Bits

1

large egg

½

cup

vegetable oil

4

Tbsp

water

Fresh berries

Coconut chips

optional
Instructions
Preheat your waffle maker. Stir in the the brownie mix, egg, oil and water in a large mixing bowl until blended. Stir in 2/3 cup of the chocolate morsels or Butterfinger baking bits (or 1/3 of each if you want a combination of both like I did)

Pour in about 3/4 cup to 1 cup of the batter onto your waffle maker and use a rubber spatula to help you gently spread the batter out evenly. I sprinkled more chocolate morsels and Butterfinger® baking bits on top and gently cover the lid and let it cook until steam no longer escapes, about 5 minutes or so. Some of the Butterfinger® baking bits might stuck a little on the waffle maker, but don't worries, they will come off easily. Use a rubber spatula to gently remove them from waffle maker onto cooling rack. They may be served warm or cooled down completely

When ready to serve, top with some mascarpone cheese and some fresh berries and coconut chips (if using). You will be impressed!!
Notes
I store the left over in the freezer in a sealed plastic bag and just toast them in the toaster and they are ready to be eaten again
I actually decided to put both the chocolate morsels and Butterfinger® baking bits in the waffle together and no regrets for doing that ! I just love how versatile the baking mixes are. You can customize them all you want!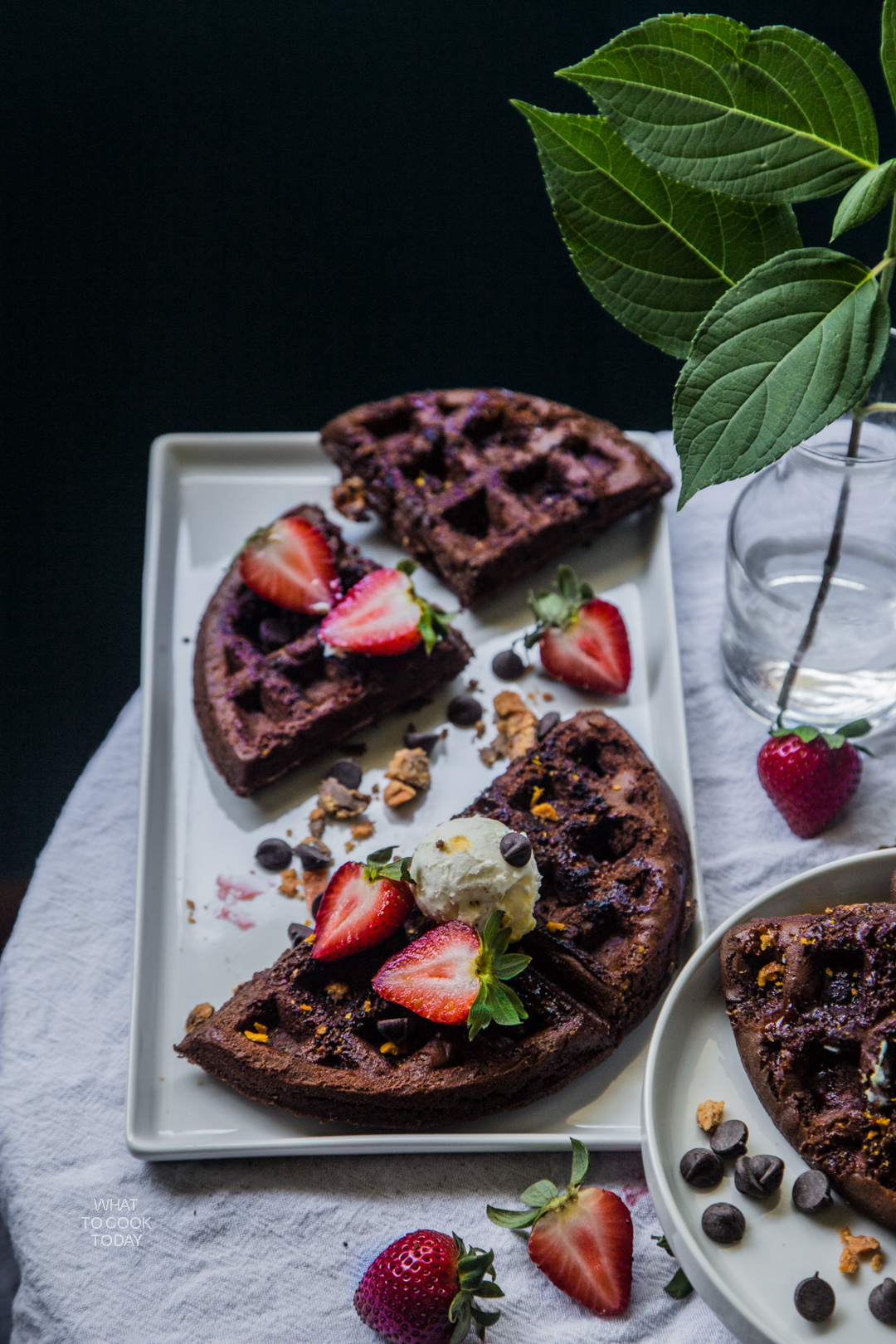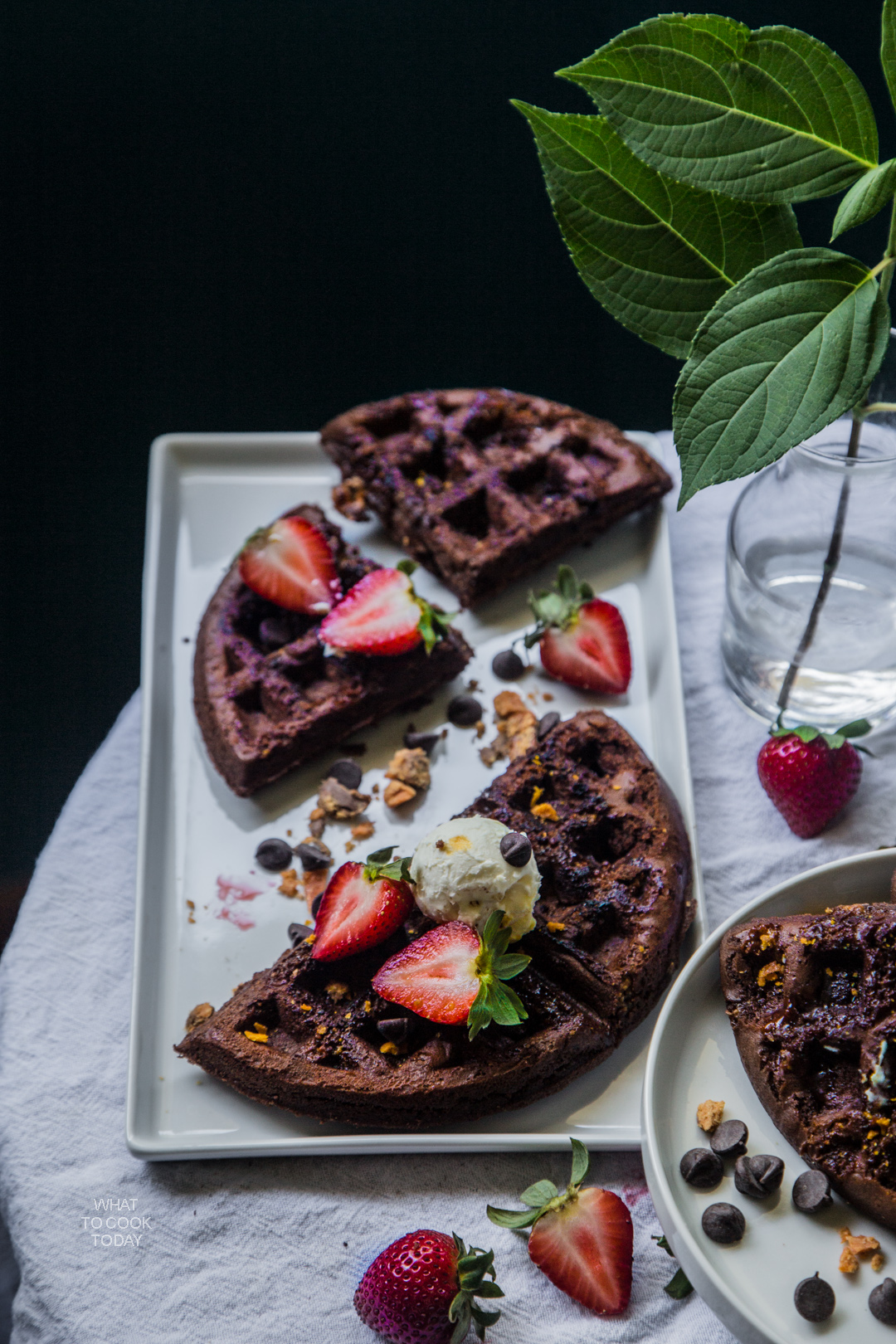 My husband said "These are like brownies. Rich, moist but fun to eat in a waffle form". I know he probably sounded like he's rehearsing an ads line, but he's not and that's his first reaction when he tasted it.
The kids needless to say love these. Who doesn't like brownies. And my kids and waffles are just like magnets. So, this is a winner in our family.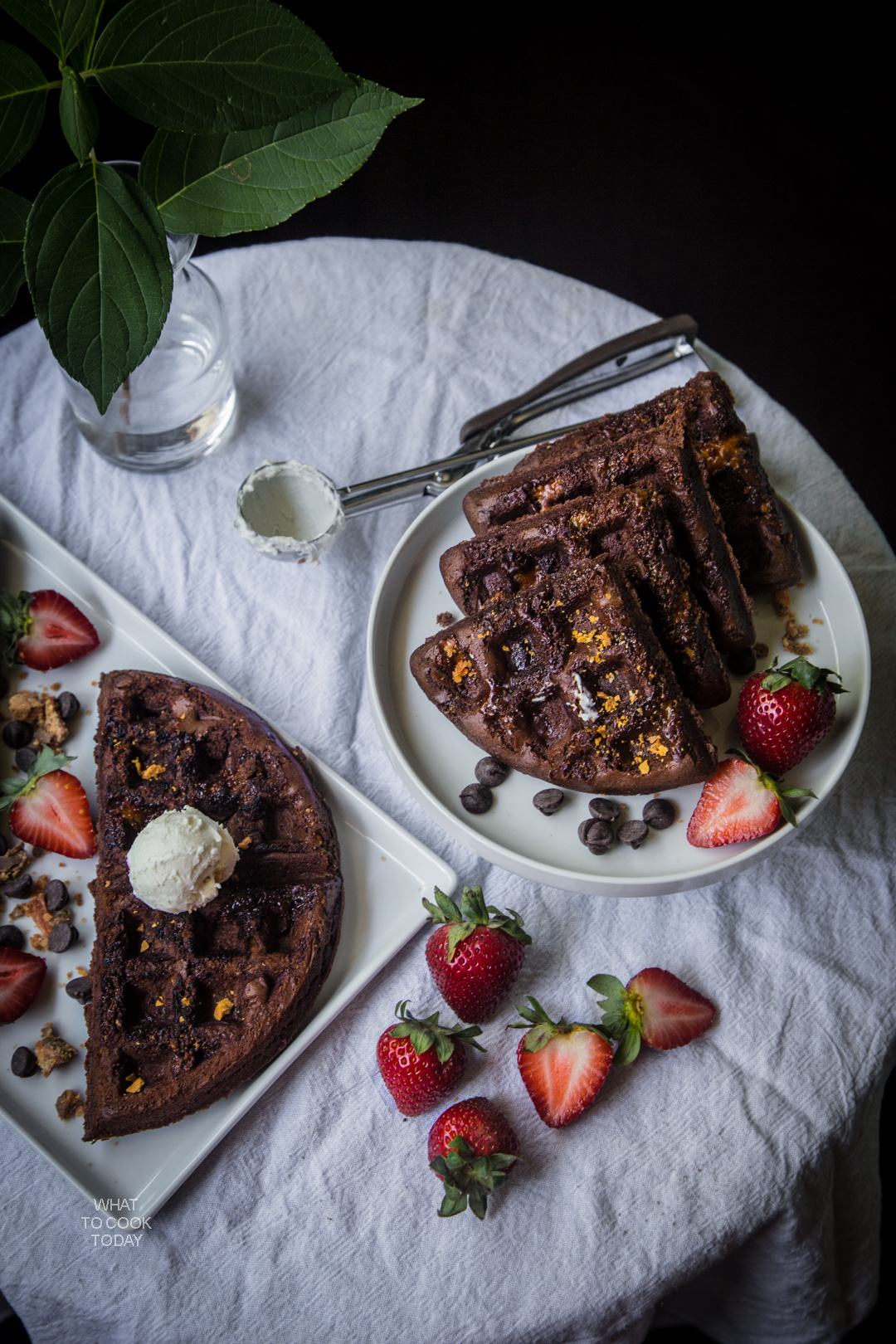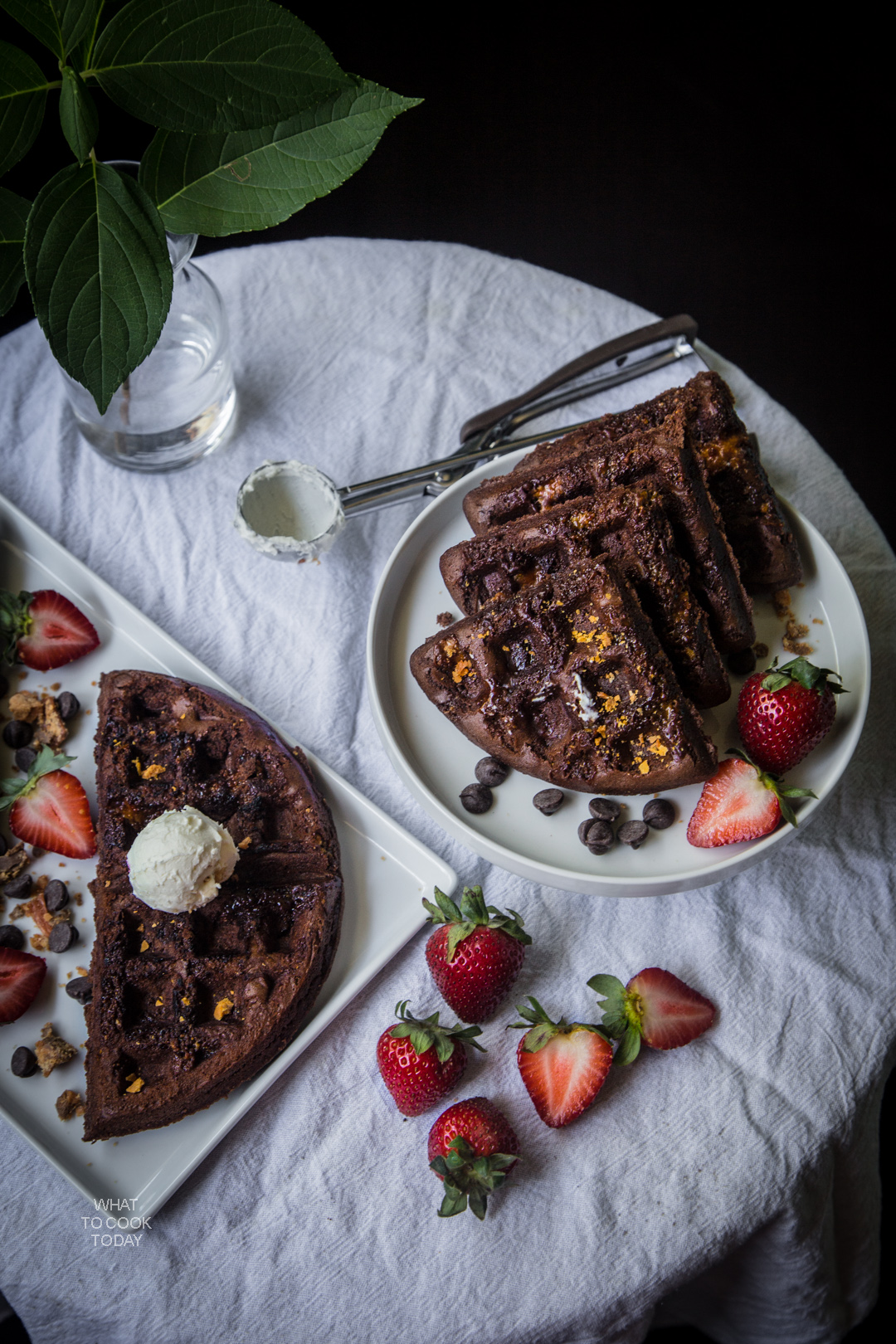 The next time you are at Target, you can find these Nestle Toll House Baking Mix at the Baking Mixes aisle. There is also rebate from Ibotta to save you some money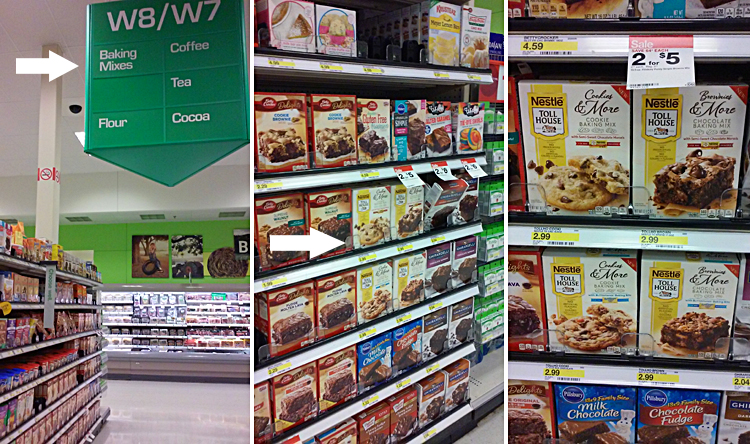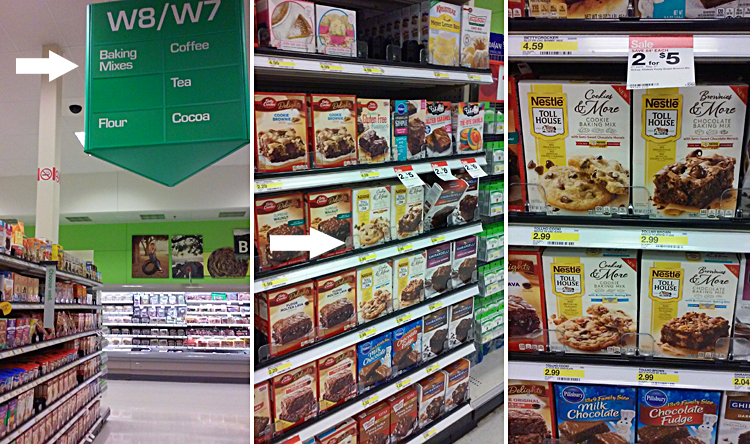 I don't mean to tempt you (okay..maybe I do), but just look at this thing I'm holding here, will you ? I wish you can taste it!
Find more baking inspiration at Nestle