Learn how to make sesame balls (jian dui) from scratch with all the tips you need to know to get a maximum result at your very own kitchen.
FRIED SESAME BALLS
Sesame balls are also known as Sesame seeds balls or in Chinese known as Jian dui 煎堆. Jian means fried and dui means a pile (like a big pile or something). Some people call is as Zhi Ma (sesame seeds) Qiu (ball) 芝麻球. It is named as such because of its shape like a ball. Sesame ball is a Chinese pastry made from glutinous rice flour with a filling consists that can be filled with sweet bean paste, lotus seed paste, peanut filling, etc. Some modern variation has also include cheese filling. The dough ball is then coated with white sesame seeds and deep-fried until golden brown and puffy. Sesame balls is also being served in Dim Sum Restaurant. In fact, it is one of the most popular pastries in Hong Kong. The best thing is, it isn't that hard to make. I made mine with red bean paste filling and peanut filling.

INGREDIENTS
I used to think making jian dui was a complicated matter and no way I could pull this off. I'm glad I proof myself wrong! With just few ingredients you can have this popular dim sum made from scratch.
1. Glutinous rice flour
2. Ready-made sweet bean paste OR Roasted peanuts (unsalted) + honey
4. White sesame seeds (untoasted)
5. Sugar
6. Cooking oil for deep frying
HOW TO MAKE JIAN DUI FROM SCRATCH
I used ready-made sweet bean paste and make the super easy peanut filling (only roasted peanuts and honey are needed) for filling.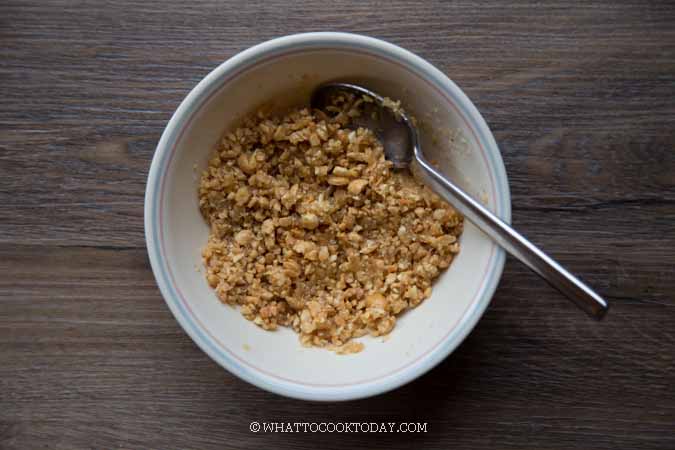 So, all that's left to do is making the dough and shaping them.
1. Bring water with sugar to a boil
The sugar in the dough is needed for structure, so I would not recommend scaling down on the sugar


2. Pour this into the glutinous rice flour


3. Stir with rubber spatula to combine
It won't come together into a dough ball just yet. You need to knead it with your hand when it's not too hot anymore


4. Knead with your hand until the dough is smooth and not sticky
You may need to add a bit more glutinous rice flour if it's still sticky, but you may not need to


5. Cover and let it rest for 30 minutes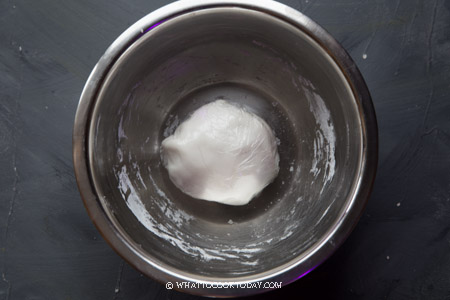 6. Divide into 12 equal balls and then flatten each one into about 4-5 inch circle (doesn't have to be a perfect circle),about 1/4-inch thick and fill with either peanut filling or red bean paste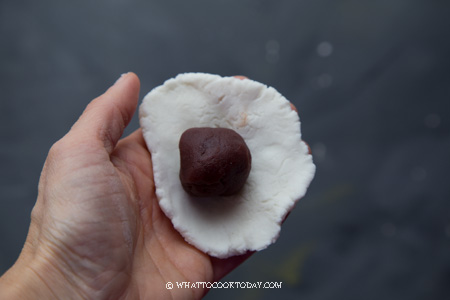 7. Gather the edge to enclose and seal and smooth into round balls


8. Dip the balls in flour paste (refer to recipe below) and then roll the balls in sesame seeds
This will ensure that the sesame balls will not come off when you fry them


9. Fry the sesame balls over medium heat until puffy and crispy

TOP TIPS YOU NEED TO KNOW
Knowing these tips will help you get a good result:
1. Use untoasted sesame seeds
Untoasted sesame seeds will be white in color. If it's toasted, usually the packaging will say something like "Toasted sesame seeds". Why you would ask? if you use already-toasted sesame seeds, they will get burn. Trust me, I've tried it before. See the photo below for reference
2. Use flour paste before coating the sesame seeds
If you roll the dough balls straight in the sesame seeds, the seeds have trouble sticking to the dough and mostly come off when you fry them, like in the photo below. I lost most of the sesame seeds
3. Keep them moving while frying
This is very important or the sesame balls will not fry evenly and have splotchy dark spots here and there. So I use a spoon to gently move them and turn them around so they can fry evenly
4. Fry over medium-low heat
If you start with high heat, the sesame seeds will get burn while the dough is still raw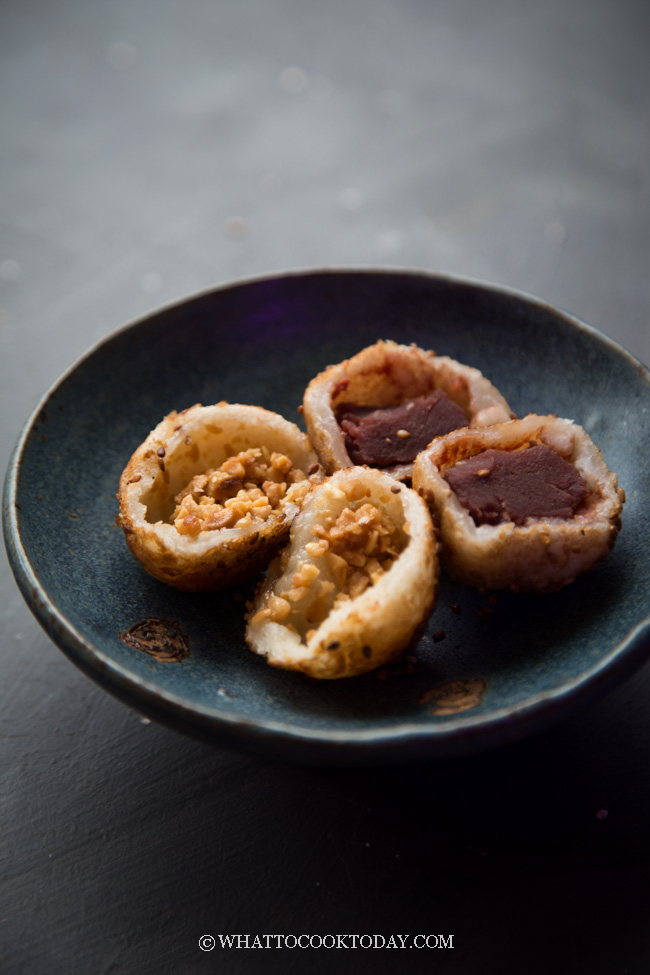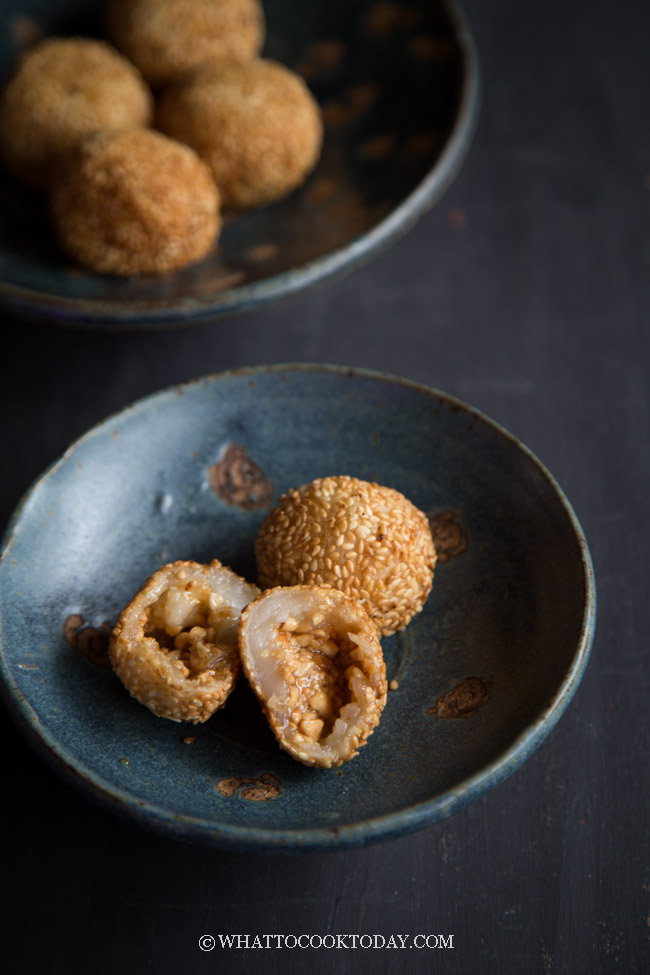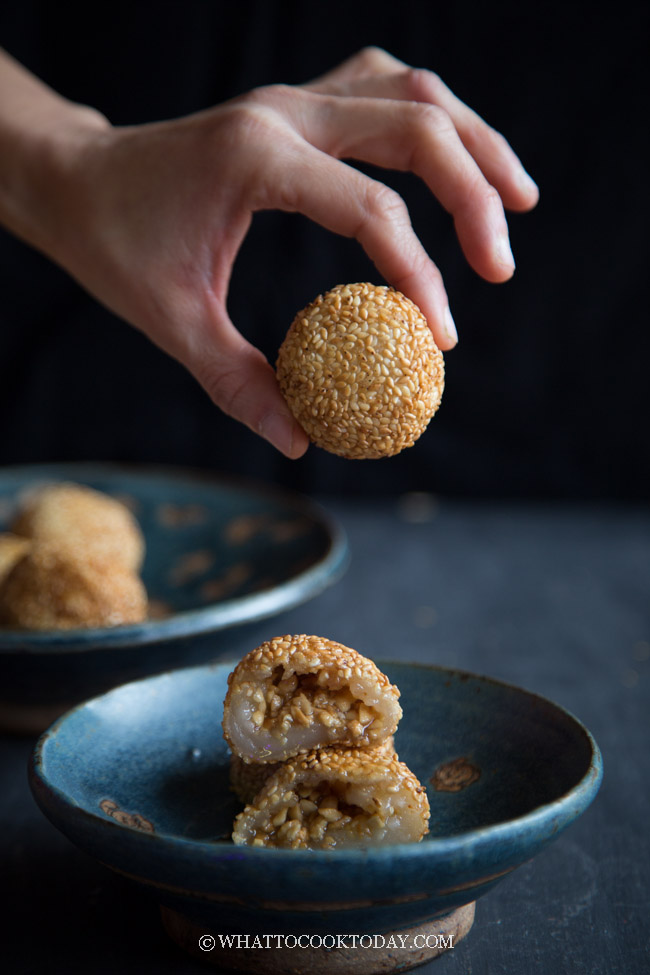 I apologize I can only share photos with you and not the actual jian dui 😉

This blog post contains affiliate links. I earn a small commission when you made purchase at no extra cost to you. Learn more.
*Recipe is updated with an easier and better method and new photos*
Learn how to make sesame balls (jian dui) from scratch with all the tips you need to know to get maximum result at your very own kitchen.
For baking/ kueh making: I highly encourage to weigh ingredients with a digital kitchen scale instead of using measuring cups as they are not very accurate especially when it comes to recipe that requires precision.
GRAMS TO CUPS CONVERSION (UNSIFTED)
INGREDIENTS
Filling (choose either one or both):
Flour paste (so the sesame seed won't come off when you fry them):
INSTRUCTIONS
Boil water with sugar in a small saucepan and then pour into the glutinous rice flour. Use a rubber spatula to stir and mix. It won't be thoroughly mixed yet. When it's not as hot anymore, you need to use your hand to knead the dough. Add the oil and continue to knead into smooth non-sticky dough. If the dough is too sticky, you can add a bit more glutinous rice flour until you can get non-sticky smooth dough

Cover the dough and let it rest for 30 minutes while you prepare the filling
Prepare the filling:
For peanut filling: Put the roasted peanuts (I bought the peanuts that are already roasted and unsalted). Add honey and stir until combined

For sweet red bean paste: divide the bean paste into 12 portion. dust your hand with a bit of glutinous rice flour and roll the bean paste into balls
Shaping:
Roll the dough into a log and then divide into 12 equal small dough balls. Keeping them cover and work with one at a time

Flatten the dough with your palm to form about 4 to 5-inch circle, about 1/4-inch thick. Scoop about 1 to 2 teaspoons of the peanut filling in the middle or 1 red bean paste ball

Gather the edge to enclose. Pinch to seal and then roll the dough ball in between your palms to make it smooth. Repeat with the rest

Prepare the flour paste by mixing the flour and water together. Roll one dough into the paste and then roll into the sesame seeds. Repeat with the rest
Frying:
Preheat your fryer with about 3-inches of oil over medium heat. Gently place the sesame balls into the oil. You may need to do this in 2-3 batches. The sesame balls will sink to the bottom at first. Use a spoon to keep them moving and turning them around so they fry evenly and don't get burn in certain spots. They will float to the top and when this happens, lower the heat a bit more and use the back of the spoon to gently press on the ball and it will continue to expand slightly

Once they are crispy on the outside and golden brown, remove and place on absorbent paper towel
How to store fried sesame balls:
Fried sesame balls can be kept frozen. Line a baking sheet with parchment paper. Once the fried sesame balls have cooled down completely, place them on the baking sheet, not touching each other and pop them into the freezer for about 1 hour. They won't be completely frozen yet. Transfer to the freezer bag and they won't stick to each other anymore
Reheating fried sesame balls:
They can be reheated in a toaster oven, air fryer, or oven at 325 F for about 10 minutes or until they are crispy again
Notes
Recipe for Homemade Anko (sweet red bean paste) is here. It is possible that the sesame balls might "exploded" when you fry and the filling ooze out. I noticed that this happen when I fried them too long. That is why I recommend not to make big balls as they took longer to fry and chances of exploding is higher