Pieces of crispy battered chicken coated in savory salted egg yolk sauce and aromatic curry leaves. They have an amazingly sweet, savory, and umami flavors all in one.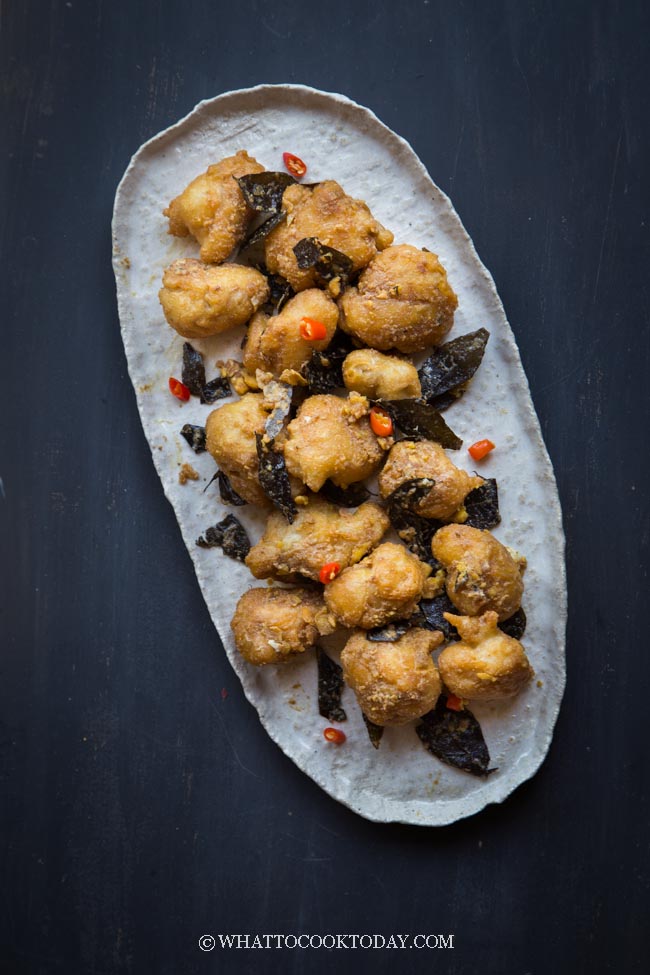 The salted egg yolk fever has surely hit Singapore for the past few years that I'm aware of. Menus with salted egg yolk are popping up everywhere at the restaurants and among home cooks and bakers in the country and it's for good reason I must say.  From food like this crispy salted egg yolk chicken (golden sand chicken), salted egg yolk shrimp, salted egg yolk cookies, salted egg yolk steamed buns (liu sha bao), I mean…you name it, they got it covered from entree to dessert 🙂
INGREDIENTS FOR CRISPY SALTED EGG YOLK CHICKEN
I prefer dark meat like chicken thighs to make this recipe. I use boneless skinless chicken thighs, but you can use smaller pieces of bone-in skin on pieces like chicken wings or drumettes to make this recipe.
I use a combination of my homemade salted chicken egg yolks and store-bought cooked salted duck eggs. Please note that here in the U.S., raw duck eggs are super hard to come by, at least where I am, but the Asian stores do sell cooked salted duck egg yolks and I happened to have 2 left in the fridge. You can simply use the store bought ones, it's a bit harder to separate the yolks from the white after they are cooked, but it's doable
I highly recommend using butter because it does elevate the flavor to the next level. You know what butter can do 😉
I only have access to dry or frozen curry leaves and I used the frozen curry leaves. I need to use more so it's more aromatic. If you have access to fresh curry leaves, hey, good for you! The frozen curry leaves are "darker" in color after you cook them, but they are still aromatic
I used potato starch to coat the chicken pieces for frying. You can use cornstarch too. I feel like potato starch gives a "lighter" and "crispier" result IMHO.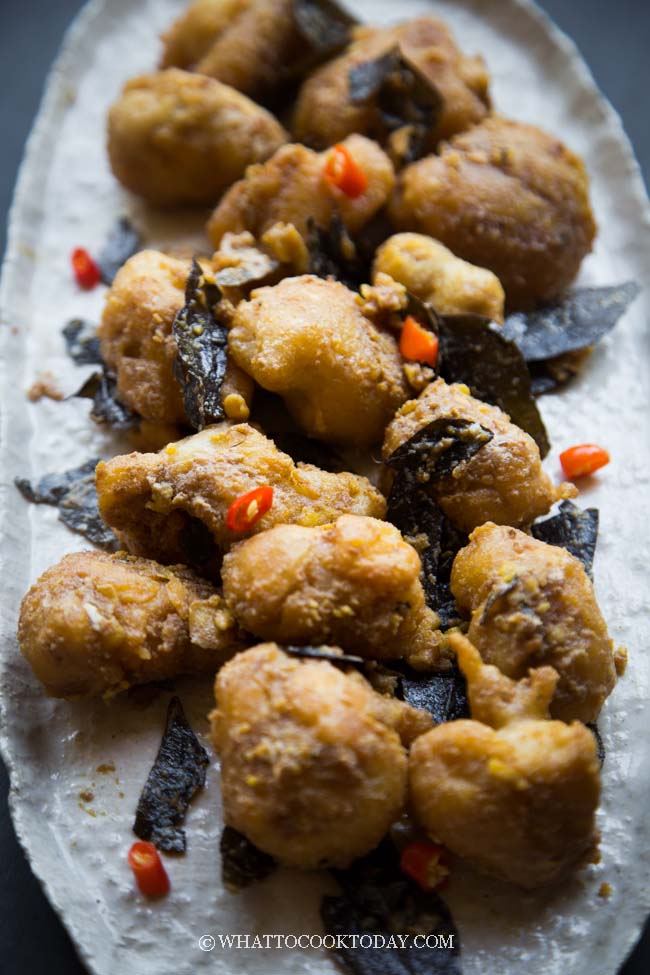 Now that I've got the special ingredients covered above, Let's get you started with the cooking part 😉
GOLDEN CRISPY SALTED EGG YOLK CHICKEN STEP-BY-STEP COOKING GUIDE
1. Separate the salted egg yolks from the white and steam over a high heat for 10 minutes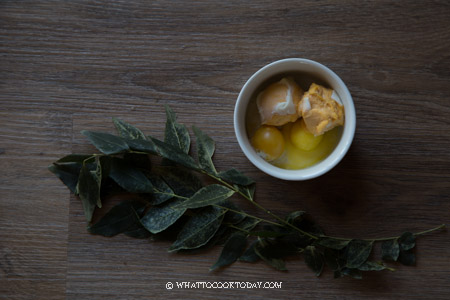 2. Marinate the chicken
Place the chicken pieces in a large mixing bowl. Add marinade ingredients and let them marinate for 15 minutes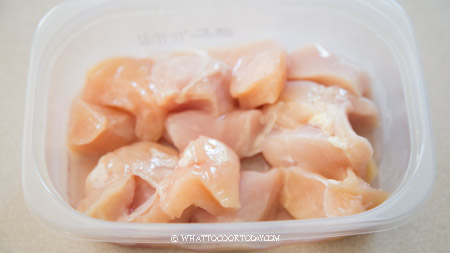 3. Add beaten egg to the marinated chicken after that


4. Preheat oil for deep frying. Mix potato starch with a bit of salt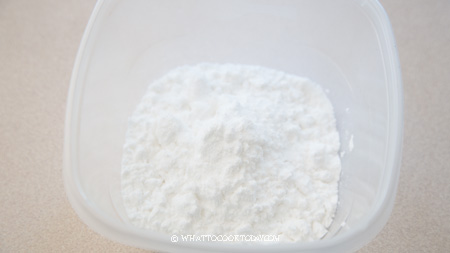 5. Coat the chicken pieces in the potato starch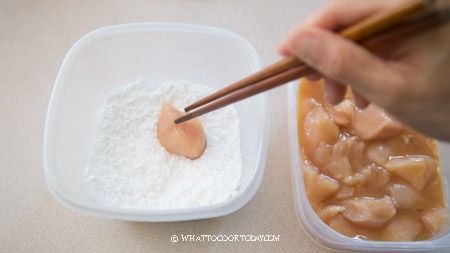 6. First frying – to cook the chicken
Do this in batches as we don't want to lower the temperature of the oil too much. Remove from the oil to a rack.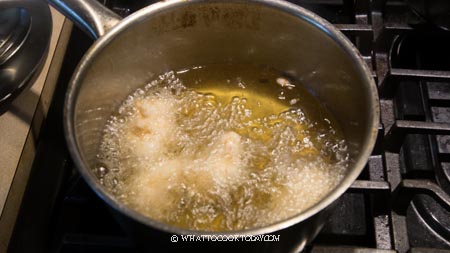 7. Let them cool down for at least 15 minutes before you go for the second frying.


8. Second frying – to crisp up the chicken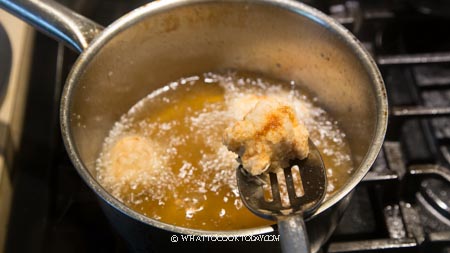 9. Make the salted egg yolk sauce
Melt the butter in a large skillet over medium heat. Add the curry leaves and fry until crispy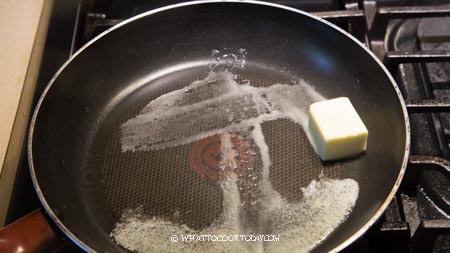 10. Add the mashed and cooked salted egg yolks and chopped chili (if using). The salted egg yolks will turn frothy and fragrant. Add sugar and have a taste. Adjust to your taste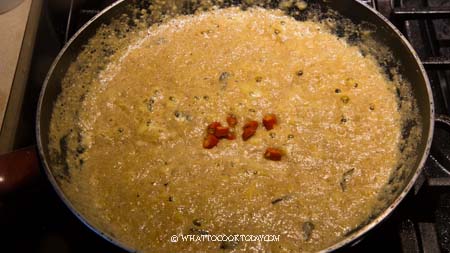 11. Add the fried chicken pieces into the sauce and toss to make sure the sauce coats the chicken pieces evenly
12. Add the crispy curry leaves back in and give a final toss
13. Turn off the heat and transfer to a serving platter. Serve immediately
COOK'S TIPS
This recipe works well with bite-size pieces of chicken or whole pieces like chicken wings and drummettes. It's more fun to eat when you keep them bite-size
This is to prevent lowering the temperature of the oil too much so the batter won't get soggy and oily
You can fry just once, but I like to do double frying because it really gets the batter so much more crispier
HOW TO PREP AHEAD
The great thing about this recipe is that you can prep ahead and finish the cooking on the day you want to serve. Here's how:
Do the first frying the day before
The first frying is pretty much to cook the chicken at a lower temperature so that the chicken will be cooked through, but the batter won't be crispy just yet
After the first frying, let them cool down and then chill in the refrigerator until you are ready for second frying the next day. Just bring them out and set them at the counter about 30 minutes before you plan to do the second frying
Do the second frying on the day you want to serve
Fry the pre-fried chicken pieces at a higher temperature (more details in the recipe card). This second frying is to crisp up the batter
DIFFERENT WAYS TO ENJOY THIS CRISPY SALTED EGG YOLK CHICKEN
Usually served with rice as part of a multi-course meal
Works great with soft taco too for taco night. Top with some shredded lettuce, some sliced onions, jalapeno slices (if you are not using Thai red chili)
Serve with lettuce as a wrap if you prefer a low carb version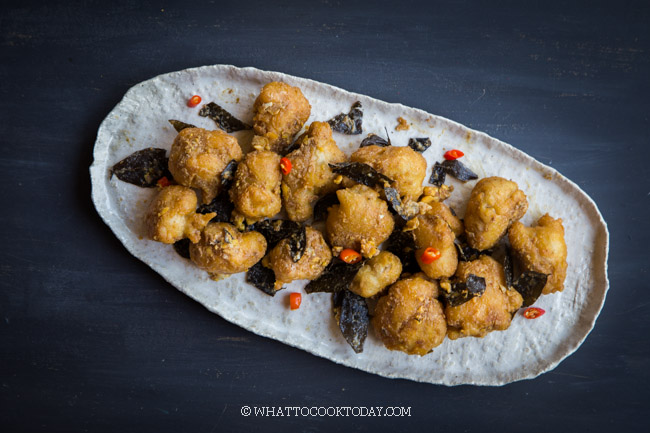 HOW TO STORE LEFTOVERS
Crispy salted egg yolk chicken is best consumed the same day you made it, but I understand that leftovers do happen. Leftover can be stored in the fridge up to 3 days max. Simply reheat the pieces of chicken with a preheated air fryer or oven at 350 F for 10-15 minutes.
DID YOU MAKE THIS GOLDEN CRISPY SALTED EGG YOLK RECIPE?
I love it when you guys snap a photo and tag to show me what you've made 🙂 Simply tag me @WhatToCookToday #WhatToCookToday on Instagram and I'll be sure to stop by and take a peek for real!
You also need to check out this quick method for making salted eggs. I like to use this method because I can use the egg whites for other things and the salted egg yolks for this recipe any many other recipes calling for salted egg yolks.

Golden Crispy Salted Egg Yolk Chicken
Ingredients
Instructions
Steam the salted egg yolks:
Separate the yolks from the white. Steam the salted egg yolks (if using raw salted eggs) for 10 minutes over high heat and then mashed with a fork as fine as possible
Marinate the chicken pieces:
Place the chicken pieces in a large mixing bowl. Add the marinate ingredients and let them marinate for 15 minutes

After that add the beaten eggs and toss to coat the chicken
First frying:
Whisk the potato starch and salt together

Coat the food with potato starch evenly. Shake off any excess Do this in batches as we don't want to lower the temperature of the oil too much, the batter will be greasy, soggy, and almost definitely will not stay crispy (if at all). This step is to cook the food inside. It won't get crispy yet

Remove from the oil to a rack. Let them cool down for at least 15 minutes or longer before you go for the second frying. You can even stop at this step if you are prepping ahead. Keep the half-fried food in the fridge and do the second frying just right before serving the next day or whenever you want to serve it
Second frying:
Remove any crumbs from the oil and bring it back up to hot again over high heat. When it's ready, fry the food for the second time. This round should be quicker. The chicken will turn brown much quicker this round and they will get crispy

Remove from the oil to an absorbent paper towel. Repeat with the rest
Keep the fried chicken warm:
You can keep the rest warm in a preheated oven at around 200 F and serve when you are done with frying and making the salted egg yolk sauce
Salted egg yolk sauce:
Melt the butter in a large skillet over medium heat. Add the curry leaves and fry until crispy. Remove the curry leaves and set aside. Add the mashed and cooked salted egg yolks and cook until they are foamy. Add sugar and chili (if using)

Add the fried chicken pieces into the sauce and toss to make sure the sauce coats the chicken pieces evenly. Add curry leaves and give a final toss. Turn off the heat and transfer to a serving platter. Serve immediately