Make this absolutely delicious and easy tom yum chicken rice using your Instant Pot pressure cooker or rice cooker. Can be served as an entree or side dish.
This easy tom yum chicken rice was made with a bare minimum of what I had left in my pantry and fridge that day. I had a tom yum paste that will go expire in few months, few chicken thighs in the fridge, exactly 3 bell peppers, and 1 onion left, and some coconut milk left from making other stuff 🙂 With those, I thought..what the heck, let's make something with them! Who would have thought that this rice dish turned out to be very delicious and not to mention pretty easy!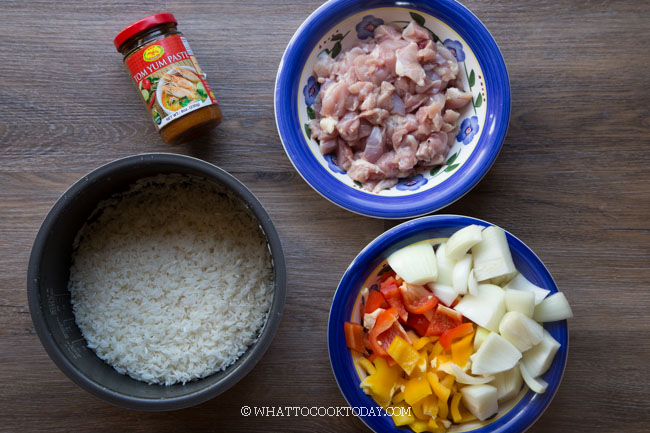 WHY YOU'LL LIKE THIS RECIPE
1. The recipe is seriously easy and absolutely delish!
2. Ingredients are easy to find
3. If you use Instant Pot, it's pretty much a one-pot rice dish
4. Great for meal prep
WATCH HOW I MADE TOM YUM CHICKEN RICE WITH INSTANT POT
TOM YUM CHICKEN RICE WITH INSTANT POT PRESSURE COOKER STEP-BY-STEP COOKING GUIDE
1. Press saute on Instant Pot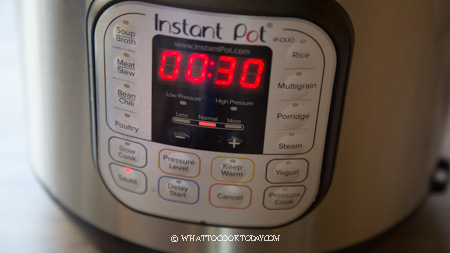 2. When it's hot, add cooking oil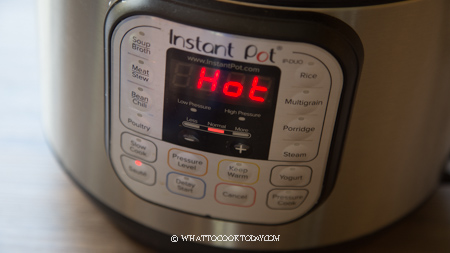 3. Add onion and saute for 2 minutes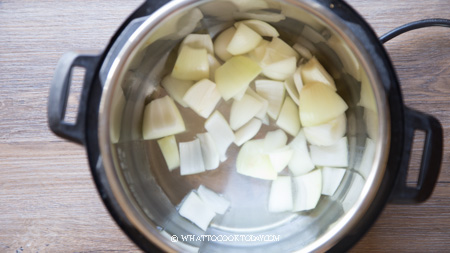 4. Add bell peppers and saute for another minute. Add the chicken and add tom yum paste and give it a stir


5. Add thinned out coconut milk and turn off the saute mode. Give it a stir again and scrape the bottom of the pot to make sure nothing got stuck on the pot


6. Layer in the rice on top and use the spatula to push the rice into the liquid. This trick will prevent Instant Pot from giving you that "burn" warning. The rice will most likely get stuck at the bottom of the pot if you don't add it after the liquid


7. Close the lid. Turn the pressure release valve to "sealing". Press "pressure cooker" and make sure it's on high pressure. Set the timer to 8 minutes


8. After 8 minutes are over, wait for 10 minutes and then turn the pressure release valve to "venting". The valve most likely would've collapse down by then. Carefully unlock the lid. Be careful of the hot steam gushing out. Use a rice paddle to gently fluff the rice


9. Garnish with few sprigs of fresh cilantro leaves and serve warm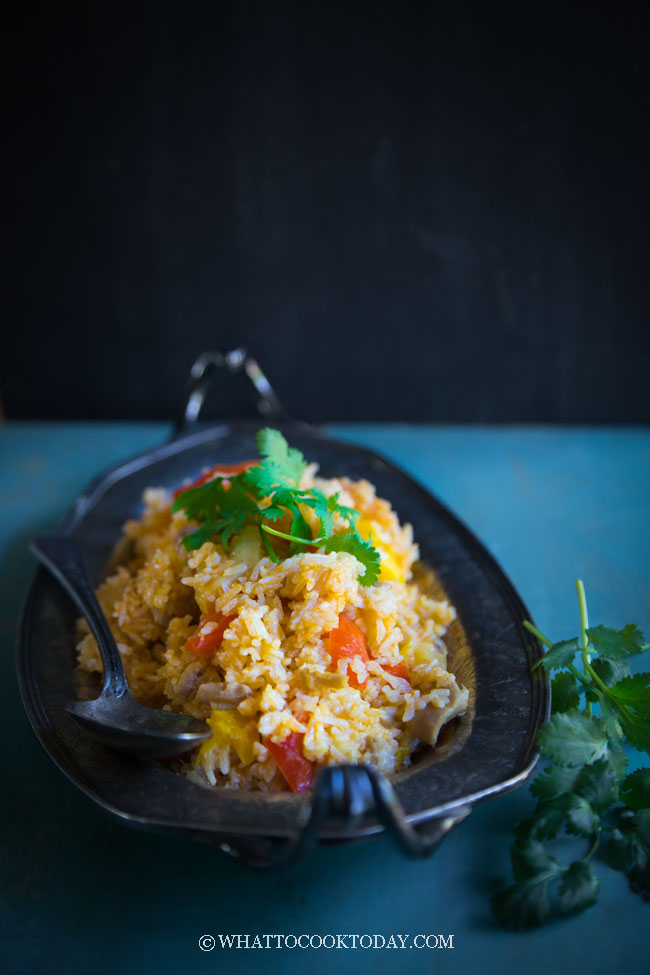 COOK'S TIPS YOU NEED TO KNOW
1. WASH THE RICE UNTIL THE WATER IS CLEAR
The extra starch on the rice will make the rice sticky and gummy
2. USE THE SAME CUP FOR MEASURING
Use the same measuring cup you use to measure rice to measure the liquid for consistency
3. RICE TO WATER RATIO
I use 2 : 1 1/2. If I use 1:1 ratio, the rice comes out too wet. Why? Because the chicken and bell peppers also contain water and this will contribute to the extra liquid.
4. SAUTE THE ONION AND BELL PEPPERS
If you are super lazy and just want to dump everything in there without sauteing the onion and veggie first, you can, but I can tell you sauteing the aromatic and veggies first really worth that extra step. It really kicks the flavor up a notch!
5. MAKE SURE YOU PUSH THE RICE INTO THE LIQUID
This will help the rice to absorb all the liquid so you won't have some rice that is cooked and some isn't
6. WAIT 10 MINUTES BEFORE FLUFFING THE RICE
This is applicable to both Instant pot and rice cooker. The rice will continue to cook even after it's done cooking and so the rice won't be wet
HOW TO STORE LEFTOVER
STORING: Leftover can be stored in the refrigerator for up to 3 days. For longer storage, portion into individual portion you will consume and store in freezer-friendly container or bag
REHEATING:
Thaw in the refrigerator the night before. You can reheat on the pan over medium heat or reheat in the microwave on high for a minute or until heated through
Make this absolutely delicious and easy tom yum chicken rice using your Instant Pot pressure cooker or rice cooker. Can be served as an entree or side dish
For baking/ kueh making: I highly encourage to weigh ingredients with a digital kitchen scale instead of using measuring cups as they are not very accurate especially when it comes to recipe that requires precision.
GRAMS TO CUPS CONVERSION (UNSIFTED)
INGREDIENTS
1

lb

boneless skinless chicken thighs/breast

-

diced

3

large

bell peppers

-

variety of colors, seeded and diced

1

large

onion

-

peeled and diced

2

cups

jasmine rice -

see notes

1/2

cup

coconut milk -

mix with 1 cup water

1

Tbsp

cooking oil
Use either one of these to cook:
INSTRUCTIONS
Prepare the rice:
Wash the rice in several changes of water and then drain off completely
Cooking with Instant Pot pressure cooker:
Press saute on Instant Pot. When it's hot, add cooking oil. Add onion and saute for about 2 minutes until aromatic and soft. Add bell peppers and saute for another minute. Add the chicken and add tom yum paste and give it a stir. Add thinned out coconut milk and turn off the saute mode. Give it a stir again and scrape the bottom of the pot to make sure nothing got stuck on the pot

Layer in the rice on top and use the spatula to push the rice into the liquid. This trick will prevent Instant Pot from giving you that "burn" warning. The rice will most likely get stuck at the bottom of the pot if you don't add it after the liquid

Close the lid. Turn the pressure release valve to "sealing". Press "pressure cooker" and make sure it's on high pressure. Set the timer to 8 minutes

After 8 minutes are over, wait for 10 minutes and then turn the pressure release valve to "venting". The valve most likely would've collapse down by then. Carefully unlock the lid. Be careful of the hot steam gushing out. Use a rice paddle to gently fluff the rice. Garnish with few sprigs of fresh cilantro leaves and ready to be served
Cooking with rice cooker:
Preheat a large skillet over medium heat. Add 1 Tbsp cooking oil. Add onion and saute for about 2 minutes until aromatic and soft. Add bell peppers and saute for another minute. Add the chicken, rice, and add tom yum paste and give it a good stir. Turn off the heat

Transfer to the inner pot of rice cooker. Add the thinned out coconut milk and give it a stir. Make sure the rice is covered by the liquid. Use the white rice setting to cook, it takes about 20 minutes to cook. Wait 10 minutes when it's done and then fluff the rice with rice paddle

Garnish with few sprigs of fresh cilantro leaves and ready to be served
Notes
Please make sure you use the same cup you use to measure rice to measure the liquid