Learn how to make juicy and tender Chinese drunken chicken rolls soaked in aromatic wine mixture and served cold with this easy recipe. Can be pressure cooked or steamed.
Despite not being able to tolerate much alcohol (if at all), I actually cook with wine pretty often. Chinese wine to be exact. Well, I cook off the alcohol I should say. This drunken chicken roll is one of my favorite Chinese cold dishes.
CHINESE DRUNKEN CHICKEN 醉雞
As its name implies, this chicken dish has alcohol in it (if you don't cook off the alcohol). The tender juicy boneless chicken pieces are shaped into rolls and then the chicken rolls are pressure cooked (my favorite method) or steamed. The chicken rolls are then soaked in a broth made with Shao Xing wine, ginger, garlic, sometimes Chinese herbs like dang shen can be added, rock sugar, and fish sauce for 24 hours before serving.
COOKING WINE TO USE
Chinese drunken chicken is typically prepared with Shao Xing wine. However, my mom made this for me before using DOM Benedictine and other rice wine before. You can really use whatever favorite cooking wine of yours to make this dish.
COOK THE CHICKEN WITH PRESSURE COOKER OR STEAMER
Ever since I owned the Instant Pot 2 years ago, I tried to use the pressure cooker feature any chance I have. I love to pressure cook meat or chicken because it's quick and they are not overcooked. But if you don't own an Instant Pot or pressure cooker, you can always steam the chicken on the stove
EASY CHINESE CHICKEN COLD DRUNKEN CHICKEN STEP-BY-STEP COOKING GUIDE
1. PREPARE THE DRUNKEN BROTH
Place all ingredients for the drunken broth, except for goji berries, in a saucepan. Bring to a boil and then lower the heat to let it gently simmer for 15 minutes. This will also cook off the alcohol. Add the goji berries after you remove them from the heat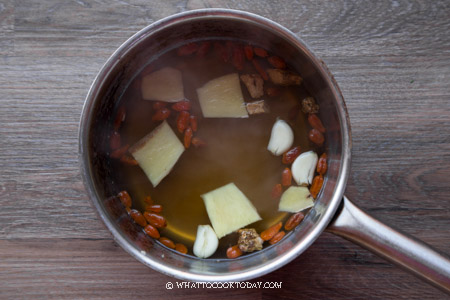 If you don't want to cook off the alcohol, add the wine after you turn off the heat.


1. DEBONE AND SEASON THE CHICKEN
Get chicken thighs that still have bones and skin attached. Carefully remove the bones with a knife from the meat and you can collect the bones for making stock next time. Season with salt and pepper


2. ROLL THE CHICKEN
Roll the chicken thigh up to form a roll


3. WRAP WITH ALUMINUM FOIL
Place the chicken roll on top of the aluminum foil, about 5 x 5 inch. Wrap tightly with the aluminum foil. Repeat with the other piece of chicken


4. PRESSURE COOK OR STEAM THE CHICKEN
Place the wrapped chicken on top of a trivet in a pressure cooker or steamer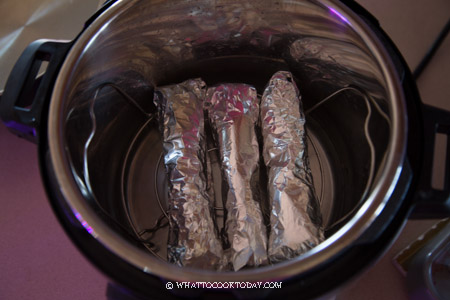 Pressure cook on high for 8 minutes or steam on the stove for 15 minutes


5. SOAK IN ICE WATER BATH
Carefully unwrap the aluminum foil


Transfer the chicken rolls to ice water bath and let them soak for 10 minutes


6. SOAK CHICKEN ROLLS IN DRUNKEN BROTH
Once the broth has cooled down completely, place the chicken rolls inside the broth or you can do this in freezer bag so the chicken pieces are soaked more evenly. Soak for 24 hours


7. SERVE COLD
This dish is supposed to be served cold as an appetizer. Remove the chicken rolls from the broth and slice the chicken rolls into about 1-inch pieces and arrange on a serving platter. Decorate with slices of cucumber on the side. Spoon few of the goji berries over the chicken pieces.

COOK'S TIPS YOU NEED TO KNOW
1. Use dark meat. It could be a personal preference, but I like it better when I use dark meat like chicken thighs to make this drunken chicken dish
1. Add the goji berries last. Overcooked goji berries can turn sour
2. Make sure the drunken broth is completely cool before you soak the chicken rolls in there. The last thing you want is a hot or warm broth will continue to cook the chicken rolls you soak in there
3. Definitely serve cold. This dish is meant to be served cold and it just tastes better when it's cold
HOW TO STORE LEFTOVER
I suggest to only cut the amount you are going to serve. Store the uncut chicken rolls in the broth if not serving it yet. They can be kept in the refrigerator for up to 3 days.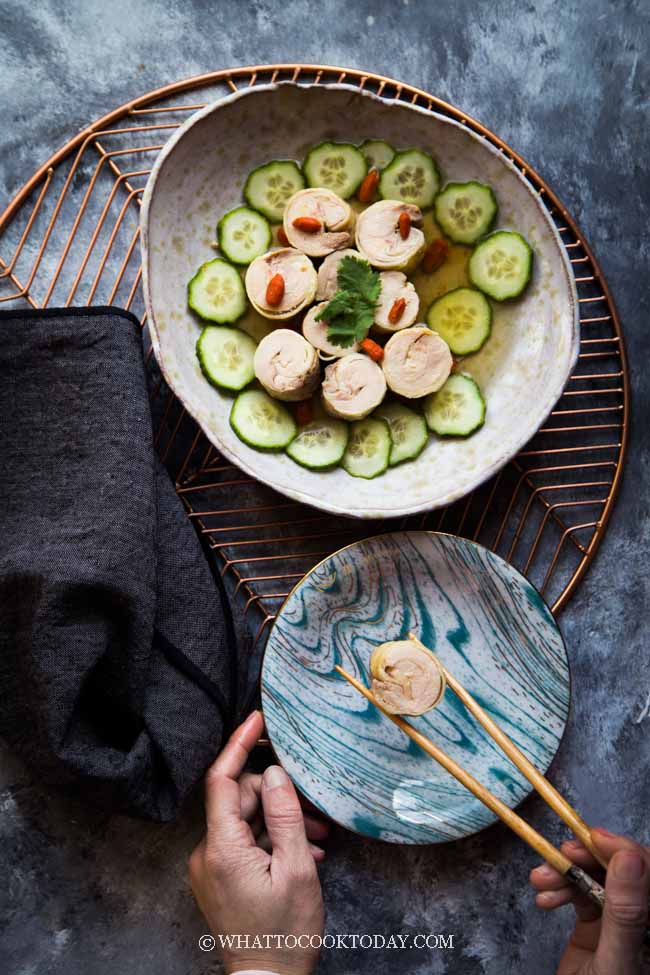 The hardest part of this recipe is probably to wait for 24 hours before you can eat them 🙂
I made this EASY CLAY POT SHAOXING DRUNKEN CHICKEN not too long ago and it's also one of my favorite easy and delicious recipe suitable for any weeknight or weekend meal.
Easy Chinese Cold Drunken Chicken Rolls
Ingredients
2

boneless skin-on chicken thighs
Drunken broth:
500

ml

chicken broth

½

cup

DOM Benedictine + 1/2 cup chicken broth

or use 1 cup Shaoxing wine

3

cloves

garlic

10

gr

dang shen (codonopsis root)

optional

20

gr

fresh ginger root

¼

cup

fish sauce

10

gr

rock sugar

omit if using DOM Benedictine

30

gr

goji berries
To season the chicken:
1

tsp

salt

¼

tsp

ground black pepper
Garnish:
1

medium

cucumber

cut into thin slices
You'll also need:
Aluminum foil

to wrap the chicken

Instant Pot

if you choose to pressure cook the chicken

Steamer

if you choose to steam the chicken on the stove
Instructions
Prepare the drunken broth:
Place all ingredients for the drunken broth, except for goji berries, in a saucepan. Bring to a boil and then lower the heat to let it gently simmer for 15 minutes. This will also cook off the alcohol. Remove from the heat. If you don't want to cook off the alcohol, add the wine after you turn off the heat. Let it cool down completely. Add goji berries into the broth
Debone and season the chicken:
Remove the bone from the chicken thighs. Keep the skin intact. You can save the bones for making stocks next time

Season the chicken pieces with salt and pepper on both sides
Wrapping the chicken:
Place 1 piece of chicken on top of the aluminum foil, about 5 x 5 inch. Roll the chicken thigh up and then wrap tightly with the aluminum foil. Repeat with the other piece of chicken
Method 1: If you pressure cook the chicken:
Pour about 1 cup of water into the inner pot of Instant Pot. Place a trivet in there and set the wrapped chicken rolls on top of the trivet. Close the lid and press "pressure cooker" and make sure it's set on high pressure. Set timer to 8 minutes and then release pressure immediately after
Method 2: If you steam the chicken on the stove:
Bring the water in the steamer on a rolling boil. Place the wrapped chicken in the steamer and steam for 15 minutes
Prepare ice water bath (for both methods):
While waiting for the pressure cooker to depressurize or 5 minutes before end of steaming time on the stove, prepare ice water bath to submerge the chicken later. This step will help to stop the cooking and lock in the juices

Carefully unwrap the aluminum foil and transfer the chicken rolls to ice water bath and let them soak for 10 minutes
Soak the chicken in drunken broth:
Once the broth has cooled down completely, place the chicken rolls inside the broth or you can do this in freezer bag so the chicken pieces are soaked more evenly. Soak for 24 hours
Serving:
This dish is supposed to be served cold as an appetizer. Remove the chicken rolls from the broth and slice the chicken rolls into about 1-inch pieces and arrange on a serving platter. Decorate with slices of cucumber on the side. Spoon a few of the goji berries over the chicken pieces. Store the uncut chicken rolls in the broth if not serving it yet. They can be kept in the refrigerator for up to 3 days