Make this comforting Singapore style fish bee hoon soup with an addition of XO liquor if you choose too with this easy no fuss recipe.
FISH SOUP BEE HOON
This is another one of the popular Singapore hawker foods that I used to eat pretty often when I lived in Singapore. I love anything soupy despite the hot humid weather. The fish soup bee hoon can be made with fish head or fish fillet served in a broth made with fish stock and/or bones. The fish can be fried or boiled. Sometimes milk and/or alcohol like XO cognac is added like in this XO fish bee hoon soup.
WHAT DOES XO COGNAC MEAN?
I'm not an expert in this field but a quick google search reveals that XO stands for Extra Old. It is a grading system used for cognac. XO cognac is aged for at least 6 years, though now the standard has been changed to 10 years.
Must you really use XO cognac in this recipe? Of course not! You can use other alcohol of your choice. You can use other Chinese cooking wine or brandy if you prefer. I've made it with DOM Benedictine as well. My mom made this for me when I was still doing the Chinese confinement diet. She cooked off the alcohol so that it's safe for me to consume since I was still nursing a baby at that time.
WHAT KIND OF RICE NOODLE TO USE
You can use thin or thick rice noodle sticks. I use the thin or they call it rice vermicelli noodles.

HOW TO MAKE EASY XO FISH BEE HOON SOUP
I didn't make the fish stock from scratch, but this quicker version still yields delicious result.
1. MARINATE THE FISH
Cut the fish fillet into a large chunk and place in a large mixing bowl. Add the marinate ingredients and toss to mix. Let them marinate for 1 hour in the refrigerator.

2. PREPARE SOUP BASE
Preheat a large pot. Add sesame oil followed by slices of ginger. Stir fry until aromatic for about 1 minute.


Add garlic, shallots, and white parts of green onion and stir fry for another minute.


Pour in the chicken stock and add the ikan bilis (anchovies). Bring to a boil and then lower the heat to let it gently simmer for 20 minutes


Strain the stock and discard all the solid. Bring back to a boil and then lower the heat to let it gently simmer. Add fish slices if you don't want to fry the fish, tomato slices (I didn't use in this recipe), evaporated milk, and seasonings. Cook for another one minute. Have a taste and adjust to your taste.
3. FRY THE FISH FILLET
Preheat about 2-inch of oil for deep frying. Whisk the cornstarch and rice flour in a mixing bowl. Coat the slices of fish with the flour mixture.


Fry the fish until crispy and golden brown.

4. SERVE
Portion the noodles out into an individual serving bowl. Arrange few stalks of choy sum, few slices of tomatoes. Ladle the hot broth over generously. Topped with 4-5 pieces of fish fillet, a sprinkle of fried shallots, and about 1 tablespoon of XO cognac if you use. Serve immediately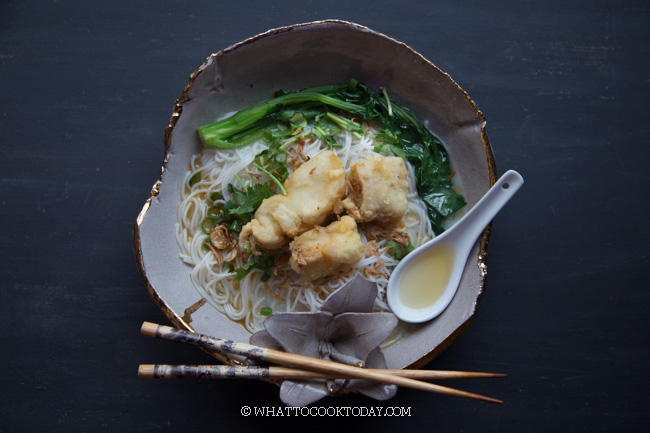 This may not be the most traditional XO fish bee hoon soup, but I can tell you that it's still really yummy and the family loves it. The kids love it (minus the alcohol of course!).

Make this comforting Singapore style fish bee hoon soup with an addition of XO liquor if you choose too.
For baking/ kueh making: I highly encourage to weigh ingredients with a digital kitchen scale instead of using measuring cups as they are not very accurate especially when it comes to recipe that requires precision.
GRAMS TO CUPS CONVERSION (UNSIFTED)
INGREDIENTS
1

lb

dried rice stick noodles

-

about 454 gr, cook according to direction on package

1

kg

firm white fish fillet

-

Snakehead, Grouper, Snapper, Cod fish, or Tilapia

1

Tbsp

sesame oil
Aromatics:
1

thumb-sized ginger

-

thinly sliced

2

small red onions

4

cloves

garlic

3

stalks

green onion, use the white parts

-

cut into 2-inch stalks

2

large

tomatoes

-

quartered
Soup base:
6

cups

chicken stock

1/2

cup

dried ikan bilis

200

ml

evaporated milk
Seasonings:
1

Tbsp

fish sauce

1/2

tsp

Salt

-

or more to taste

1/4

tsp

sugar
Top with:
1

Tbsp

XO cognac or brandy

-

optional, see notes
INSTRUCTIONS
Marinate the fish:
Cut the fish fillet into a large chunk and place in a large mixing bowl. Add the marinate ingredients and toss to mix. Let them marinate for 1 hour in the refrigerator
Prepare easy soup base:
Preheat a large pot. Add sesame oil followed by slices of ginger. Stir fry until aromatic for about 1 minute. Add garlic, shallots, and white parts of green onion and stir fry for another minute. Pour in the chicken stock and add the ikan bilis (anchovies). Bring to a boil and then lower the heat to let it gently simmer for 20 minutes

Strain the stock and discard all the solid. Bring back to a boil and then lower the heat to let it gently simmer. Add fish slices if you don't want to fry the fish, tomato slices (I didn't use in this recipe), evaporated milk, and seasonings. Cook for another one minute. Have a taste and adjust to your taste
Blanch the veggie:
Bring a small pot of water to a boil. Cook choy sum for about 2 minutes and then refresh with cold water and set aside
If you choose to fry the fish fillet:
Preheat about 2-inch of oil for deep frying. Whisk the cornstarch and rice flour in a mixing bowl. Coat the slices of fish with the flour mixture and fry the fish until crispy and lightly golden brown
Serving:
Portion the noodles out into individual serving bowl. Arrange few stalks of choy sum, few slices of tomatoes. Ladle the hot broth over generously. Topped with 4-5 pieces of fish fillet, sprinkle of fried shallots, and about 1 tablespoon of XO cognac if you use. Serve immediately
Notes
You can use Chinese wine, brandy, or other alcohol of your choice as a substitution if you choose to include in the recipe