Kazakh Noodles with Laghman sauce / Uyghur Noodles – Hand-pulled egg noodles are smothered in delicious lamb meat and vegetable sauce called Laghman
A visit to a Tibetan restaurant not long ago reminds me of this Kazakh Noodles with Laghman sauce or usually known as Uyghur Noodles. They aren't exactly the same but bears that similarity. I think it was eons ago when I first had my orientation as a freshman at college in Oklahoma. I remember I went to the school cafeteria with my new friends from other countries. I was introduced to this other student, who looked Asian, however, he told me that he was from Kazakhstan. Inside my head I was trying to relate his look with this country Kazakhstan (this shows how great my geography was. Shame on me!). For the longest time, I thought Kazakh people would look like European. Well, it's right that Kazakhstan is actually kinda in Central Asia and Eastern Europe. Reading the history of the Kazakh people though, I finally knew that approximately one and a half millions Kazakhs live in China. They are the second largest non-Han population in Xinjiang (far west of China).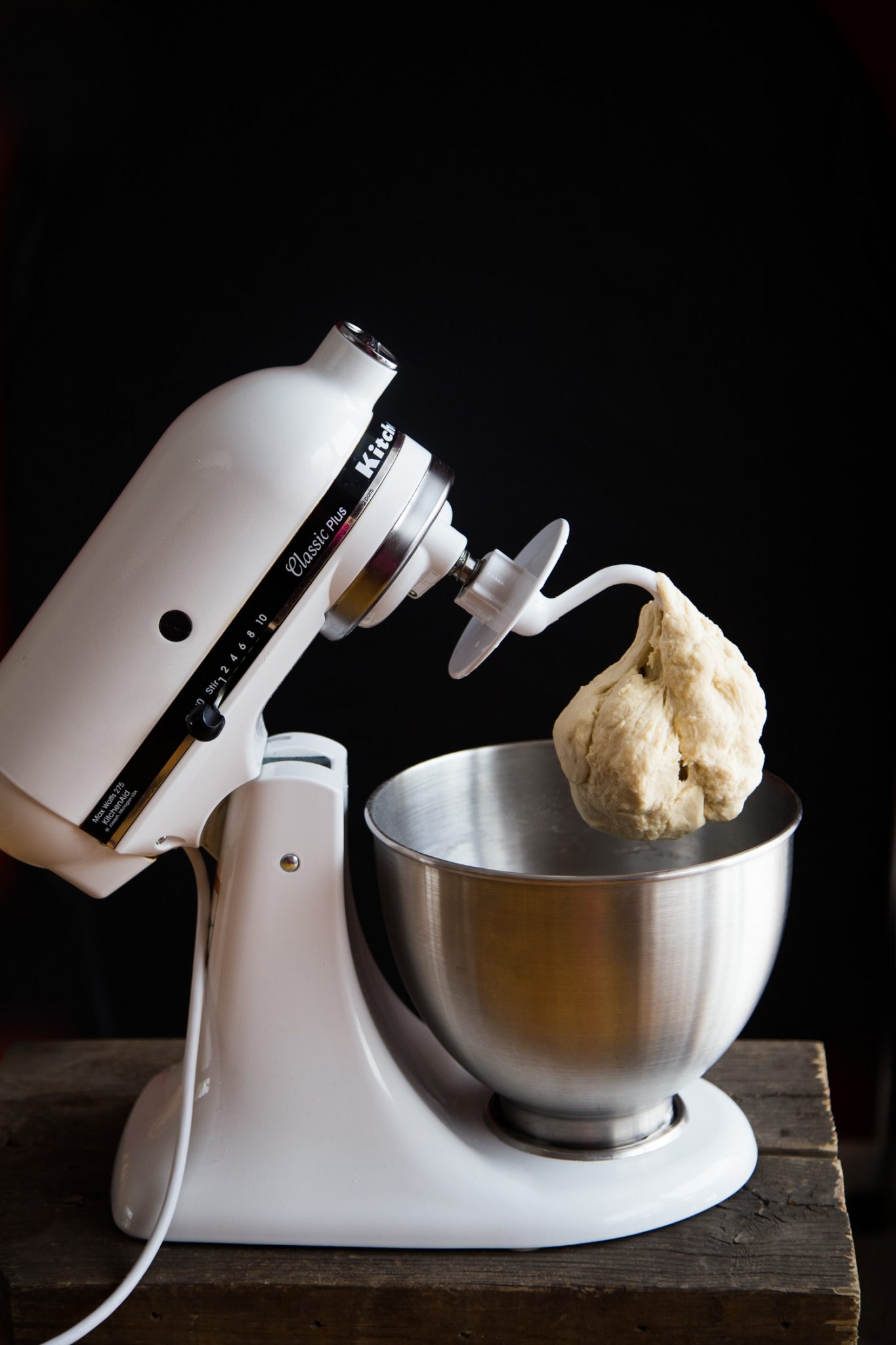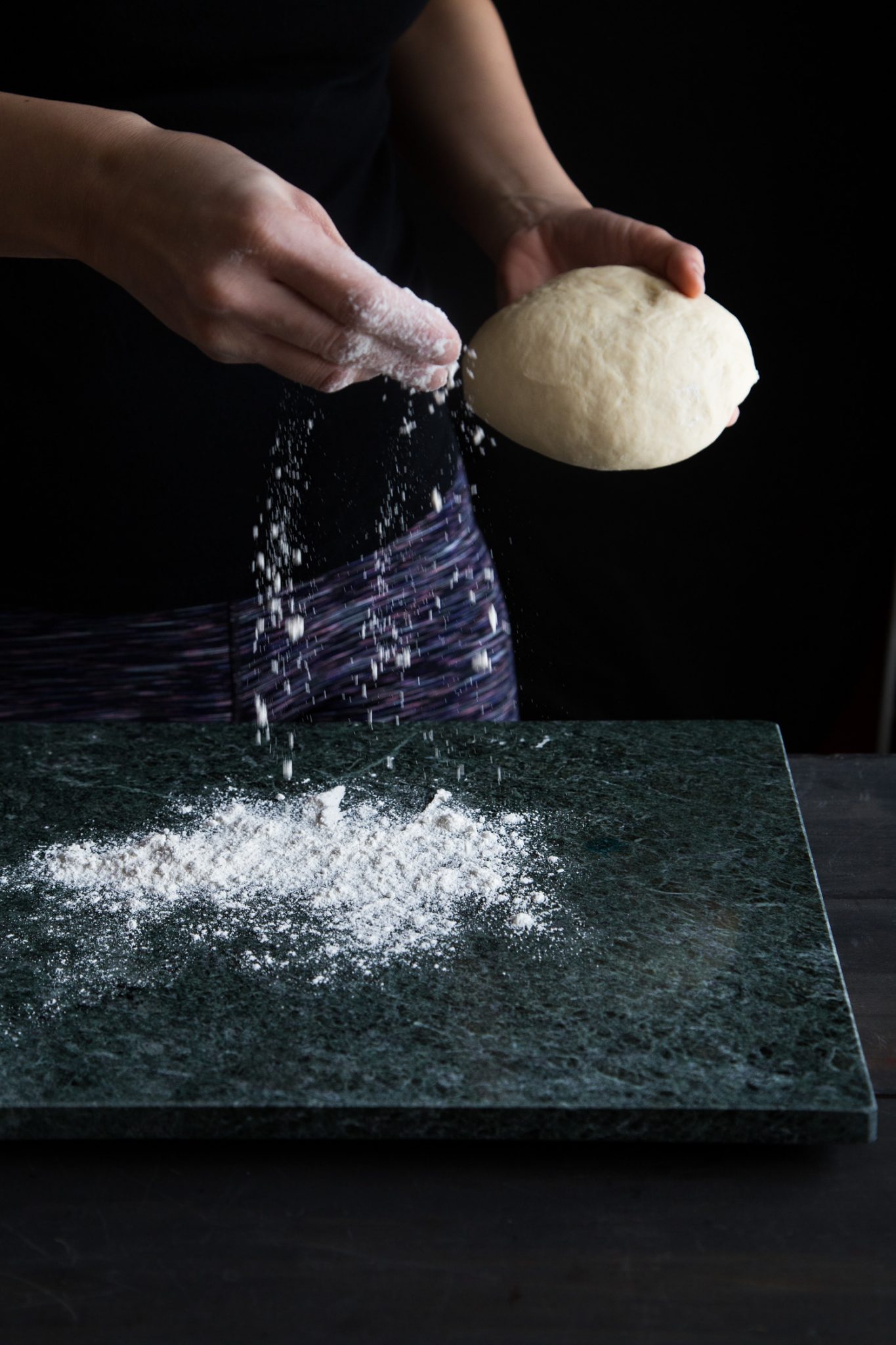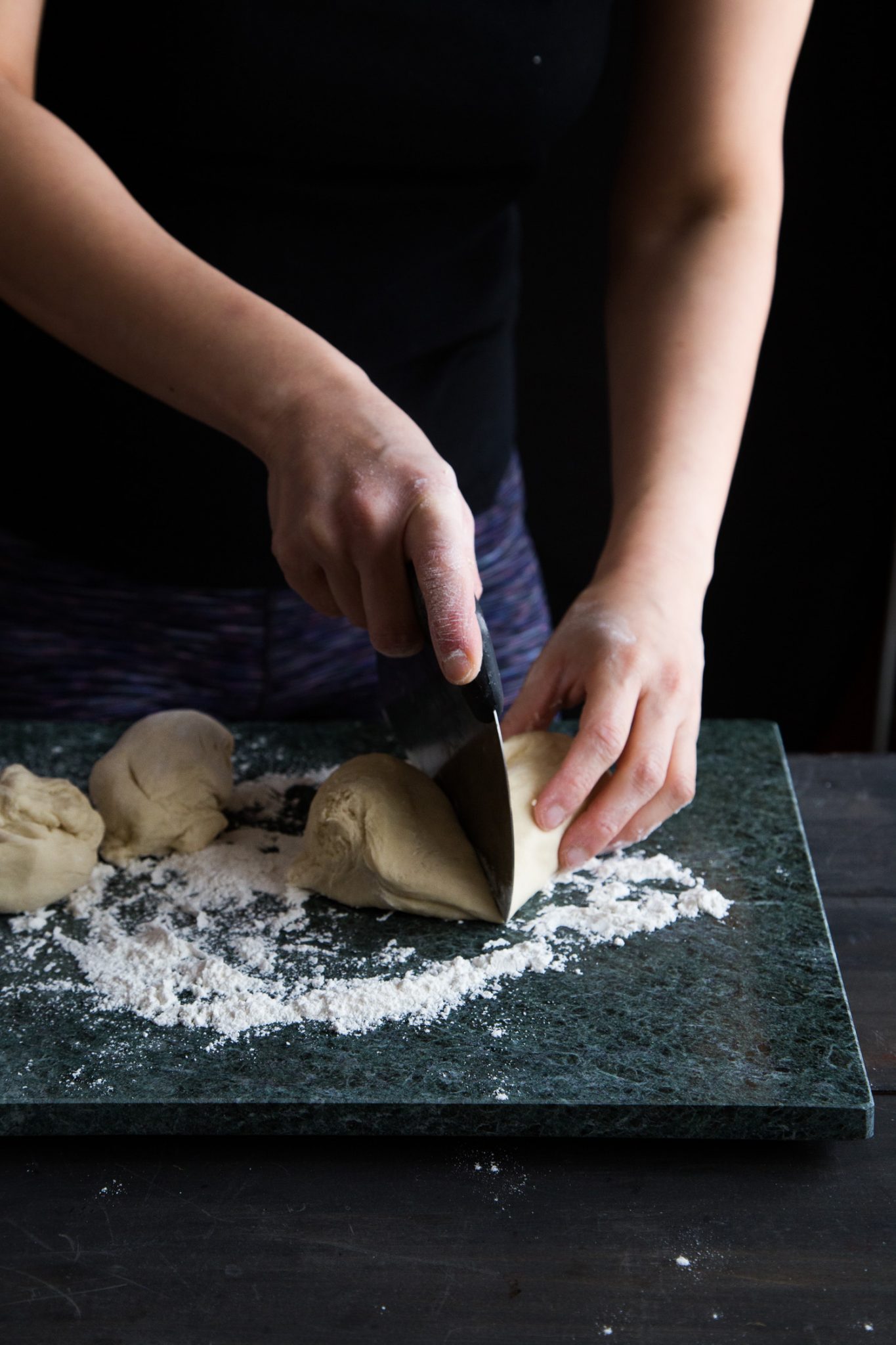 According to the Beyond The Great Wall cookbook by Jeffrey Alford and Naomi Duguid, the cooking of Kazakhs is a reflection of their traditional lifestyle. Meat, bread, and milk and dairy products are all important elements of the cuisine, as is rice brought in from central China. Food is very seasonally based, and food preservation, through the use of salting and drying, is important, given the long, cold winter season.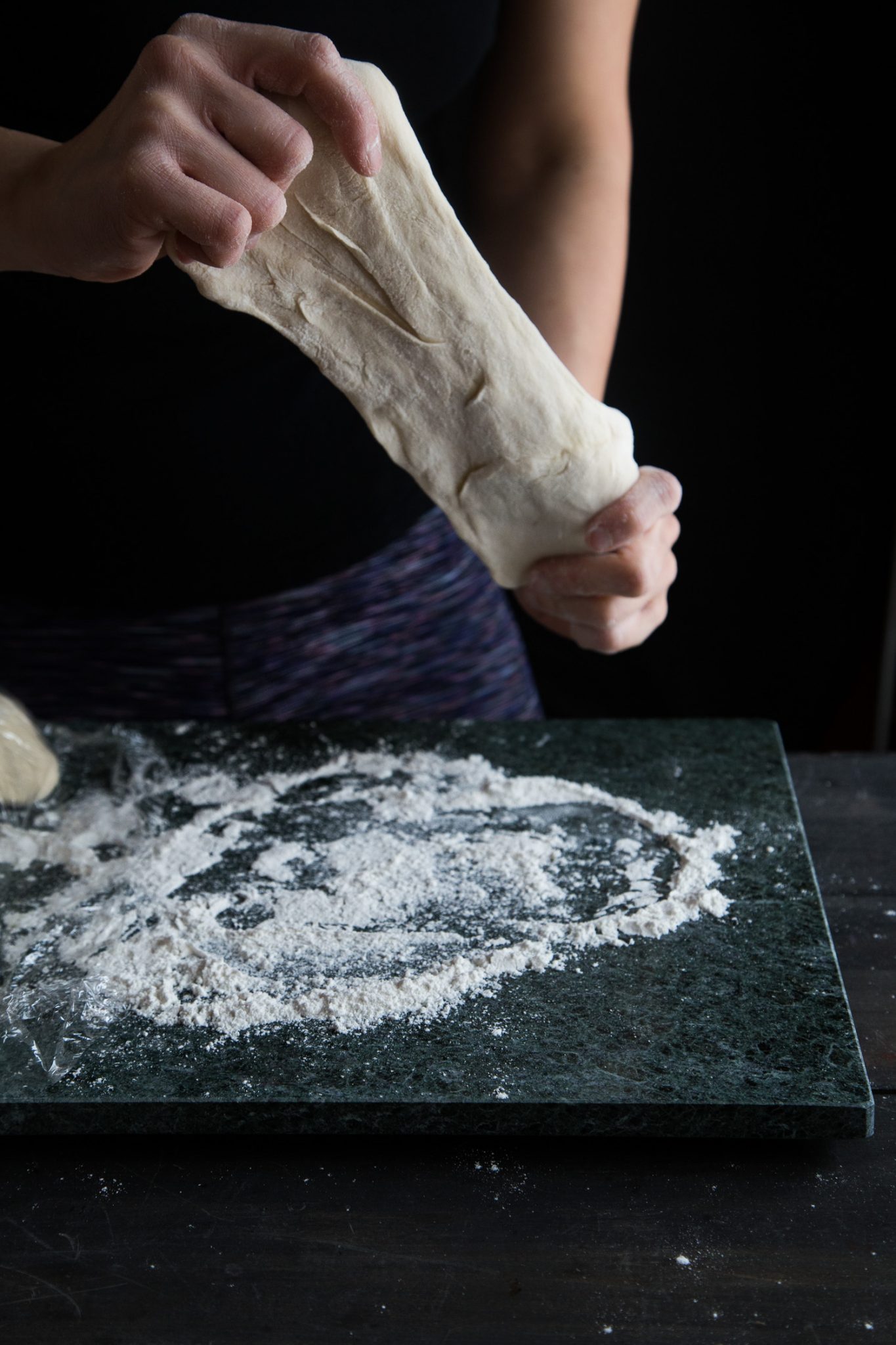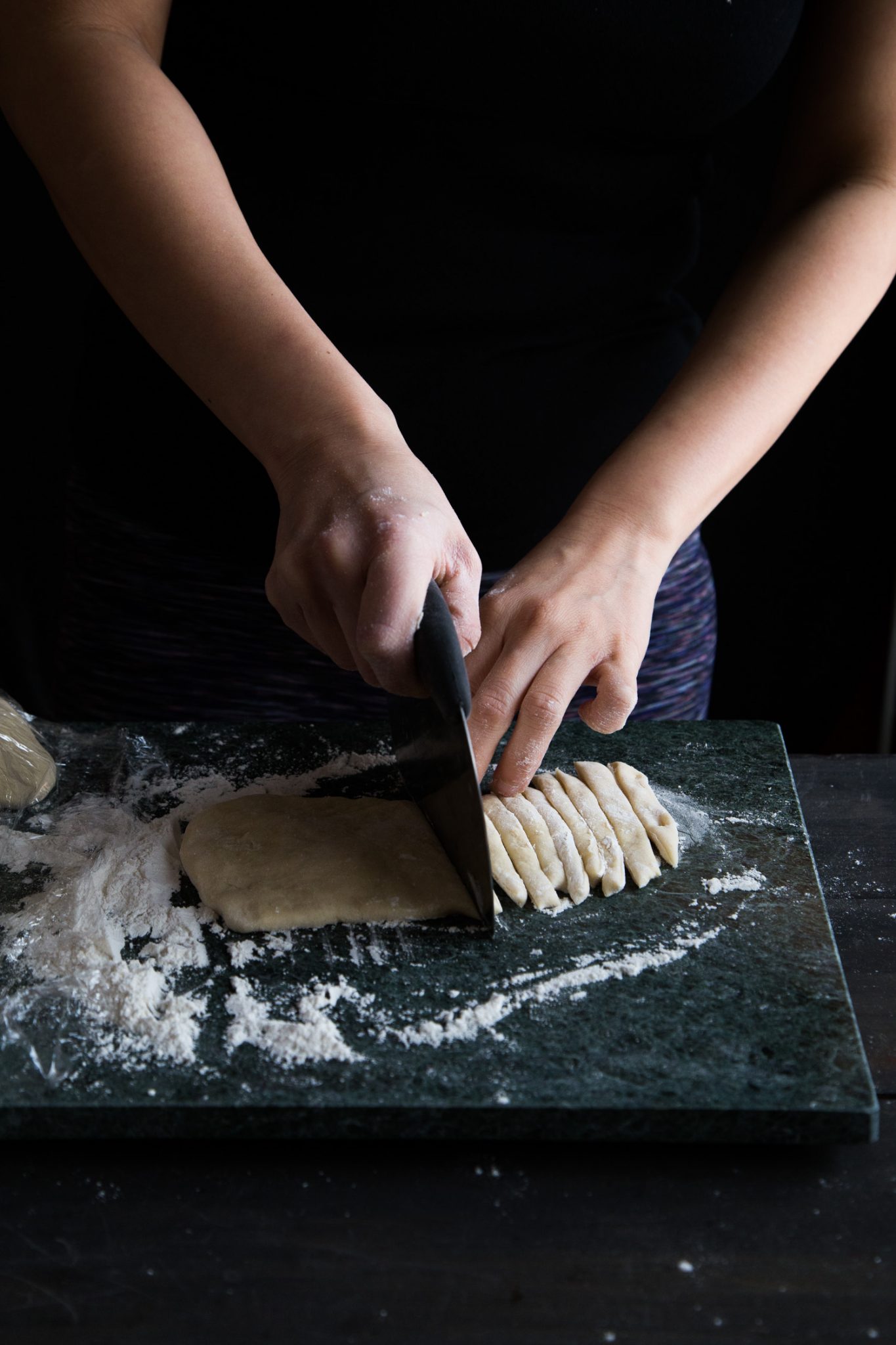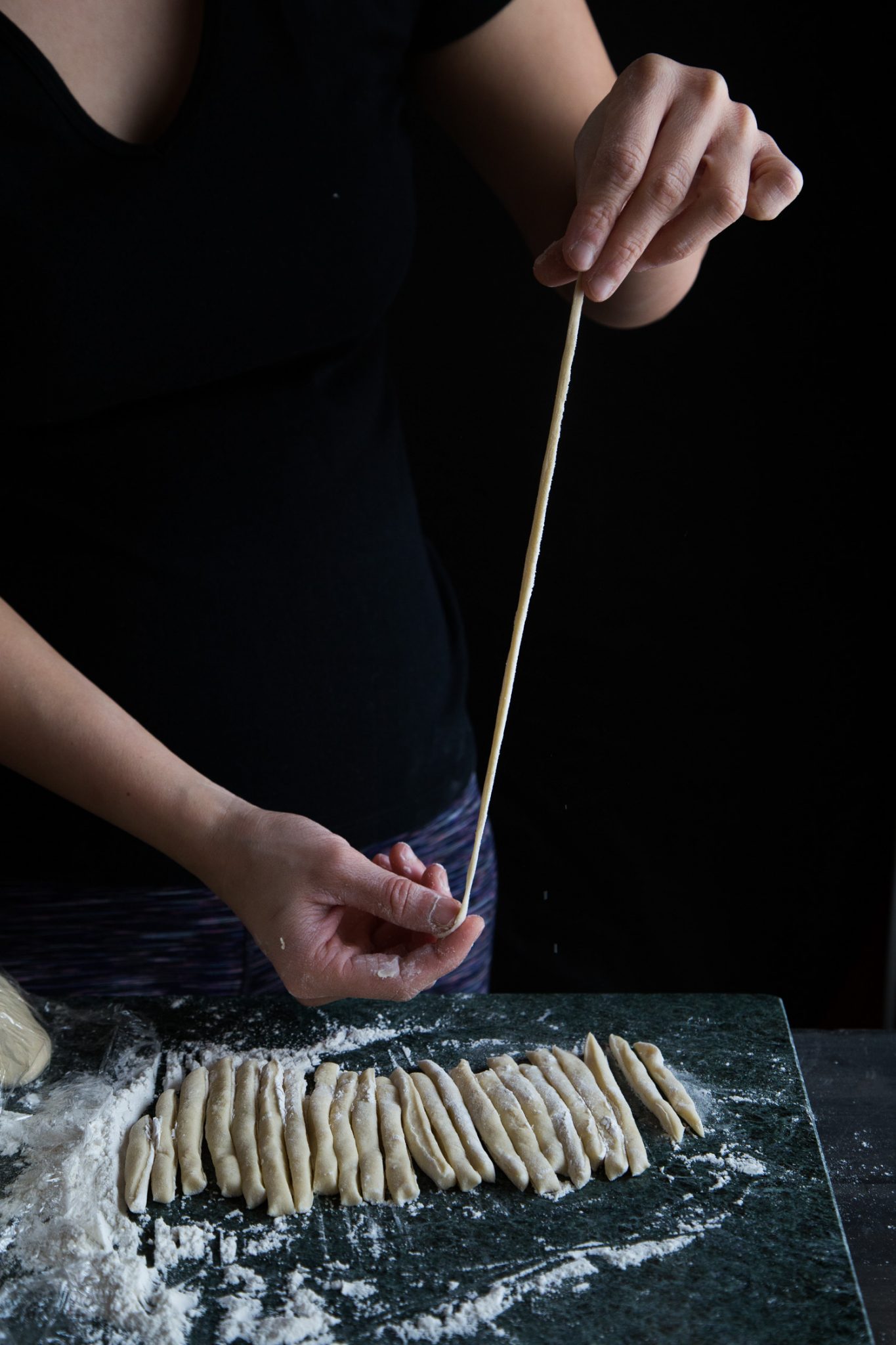 Meat soups and stews are at the heart of Kazakh coooking, and most meals are simmered one-pot or one-platter dishes. The Kazakhs also made their noodles by hands as in this recipe; Kazakh noodles with Laghman sauce. The recipe for the noodles and the techniques do not vary much from the noodles I made before: flour, eggs, salt and water. Pretty basic. The noodles can be made into dried form as well. I didn't try the dried form as I prefer the fresh-made noodles.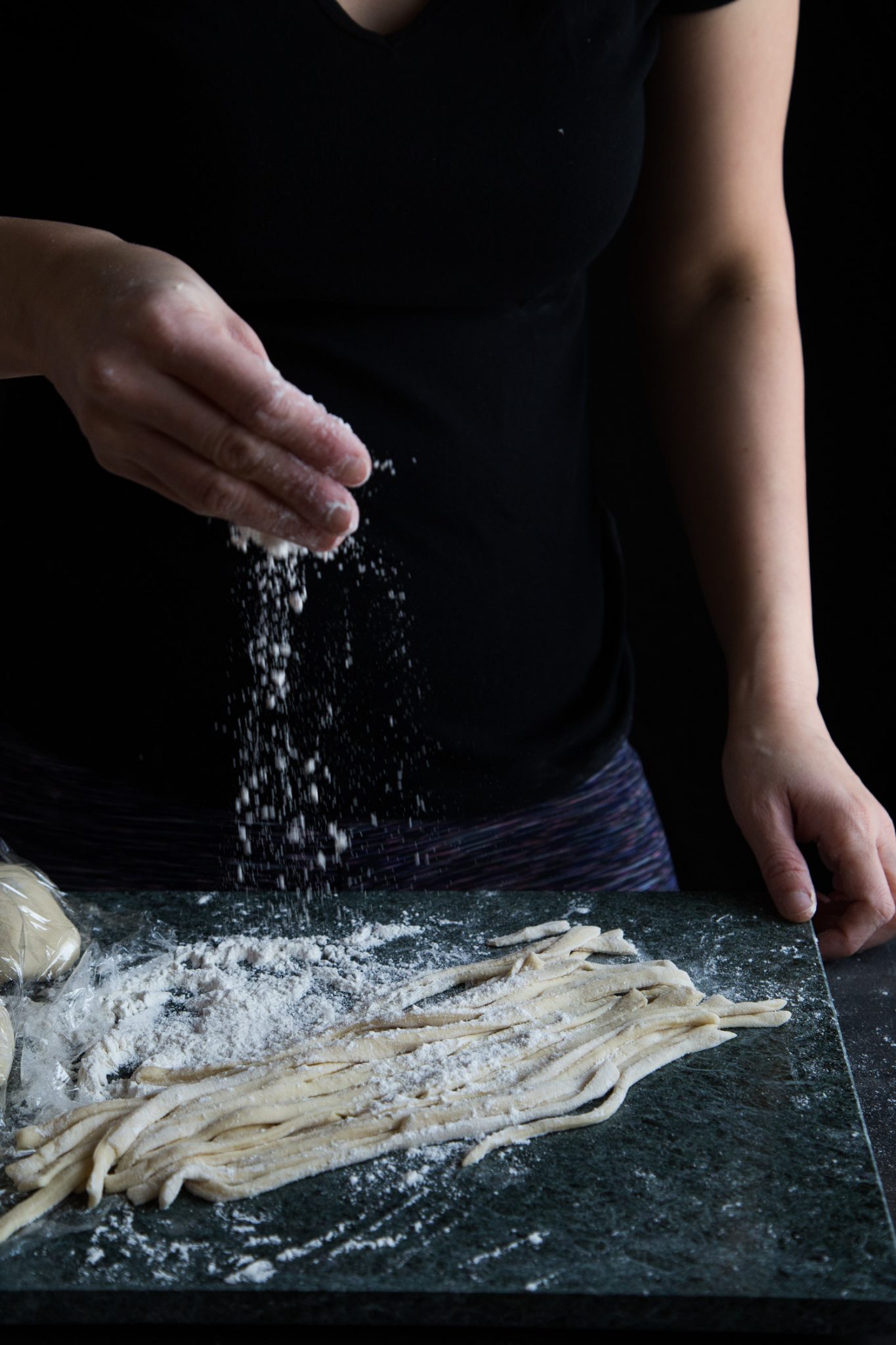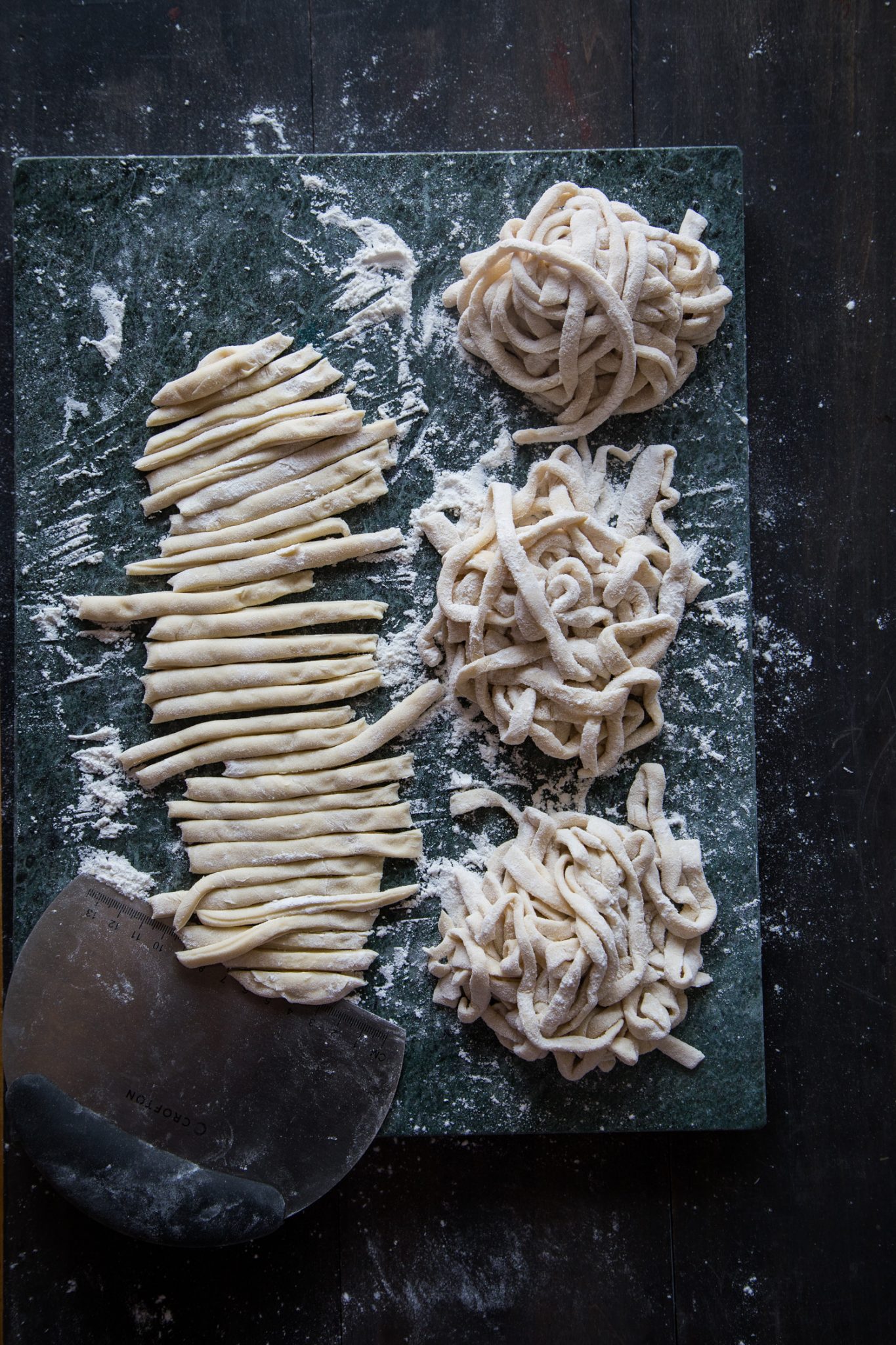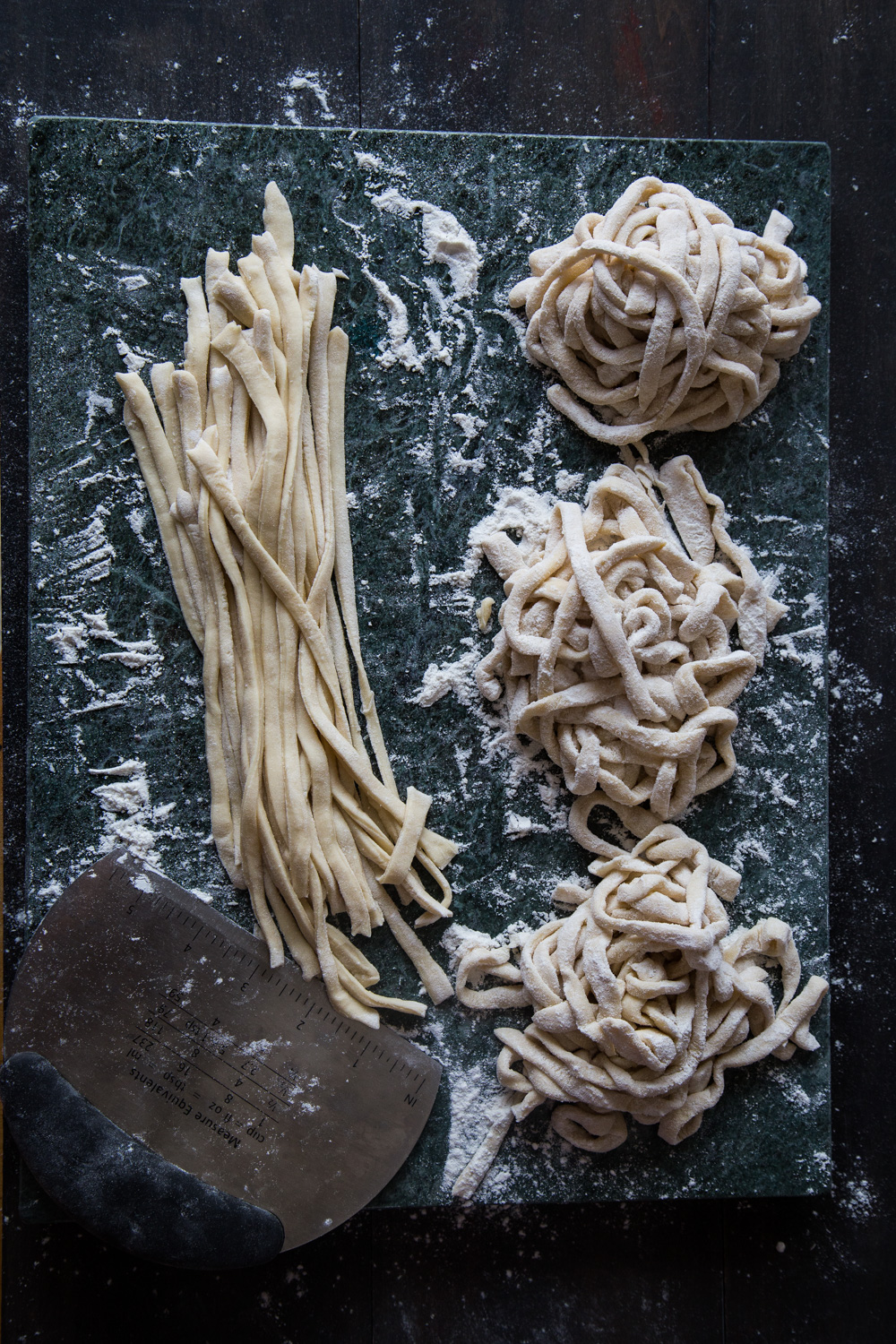 Now the terms laghman means noodles with stir-fried lamb and vegetables. Laghman is one of the province in Afghanistan, however, this laghman sauce is not related to that. It is simply a term used by the Uyghur people.


This Kazakh noodles really goes well with the laghman sauce. The noodles are actually pulled by hands. In Chinese we called it "La Mien". It is slightly chewy and the sauce are really hearty and tasty. I also drizzled some black vinegar and it tasted even better.


Recipe is adapted from Beyond The Great Wall cookbook by Jeffrey Alford and Naomi Duguid
Kazakh Noodles with Laghman sauce / Uyghur Noodles
Ingredients
Noodles:
1 ¾

cups

all-purpose flour

preferably unbleached, plus extra for surfaces

½

tsp

salt

1

large egg

About 1/2 cup lukewarm water or more to start with
Laghman sauce:
½

lb

boneless lamb or goat or ground lamb

2

Tbsp

oil

1

medium onion

thinly sliced

1

Tbsp

minced garlic

2

multi-colored bell pepper

cored, seeded, and sliced into 1/4-inch-wide strips

1 ½

lbs

ripe tomatoes

roughly chopped

4

cups

water

1

tsp

salt

Black Vinegar -optional

for drizzling
Instructions
Make the dough:
At least one hour before you serve the noodles, place the flour, salt, and eggs in a medium bowl and stir to combine them. Add the water, reserve about 1/4 cup on the side as every flour has a different liquid absorption capacity. Stir to mix. If the dough is still dry or stiff, mix in a little extra water until you get a smooth non-sticky dough

Turn out onto a lightly floured surface and knead until the dough is no longer sticky. Cover and rest for 30 minutes or up to one hour. This is an important rest and do not skip.
Shape the dough:
Knead the dough a few times. It should be smooth now after the rest. Cut the dough into 4 equal pieces on a lightly floured surface. Flatten each piece under the palms of your hands into a rectangle approximately 12 inches long and 3 to 4 inches wide. Use a sharp knife or a metal dough scraper or pizza cutter to cut the rectangles crosswise into strips just under 1/2 inch wide. Cover the dough with a cloth or plastic wrap and let them rest for another 30 minutes, or for as long as 2 hours if you have time. I would say 1 hour would be the best. The longer you rest the dough, the easier it is to pull. After resting, the dough will stretch easily when you pull the noodles later

Dust your work area with some flour. Dust the flour on the dough as well to keep them from sticking.
Pull the noodles:
Pick up a strip of dough and see how it yields and thins with the pressure of your fingers and thumbs, you will find your own technique. Pick up a dough strip and touch both sides of it to the floured surface, then pinch it gently near one end between the thumb and forefinger of one hand, holding it nearer the center with the thumb and index finger of your other hand. You'll be stretching it both by pinching it along its length and by pulling the pinched section gently away from where you're holding it in your other hand

When the strip is 12 to 15 inches long, touch it again to the floured surface to dust it with flour, then lay it to one side of the floured surface to dust it with flour, then lay it to one side of the floured surface. Repeat with the remaining dough strips
Making Laghman sauce:
Cut the meat into small pieces if not using ground meat, approximately 3/4-inch squares. Have all your seasonings and vegetables ready to stir-fry

Heat a large wok or wide heavy pot over high heat. Add the oil and swirl it around a little. When the oil is hot, add the onion, garlic, and meat and stir-fry for about 4 minutes, or until the meat has changed color and the onion is translucent. Add the peppers and stir-fry for 2 minutes.Add the tomatoes, water and salt and mix well.

Lower the heat to medium and cook for approximately 7 minutes, until the peppers are soft but still retain shape. Remove from the heat and proceed to "when ready to serve" step
When ready to serve:
Bring about 8 cups of water to a vigorous boil. Add the noodles, bring back to a boil, and cook until tender but still firm to the bite, about 1 to 1 1/2 minutes

Use a mesh basket or tongs to lift the noodles out into individual serving plate

Ladle the sauce over the cooked Kazakh noodles. Serve immediately. I love it with black rice vinegar 🙂


You might also like these noodles:
KWE TIAU SIRAM (FLAT NOODLES IN EGG GRAVY / WAT TAN HOR)
MIE SOP AYAM MEDAN (INDONESIAN CHICKEN NOODLE SOUP)
SHIO RAMEN