Ramen noodles are served in light salt-based shio broth topped with meat, veggies, fish cakes that will satisfy that craving for ramen.
I didn't really know much about preparing ramen noodles until few years ago. Then came the trip to Hawaii where we had ramen noodles almost everyday lol! Very authentic ramen too. If you ever visited Honolulu and wondering where's the great place to have a bowl of authentic ramen that will satisfy your heart and soul, I will strongly suggest Ramen Nakamura. This little shop is always packed with people and I couldn't be any more pleased with the ramen noodles there. My favorite ramen from Ramen Nakamura is their oxtail shio/shoyu ramen. Truly the best! Their gyozas are also the best I've tasted so far. You'll see lots of tourists, mainly Japanese, eat there.
You'll also hear lots of "slurping" sound (which my 2 kids are very good at too) in there. That's how Japanese or in fact, Asians will eat their noodles. Not a sign of impoliteness, but simply a sign of satisfaction!
After preparing the ramen chicken stock, the next thing to decide is what kind of base to use for the soup. Two very popular bases that you'll hear often are shio and shoyu. This recipe is for shio ramen noodles. Shio means salt. Shio base is light in color. The base is prepared with kombu, sea salt, water and katsuobushi. Don't let the word "salt" scared you thinking that your ramen is going to be awfully salty. It simply means that this base uses salt as one of its flavors.
In his Takashi's Noodles cookbook, Takashi Yagihashi shared that shio ramen hails from the northern Japanese city of Sapporo, and is a perfect antidote to a frigid winter day. Shio ramen is a relatively late addition to the ramen lineup in Japan, but they're now popular across Japan. This is the classic recipe, which is loaded with fresh vegetables.
The ramen noodles come in several different kinds too. There are wavy/curly ramen and there are also straight ramen and I've seen crispy ramen as well. I used the straight ramen (as you can see in the photos). Once you've known how to make your own ramen, you will never ever buy the instant ramen noodles anymore !!!! Both hubby and daughter love this shio ramen.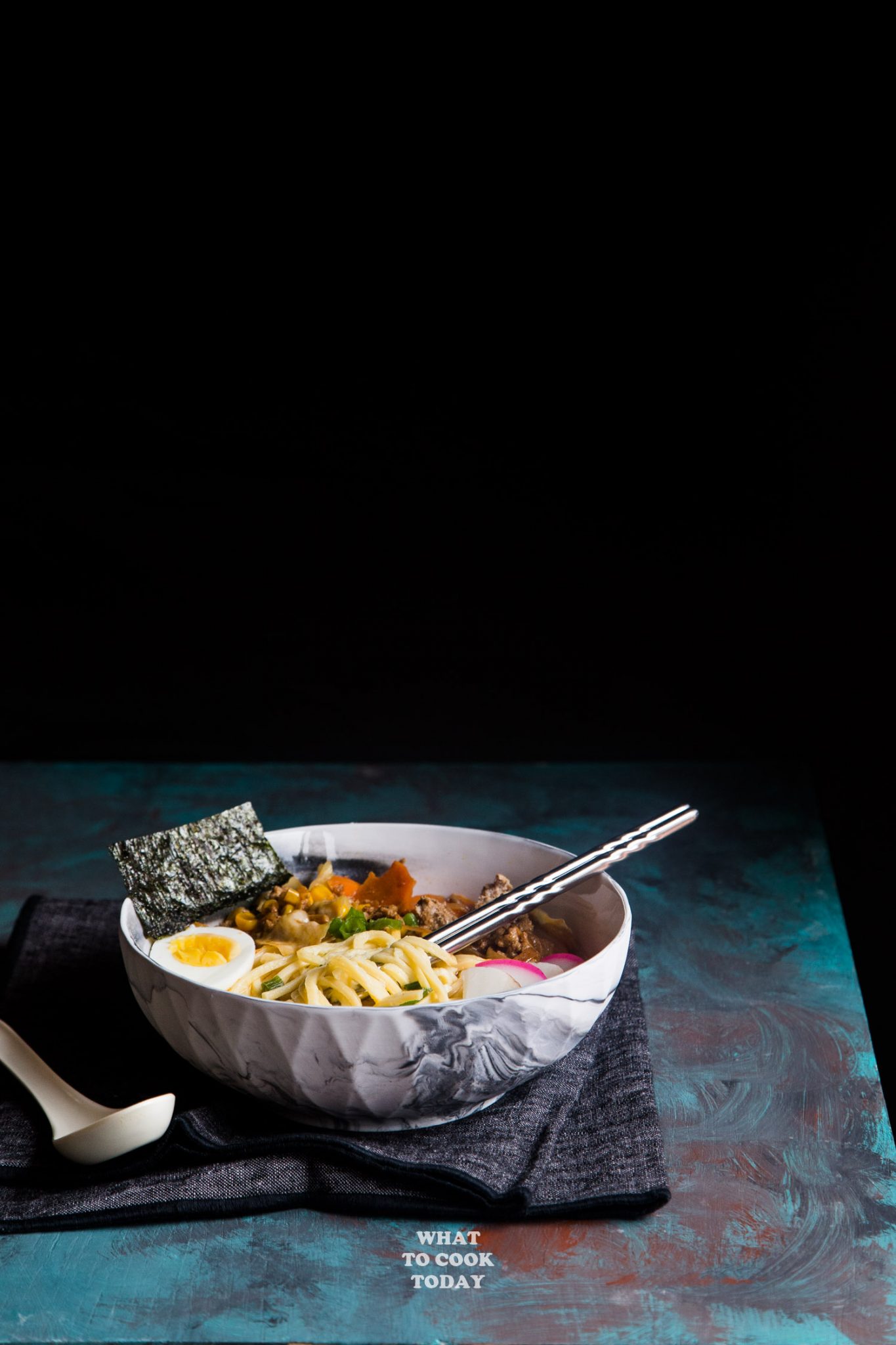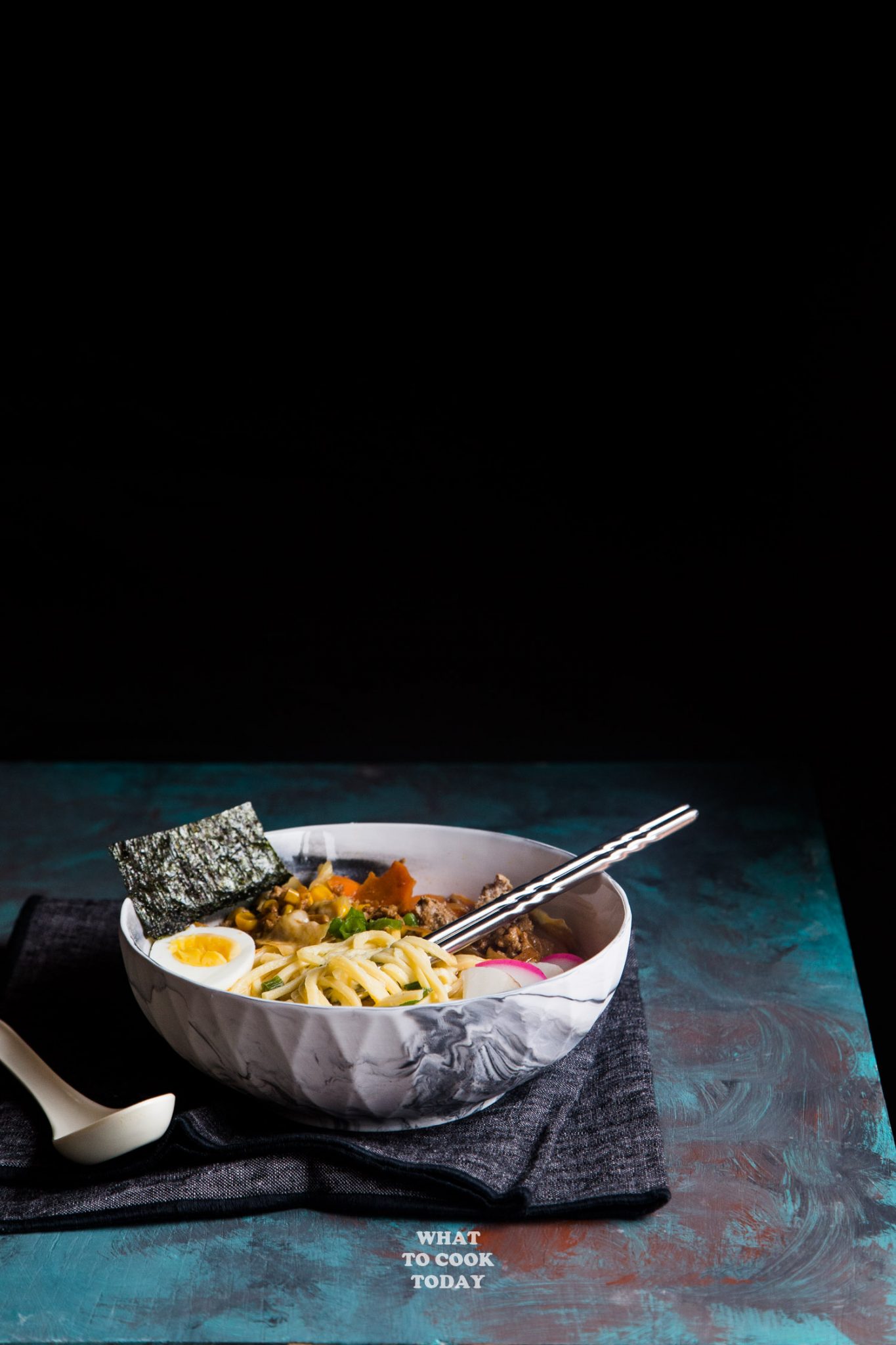 Recipe is adapted from Takashi's Noodles
Shio Ramen
Ingredients
Basic Ramen Chicken Stock (Prepare the day before):
3

quarts

water

3

lbs

chicken bones/carcass

1

large

carrot

2

stalks

celery

1

leeks

white part only

½

head of cabbage

6

cloves

garlic

peeled

1

inch

fresh ginger

peeled and smash to release flavor

1

piece

kombu

½

cup

sake
Shio base (can be prepared the day before too):
1

piece

kombu

wiped with a damp cloth

4

cups

water

¼

cup

kosher or sea salt

1 ⅓

cups

katsuobushi
Pork Toppings:
¼

cup

cooking oil

divided

2

Tbsp

minced garlic

½

cup

plus 2 Tbsp ground pork

2

Tbsp

hoisin sauce

1

tsp

tobanjan

chili sauce

½

cup

sliced onion

½

cup

peeled and thinly sliced carrots

sliced on an angle

1

cup

frozen corn

thawed

½

green cabbage

cored and cut into bite-size pieces

4

cups

bean sprouts

rinsed well

2

scallions

both white an green parts, thinly sliced on an angle
Serve with:
28-30

oz

dried ramen noodles

6

slices

or more of Kamaboko/Japanese fish cake

8

cups

basic ramen chicken stock (from above)

1 ½

cups

shio base (from above)

Dash of hot chili oil

Lava eggs

see notes
Instructions
Prepare basic ramen chicken stock:
Cut all the vegetables into large chunks. Add this into a large pot along with the rest of the ingredients. Bring to a boil and then lower the heat to let it simmer for the next 2 hours. Spoon off any scums that arise as it simmers

After 2 hours, strain the stock into a clean pot and discard all the solid. The stock is ready to be used. It can be stored in the refrigerator for up to 1 week or freeze if you plan to keep longer
Prepare shio base:
Prepare the shio base by combining all the ingredients for shio base in a saucepan. Place over high heat and bring to a boil, then reduce the heat and simmer for 10 minutes. Strain through a fine-mesh sieve
Prepare shio broth:
Combine the chicken stock and shio base in a pot and place over high heat to make the shio broth Bring just to a boil, then reduce the heat to low and cover to keep warm
Prepare pork topping:
Heat 2 Tbsp of the vegetable oil in a very large saute pan or wide-bottomed pot over high heat. Once hot, add the garlic and cook for 30 seconds, stirring constantly, but be careful not to let the garlic burn. Mix in the ground pork and cook for 2 minutes. Add the hoisin sauce and tobanjan/chili sauce and continue cooking, stirring constantly with a wooden spoon to break up the pork into small pieces. Cook for 5 minutes, then remove the pork from the pan and set aside

Add the remaining 2 Tbsp vegetable oil to the pan and return it to high heat. Add the onions, carrots, corns, and cabbage. Cook until the vegetables begin to soften, stirring often, about 3 minutes. Mix in the bean sprouts and reserved pork. Cook for 1 minute and remove from the heat
Serving:
Cook the ramen noodles in a pot of boiling water according to package instructions. Drain well and divide among 4 bowls. Top each bowl with one-fourth of the broth, vegetables, and pork, and garnish with fish cake, scallions, and hot chili oil to taste
Notes
Recipe for Lava eggs is here (though mine was overcooked by a minute in the photo! sad..sad!)
You might also like:
Shoyu Ramen
Homemade Squid Ink Ramen
Broiled Lobster Ramen in Squid Ink Broth
Easy Kimchi Ramen
Sea Urchin Tsukemen