Learn how to make chewy toothy ramen noodles infused with the black squid ink and don't miss out on the super easy buttered ramen with shrimp stir-fry in the recipe too.
I don't know why it took me so long to get a stand mixer, but I got it last year and my life has been changed forever! literally! No, I'm not being paid by any company to say this. Seriously… I have made so much noodles ever since I got it and doing more baking because of it too.
Then few months ago, I attempted to make ramen noodles! Literally went through hell trying to roll the dough by hands. Ramen noodle dough is dry compared to any dough I've ever worked with (like almost falling-apart kinda dry). I ended up throwing the dough away because I just couldn't handle it with rolling pin. Maybe it's just me!
Then for few months, I was contemplating whether to get a pasta maker or just roller and cutter. I was asking around too and finally decided to just get the roller and cutter that I could easily attach to the stand mixer and we have been enjoying homemade noodles ever since.
If squid ink freaks you out, you can totally skip the squid ink. But I can tell you, adding the squid ink doesn't make the noodles taste nasty or yucky as you might think. My kids said "Eweeee…" when they first see the black noodles, but they finished the whole bowl and said "It's good mama"
Love how chewy and toothy these ramen noodles are. Some of you may ask if you can make the ramen noodles without alkaline water (kan sui). I've tried making it without it and yes, you can. It may not be as chewy, but still firm enough in my opinion. I like to use bread flour in making noodles because of its higher gluten content too.
You can use it in noodle soup or in stir-fry as I included in the recipe. Simple, easy, yet satisfying.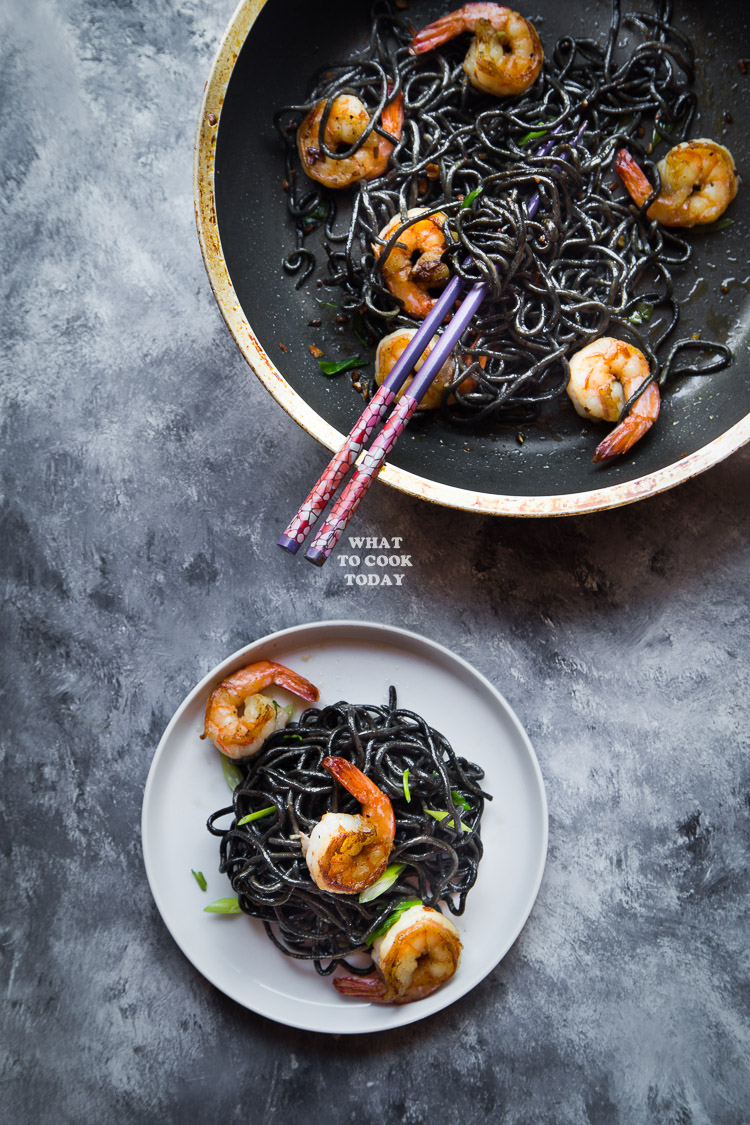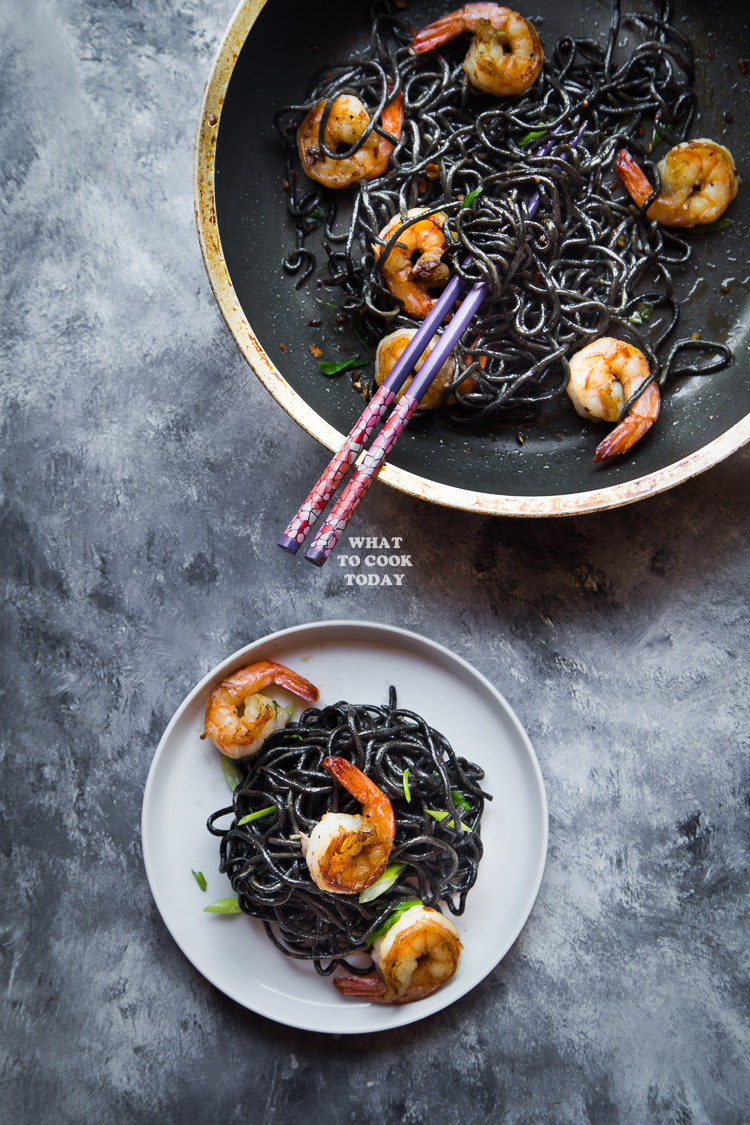 Homemade Squid Ink Ramen + Buttered Ramen with Shrimp Stir-fry
Ingredients
Squid ink Ramen:
3

cups

bread flour

plus more for dusting

2

tsp

alkaline water (kan sui)

1

tsp

squid ink

⅔

cup

water

add more if needed
Buttered ramen with shrimp stir-fry:
4

Tbsp

high-quality butter

1

lb

large shrimp

peeled and deveined

8

cloves

garlic

peeled and finely minced

2

stalks of green onion

thinly sliced at an angle

Red pepper flakes

optional

Salt to taste
Instructions
Making squid ink ramen:
Making the dough: Place the flour, alkaline water, and squid ink in a mixing bowl of stand mixer. Use a spatula to roughly stir to mix. Attach the bowl to the stand mixer with dough hook attachment. Gradually add in water. The dough supposed to be rather dry and almost to the point of falling apart but not quite. Don't worry about uneven color of squid ink on the dough. It will even out when your roll the dough. Cover and rest for 30 minutes or up to 1 hour. The resting step is important as the dough will relax and easier to manage when you are ready to roll the dough

Dust your work surface with flour. Divide the dough into 4 equal parts using dough cutter if you have one. Keep the rest covered and work with one at a time. Use your fingers to slightly flatten the dough so it's flat enough to be fed into the roller and the pasta roller setting is on number 1. Feed the dough through the roller. Some of the dough might crumble at the beginning because of being dry, but don't panic. After few rounds of rolling, it will come together. Trust me! Fold the dough and continue to roll until the dough is smooth (Yes, it will actually become smooth believe it or not). Change the setting to no. 2 and roll few more times. If you like it thinner, you can go to no.3. I'm good with no.2. Repeat with the rest of the dough

Rolling & Cutting: Now dust the sheets of dough with flour generously and feed through the cutter. I use spaghetti cutter. Dusting with flour will prevent the strands of noodles from sticking to each other. Repeat with the rest

If you are not using the ramen straight away, hang them to dry on a rack. If you are using them straight away, bring a large pot of water to a boil. Cook the ramen for about 1 1/2 minutes. Do not over cook. Fresh ramen doesn't take long to cook. It should still be chewy and toothy. Cooking dried ramen might take another minute longer. Drain off the cooking water and refresh with some cold water. They are ready to be use with whatever recipe you have in mind
Buttered ramen with shrimp stir-fry:
Preheat a large skillet over high heat. Add the butter and let it melt. Add in the garlic and cook for about 30 seconds. Add shrimp and red pepper flakes (if using) and let them cook until the shrimp turn pink and slightly browned, about 1 minute or so

Add in the ramen noodles and stir to mix everything. Make sure the noodles are coated with butter. Season with salt to your taste and cook for another few seconds. Turn off the heat and sprinkle with some green onion. Serve immediately
Notes
You can also make the stir-fry noodles more "saucy" by adding about 1/2 cup or more of chicken stock to stir-fry the ramen noodles.