Learn how to make the best steamed kue talam ubi with this recipe. All the tips you need to know.
Kue talam ubi is one of my absolute favorite Indonesian cakes. Due to the lack of oven back in the old days, most of Indonesian (or Asian for that matter) cakes are steamed. This kue talam ubi is another example of how coconut milk is used in pretty much lots of Southeast Asian cakes, desserts, and savory dishes.
WHAT IS KUE TALAM UBI?
Kue talam is characterized by its two-layer look. The bottom layer is made with sweet potato. Sometimes you will see purple version where purple sweet potato is used. The mashed sweet potato is mixed with gluten-free flour like rice and tapioca flour, which you will find being used a lot in Southeast Asian dessert and cakes. The sweet potato layer is steamed first until the layer is set. The top layer is made with coconut cream and a mixture of rice and tapioca flour too. This layer is then poured on top of the sweet potato layer and then steam until it is set.
SPECIAL INGREDIENTS USED IN THIS KUE TALAM UBI RECIPE
1. Rice flour
The rice flour contributes to that softness
2. Tapioca flour
The tapioca flour gives that bouncy texture to the cake
3. Agar Agar
Agar agar is made of algae and it is used to helps to gel and stabilize the sweet potato mixture. Agar agar is plant-based. Agar agar is one of the ingredients being used a lot in Indonesian dessert. You can use the same amount of gelatin as substitute. Just know that gelatin is derived from animal
TIPS ON HOW TO MAKE KUE TALAM UBI SUCESSFULLY
Don't get intimidated by what seems like a long list of ingredients. They are all easy to find ingredients.
1. Mash the sweet potato while it's hot
It's easier to get a smooth mashed potato when you do it while it's still hot
2. Stir until batter is smooth
Make sure you get a smooth batter so that your sweet potato layer will be smooth and "neat". You can use a blender to help you achieve this by pouring the batter in there and blend until smooth
3. Steam the bottom layer first
Make sure the bottom layer is set, tooth pick inserted into the middle of the cake comes out clean before you pour the coconut milk layer
4. Wait before cutting
Make sure the cake is completely cool down before you cut them.
I just love the beautiful and natural vibrant color the sweet potato gives to this kue talam ubi.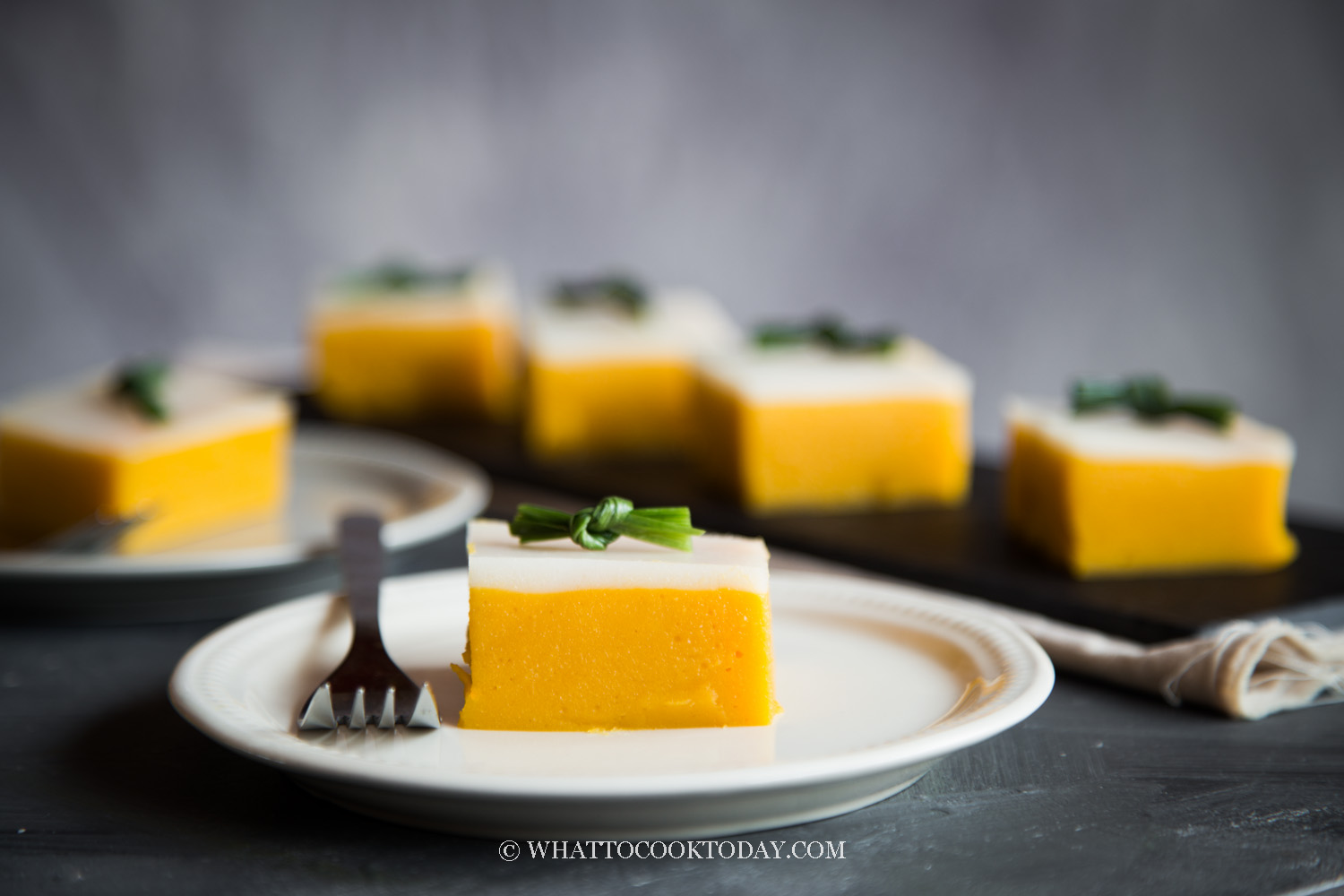 Recipe is adapted from here
Kue Talam Ubi (Steamed Sweet Potato Cake)
Learn how to make this easy classic Indonesian steamed kue talam ubi where a layer of sweet potato mixture and coconut milk are steamed to give you a soft and bouncy cake. Naturally gluten and dairy free.
PIN RECIPE
PRINT RECIPE
Instructions
Prepare sweet potato layer:
Steam sweet potato until they are fork tender and can be easily mashed. Mash until smooth while it's still warm

Prepare your steamer by bringing a water to a boil. I use a 8.5 x 6.5-inch tray, about 2.5-inch deep. You can use a tray somewhere around this size. Brush some oil at the bottom and the sides of the tray

Add the rest of the ingredients into the mashed sweet potato and mix until you get a smooth thick batter, use a blender to get a smooth batter if you need to. Pour this batter into the prepared container and use a spatula to smooth the surface. Place this in the steamer and steam for 20 minutes or until toothpick inserted into the middle comes out clear
Prepare coconut milk layer:
Place all the ingredients for coconut milk layer in a mixing bowl and stir until it's smooth

After the steamed potato layer has been steamed for 20 minutes, open the steamer and pour this coconut milk layer on top. Close the steamer and let the coconut milk layer steam for another 10 minutes

Remove from the steamer and let the cake cool down completely before slicing
Storing and reheating:
The cake can be stored at room temperature for 2 days if it's not humid where you are. After that, the cake can be stored in the refrigerator for up to 1 week. They can be reheated in the microwave until just warm, about 1 minute or less or in the steamer for 5 minutes. This cake is not suitable for freezing
Notes
Feel free to use individual ramekins or any cups suitable for steaming to steam this kue talam ubi.